January 7, 2009 | 8 Comments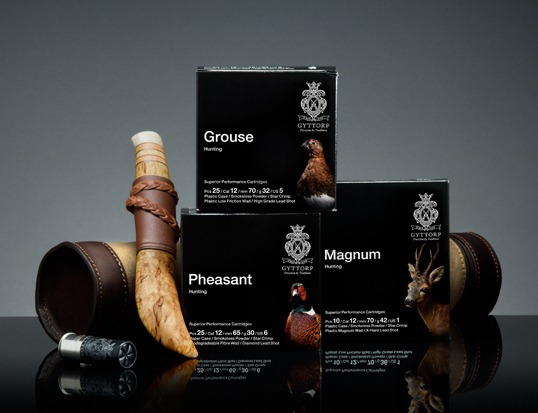 Designed by Neumeister | Country: Sweden | Fonts used: Neue Helvetica, Hoefler Text
"Input: Gyttorp AB is the result of a merger of Gyttorp Cartridge Company AB and HDF Gyttorp Jakt AB. The merger has created one of the leading companies within the hunting sector with Scandinavia as a priority area.
Output: The new brand identity needed to connect both companies internally and externally, signal Gyttorps' long history within the hunting sector and at the same time showing that the company is dedicated to continuous innovation. Key touch points included logo, packaging, catalogues, market communications material and the web site.
Outcome: Enabled Gyttorp to successfully relaunch their brand and build a competitive advantage to its competitors. The new brand platform will be the foundation for the company's future strategies that includes venturing in to new areas and formats."
January 7, 2009 | 2 Comments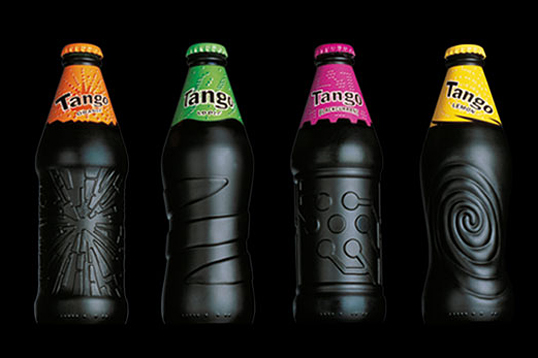 Designed by Brandhouse | Country: United Kingdom | Font used: a modified Franklin Gothic.
"Transforming a chip-shop brand into a hero brand – and making 14 year-old boys feel like 18-year olds – by telling a story about 'rebellion'."
January 7, 2009 | No Comments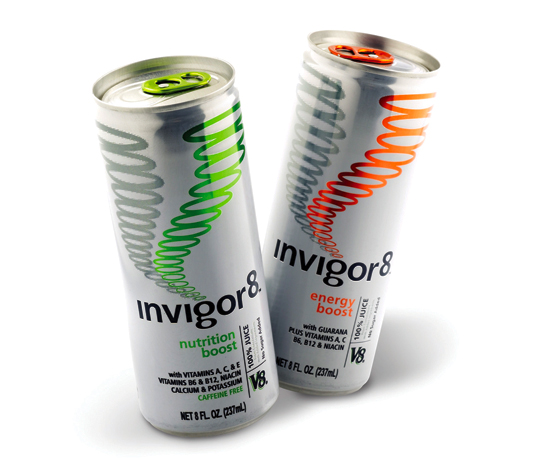 Produced by Richard Palmer | Country: United States
"In the energy drink boom, there wasn't a healthier option for the consumer. In an effort to fill the gap and build on the V8 brand, Campbells formulated a juice & vegetable fusion fortified with vitamins and Guarana."
January 6, 2009 | No Comments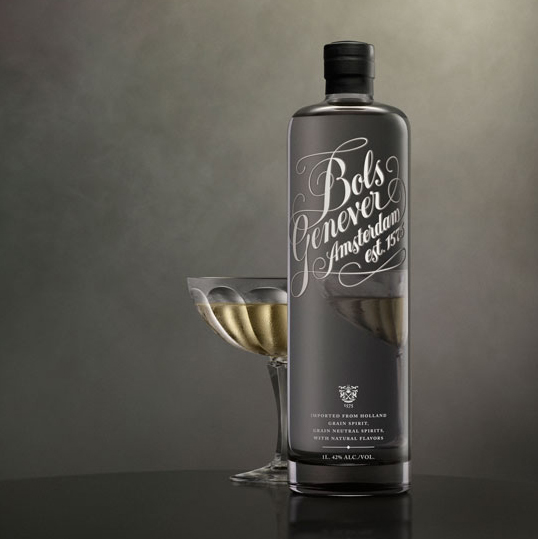 Designed by …,staat | Country: The Netherlands | Fonts used: hand calligraphy by Niels Shoe Meulman (see Copperplate Scripts), Adobe Caslon.
January 6, 2009 | No Comments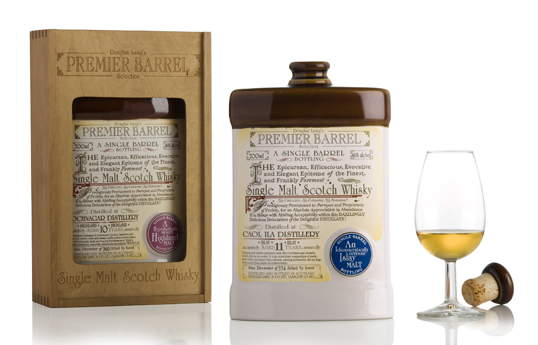 Country: United States | Fonts used: University Roman, Caslon Open Face, hand lettering. See Antique Serifs
"Returning to the "good old days" of Victorian Music Hall for it's inspiration, our new ceramic decanter goes by the name of PREMIER BARREL, and replicates Scotch Whisky Decanters from the late 1800's. Actually, it also looks like an old fashioned bed-pig, designed to keep you warm on cold winter nights – a job its Malt Selection can still do for you!"
January 6, 2009 | No Comments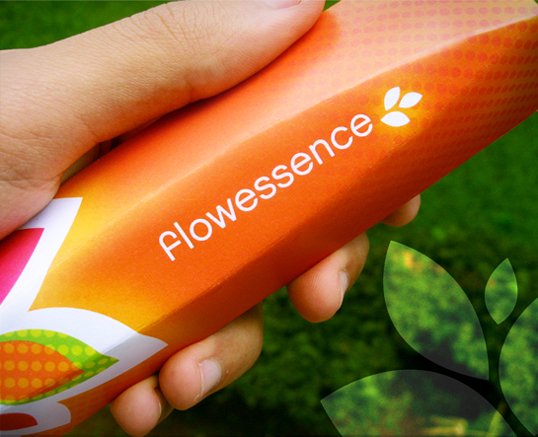 Designed by Rômulo Castilho | Country: Brazil | Font used: Chalet
Brazilian designer Rômulo Castilho sent us this beautiful work he did for Flowessence, a perfume for teens.
January 5, 2009 | 2 Comments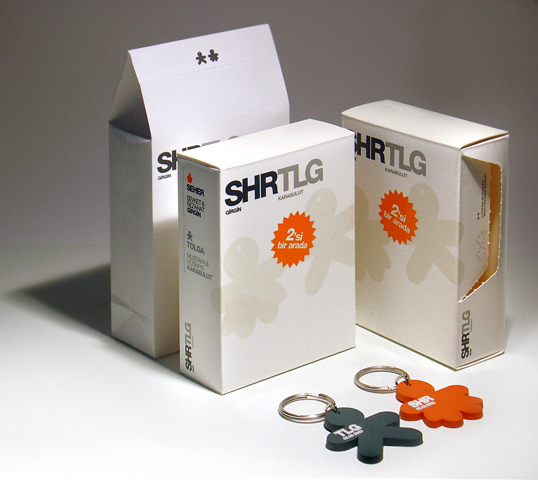 Designed by Tolga Karabulut | Country: Turkey | Fonts used: Neue Helvetica
Great idea for a wedding invite designed by Tolga Karabulut.
Via Notcot
January 5, 2009 | 2 Comments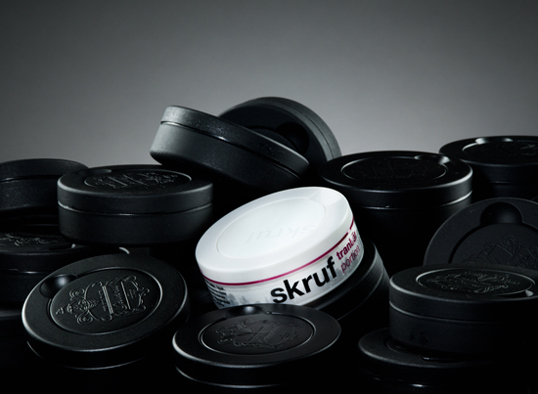 Design by Neumeister | Country: Sweden | Fonts used: Neue Helvetica
"Input: Moist Snuff, a smokeless tobacco product placed under your upper lip, is widely associated with a blue-collar culture in Sweden. The company behind Skruf wanted to reposition the brand and appeal to a wider audience.
Output: New packaging in white that made the brand feel exclusive, luxurious, contemporary and unisex.
Outcome: Substantial increase in sales despite the declining market."
January 5, 2009 | 8 Comments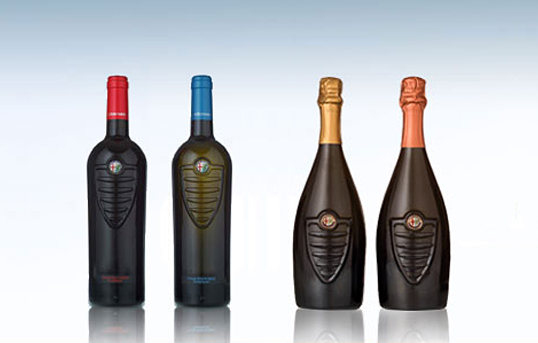 Alfa Romeo wine? I can't say I really like the idea of car companies branding products like this, but these bottles with the raised Alfa grille look pretty nice.
Via Scrimaglio
January 4, 2009 | 2 Comments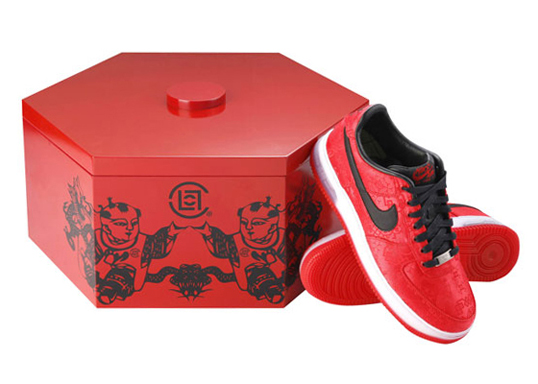 "The Nike Clot Air Force 1 comes in a special 'Chinese Candy Box' packaging set. Traditionally, Lunar New Year celebrations include offering sweets and other edible treats from a red lacquer box to ensure a 'sweet' year. Honoring this custom, the Nike Clot Air Force 1 packaging is a hexagonal red box with a partitioned tray layer, to hold shoe accessories, and matching lid. The box's exterior is adorned with Clot graphics in black."
Via Highsnobiety