February 25, 2009 | 2 Comments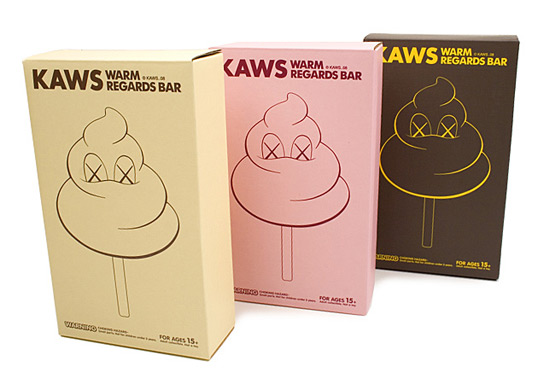 Designed by KAWS | Country: United States | Fonts used: Futura
"Originally, Warm Regards was a mural created for the Beautiful Losers exhibition at the Orange County Museum in Newport Beach, CA. Since then it has been used as a pattern on apparel and accessories. As a special item the Warm Regards Bar is the first toy from Original Fake this year."
February 25, 2009 | 2 Comments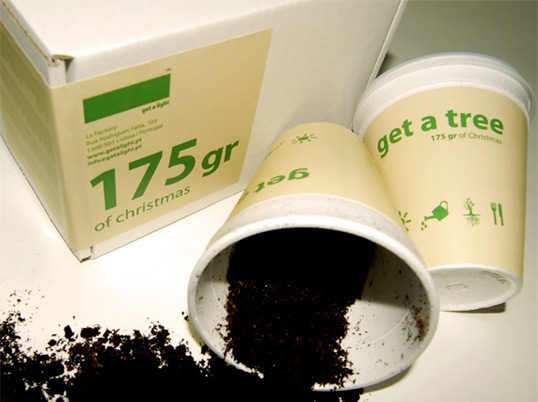 Designed by thisislove™ | Country: Portugal | Fonts used: Myriad
"Christmas gift made for Get a Light™, 2008. Postal packaging which contains a small vase cup with pine seeds planted in sand, and closed with a lid, accompanied by leaflet."
February 24, 2009 | 3 Comments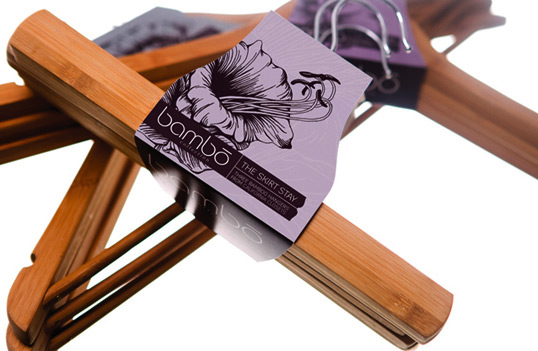 Designed by Nate Millheim | Country: United States
Thanks to The Creative Circus graduate Nate Millheim for sending this in. He is currently looking for work overseas.
"Closet storage line from California Closets. All-natural materials, minimal packaging, and two-color printing reduce the carbon footprint without effecting visual appeal. (a green product packaged to appeal to urban boutique females)"
February 24, 2009 | 2 Comments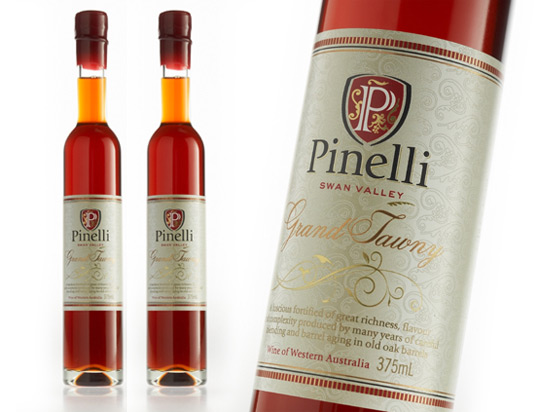 Designed by Iannello Design | Country: Australia | Fonts used: Colonna, ITC Giovanni, Sackers Gothic, Formal Script
"Located in Western Australia's Swan Valley region, Pinelli's is a traditional family owned winery with old fashioned methods and values. The 'Crest' logo developed for them and subsequent promotional material & labeling system helps reflect this traditional appeal and re-enforce a sense of history, and old fashioned values while projecting a modern, clean and visually appealing look and feel."
February 24, 2009 | 1 Comment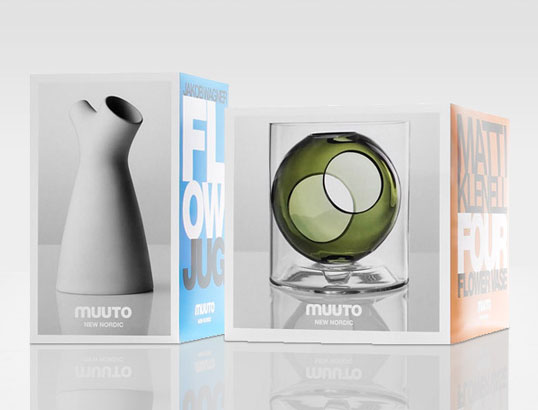 Designed by Dyhr.Hagen | Country: Denmark | Font used: Helvetica
February 23, 2009 | 3 Comments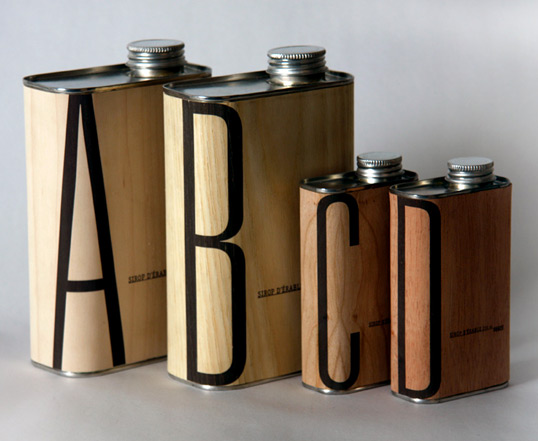 Designed by Andrée Rouette | Country: Canada | Font used: Univers
"What do we need from a package? We need a functional service of course, but also information about the product. Not a complex text that you don't have time to read, but a simple letter related in this case to the Maple Syrup classification system.

This is Andrée Rouette's project in my packaging class. Despite its expensive approach, this concept of maple wood laminated thin bottles they can be reused and therefore justified. Also they could be simply replaced by a wood texture printed-paper label as a cheaper version."
Via Packaging | UQAM
February 23, 2009 | 3 Comments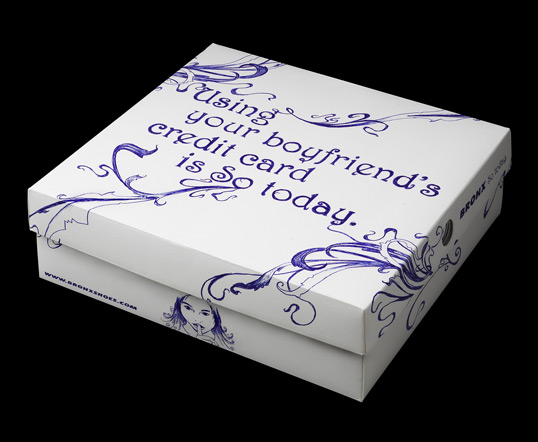 Designed by THEY | Country: The Netherlands
The shoeboxes created by THEY were part of a bigger international re-branding for the trendy Holland-based shoe company Bronx. The claim "So today" comes from the insight that what shoe a woman buys or wears differs from day to day.
For example, high heels if they want to feel sexy. Boots if they need to feel tough. Or sandals if they want to feel free. Or maybe just to make themselves feel good for the rest of the week, like one of the shoebox headlines says. Bronx has hundreds of different designs to fit every mood, no matter how nuanced.
February 23, 2009 | 3 Comments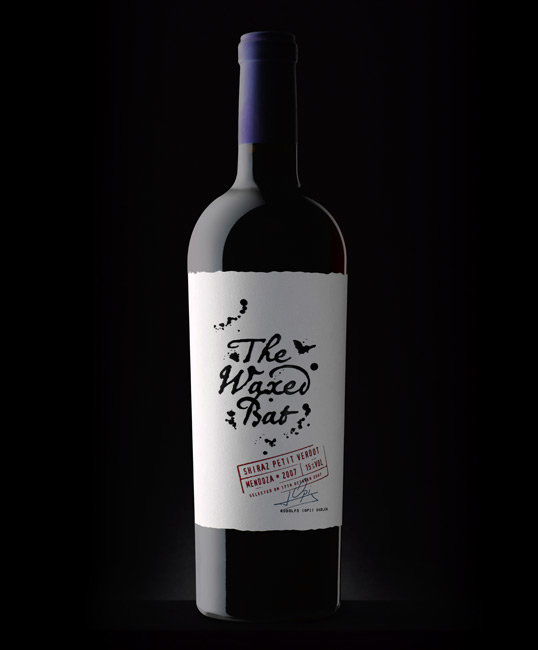 Designed by STRANGER & STRANGER | Country: United Kingdom | Fonts used: FF Confidential
"A super-premium, pitch dark, high alcohol wine. The bizarre brand name derives from a childhood memory of the winemaker. His father had some ancient bottles of wine stored in a cellar inhabited by bats which used to scare him as a boy. The bottles had wax seals on them. It was these elements that came together in his mind to give the term Waxed Bats."
February 23, 2009 | 2 Comments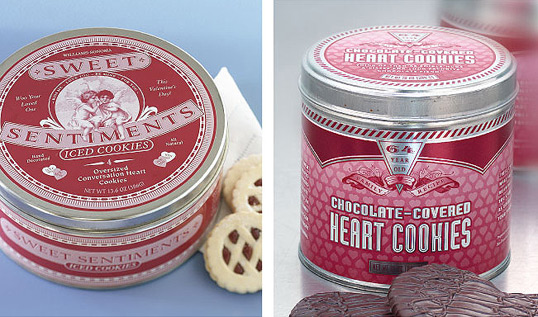 Designed by Juli Shore | Country: United States | Fonts used: Industria, Egizio
February 23, 2009 | 1 Comment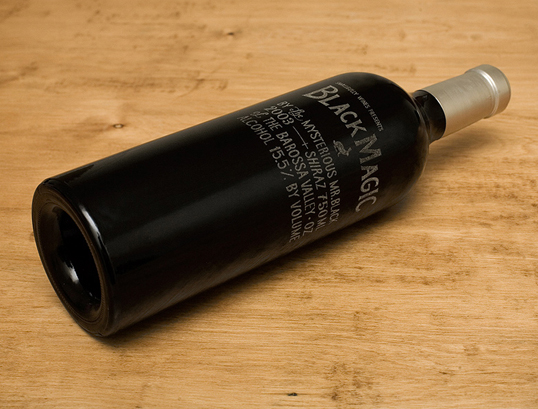 Designed by Mash | Country: Australia
"The top of the pops produce for Small Gully, by wine maker Stephen Black.  This limited edition wine represents the best of the Small Gully range and a wine personally developed by the mysterious Mr. Black. The concept was to produce a simple hand written, almost home made package, as if the wine maker had scratched the details of the wine into the bottle himself. A beautiful imported glass bottle was chosen that Mash then had laser etched. The words actually cut into the surface of the glass giving a great tactile and very raw feel. Something that screen printing could not achieve. The result was a cross between contemporary luxury and personalised roughness."