August 18, 2009 | 6 Comments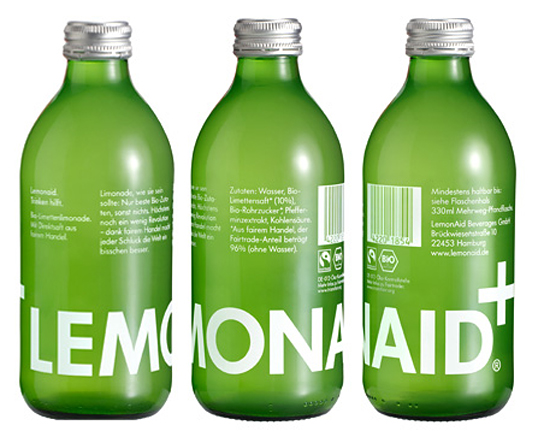 Designed by BVD (Blidholm Vagnemark Design) | Country: Sweden
"BVD's design of Blossa's annual edition mulled wine has achieved a good deal of attention internationally. So much so that the German company LemonAid Beverages GmbH contacted us when they were looking for innovative, iconic design for the new drinks ChariTea and Lemonaid, that will soon be launched all over Europe. Together ChariTea and Lemonaid form a unique charity venture, where most of the profits will be used for social purposes.
ChariTea is freshly brewed tea with natural additions of fruit, not to be confused with the so-called ice teas, made from extracts, which are on the market today. ChariTea will be launched in three flavours to start with, all totally organic and Fairtrade-labelled. "The world's oldest drink is getting trendy again", says BVD's Creative Director Susanna Nygren Barrett.
Tea is strongly connected to health and wellbeing, which is also reflected in the design. Lemonaid is intended to be primarily served in bars, where it can be used either as a mixer or on its own. Both drinks are packaged similarly in a classic standard bottle that BVD selected, as it feels good in the hand and looks authentic rather than over-designed. Labels are avoided by having the graphics silkscreen printed directly onto the bottles, allowing a more integrated design."
August 18, 2009 | 3 Comments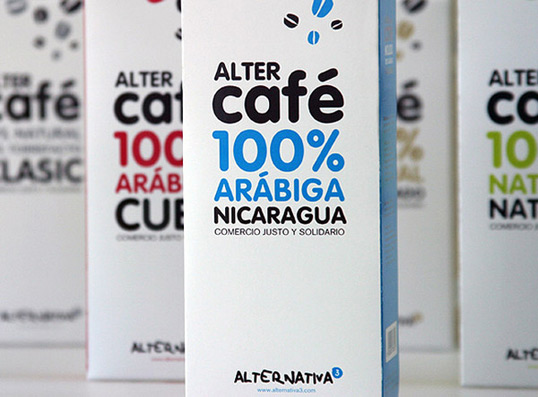 Designed by Nestor Urdanpilleta | Country: Spain | Buy it
"Alternativa 3, an organization working for Fair Trade since 1992, has come up with out-stand new packaging for their Fair Trade coffees range, within the process of the corporate identity change. The new design & identity are done by Nestor Urdanpilleta. The new identity captures the quality of the products and the clarity of Alternativa 3 philosophy as a Fair Trade organization. While the re-design is simple & clean, the message is clear as a Fair Trade organization."
August 17, 2009 | 5 Comments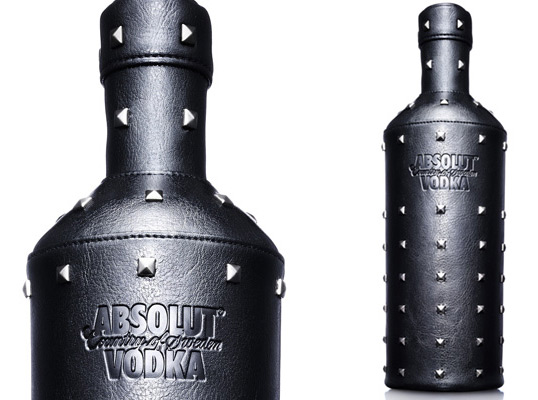 Designed by Natalia Brilli | Country: France
"Absolut worked with designer Natalia Brilli, who is known for wrapping things in leather. This time she of course wrapped the iconic Absolut bottle in leather and added studs to it as well, giving it a real rock vibe."
Via Highsnobiety
August 17, 2009 | No Comments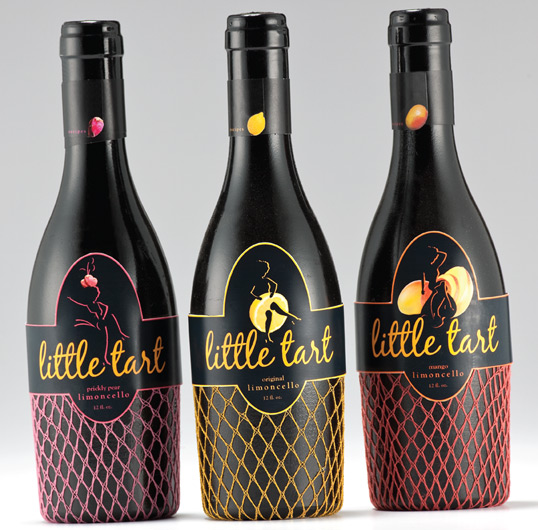 Designed by Stephanie Rachmeler | Country: United States
"Little Tart is flavored limoncello with a little sass; the tagline is "Not all girls are made of sugar and spice. Some are a little tart." It comes in 3 flavors: Original (Cancan dancer), Mango (Jazz lounge singer) and Prickly Pear (Vegas showgirl). Peel the label off the neck to reveal cocktail recipes."
August 17, 2009 | 3 Comments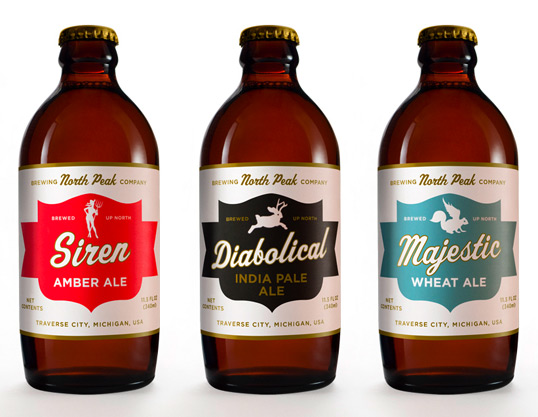 Designed by Neatly Trimmed Beard | Country: United States
"Northern United Brewing Company, owners of the two most successful brew pubs in Michigan, North Peak and Grizzly Peak, is making its beer available in stores for the first time. North Peak in six packs of 12 oz stubby bottles. Grizzly Peak in 22 oz high gravity singles — macro micros. The brewpubs themselves have kind of an old timey log cabin vibe. So we tried to make something that wouldn't look out of place among the classics – the beers from back in the day. Simple. Clean. Midwestern."
August 17, 2009 | No Comments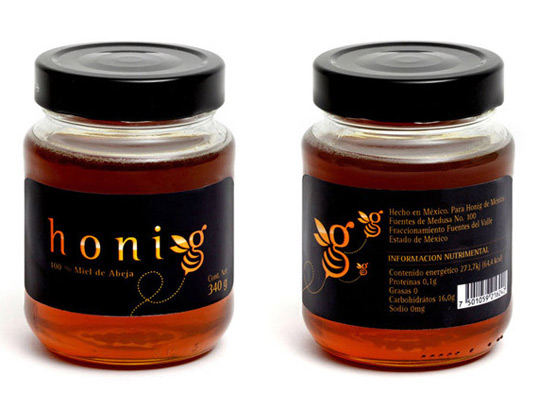 Designed by Factor Tres | Country: Mexico
Playful package design for Honig Natural Honey. The 'g' honey bee illustration is a nice touch which works seamlessly with the product name.
August 16, 2009 | 5 Comments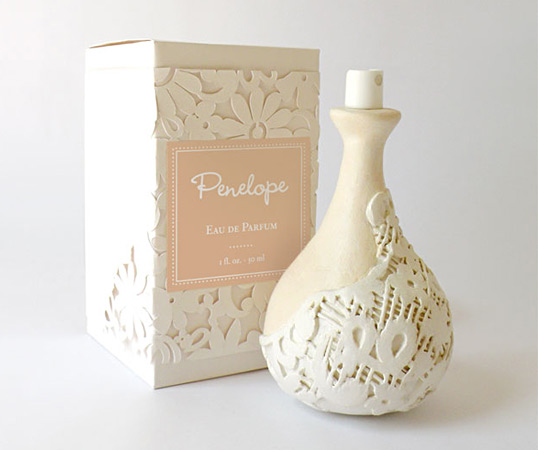 Designed by Erin Dameron | Country: United States
"The goal of this project was to create, brand and design packaging for a five piece cosmetic line. The students were allowed to choose the brands' name, direction and price point.
Penelope is a skin care line that was inspired by the retail store Anthropologie and is targeted towards women who shop there. Penelope's unique bottle designs and intricate 3-D floral detailing, created to mimic lace, merge vintage aesthetics with modern form."
August 16, 2009 | 1 Comment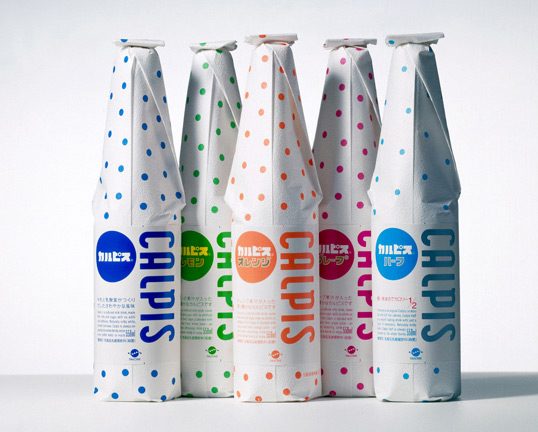 Designed by Taku Satoh Design Office | Country: Japan
Beautiful brand identity extending across multiple products for Japan's The Calpis Food Industry Co.
August 15, 2009 | 1 Comment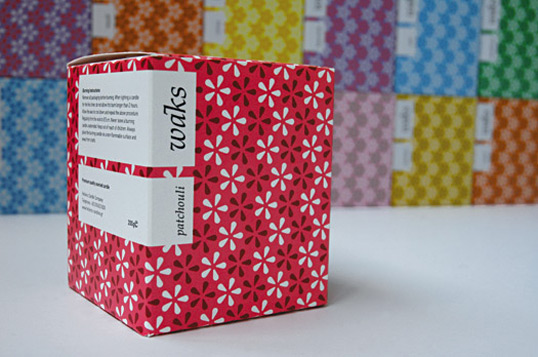 Designed by The Design Shop | Country: Greece
"Hellenic Candle Company's Waks is a range of scented candles of which we designed the packaging. The main characteristic is the variety of colours as well as the pattern which resembles flowers but in reality is a typographic element."
August 15, 2009 | No Comments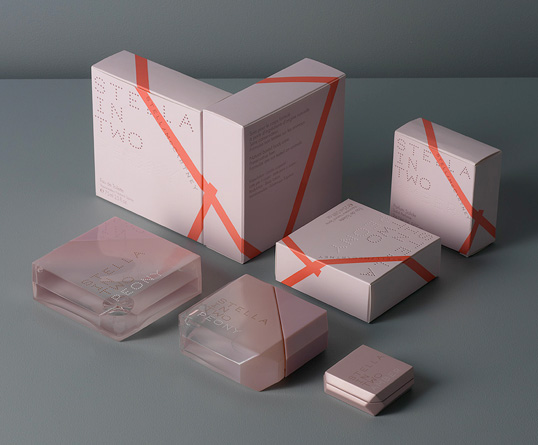 Designed by MadeThought | Country: United Kingdom
"A more conceptual incarnation of the first fragrance, Stella In Two employed the use of graduated opaque glass to simulate traditional ceramic bottles combined with more contemporary geometric forms."