August 14, 2009 | No Comments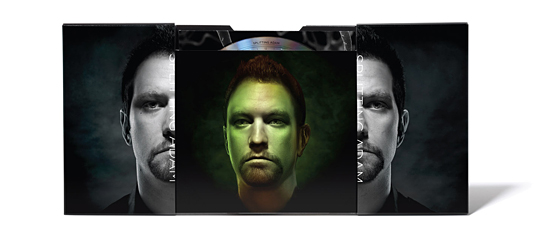 Designed by Rethink | Country: Canada | Font: Gotham
CD packaging for the band "Splitting Adam". The concept surrounds a fictitious character named Adam and his internal struggle with an audio triggered bipolar disorder. The cover splits Adam to reveal inside his head, a 3D animated hologram which morphs from a passive lamb into an agressive ape. The CD and insert artwork documents Adam's mental state along with vital statistics and final prognosis.
The photo of Adam was created using a combination of all 5 band members photos. Each band member needed to be photographed in rotation which was used as the basis to create the smooth animated sequence. The packaging dieline was developed custom for this project and the hologram manufactured in Russia.
August 14, 2009 | 2 Comments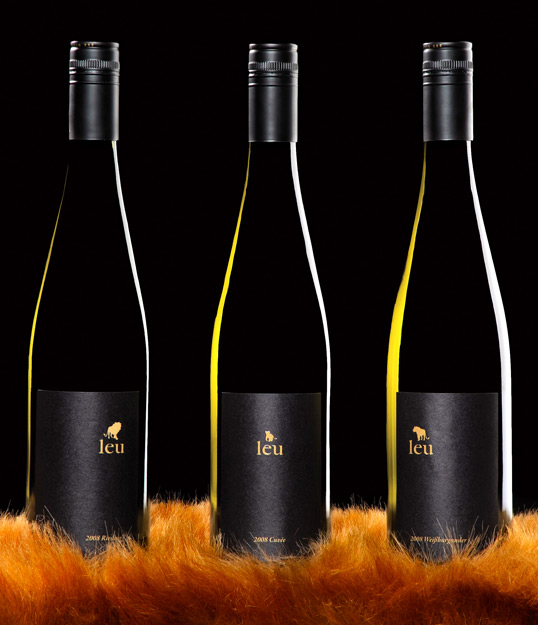 Designed by Die Medienagenten | Country: Germany
"Tradition with a new face: Godfather at the naming of the trademark wines of the winery Korell (three grapes in Gault-Millau) was the arms animal of the more than 500-year-old wine dynasty of the Nahe – Leu. The old, harmonious poetic name of the lion contrasts the clear and distinctive bottle design of yellow on black.
The agency Die Medienagenten, is specialized in wine marketing and developed a trilogy of "distinctive trademark wines", which adds a new experimental mark to the classic collection.
The label is reduced to three essential messages: vintage, grape type and of course trademark name. However, the three trademark wines are distinguishable on first sight. With the fresh, mineral Riesling, the old Leu from the arms turns into a male lion with a distinctive mane. The lioness stands for the rather fine and versatile wine Burgundy and the Cuvee from both wines is correctly shown as a small lion on the label"
August 14, 2009 | 8 Comments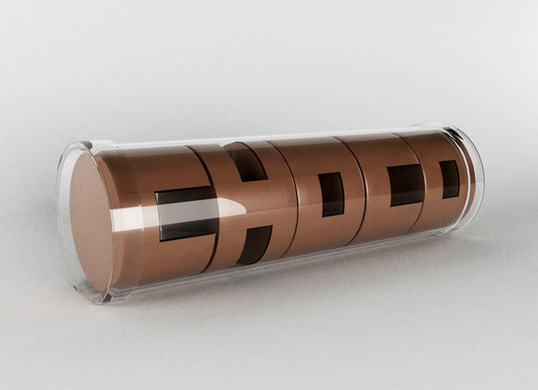 Designed by Petar Pavlov | Country: Macedonia
Although just a prototype at this stage, the concept definitely gives pause for thought. There would be some obvious hurdles to overcome to make this design commercially viable, such as the issue of mandatory labeling, but there's no reason why clever and creative solutions couldn't be found to these problems.
"The idea behind this concept was to make packaging where the name of the product is written by the product itself instead of using any kind of printing techniques. Considering the future of technology and the endless possibilities to shape your product, it's definitely a subject that deserves attention."
August 14, 2009 | 6 Comments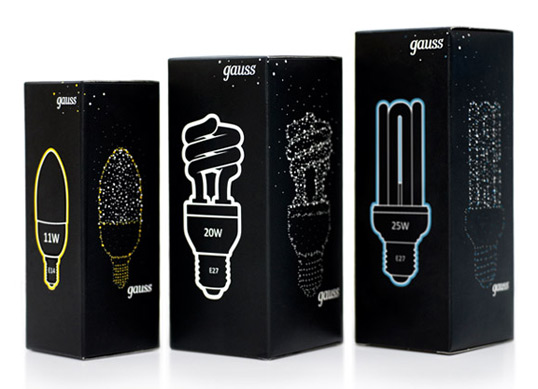 Designed by Fastway | Country: Russia
"The objective was to create package for power saving lamps which considerably would differ from all other packages of the lamps presented in retail networks. Besides, it was necessary to show that Gauss lamps are the premium-segment, having justified, thus, their higher than at the majority of competitors price.
The main idea of the package – minimum superfluous, but maximum sense and convenience. On the face side – only a lamp category, its appearance and key parameters of choice. To attract more attention some objects (dots, lamp) were UV-lacquered."
August 13, 2009 | 1 Comment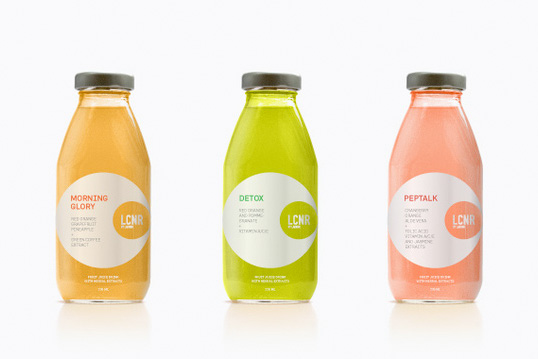 Designed by Muggie Ramadani Design Studio | Country: Denmark
Proposed designs for a vitamin juice which all share a beautiful sense of colour and simplistic labeling.
August 13, 2009 | 1 Comment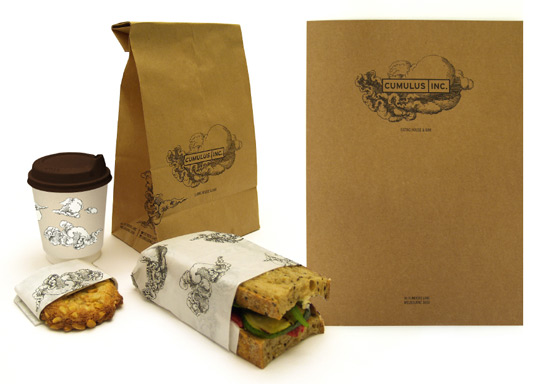 Designed by Round | Country: Australia
"The simple, environmentally friendly packaging range we developed for Cumulus Inc provides a flexible system and range of materials that can be adapted to suit the changing needs of the restaurant's takeaway business."
August 13, 2009 | 1 Comment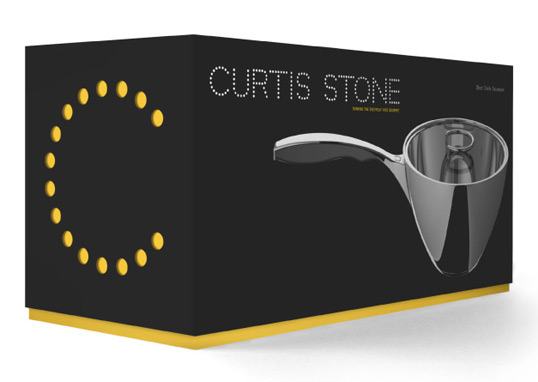 Designed by Round | Country: Australia
Simple and elegant packaging for Curtis Stone's line of housewares. The diecut 'C' used to reveal a flood of yellow colour underneath is a nice touch.
August 12, 2009 | 5 Comments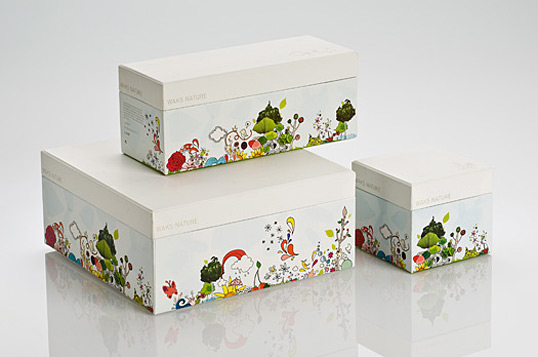 Designed by The Design Shop | Country: Greece
"Hellenic Candle Company created Waks Nature, a brand new line of hand-made aromatic candles, using only the best ingredients and pure essential oils. For its packaging and printed material, we created a unique illustration and used had-made boxes in order to communicate the special quality of these products."
August 12, 2009 | 2 Comments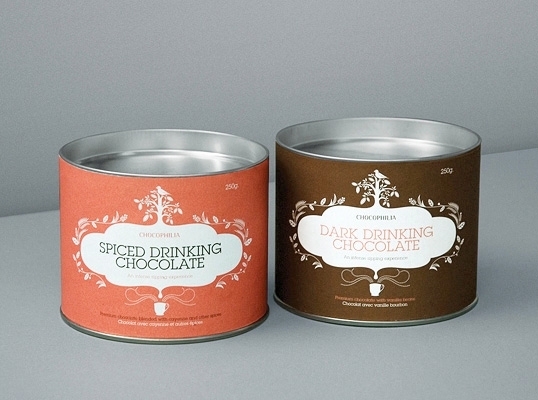 Designed by Vanguard Works | Country: Canada | Buy It
Flat graphics and rich colours differentiate this brand from their hot chocolate competitors: a category which surprisingly remains overrun with poor design solutions.
August 12, 2009 | 10 Comments
Designed by Lip. Ltda. | Country: Colombia
"Brown is a small confectioner's shop in Bogotá that's always used kraft board boxes to pack their products. They wanted a new corporate image and a simple and low budget solution to identify what's inside them. Bogotá, Colombia design firm Lip Ltda came up with a series of cards and stamps that carry the information simply and succinctly."