October 7, 2009 | 7 Comments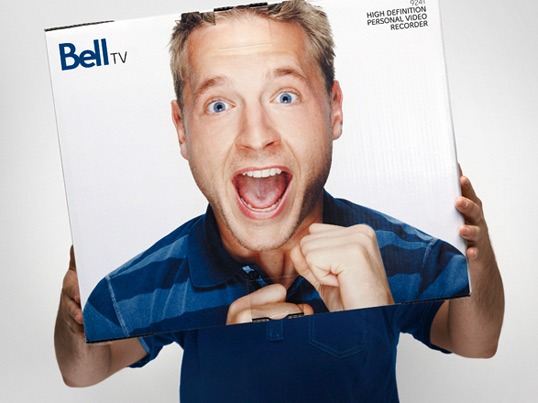 Designed by lg2boutique | Country: Canada
"Packaging that brings out a full range of emotions.
Planning a creative strategy based on the concrete advantages Bell TV brings to consumers every day through its varied, entertaining offer. People were chosen to illustrate the range of emotions : surprise, enthusiasm, fear, pleasure, amazement etc.
Creating the new packaging for Bell's television products, inspired by the completely new Bell brand platform, which takes its tone from simplicity, optimism and a friendly attitude toward clients."
October 7, 2009 | 6 Comments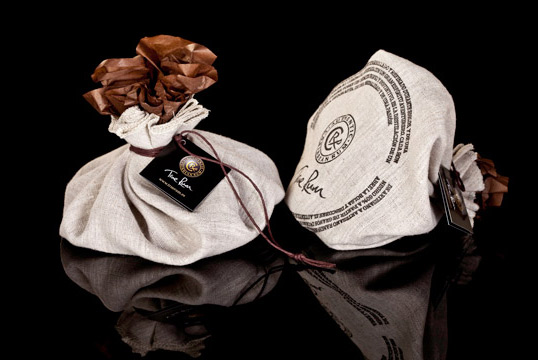 Designed by Zoo Studio | Country: Spain
"Concept and design of the packaging to promote the seal of quality True Rum. The pack contains coins made of chocolate and Caribbean rum by the chocolate artist Ramon Morató."
October 6, 2009 | 2 Comments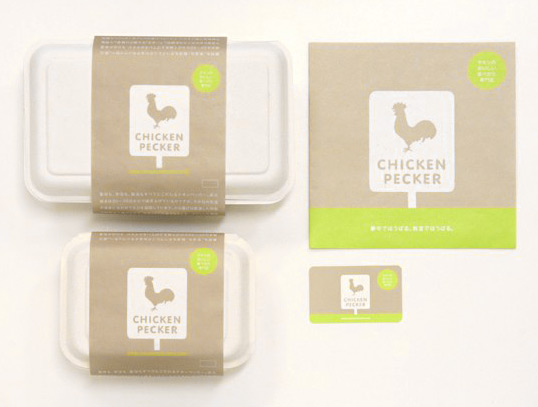 Designed by Commune | Country: Japan
Beautiful work for Japan's fast food restaurant Chicken Pecker.
October 6, 2009 | 4 Comments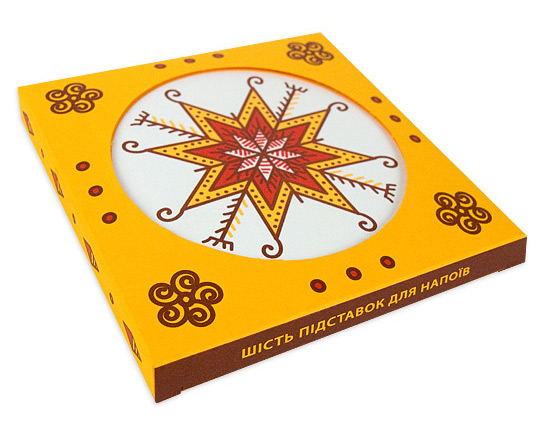 Designed by Artel Artyomovyh | Country: Ukraine
"Artel Artyomovyh graphic design bureau designed a set of coasters "Made in Ukraine" for Chiga-biga™ designer gifts on-line store. The package and coasters are decorated with traditional ukrainian ornaments. All of the symbols (Tree of Life, Sun, Fish, Bird, Deer) are filled with ancient meaning. It's a nice souvenir for a good memory of visiting Ukraine."
October 5, 2009 | 10 Comments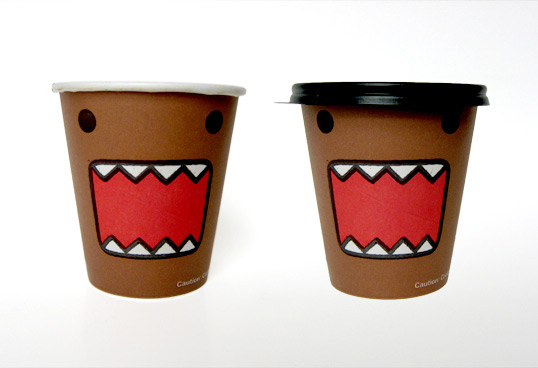 "Domo, the Japanese stop-action character and meme celebrity, is appearing this fall in an elaborate 7-Eleven storewide promotion, and his toothy brown face is plastered on everything imaginable. Tons of signage of all over, collectible Slurpee cups (and Domo's own custom flavor, Fuji Frost), character straws, coffee cups, and some truly inventive and funny packaging design for the hot dog containers. There's even Domo schwag like hats, t-shirts, and books. Evan Brody, the marketing manager for Slurpee, told Brandweek that 7-Eleven's consumers "love crazy Japanese shit."
October 5, 2009 | No Comments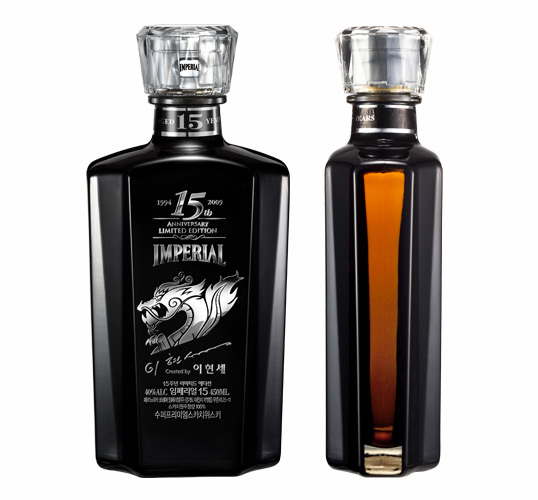 Designed by INFINITE | Country: South Korea
"This limited edition has been collaborated with IMPERIAL, the representative premium whisky of Korea, and Hyun-Sei Lee the great master of popular arts especially with his cartoon works. It has been coated black on the front and transparently coated on its sideways to indicate the capacity of each whisky bottle."
October 5, 2009 | 2 Comments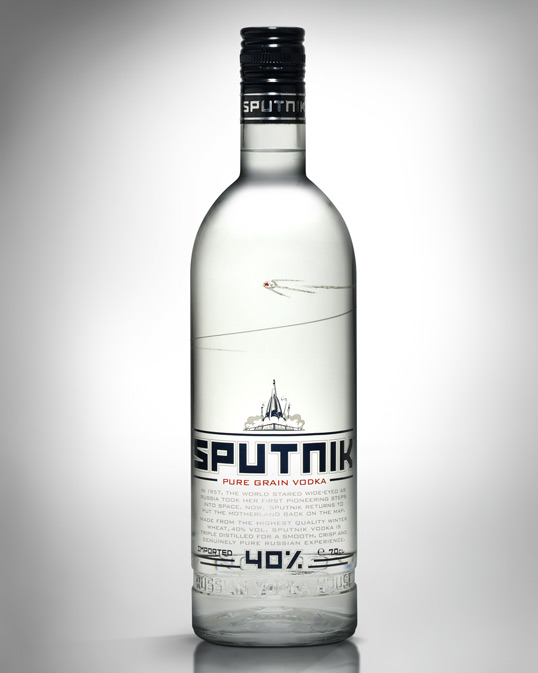 Designed by Paul Bennett | Country: United States
"For the Sputnik Vodka redesign, the key was to mark the historic moment in 1957 when the Russians beat the USA in the space race and successfully launched the first man made object into space.
The combination of contemporary and retro Russian graphic art provides a simple platform for the brands core equities to tell this romantic story. The space ship and orbiting Sputnik satellite provide the drama" says Sputnik designer Paul Bennett who conceived the design during his time at the Brand Union, London.
During my 12 year career in product branding this still ranks as one my favourite pieces."
October 3, 2009 | 43 Comments
The international jury of Pentawards, the first world competition devoted exclusively to Packaging Design, chaired by Grard Caron, announced its winners for 2009.
October 2, 2009 | 3 Comments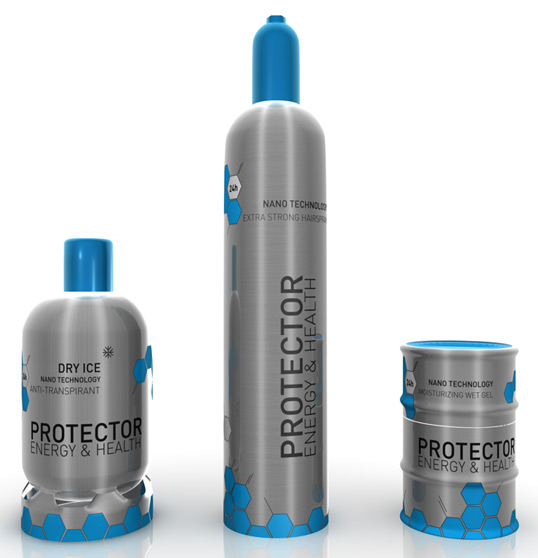 Designed by David Baertz | Country: Germany
"The Protector product line is based on the idea of creating beauty products for men, who don't want to be metrosexual. A few years ago, the media started to proclaim the "new masculinity", for example Burger King (e.g. the "men's academy"). Regarding this fact, is designed the "protector series".
October 2, 2009 | 1 Comment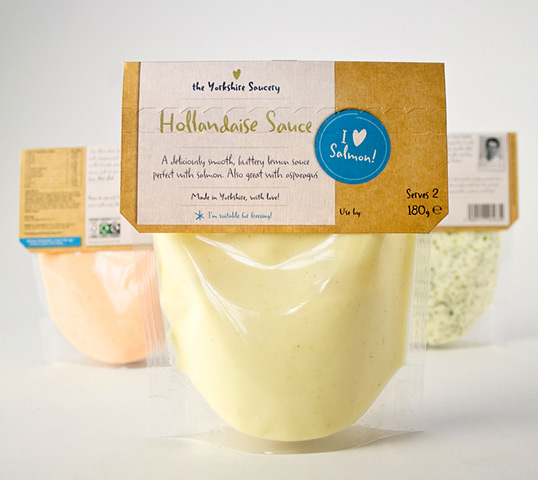 Designed by Shark! | Country: United Kingdom | Font: Duffy
"Shark! Design & Marketing recently created the brand and packaging for The Yorkshire Saucery – a new range of chilled fish sauces sold exclusively in ASDA. Communicating the products' freshness and capturing the expertise and passion needed to make the sauces was vital. By using a handwritten font, brown paper and "I heart" stickers we produced packaging with a handmade, delicatessen feel that is fresh and friendly."