July 22, 2010 | 2 Comments
Designed by Tass Gyenes | Country: Australia
"Although Lansdowne has been making juice for years, the '09 Savvy was going to be their first release to the masses. They wanted to make every one count, so individually numbered the short run of 1160 as they rolled off the line. This gave them a limited number of random, loved or lucky numbers – designed to take to the bingo and simply get lucky with."
July 22, 2010 | 3 Comments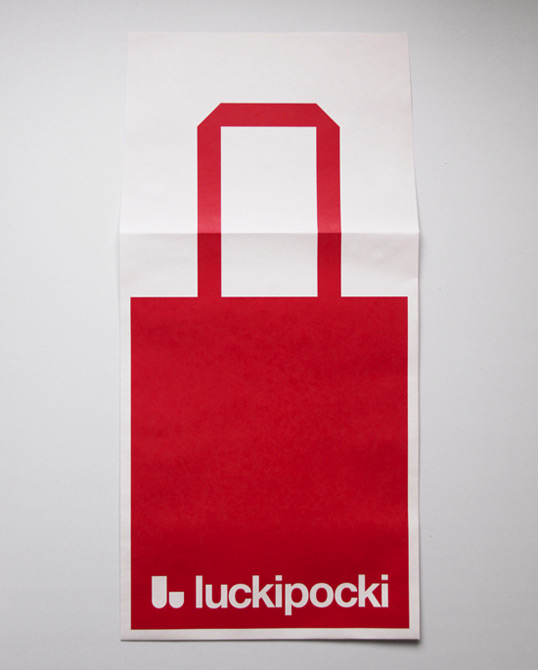 Designed by Blow | Country: Hong Kong
"Luckipocki is a young and fashionable tote bag brand. Their products are sold on-line. Therefore, the products need a package that can be mailed. We have designed an envelope which has a very bold tote bag graphic. The red tote bag graphic is eye-catching and clearly deliver the brand nature. This packaging can be easily recognized in a chaotic mail environment."
July 22, 2010 | 2 Comments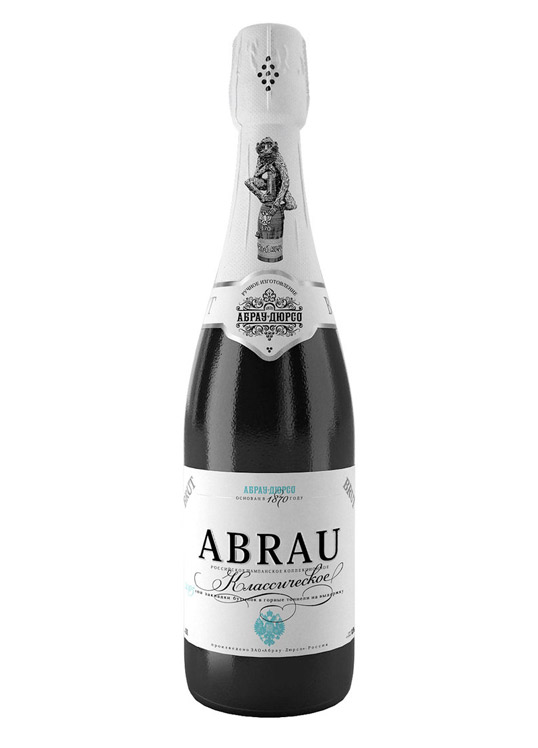 Designed by Province | Country: Russia
"In days of old Russian noble people used to keep monkeys for opening bottles with champagne. It was a very popular amusement to have a monkey opening a bottle with champagne. When a monkey opened a bottle, champagne started splashing under pressure from the bottle. The monkey started screaming and trying to close the bottle with the legs. The monkey was trying to stop champagne splashing, which only made champagne splash more… "
July 21, 2010 | 1 Comment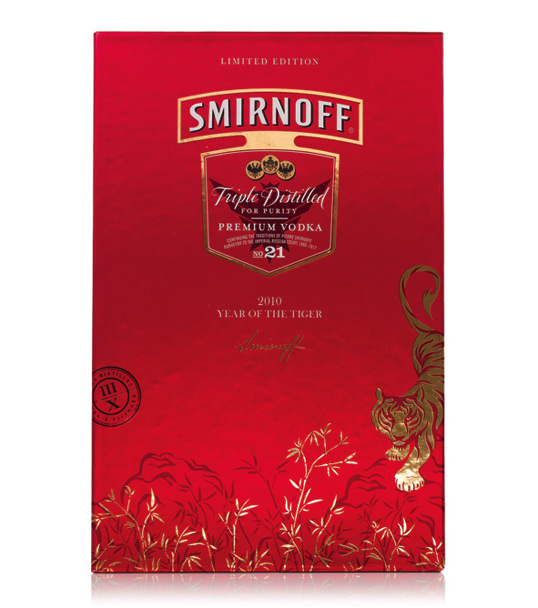 Designed by The Creative Method | Country: Australia
"Brief: The brief was to create a limited edition secondary pack to celebrate the Chinese New Year in 2010, The Year of the Tiger. The pack needed to reflect Asian premium cues and a 'special occasion' feel whilst supporting the Smirnoff core brand essence of originality, boldness and possibilities. It also needed to stand out on shelf and promote the gifting occasion.
Solution: Red and gold are perceived as premium colours in Asian culture and are also considered the colours of luck. The red background was the starting point to promote the brand, communicate the Chinese New Year and create stand out on shelf. The use of gold stylized graphics illustrate 'The Year of the Tiger' in a premium and sophisticated way whilst retaining the Asian look and feel required.
July 21, 2010 | 1 Comment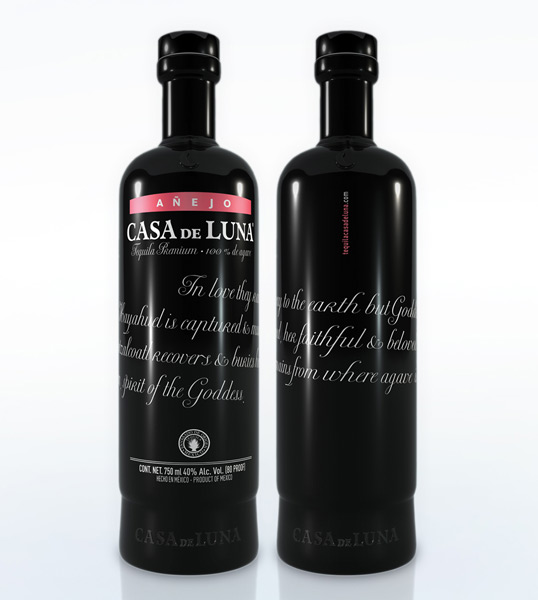 Designed by Bruno Misael | Country: Mexico
"Mexican freelance designer Bruno Misael was deemed the challenge to present and adapt Tequila Casa de Luna as Mexico's national beverage to the global contemporary demands and cultural trends; and turn it into a simply different version of tequila."
July 21, 2010 | 5 Comments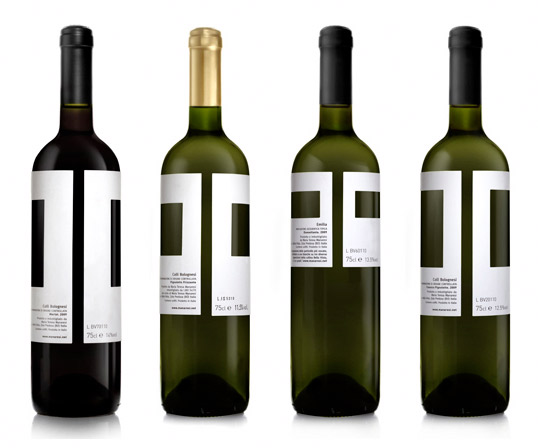 Designed by Mirit Wissotzky | Country: Israel
"Donatella Agostoni inherited the winery from her artist grandfather Paolo Manaresi. Coming from a family that over the years made, appreciated and collected art, to take on its tradition and cultural legacy, she decided to call the winery after him. Then, the whole design concept was created around the world of art and especially Manaresi's art of engraving.
For example, the frame that is created, each time differently, by pressing the piece of aluminum on a bigger piece of paper. This frame became the leading component of the brand, each time it changes format and the art it contains inside. Another important component is the four colors (red, gold, silver, green), one for each kind of wine. These sometimes appear as the dot (inspired by the 'sold' red dot), other times they come in different rectangles formats."
July 20, 2010 | 4 Comments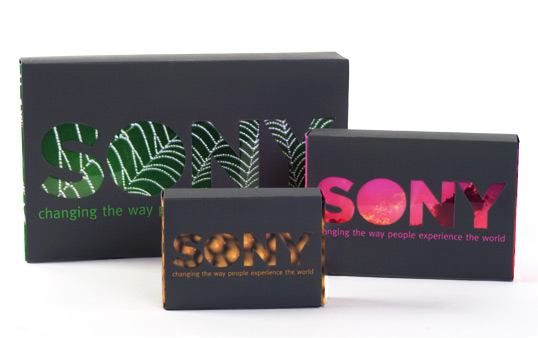 Designed by Jamie Prendergast | Country: United States
"I redesigned the Sony packaging for their Vaio, Cyber Shot and EX ear buds. While researching the company, I found a letter from the CEO to stockholders explaining that Sony products "change the way people experience the world." This statement inspired these packages, which have an outer sleeve with die cuts of the Sony logo and the product name on the back. On the inner boxes are images of nature that relate to the products inside. I wanted the packaging to be clean and simple, but still have an exciting and smart element that would accurately reflect the personality and functionality of Sony products."
July 20, 2010 | 3 Comments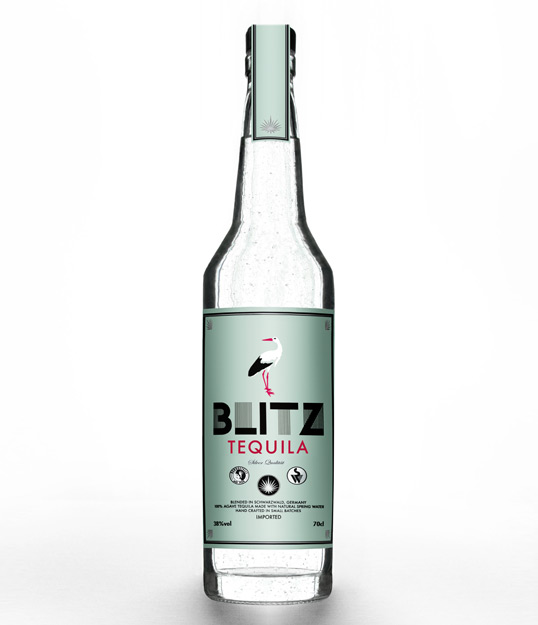 Designed by Hmm! | Country: France
"Blitz is a brand that had a short lived existence in Berlin in the roaring 20s and was synonymous of the free lifestyle that prevailed at the time. It was created by Dr Karl Heinz Blitz as a declaration of love for a Mexican artist who resided in Berlin at the time. I stumbled over the brand on a trip to the Black Forest, secured the rights and the brand and redesigned the packaging. Today, according to regulations, Blitz is not produced in Germany anymore but in Jesus Maria, Mexico. today we only have the Silver quality available, but will launch reposado, anejo and extra anejo later in the year. The label design is clearly influenced by Bauhaus and Art Deco, with the stork as a feminine element to counterbalance the otherwise very masculine typo.  The bottle was inspired by the very Mexican Corona bottle, but with sharper edges as a reminder of its German origins."
July 19, 2010 | 10 Comments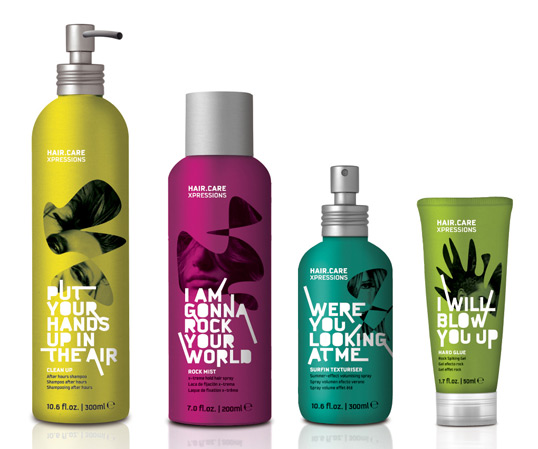 Designed by José Luis García Eguiguren | Country: Spain
"The main idea of this project was to create a pack that communicates an expression that describes an action or a pick up line. The expressions communicates directly to costumer inviting to experience something new. The lettering its created from the basic typography KAUTIVA and interacts with the pack, giving a modern and unique style. The abstract shapes and images evokes hair style mixed with the facial expression of the person. This product will target young people looking for a different hairstyle. It will will be printed on matte metallic containers. The limitations on this project was not to change the containers and the main name of the Brand (HAIRCARE)."
July 19, 2010 | No Comments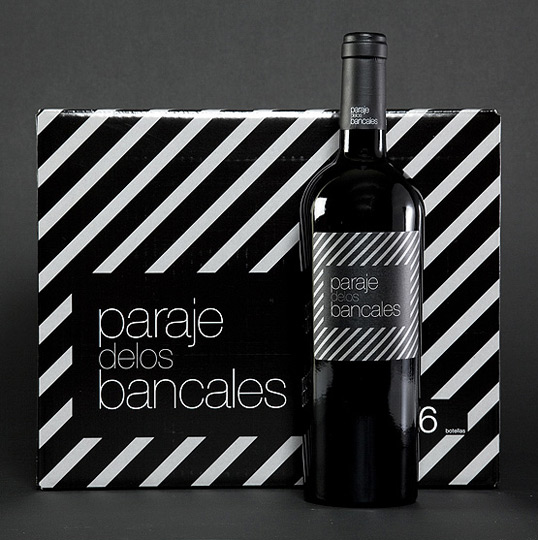 Designed by Javier Garduño | Country: Spain
"Paraje de los Bancales is the first wine of Bodegas Pastrana within the DO Arribes del Duero. This wine is elegant, different and with an unusual class. It was important that the image of this came out well, sober and elegant with an unusual class. I chose a one colour approach using lines and geometric elements simulating a wedding tie. All packaging will consist of an individual box of 3 and 6 bottles."