July 9, 2010 | 5 Comments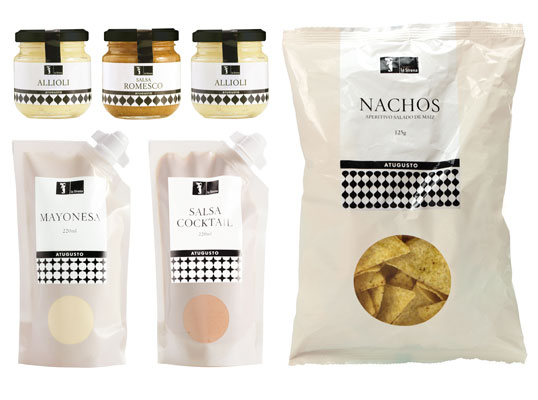 Designed by Marnich & Associates | Country: Spain
Some simple food packaging using circular windows/die cuts to show the product inside, and pattern to create visual interest.
July 8, 2010 | 1 Comment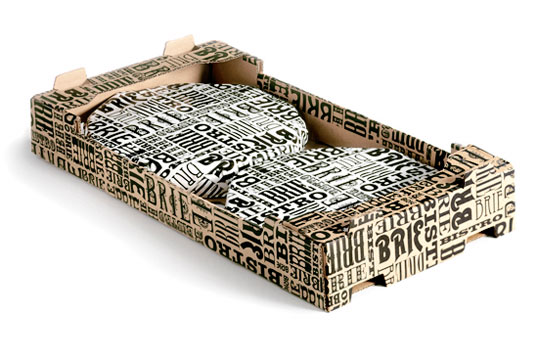 Designed by ID Kommunilkation | Country: Sweden
"Brie Bistro is a traditional quality cheese from Swedish dairy company Skånemejerier. The cheese is mainly sold in whole pieces to restaurants, cafés and catering businesses. Our task was to give the product a new packaging design reflecting the qualities of the cheese and making it stand out from the crowd. The final result is a purely graphic design with inspiration from the beloved French cuisine and old time brasseries."
July 8, 2010 | 7 Comments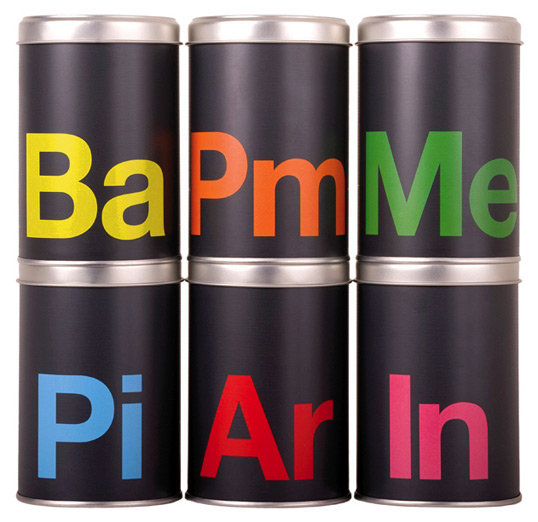 Designed by Eduardo del Fraile | Country: Spain
"A variety of salts of mass consumption, the containers of which can be distinguished by the initials of each salt flavour. These initials are inspired in the periodic table of elements."
July 8, 2010 | 3 Comments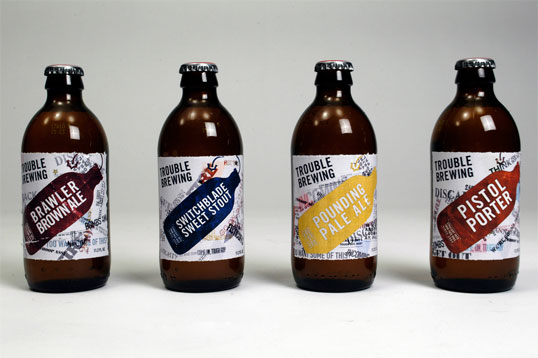 Designed by
Joe Montefusco | Country: United States
"My class was asked to design the identity (and any subsequent packaging needed) for any company of our choosing, invented or existing. I have been interested in designing my own brewery identity for a pretty long time, so I decided to create Trouble Brewing Co.
The idea behind this invented brewery was it would be a really intense kind of badass punky small brewery located in Seattle, WA. To achieve this look, I implemented a series of various techniques meant to reference the aesthetic of rock gig posters. I wanted Trouble Brewing to have a humorously over the top confrontational edge, so I tore the edges of labels and used type and various phrases to create that feeling."
July 8, 2010 | 4 Comments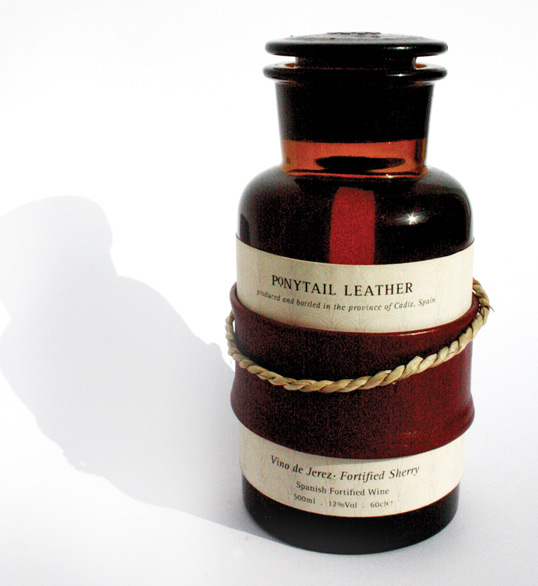 Designed by Lauren Elise Cassar | Country: Australia
"Ponytail Leather Sherry is a premium quality Sherry. The bottle and label are designed to encapsulate it's Spanish origins; employing a subtle Spanish pattern and a regal dark leather to represent the quality of the product."
July 7, 2010 | 1 Comment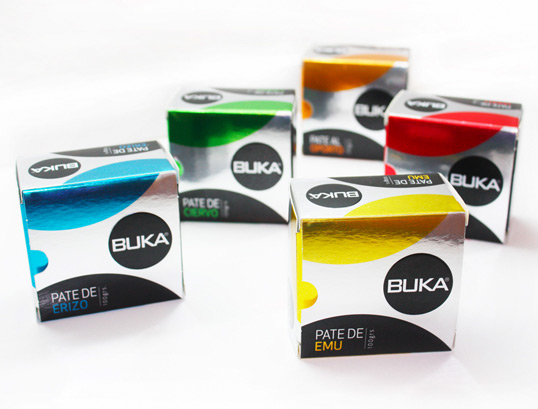 Designed by Mónica Yrarrázaval | Country: Chile
More work for Buka from Chilean designer Mónica Yrarrázaval. If you like this check out our previous post for Buka Antipasto.
July 7, 2010 | 3 Comments
Designed by QSLD Paris | Country: France
"Once again Veuve Clicquot trusts Denis Boudard to create it's new giftbox: The Veuve Clicquot Fridge. The designer and the brand have collaborated several times such as on the Trendy Collection, a whole set of champagne service tools composed of an ice bucket, some flutes, a bottle stopper, an appetizer and a spectactular Jeroboam ice bucket.
Ten years ago, Veuve Cliquot was revolutionizing the champagne consumption with its Clicquot Ice Box. This box allowed savoring one's favorite vintage at the ideal temperature. From then on, Veuve Clicquot chose to rethink every year its coolbox collection, in order to offer freedom to consume champagne anytime, anywhere.
Veuve Clicquot Fridge has been thought to keep the Brut Yellow label fresh for up to 2 hours. It is handy, forward-looking and aesthetically appealing. It underlines the brand's search for excellence and unique vision about innovation always combined with the finest champagnes."
July 7, 2010 | 3 Comments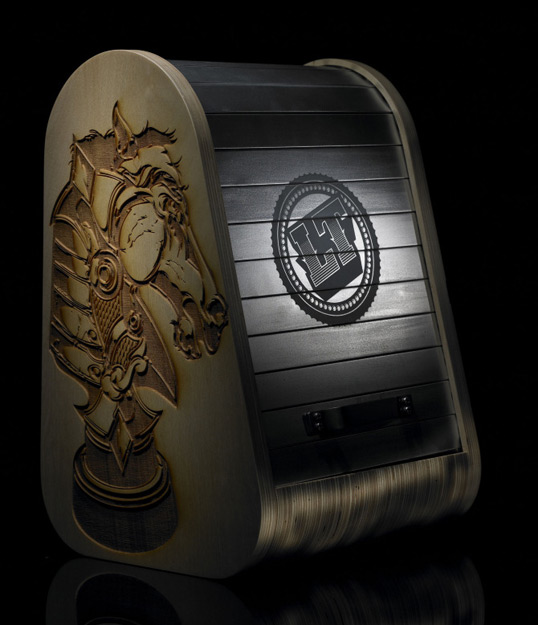 Designed by Jason Murphy | Illustration: Hydro74 | Country: United States
"These photos are from a project concepted by the Nike Athletic Training Brand Design Team and the Football Marketing Team. LaDanian Tomlinson was paying a visit to the Nike campus for the first time and our team decided to do something special for LT. This project was a joint collabo between E. Scott Morris of the Footwear Team, Jason Murphy of the Brand Design Team, Joshua Smith of Hydor74, Isaac Perry of Paradox Media, Julian Duncan of the Football Marketing Team and Jason Badden of the Innovation Kitchen. The Innovation Kitchen funded the project and assisted in it's development. We produced a book, a T Shirt, 1 of 1 sneaker and a one of a kind box. LT absolutely loved it. The goodies were presented to him at an event held on campus..This was truly a great project and special thanks goes out to all involved."
July 7, 2010 | 3 Comments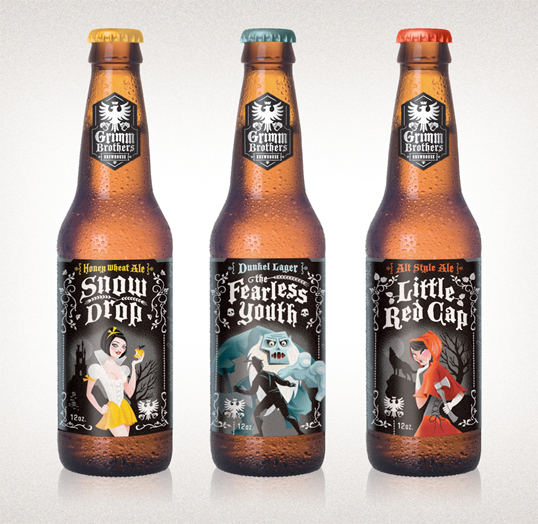 Designed by The Tenfold Collective | Country: United States
"Grimm Brothers Brewhouse is a craft brew startup in Loveland, Colorado. Each Grimm Brothers brew features a different scene from the famous folktales — but with a twist! (to keep it adult because it is beer after all) Example:  Little Red Cap has an axe hidden behind her back, making her more dangerous than the wolf, and Snow Drop doesn't look so "pure" while she's enjoying an apple. Currently they are only selling draft to restaurants, but plan to begin bottling next year. These designs will also be incorporated into the tap handles."
July 6, 2010 | 1 Comment
Designed by Only Creatives | Country: United States
Provo Utah based Only Creatives are behind the simple, elegant branding and package design for Million Vodka.