July 6, 2010 | No Comments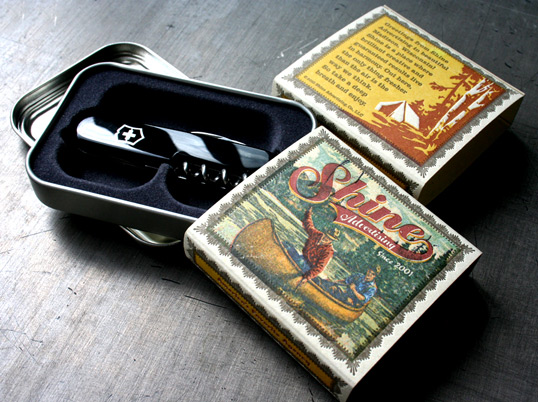 Designed by Shine Advertising Co. | Country: United States
"This ephemera was designed by the folks at Shine Advertising to dress up a pocket knife mailing sent to their clients as a promotional item. You might ask if that is really letterpress? Yep, actually that's four color process plus two spot color letterpress printed one pass at a time. That means that lil' piece of paper went through the presses seven times. (six color passes and a letterpress matrix score) Certainly not a typical use of letterpress, but that's why it was so fun to print it. Laying down color one at a time means a little guess work as you build the color density for the final image, but fun to watch it unfold. The process printed picture was from CSA stock images and worked pretty well to break out into plates even though it started as a heavily line screened image. The plates were printed with a 90 line per inch screen on Mohawk Loop Husk 160lb Cover."
July 5, 2010 | 2 Comments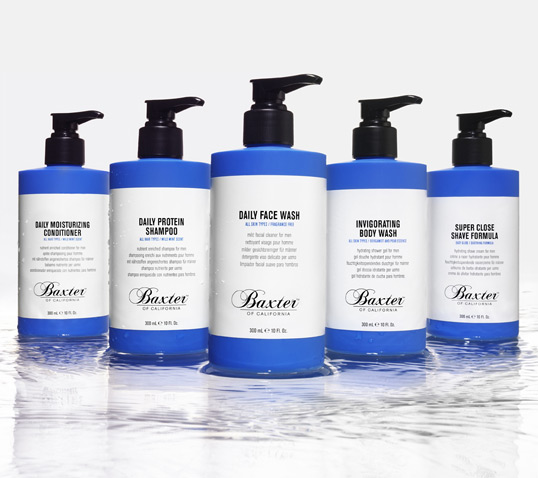 Designed by Baxter of California | Country: United States | Buy it
"Launching  this Summer, the Baxter of California product line is getting an update. No changes to product capacity or formulations, but improvements to the way the products dispense, and the addition of international languages.
July 5, 2010 | 2 Comments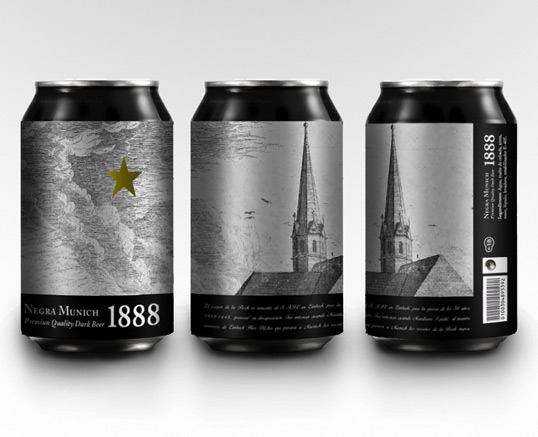 Designed by Erik G. de Lopidana | Country: Spain
"Packaging design for a new dark beer from the spanish company Estrella Damm. One of the mandatories was that it had to be a premium beer and that the company's golden star should appear. During research about the history of beer, I found out that the recipe was developed in Munich in 1888 and I based my whole creative project around that fact."
July 4, 2010 | 1 Comment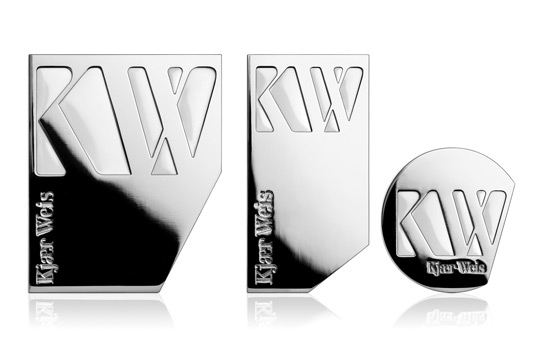 Designed by Marc Atlan | Country: United States
The design of the Kjaer Weis cosmetics line distills the fundamentals of women's makeup to its three essential areas of application: lips, cheeks and eyes.
The compacts are shaped to mirror the features they will be used to enhance: slim and long for the lips, large and square for the cheeks, small and round for the eyes. Aesthetically, the Kjaer Weis line fuses an understated and timeless classicism with the crisp minimal lines of modern jewelry.
July 3, 2010 | 2 Comments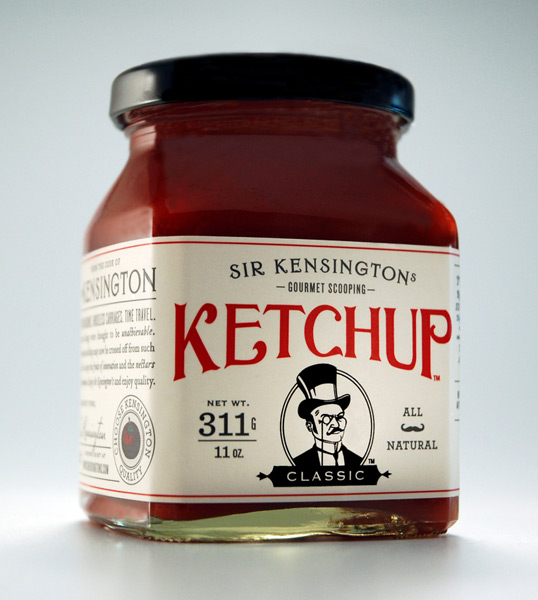 Designed by Alvin Diec | Country: United States | Buy it
"Sir Kensington's Gourmet Scooping Ketchup: an all-natural ketchup that is too exquisite to be squeezed from a plastic bottle.
The company was born out of an attempt to fill the dire market need for a gourmet ketchup – one that is healthier, tastier, and higher-end. The result was two flavors of ketchup, Classic and Spiced (chipotle-infused), both of which are sweetened only with honey, agave nectar, and raw brown sugar, with a base of whole pear tomatoes and apple cider vinegar.
July 2, 2010 | 4 Comments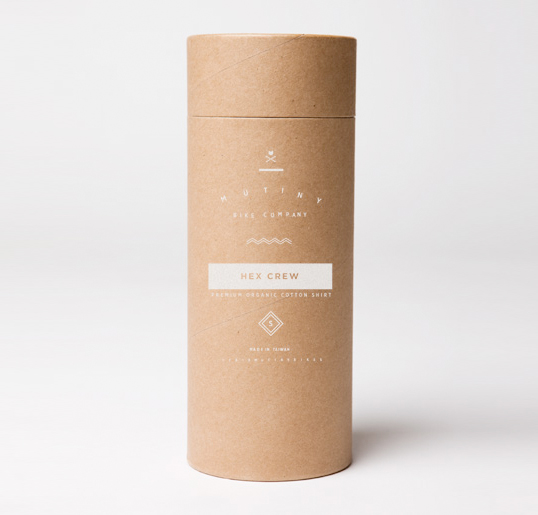 Designed by Caleb Owen Everitt | Country: United States
Kraft tubes screenprinted in a single colour are used to package tees for this bicycle company.
July 2, 2010 | 2 Comments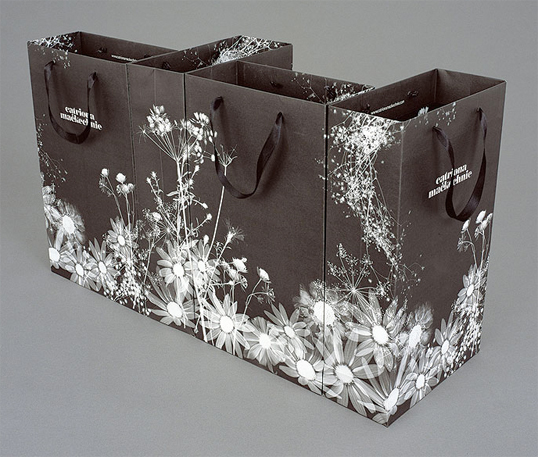 Designed by Bibliothèque | Country: United Kingdom
"Bibliotheque were responsible for producing the identity and brand positioning for Catriona Mackechnie, a luxury boutique in downtown Manhattan. A floral visual language was used to express the delicate, translucent products across all printed items."
July 1, 2010 | 4 Comments
Designed by Studio Output | Country: United Kingdom
"Pandora Bell is an artisan confectionery brand from the West of Ireland, practising under the philosophy that a high quality daily treat is healthier – and more satisfying – than a mouthful of artificial flavourings. We were asked to create branding and packaging to give their mouth-watering products the sophisticated presence they deserve. The resulting designs take inspiration from vintage food packaging and labels, giving them a contemporary twist through the use of different production techniques for the graphic components. The logotype, silhouette and patterns are used in varying degrees across the packaging, and executed in a range of finishes from foil to screenprinting."
July 1, 2010 | 6 Comments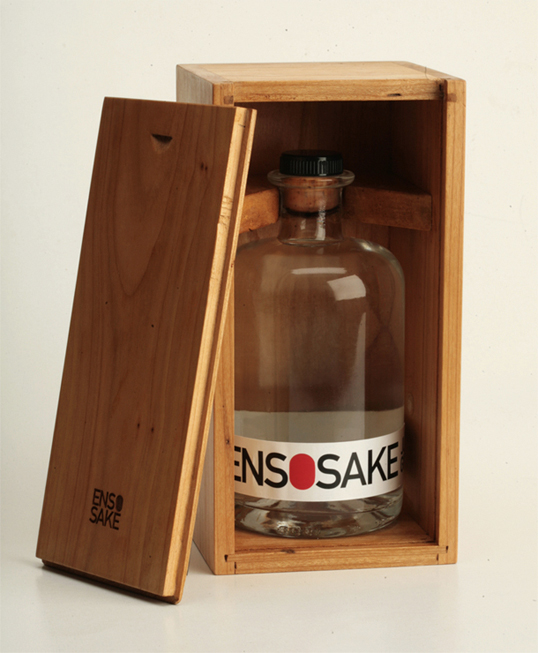 Designed by Milan Petrovic, Nevena Zecevic, Marija Milenkovic & Marina Rajic | Country: Serbia
Student work for a fictional Japanese food brand, Enso.
"This project consists of packaging for sake, noodles, rice, tea, sauces, spices and sushi- all traditional Japanese products. We spent a lot of time researching the subject and thinking about Japanese design, culture and art. Japan has always been our inspiration and this is sort of an homage to that beautiful country."
July 1, 2010 | 2 Comments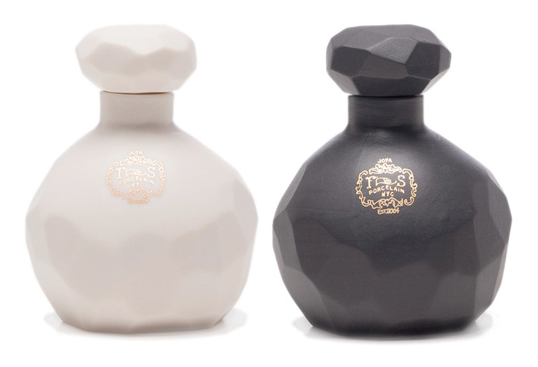 Designed by Joya | Country: United States
Fragrance box and bottle design is a rare opportunity for designers to be able to omit practically all information normally found on the packaging of a product, as standards for fragrances differ in that ingredients and other information can be listed inside perfume boxes, in booklets and leaflets. These porcelain bottles by Joya are a lovely example of a minimalistic approach which takes full advantage of this allowance.