January 25, 2011 | 3 Comments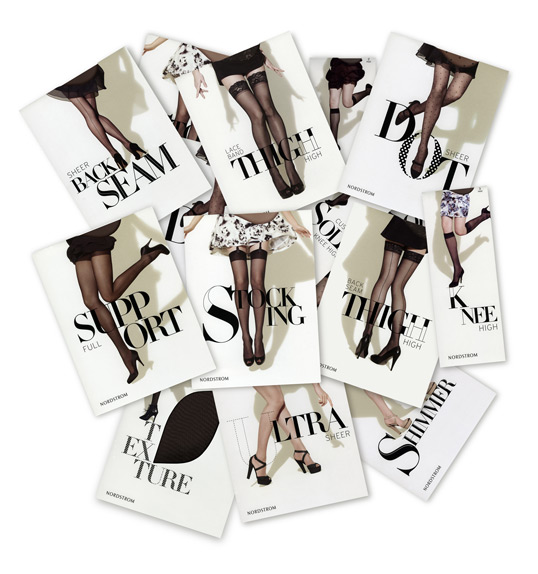 Designed by Turnstyle | Country: United States
"Nordstrom asked us to help them redesign the packaging for their signature line of hosiery. We developed a new look that combines a sense of fashion, attitude and sass through playful photography and interpretive typography."
January 25, 2011 | 4 Comments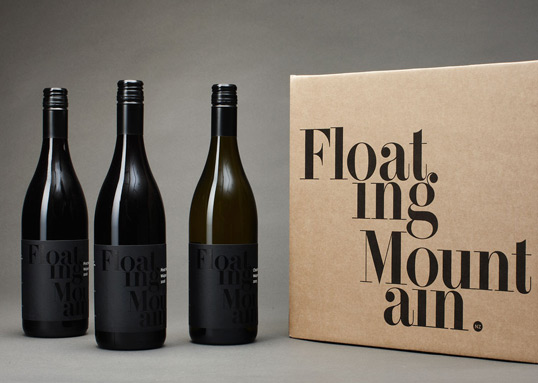 Designed by Concrete Creative | Country: New Zealand
"Floating Mountain owned by Dancing Water, Waipara, New Zealand wanted a revised label. We took it way further and the client loved it. A black gloss foil embossed onto black matt printed white uncoated stock. We have also redesigned their Dancing Water wine labels."
January 25, 2011 | 3 Comments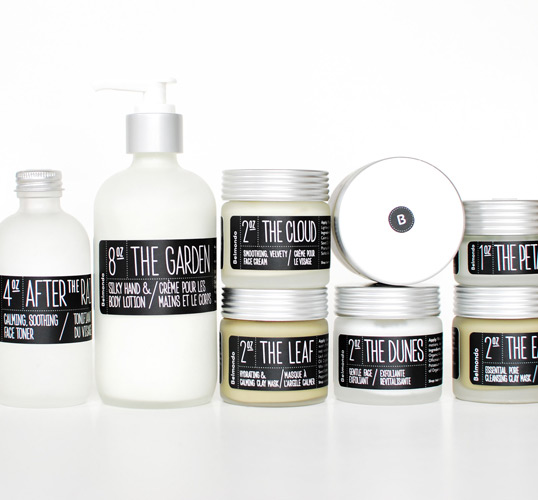 Designed by David Arias | Country: Canada
"Belmondo is Italian for "beautiful world." Created by Daniela Belmondo, a local esthetician who believes that beautiful skin comes from products derived from the earth's pure and restorative ingredients. Belmondo organic skin care is designed around the daily rituals of caring for yourself. Hand-crafted and formulated in small batches locally, Belmondo products are carefully formulated with the desire to share the incredible natural properties of olive oil, sourced from Italy. Working closely with Daniela, a custom hand-rendered type treatment was created to reflect the hand-crafted nature of the products."
January 24, 2011 | 5 Comments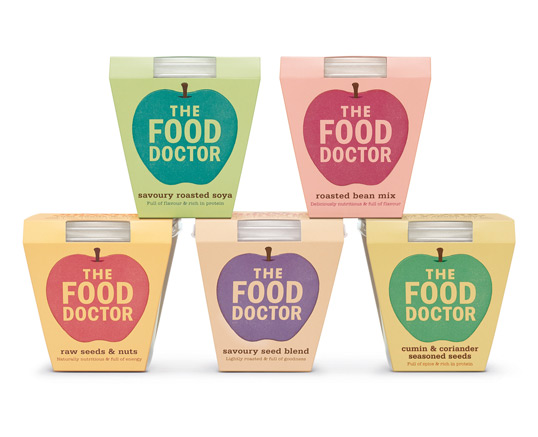 Designed by Pearlfisher | Country: United Kingdom
"Pearlfisher has created a new brand identity – and redesigned the packaging across the entire range – for the UK's leading nutrition consultancy The Food Doctor.
Co-founded in 1999 by Ian Marber, a leading nutritionist and acknowledged expert in his field, The Food Doctor is a unique concept that provides sensible advice for achieving a healthier plan for life. From the start it established itself as a visible brand in the field of healthier eating with a range of food products from seed mixes to ready meals.
The new identity needed to embrace the 'Eat better forever' strapline and move the brand focus from a functional product to more of a lifestyle proposition.
January 24, 2011 | 6 Comments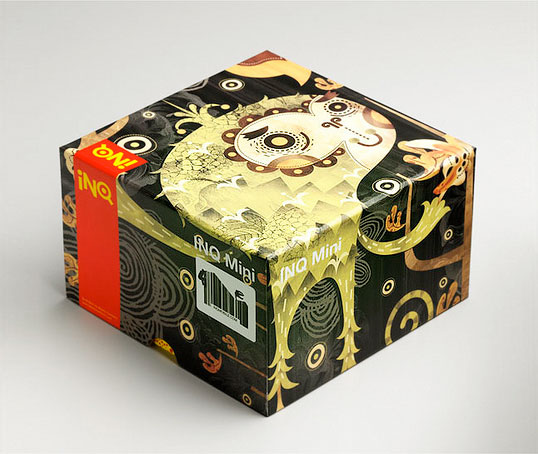 Designed by INQ Mobile | Illustration: Alberto Cerriteño | Country: United Kingdom
This richly illustrated box makes quite a change from the plain mobile phone packaging that many of us are used to seeing.
The purpose of packaging varies by product. As a rule, cellphone packaging works to protect the goods inside rather than actively advertise, as often a cellphone is decided upon and purchased before the packaging is even seen by the consumer. The brands which go the extra step to make their packaging interesting are the ones that understand that brand experience continues past the point of sale.
January 24, 2011 | 6 Comments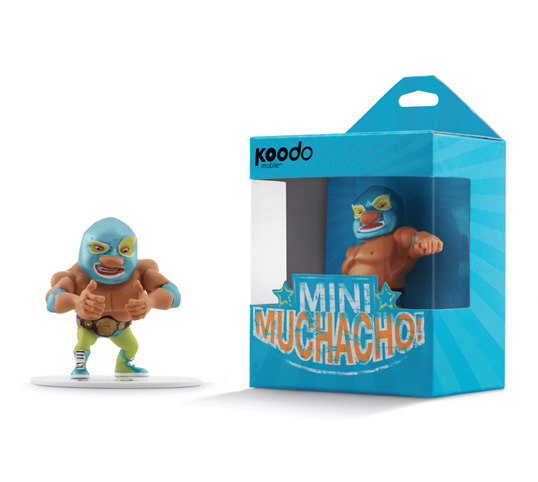 Designed by TAXI | Country: Canada
"The Mini Muchachos (and their packaging) was project created for Koodo (a youth oriented telco in Canada). The client asked TAXI to create a value-add offering that would work in conjunction with the current Koodo advertising campaign. If you purchased a new phone you received one of four Muchachos for free. The entire set were also available for sale with a portion of the proceeds going to charity."
January 23, 2011 | 3 Comments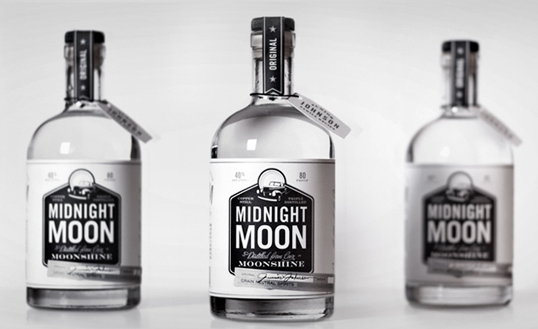 Designed by Shane Cranford | Country: United States
"Few family recipes carry a jail sentence, but for the Johnson family it was a way of life; with the law on his heels, Junior ran the finest moonshine to the dry rural south. Junior Johnson's family recipe is a triple distilled, lower proof and a legal version than the original. As smooth as premium vodka, it's grain neutral and virtually odorless. Drawing inspiration from the design of Johnson's cars, used for running in the 1930s and '40s the packaging was kept simple and bold."
January 22, 2011 | 1 Comment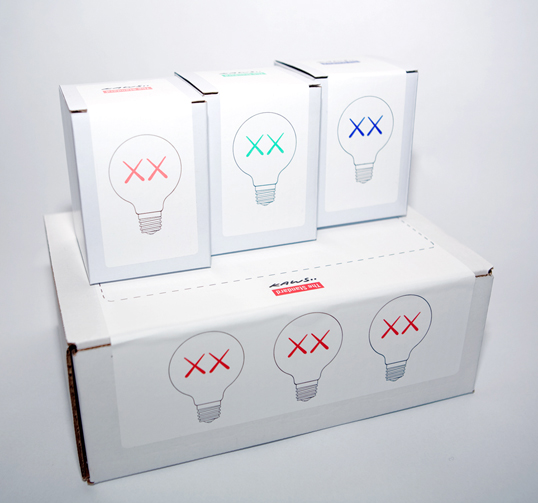 Designed by KAWS | Country: United States
Renowned artist KAWS and The Standard Hotel just launched their collaboration for limited edition filament light bulbs. Along with the light bulbs, 2 different types of KAWS pillows in multiple colors and KAWS companion key chains will be exclusively available for sale at New York shop.
January 21, 2011 | 5 Comments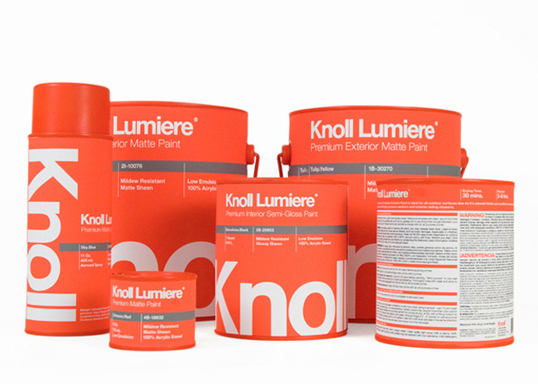 Designed by Kristin Agnarsdóttir | Country: United States
Kristin recently graduated with an M.F.A. in Graphic Design from the Academy of Art University in San Francisco, California. The program emphasized conceptual and critical thinking alongside typographic excellence, visual storytelling and solid craft skills.
January 21, 2011 | No Comments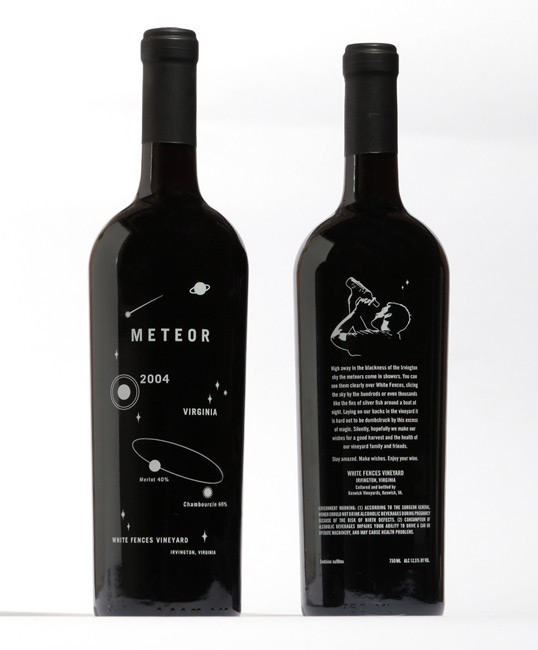 Designed by WORK Labs | Country: United States
"Designed for White Fences Vineyards, the bottle design started with inspiration from the name—Meteor. We started with a meteor and pretty quickly evolved to a mini solar system."