February 11, 2011 | 1 Comment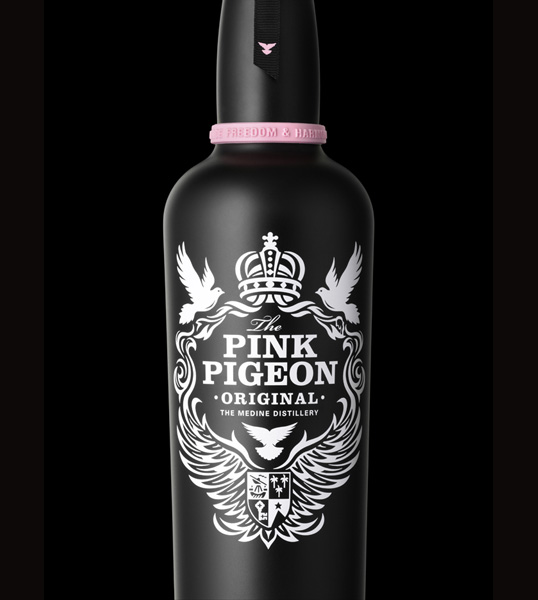 Designed by devilfish & Buddy | Country: United Kingdom
"Creative agency devilfish and Buddy have joined forces to launch a new rum brand for Berry Bros. & Rudd, one of the world's oldest wine and spirit merchants. The new rum brand is called Pink Pigeon, and hails from the island of Mauritius.
Berry Brothers & Rudd wanted to create a new 'ultra premium' rum brand, aiming to attract a new younger rum consumer by breaking with all of the conventional premium alcohol brand communications and packaging.
Whilst researching Mauritius, we found out about the pink pigeon – a rare extension to the pigeon family which is only found in the wild on the island. This unique creature became our brand icon, aligning 'The Pink Pigeon' with both the island and the notion of rarity.
February 10, 2011 | 2 Comments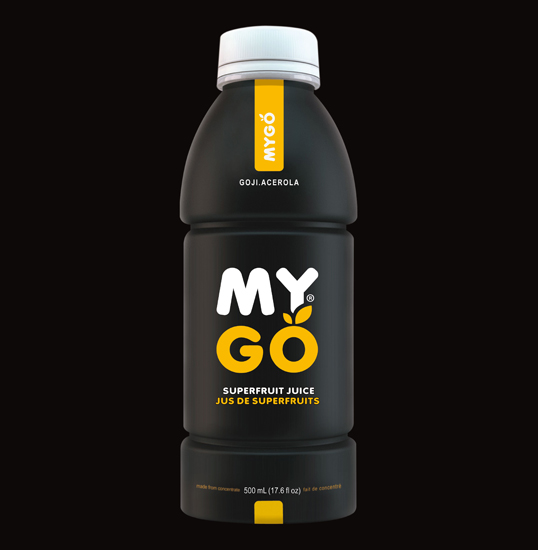 Designed by B&T Group | Country: Canada
B&T Group has redesigned the packaging for MYGO Superfruit.
"MYGO is a superfruit juice, rich in antioxidants. It contains goji berry, an ancient Chinese medicinal fruit, often called " the fruit of happiness". It is believed to stimulate and boost your fundamental energy.
MYGO is also rich in Vitamin C, and is a healthy and effective alternative to current energy drinks. Super tasty, super vitaminized, super healthy."
February 10, 2011 | 7 Comments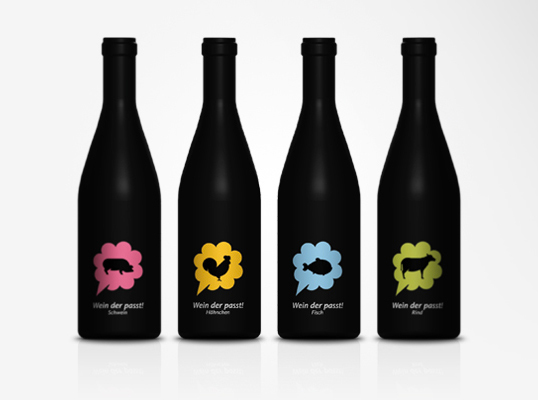 Designed by Sascha Elmers | Country: Germany
"A series of wine bottles that use simple pictographs to illustrate the relationship between the wine and the food with which it should be paired. The definitive pictographs also act to substitute the lengthy descriptions often printed on wine labels, thereby making the bottles visually appealing and minimal. On the shelf amongst other wine they stand out, and are easily read by the customer, so they're quickly able to determine which wine they should choose with their meal."
February 10, 2011 | 1 Comment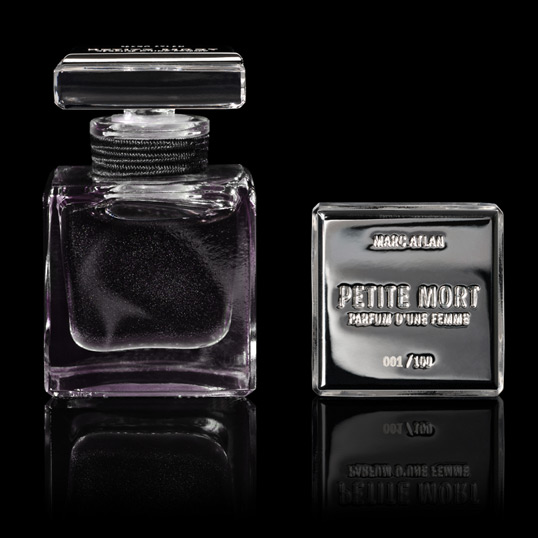 Designed by Marc Atlan | Country: United States
Creative Director Marc Atlan launches Petite Mort™, his first fragrance in a limited edition of 100 bottles.
"Inspired directly by the only bodily fluid secreted solely through desire and brain chemistry, Petite Mort™ (Parfum d'une Femme) embodies the elusive substance that is created by a woman when she is about to climax.
Petite mort, little death, total release; beyond a scent, more like a convulsion of the senses, like a hot, gasping breath that penetrates your memories and alters your subconscious.
An insidiously attractive, sharp redolence, on the fine line between repulsion and addiction, Petite Mort™ insinuates itself into your veins and your mind.
This fragrance is not really a classic scent. It is more the representation of a spiritual state, based on the paradox of an impossible ephemerality. It is perfume as art, the olfactory preservation of a moment, so that it may live forever.
The fragrance has been produced in an extremely limited edition of only 100 bottles and 15 Artist Proofs, each with its own signed and numbered certificate of authenticity. The bottle is an archetypal flask with an unorthodox twist. A cube of classic proportions, its neck is tied with a black band. The stopper is adorned by a polished cast metal plaque, engraved with each bottle's edition number. A deceptively simple fabric pouch holds and protects the perfume.
The glass bottle is made by Verreries Pochet, one of the oldest French luxury glassmakers, founded in 1623. Their first designer perfume bottle was commissioned by the Empress Eugénie in 1858. Pochet famously created the "Eau de Cologne Impériale" bottle for Guerlain. They were also instrumental in reviving the famous Lalique crystal company."
February 10, 2011 | 1 Comment
Designed by Dizen | Country: Argentina
"Caelum is a small winery in Agrelo, Mendoza, which makes very special wines. The owners are passionate about the sky. The name of the winery comes from the Caelum constellation. Why not make a wine label that represents the best of their production? So we made a series of cosmic labels for these "galactic wines".
February 10, 2011 | 1 Comment
Designed by CB'a Design Solutions | Country: Spain
"A range consisting of three references, each one showing off a unique colour. The transparency plays an important role in the design due to the fact that it enables the different elements of the packaging to fuse together without minimizing its importance. A strong branding consisting of typography of Gothic influences, brief text explaining the characteristics of the liqueur to the consumer and a cross symbolizing of the origin of these orujos. The result, a reinterpretation of the Galician classic codes that add impact on shelves and transmit undisputed quality."
February 10, 2011 | 4 Comments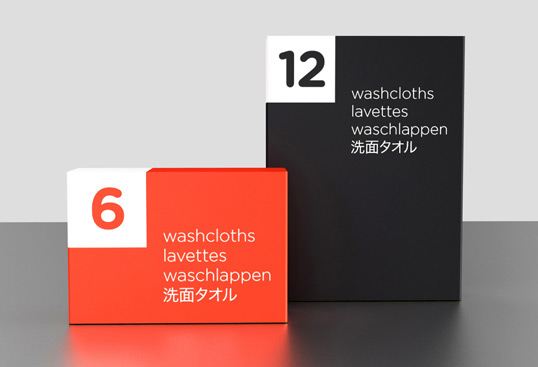 Designed by Jill Brown & Brian Paschke | Country: Canada
"Inspired by compressed emergency clothing found in Japan; these sugar cube-sized objects expand into full-size cleaning cloths when placed in water. To emphasize this miniaturization, the cubes are packed into little boxes approximately the size of an ordinary dish sponge.
Each box is assigned with a colour depending on its quantity for easy identification. The white cube graphic that wraps around the box clearly conveys actual size of the product. Minimal type and use of info-graphics makes this product internationally friendly."
February 9, 2011 | 8 Comments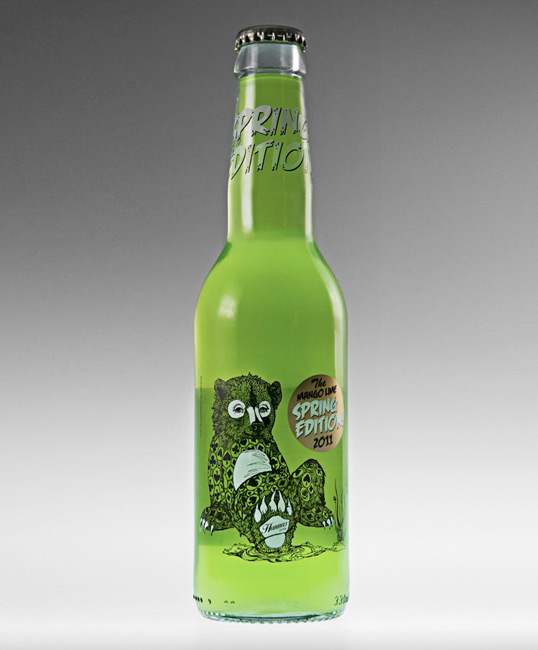 Designed by Division | Country: Sweden
"Spring Edition! – Mango Lime Cider. The bear wakes from his hibernation to welcome Spring."
February 9, 2011 | No Comments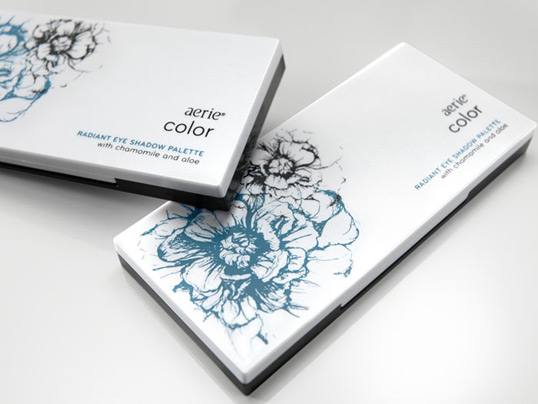 Designed by Ziba | Country: United States
"New packaging design for Aerie brand cosmetics by American Eagle. The fresh botanical illustration gives a natural, light and clean feeling to the new botanical makeup line."
February 8, 2011 | 1 Comment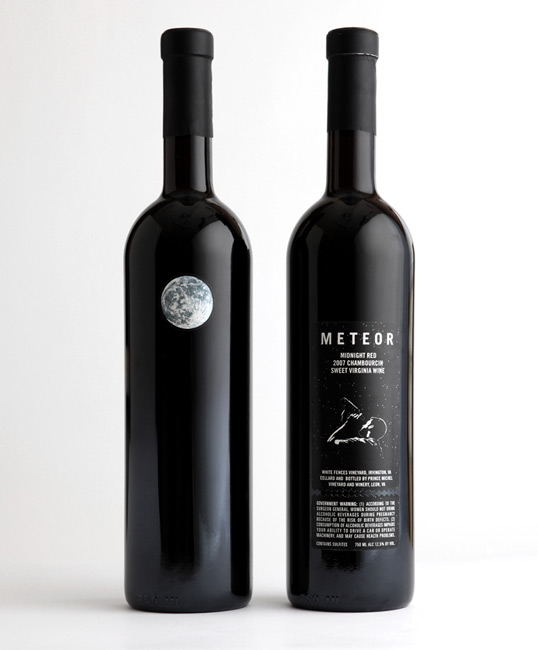 Designed by WORK Labs | Country: United States
"The midnight sky over Irvington, Virginia—home of Meteor wine—is clear and dark. When the full moon rises, it's bright enough to see everything. We wanted to focus on that midnight moon for Midnight Red and printed a grayscale moon on silver metallic label stock. We like to think this bottle is a nice example of "less is more."