February 8, 2011 | 4 Comments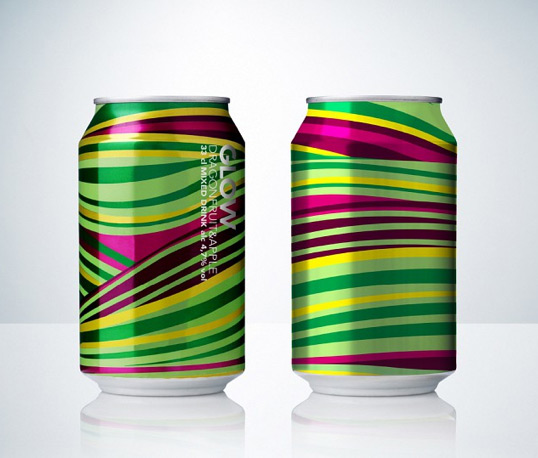 Designed by Neumeister | Country: Sweden
"Input: Åbro Bryggeri, one of the most modern family breweries in Europe, wanted a brand new design concept for a brand new mixed drink named Glow. They were hoping for love from young women and respect from young men (above legal age for drinking of course).
Output: The design for Glow is modern and colourful, clearly flirting with the fashion pack among the target group.
Outcome: The launch was started off in the cross-border markets in the Nordic countries."
February 7, 2011 | 2 Comments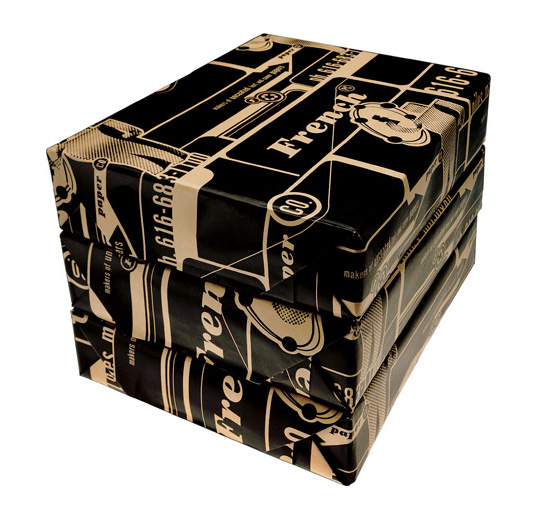 Designed by Charles S. Anderson Design | Country: United States
"Bulk paper, ream wraps, and carton boxes are at the core of the paper business, and sometimes they are all that French Paper customers see of their identity. These bold wrap designs, in black and kraft, are powerful visual reminders of America's most unusual paper mill."
February 7, 2011 | 1 Comment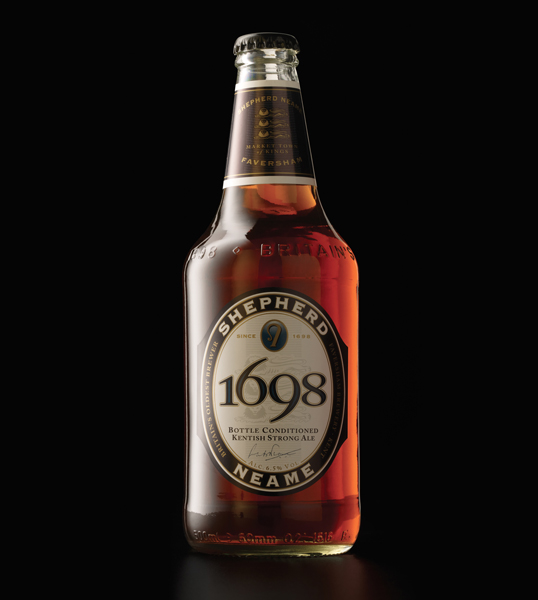 Designed by SAA Design | Country: United Kingdom
"Officially founded in 1698, Britain's oldest brewer, Shepherd Neame, has recently relaunched it's premium flagship ale, by SAA Design. Thrice-hopped and bottle conditioned, 1698 is the connoisseur's choice, and with an ABV of 6.5%, a beer to be savoured.
Originally brewed to celebrate the tercentenary of Britain's oldest brewer, 1698 is a characteristically hoppy Kentish ale, and has Protected Geographical Indication, the same unique regional protection afforded to Champagne and Parma Ham.
The ale matures naturally in the bottle and can be enjoyed fresh or allowed to settle for a few months to mellow. The natural effervescence produced by bottle-conditioning – the interaction of yeast and brewing sugars – gives 1698 fine, champagne-like bubbles that further enhance the fragrance, flavour and overall drinking experience.
The 500ml bottle label features bold black and white graphics with the three lions watermark; the symbol of Faversham, home of Shepherd Neame and known as the market town of Kings because of it's Royal connections, adds layers and texture to the new design, endorsed by fifth generation Chairman Jonathan Neame's signature at the base of the label.
A silver medal winner in the Taste of Britain Awards, 1698 has been included in the International Beer Challenge's World's Top 50 Beers.
February 6, 2011 | 5 Comments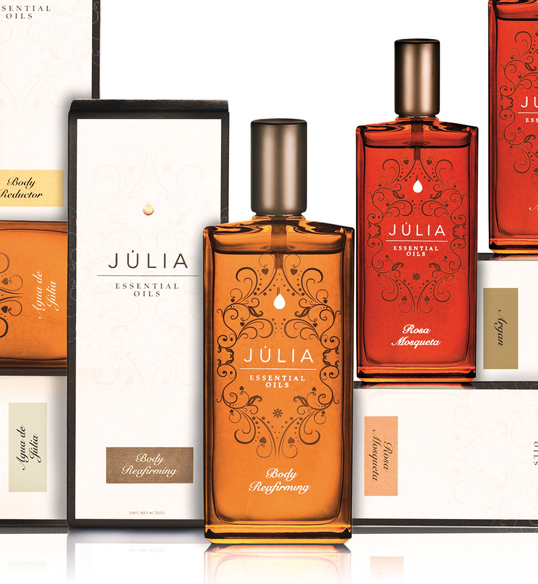 Designed by Garrofé | Country: Spain
"Perfumeries Julia has entrusted to Garrofé Brand&Pack the design of the packaging collection for the launch of their new line of beauty and cosmetic products, Júlia Essential Oils. This line has six essential oils for the care and the personal beauty: Júlia Water, Musk Rose Oil, Argan Oil, Slimming Body Oil, Firming Body Oil and Seduction Body Oil. The line also includes perfumed candles, Intense Candle, and a set of incense sticks, Mikados, to give the home some atmosphere.
Garrofé Brand&Pack has designed all the packaging of the new line thinking both about the natural and beneficial own properties of the essential oils and about the tastes and needs of the target, basically women with a moderate to high purchasing power who care about their physical and spiritual well-being, who look for high-range products and who trust in Perfumeries Júlia.
February 5, 2011 | 2 Comments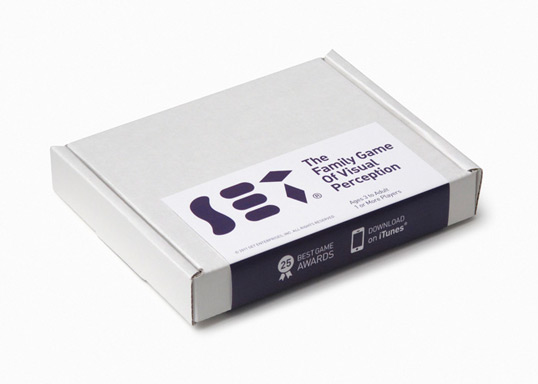 Designed by Allen Choi | Country: United States
"SET is an award-winning, visual perception card game that is played around the world. For a design exercise, I wanted to explore a contemporary direction for its identity and package. The beauty of this game is in the cards, which feature iconic shapes and colors that, in a way, become a powerful identity in itself. For the logo, I was able to arrange these shapes into the word "SET" while keeping to the game's definition of a set. For the packaging, I was inspired by the game's origin: it was created by a population geneticist as a tool to understand different gene combinations. The design's sterile and clean aesthetic is similar to the look of packages you may find in a laboratory."
February 4, 2011 | 4 Comments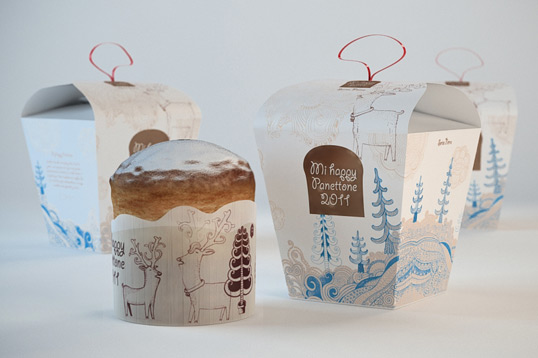 Designed by SeriesNemo | Country: Spain
"Mi Happy Panettone is a packaging exercise of a fictitious product and brand we have designed to wish our clients Merry Christmas."
February 4, 2011 | 4 Comments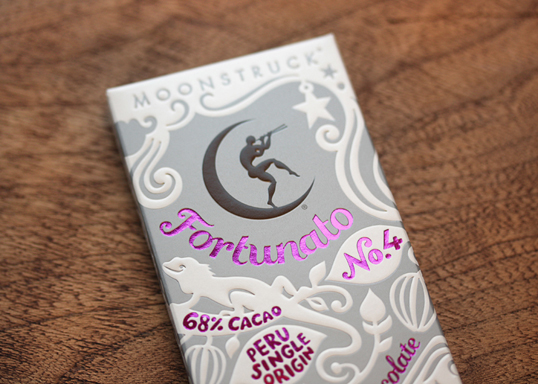 Designed by Sandstrom Partners | Country: United States
More great work from Portland based Sandstrom Partners for Moonstruck Chocolatier. Check out some of their past work we've showcased here and here.
"Moonstruck Single Origin Peruvian Fortunato No.4 chocolate bar packaging. Moonstruck Chocolate is a Portland, Oregon based company known for making premium handcrafted truffles. This chocolate bar packaging is Moonstruck's fourth entry into the premium, single origin chocolate bar category. The chocolate itself was described as the ultimate in single origin chocolate, so we needed to create a package that reflected this. Our goal was to create a package that families with the current Moonstruck Single Origin chocolate bar collection but would be notably more premium in look and finish. The illustration and typography continue on in Moonstruck's now signature hand-cut paper style. The finishes include: Matte Soft-Touch (Metallic Silver areas). Embossed Glossy Diamond-Kote Varnish (White Illustration + Logo). Purple foil (Typography)."
February 3, 2011 | 14 Comments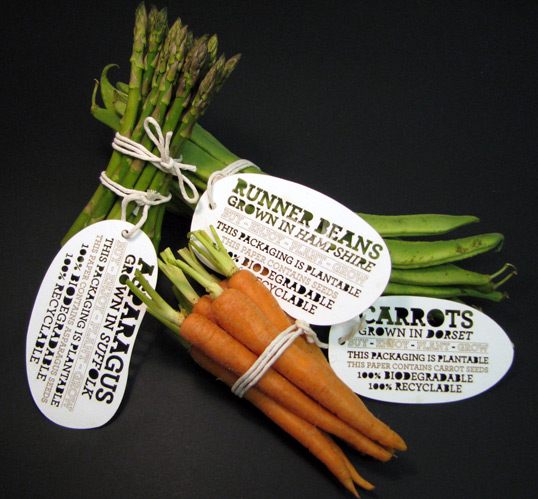 Designed by Ben Huttly | Country: United Kingdom
"Through experimentation and innovation I have developed a form of packaging that is 100 percent biodegradable and recyclable. If the packaging is discarded it will have a positive effect on the environment due to the seed embedded biodegradable paper. The twine used to secure the product and label is natural cotton and 100 percent biodegradable."
February 3, 2011 | 1 Comment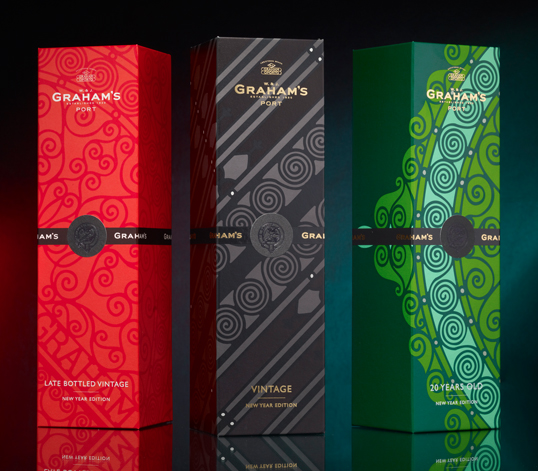 Designed by Symington Family Estates | Country: Portugal
"Inspired by the upcoming Chinese New Year and the use of vibrant colors in the Asian culture, the Graham's Port Asia New Year Edition packaging has been specially released to mark the celebration for this occasion.
Red, green and black were chosen to interpret:   prosperity and happiness;  harmony and balance; power and masculinity.  These concepts are expressed through the detailing of the design in the wrought iron 1890 gate at the 'Malvedos' property in the Douro valley.
February 3, 2011 | 12 Comments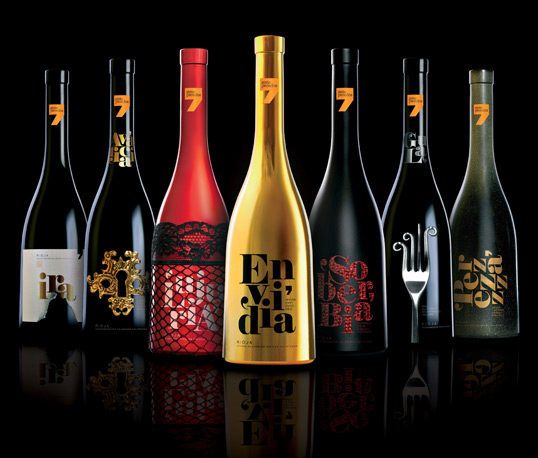 Designed by Sidecar | Country: Spain
"A Series of wines inspired by the Seven Deadly Sins. The design of the bottles reflect each one of the sins visually. Fall into temptation."