December 6, 2011 | No Comments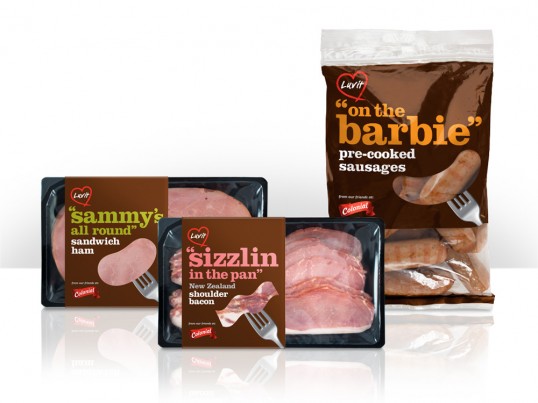 Designed by Curious | Country: New Zealand
"Curious can never be accused of churning out design like a sausage factory, but in this particular case we have created a packaging range for not only the sausage factory-but the bacon and ham factory as well!
Our client, Colonial, already had a strong presence in the premium quality, small goods category. However they recognised an opportunity to launch a range of products that were more accessible and affordable. The brief was to come up with a design that talked to the consumer in a straightforward way, but that also exuded a high degree of personality.
The use of New Zealand colloquialisms and informal typography achieved the desired result in an entertaining way. Luv it!"
December 5, 2011 | 9 Comments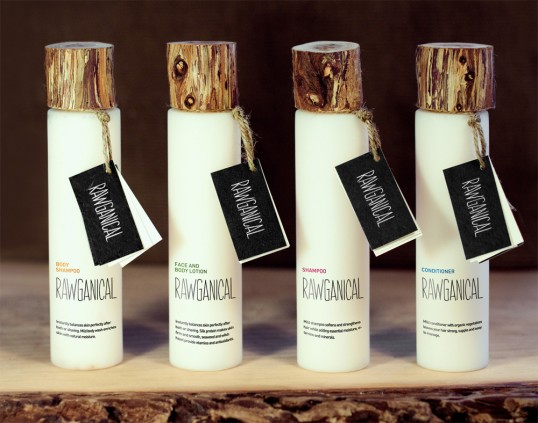 Designed by Casper Holden, Randi Sjælland & JensenIngeborg Lund | Country: Denmark
"Our assignment was to design a new line of four organic products for a luxurious Scandinavian hotel. As a part of the task we also had to come up with a product name which reflected the brand's qualities and values. We came up with the name 'Rawganic' and the idea to create a rustic wood lid on a minimalistic designed bottle."
December 5, 2011 | 3 Comments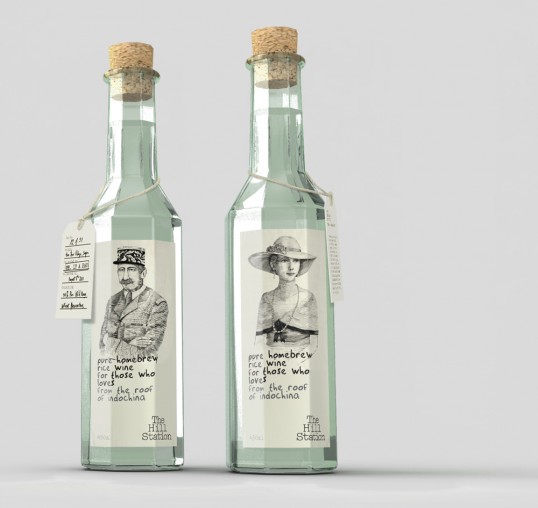 Designed by Studio Egregius | Country: Vietnam
"The Hill Station is a business marriage of fine dining restaurant and deli/boutique, located in Sapa, Vietnam's highest region. The client wanted a brand which both reminisces the essence of French Indochine days while standing independently as a contemporary identity. The Hill Station products range from fresh produce harvested straight from local farms, limited packaged delicacies such as wild honey, rice wine… to gourmet charcuteries or handmade silverware. At the same time, The Hill Station signature restaurant is a renovated French outpost, with a view from the clouds.
The design is inspired from Indochine's visual cultures, from photographs, drawings, literary & cinema, architecture… and executed in a uniformed minimalist style. A fusion of the past and the current."
December 4, 2011 | 1 Comment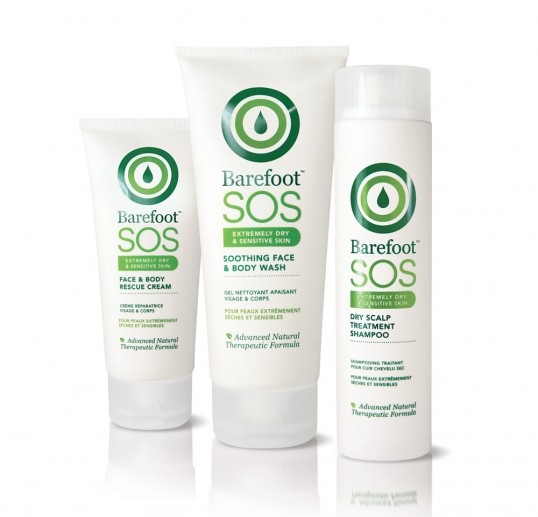 Designed by BrandOpus | Country: United Kingdom
BrandOpus have redesigned the packaging for Barefoot SOS, launching into stores now. BrandOpus were appointed to redesign the 12 product range for Barefoot Botanicals, which was founded in 1997 by homeopathic practitioners Jonathan Stallick and Hilery Dorrian.
With the natural products sector becoming crowded, BrandOpus were briefed to sharpen the message create a pack design that demonstrates the efficacy and reflects of the quality of the product, shifting consumer perceptions of Barefoot SOS from niche beauty brand, to skincare range with a wider audience reach.
BrandOpus were inspired by the efficacy of Barefoot SOS, which has gained it a wide audience of devoted follower looking for premium, dematological solutions. BrandOpus created a target device, illustrative of how the range targets skin-problem areas, and gets to heart of the sensitivity. The droplet device communicates the benefits of the Barefoot range: effective, but easy on the skin.
The choice of a white and green colour palette, communicates the advanced natural therapeutic formula of the range, which combines cutting-edge science with a thousand years of herbal wisdom.
To those in the know, the SOS range is a lifeline for sufferers of dry, sensitive, irritated or uncomfortable skin. Following BrandOpus' redesign the pack now allows Barefoot SOS to compete with mainstream dermatological brands, without confusing loyal fans of the brand.
December 2, 2011 | 3 Comments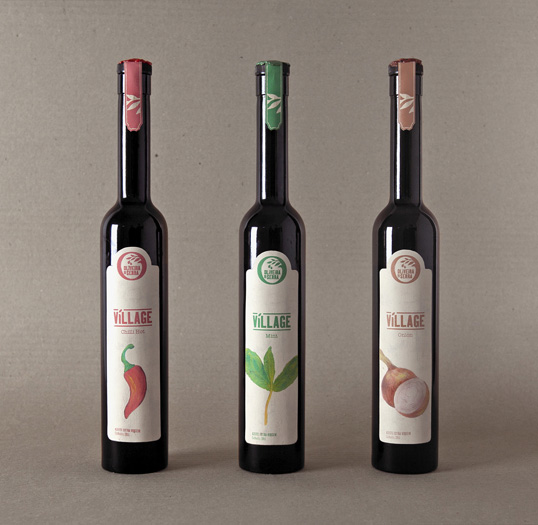 Designed by Luís Oliveira | Country: Portugal
"Village is a project that was developed in the Graphic Design course at IPCA (Intituto Politécnico do Cávado and Ave) in Portugal, directed by teacher Jorge Pereira.
Village is the gourmet range/brand/variety of Oliveira da Serra's olive oil. With three types that combine the best extra virgin olive oil with different flavors like Chili, Onion and Mint.
All development of packaging was based on the traditional roots of this product, with special attention to the use of organic production. The organic concept is also represented on the labels from all the three illustrated flavors."
December 2, 2011 | 4 Comments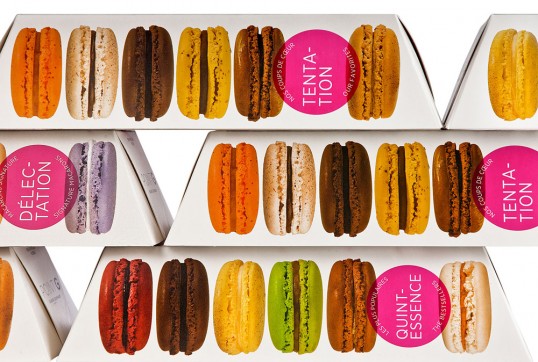 Designed by Chez Valois | Country: Canada
"Point G a French word, meaning the G spot… but make no mistake, don't get any ideas, we are talking here about a gourmet spot, the rallying spot of all foodies!  Because gastronomy mixes both pleasure and sensuality, it can be shared, offered, discussed… in flavours, colours, images and words. Ode to gastronomical delights in all their forms. With the new packaging platform, you lick (léchez), drink (buvez), crunch (croquez), experiment (expérimentez)… gulp (gobez), spread (tartinez), roll (tirez), pearl (perlez), sear (saisissez), share (partagez), and so on…
December 1, 2011 | 4 Comments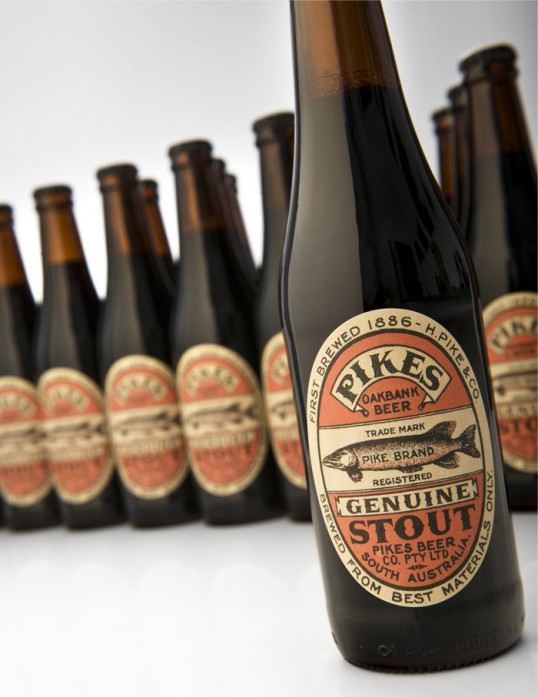 Designed by Black Squid Design | Country: Australia
"The Pikes Stout label is to reflect one of the original Pikes beer labels – traditional handcrafted genuine stout."