September 18, 2012 | 5 Comments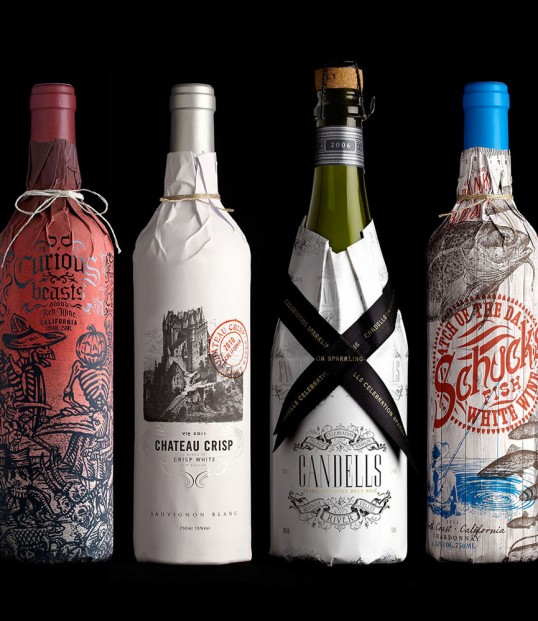 Designed by Stranger & Stranger | Country: United States
Kevin Shaw, Founder and Creative Director of Stranger:
"The idea came from our own No.13 pack. We created brands in a packaging format that stands out and adds value, interest and gifting opportunities. The added real estate that the over sleeve gives us has allowed us to engage with people in a way that a tiny back label never can. Everyone just wants to pick up and read these packs.
The best ideas are the simplest and we made them look striking and very individual. The launch range is just hitting the shelves and we're developing new ideas every day.
I have to say that I applaud the way that Safeway have so enthusiastically embraced the idea. This is just the beginning. We're going to see a lot more interesting ideas in the wine aisles this year."
September 17, 2012 | 5 Comments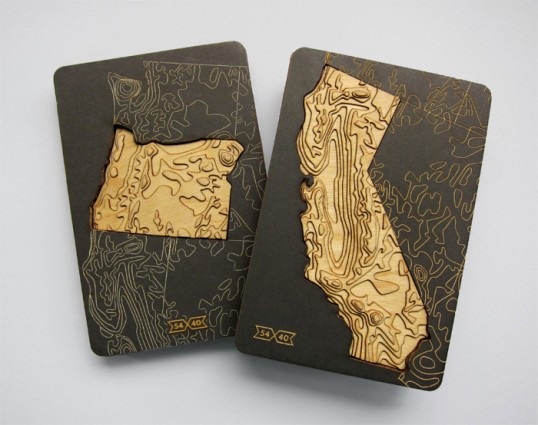 Designed by the Bureau of Betterment | Country: Denmark
"The 54-40 packaging project was a collaboration between two sole proprietors: Mette Hornung Rankin of the Bureau of Betterment and Greg Jones of Fifty-Four Forty. Greg had the idea to create a set of magnetic-backed US states made out of laser cut wood that show the topography of America. After meeting at an ADX Feedback Loop event, Mette and Greg decided to collaborate on packaging prototypes for the first batch of products he wanted to sell to gather interest in his idea."
September 17, 2012 | No Comments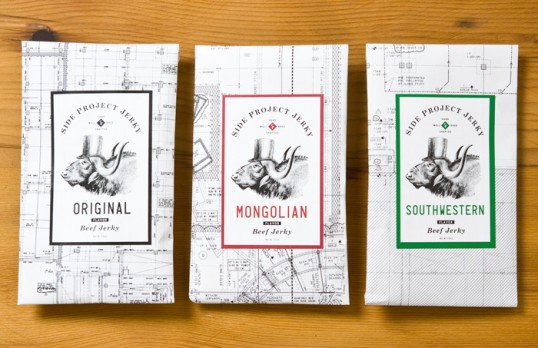 Designed by A Well Respected Man | Country: United States
"Side Project Jerky is the result of countless hours spent testing marinades and drying times for perfectly flavored and textured jerky. Born in the kitchens of work colleagues Marcos Espinoza and Mark Novasack and ultimately conceptualized over a few pints with the help of brand strategist Daniel Olsovsky, Side Project offers its customers a pause from the demanding life of a gentleman. Each flavor is first vacuum sealed and individually hand wrapped in its own (unique) re-purposed mechanical drawing that would otherwise be tossed in the trashcan (we hate wasting paper) The packaging also references Marcos's primary occupation as a construction manager."
September 16, 2012 | No Comments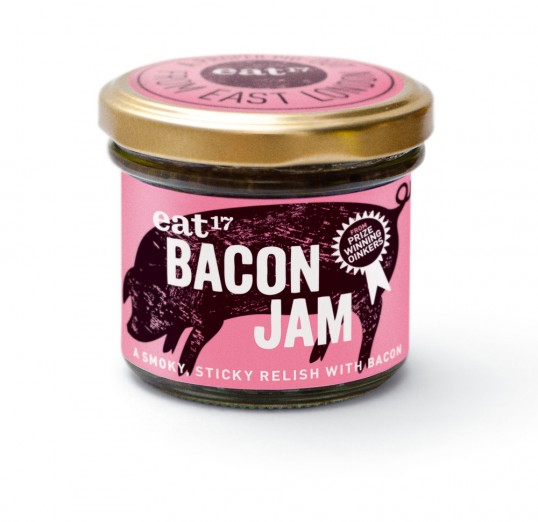 Designed by Together Design | Country: United Kingdom
"Together Design has created new packaging, point of sale and web design for quirky artisan condiment Bacon Jam.  Concocted by independent bistro Eat17 in Walthamstow Bacon Jam started out as a local phenomenon but newly launched with branding by Together Design, has now secured shelf space at Tesco. 
Together Design worked with the artisan producer to develop distinctive labels and messages that stand out on shelf and celebrate its meaty and modern credentials. 
"Katja Thielen, Creative Director at Together Design says "Bacon Jam is an unusual product and that sense of creativity was the starting point for the branding. Relishes don't usually contain meat, so we needed to convey that strongly on pack. The other task was to develop a quirky tone of voice to bring out its artisan character".
September 16, 2012 | No Comments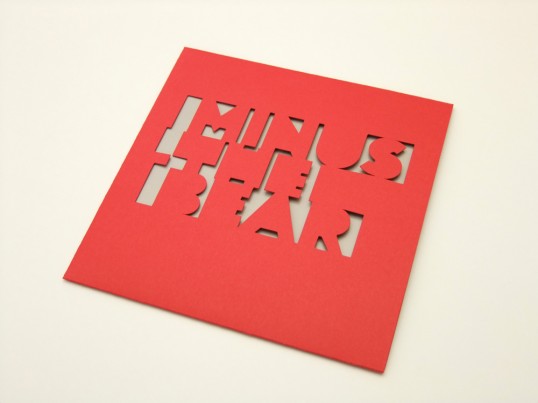 Designed by ACDSleeve | Country: United Kingdom
"This is the first Cut Cover 7" vinyl sleeve from ACDSleeve for Minus The Bear – Steel and Blood on Big Scary Monsters Records. The cut out sleeve was designed around a printed inner sleeve provided by DMS. A total run of 300 cases were made, they were machine cut then hand scored, folded and assembled then individually hand numbered by Big Scary Monsters. Also included is a work in progress photo of a batch of 50 cases after cutting ready to be scored."
September 11, 2012 | 4 Comments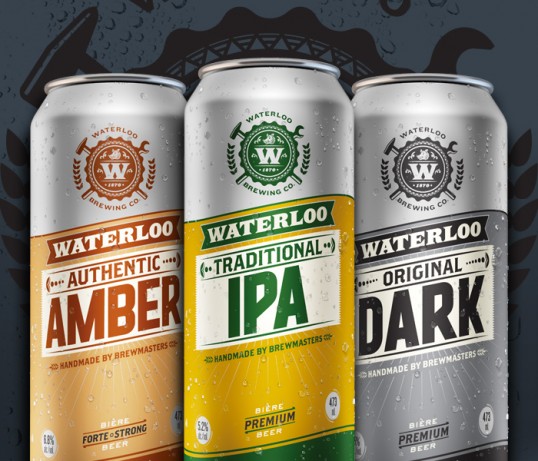 Designed by The Unitas Reputation Agency | Country: Canada
"Quality. Craftsmanship. Integrity. The Waterloo Brewing Co. offers authentic craft beers from one of Canada's first authentic craft breweries. Brewed using only the finest quality ingredients, Waterloo Brewing Co.'s new line of traditionally made ales, ambers and darks offers real craft beer character. The new design reflects the hardworking character of the brewery and the industrious nature of the Waterloo region."
September 7, 2012 | 14 Comments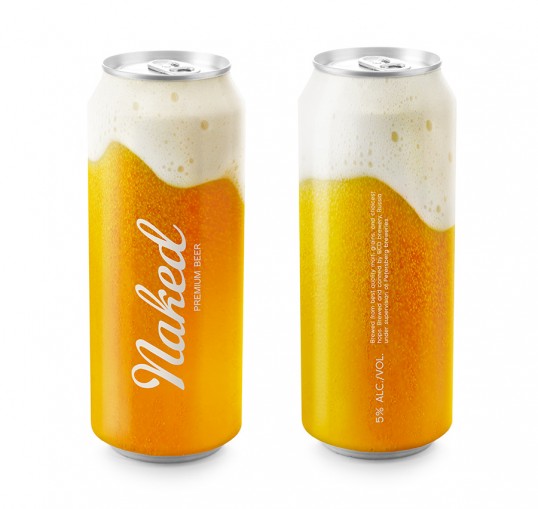 Designed by Timur Salikhov | Country: Russia
"There are many beer cans with different design. And there is only one that shows what really is inside. Why hide what good beer looks like?"
September 6, 2012 | 1 Comment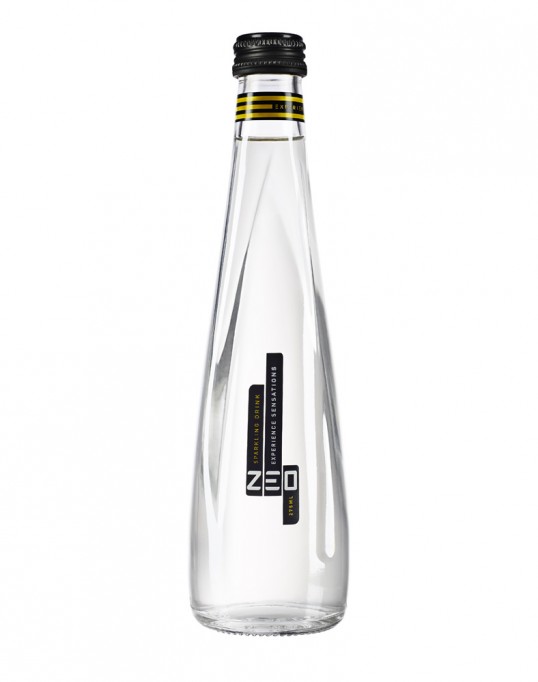 Designed by Blue Marlin | Country: United Kingdom
"'Wonderfully unusual' non-alcoholic adult beverage ZEO has been given a spectacular brand expression by integrated brand design agency Blue Marlin.
"The flowing form of our structural design plays with your senses, like ZEO itself. Its curious curves unpredictably refract light, enigmatically disguising the physical shape of the bottle in a low-lit bar or nightclub setting. The intangibility of the new design encapsulates ZEO's mysterious mixology and unique sensorial effects in a bottle," says Blue Marlin's head of structure, Guy Williams.
"We kept the design simple, to allow ZEO's unique bottle shape to do the talking," explains Blue Marlin London creative director Simon Pendry, "The minimalistic black, gold and white graphic design gleams with sophistication, communicating essential information with perfectly premium appeal."
September 5, 2012 | 2 Comments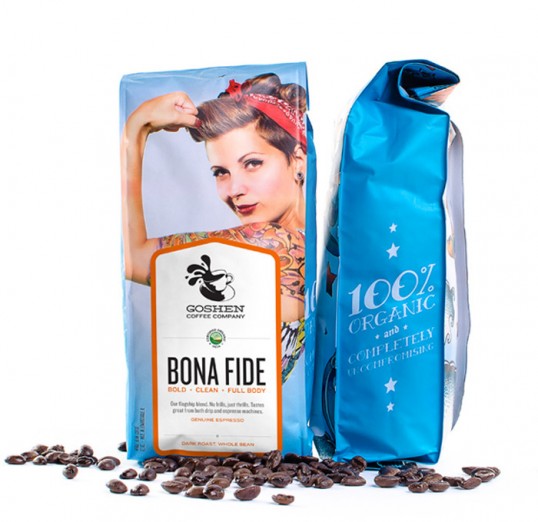 Designed by Atomicdust | Country: United States
"Our goal with the packaging design for Goshen Coffee was twofold – we wanted to create a distinct look that represented our client's uncompromising attitude, while simultaneously looking nothing like other coffee brands on display in the local St. Louis market. The labels are actually stickers that are affixed when the bags are filled."
September 5, 2012 | 6 Comments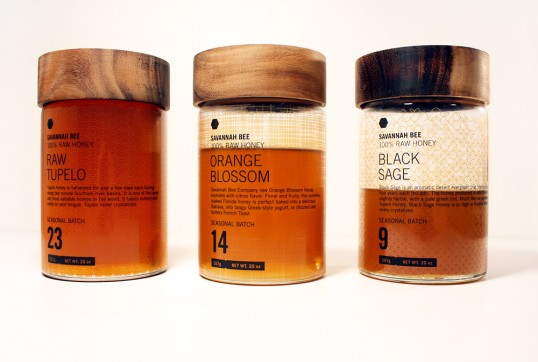 Designed by Collin Cummings | Country: United States
"I fell in love with the idea of repackaging honey because of the timelessness of honey production. The process employed by honey bees hasn't changed. To reference this highly industrial procedure, I chose a typographic direction that felt sterile. To counterbalance the type, I designed a few complicated and emergent patterns that hide behind the color of the honey when the bottle is full. As you use the product, the elegant patterns are revealed in a second layer as a homage to the beauty and timelessness of such a refined and perfected practice such as honey production."