December 9, 2012 | 2 Comments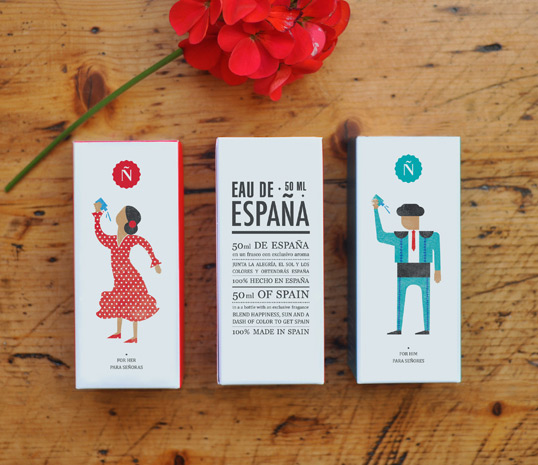 Designed by Tatabi Studio | Country: Spain
"50 ml of Spain in a bottle with an exclusive fragrances. Blend happiness, sun and dash of colour to get Spain."
December 9, 2012 | 2 Comments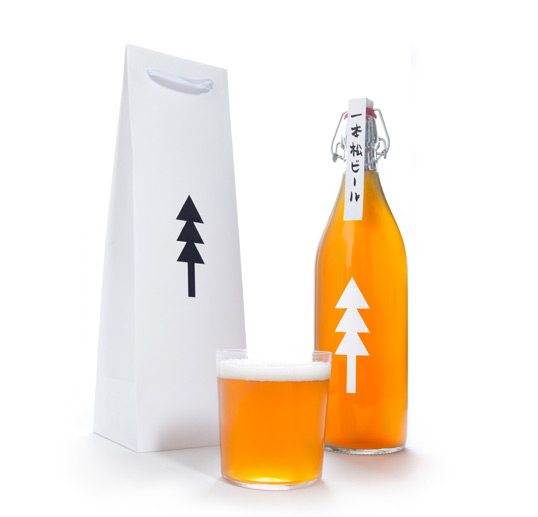 Designed by Kota Kobayashi | Country: Japan
"In the city of Rikuzentakata, a single pine tree stands as a testament to survival after the tsunami of 2011. This beer's name means 'One Pine Tree' and its design is a symbol of charity and hope for Japan's brighter future. A scroll-like, handwritten label seals the top with its story written on the inside. The label is a solitary pine made of three triangles facing up, symbolizing the wish for progress in the reconstruction efforts."
December 9, 2012 | No Comments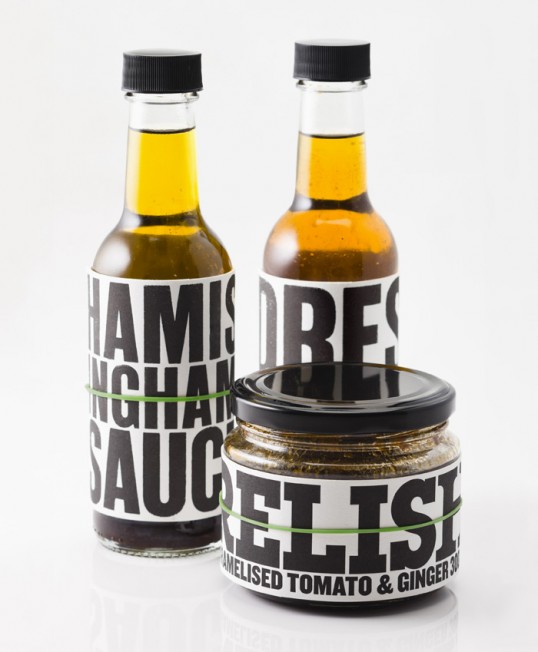 Designed by Frost* Design | Country: Australia
"Sydney chef Hamish Ingham came to Frost* with a challenge to relish ­- literally. His new range of gourmet sauces and relishes needed a distinctive packaging solution and Frost* created a scheme that is as tasty as the contents. Bold letterpress typography speaks to the honesty of the ingredients and references the décor of his flagship restaurant, Bar H, in Sydney's hip and happening Surry Hills.
Hamish's range of gourmet sauces and relishes include Soy, Fennel & Chilli Oil Dressing, Caramelised Tomato & Ginger Relish, Soy, Lemon & Horseradish Sauce and Olive Oil. Frost* also designed the Red and White Wine labels as part of the family."
December 7, 2012 | No Comments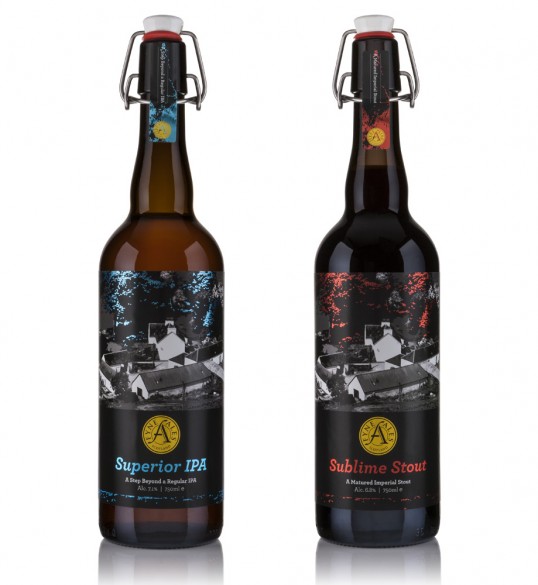 Designed by Matt Burns | Country: Australia
"The brief was to produce 2 pieces of packaging for a Limited Edition 750mL bottle range for Scottish craft brewery Fyne Ales.
The beers themselves were designed to be enjoyed at the end of an evening and shared with good company. I wanted to capture these emotions within the design and allow the bottles to become apart of the drinking experience. By creating a sense of the night I thought this immediately set the tone for the product,  but yet excitement and energy was critical to reflect the occasion accurately, as well as the modern, innovative beer itself. This was achieved by applying streaks of electric colour in the texture, as well as the use of a metallic stock that elegantly captures an warm amber light in an ambient room.
The 2 products, Sublime Stout and Superior IPA, are available at the brewery and through specialist  beer stores within the UK."
December 7, 2012 | 7 Comments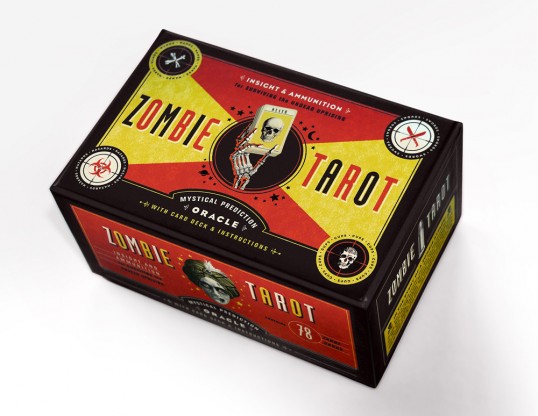 Designed by Headcase Design | Country: United States
"Quirk Books asked us to develop a zombie-themed tarot card deck. Rather than take a more typical overly-bloody horror approach, we conceptualized the project as a crazy, campy, late 50's/early 60's retro interpretation of a classic tarot deck. As B-Movie fanatics, we wanted to capture the off-beat zaniness those old movies have. We tried to bring a touch of wit and subtlety to the project, as well as a morbid sense of humor."
December 6, 2012 | 1 Comment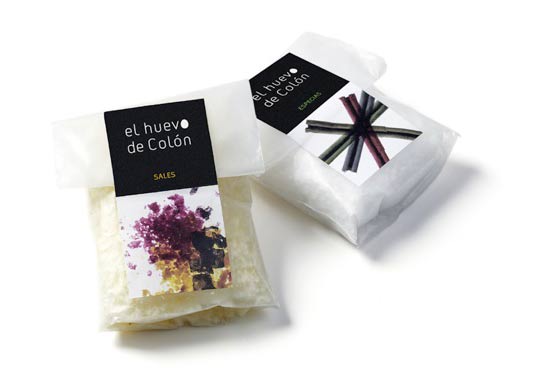 Designed by Canya Studio | Country: Spain
"Creation and implementation for the corporate identity of this boutique high cuisine and delicatessen products. The ingredients were photographed on a light table and later treated by altering colors, textures – creating an original and exclusive line with this property. This concept was implemented in both graphic line product packaging and interior signage at the point of sale."
December 6, 2012 | 1 Comment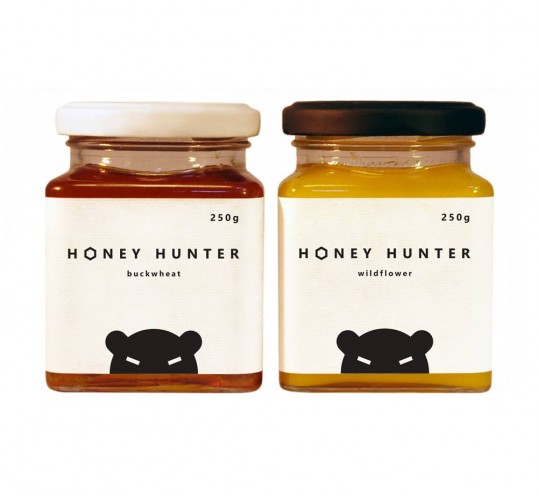 Designed by Fresh Chicken | Country: Russia
"Honey hunters are people who gather honey from wild bee colonies. Designers of Fresh chicken agency treated this expression word for word. Honey and a bear is a classic combination, and the decision was to design a "bad" bear who would do anything to steal his favorite honey. People are fed up with positive characters, happy families and sweet animals in commercials, they're waiting for something fresh. Our bear is not nice, he lies in wait for the right moment. Keep an eye on your honey!"
December 5, 2012 | No Comments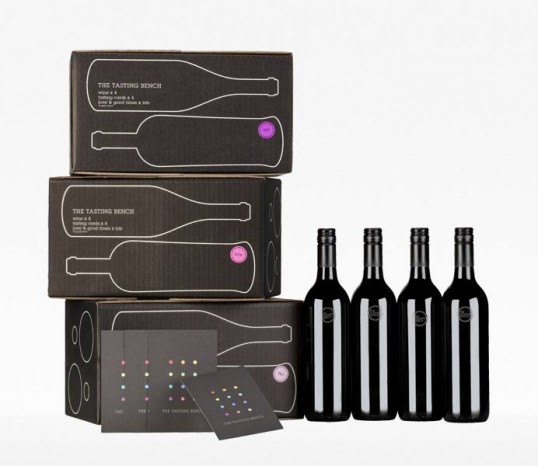 Designed by Be Friendly | Country: Australia
'This branding and packaging is for a monthly curated wine club The Tasting Bench.
Our goal was to avoid the old wine clichés while expressing clearly what The Tasting Bench is about, to an aesthetically savvy key market.
The twelve sequential multicoloured dots represents the monthly wine deliveries and also evoke an image of a dozen boxed wines. The slab serif type creates a visual base, or bench, which forms the basis of the branding and the business.
The packaging utilises a simple outline of a wine bottle to immediately communicate the contents of the box, re-enforcing the ethos that the wine is always most important at The Tasting Bench; not the price and not the amount of gold foil on the label. The ingredients; wine x4, tasting cards x4, love x lots, further communicate the simplicity and honesty of The Tasting Bench philosophy.
The box ingeniously ships four bottles of wine securely, allowing for the fact the each month the four bottles will most likely be completely different shapes."
December 5, 2012 | 3 Comments
Designed by Re | Country: Australia
"Previously the chosen product by plastic surgeons and cosmetic physicians, Rationale, a pioneering organic skincare system, is now available to direct to consumers.
This super high-end skincare regime had to translate it's scientific and medical heritage into the beauty category.
The 6-step system takes consumers through a simple numerical structure, 1-3 in the morning, 4-6 in the evening.
The unique properties and characteristics of each formula are expressed through the combination of graphical forms within theelegance of the numerical system. Sophistication with science at its core."
December 4, 2012 | No Comments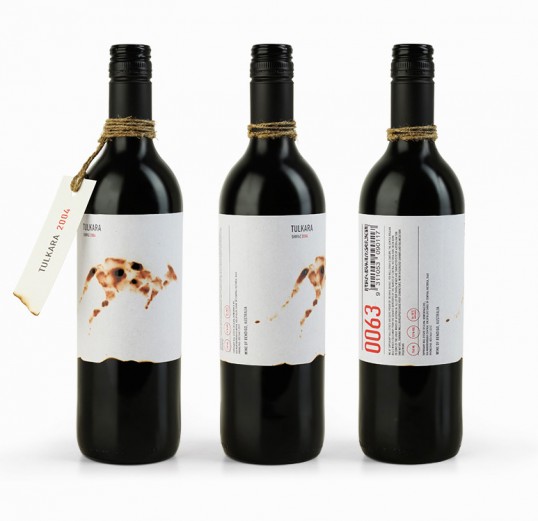 Designed by IKON BC | Country: Russia/Hong Kong
"IKON BC was asked by Tipperary Hill Estate to develop a new look of Tulkara Shiraz wines.
People at Tipperary Hill Estate are quite proud of Tulkara Shiraz. For well over a century, the gentle rolling hills which fold away from the granite outcrops of the ranges of Bendigo region in Central Victoria have been home to some of the great wines of Australia. All of Tulkara Shiraz wines are characteristic of Australian sun and nature, showing well developed dense fruit characters, with integrated tannins, balanced oak treatment with a little smack of burning berries and leather.
When we conceived the idea for Tulkara Shiraz we were trying to show people in Europe or somewhere else outside of Australia the soul of Australian nature and the rigorous climate conditions of a region, the lack of rain, the blazing killing heat at the wrong time and the continuing drought. But wine-makers at Tipperary Hill Estate are still trying to do the best they can to produce wine grapes. We used the heated stones to burn the shapes of typical animals out on a paper. We used the shapes of well-known animals so everybody outside Australia could recognize the famous symbols of the continent."