May 23, 2013 | No Comments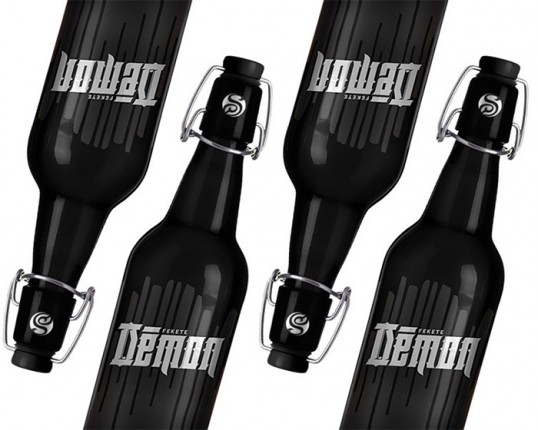 Designed by Csaba Bernáth | Country: Hungary
"Concept design for this Hungarian dark beer from Soproni. My idea was to design a dark and elegant  full body design broken with dripping black ink from the top to fit to the beer's dark and strong mysteries."
May 22, 2013 | 1 Comment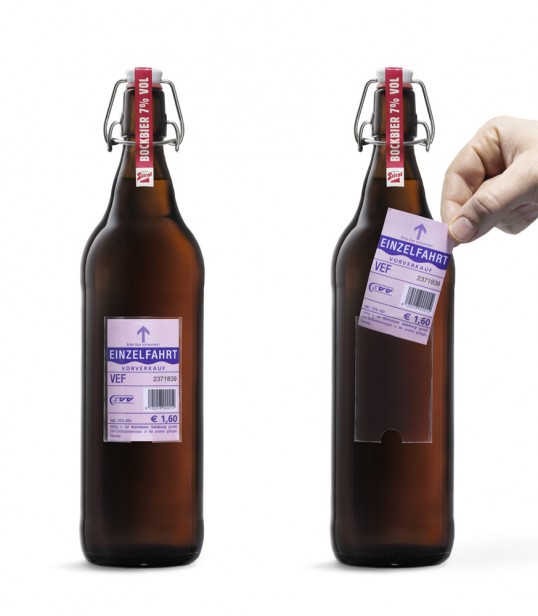 Designed by Demner, Merlicek & Bergmann | Country: Austria
"A beer that cares for you. Getting home safely: the new package design for Stiegl's strongest beer.
The problem: during Christmas time, true beer lovers are especially keento Stiegl's Bock beer. With 7% vol. it's quite a strong beer, making the ride home by car rather unsafe.
The solution: For a temporary promotion the former labels of the strong beer are being replaced with tickets to Salzburg's public transportation services. Stiegl offers that consumers of Bock beer may use this cost- and risk-free public transport service in Salzburg to make it home safe and sound and spend the Christmas holidays in the comfort of your home with your loved ones."
May 22, 2013 | 1 Comment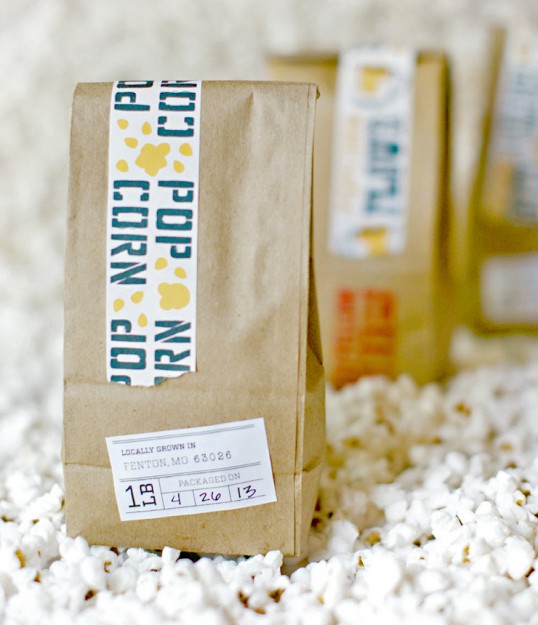 Designed by David Rygiol | Country: United States
"Yellowtree farm is a specialty organic farm producing rare and amazing foods out of St. Louis, MO. This packaging for their popcorn, popcorn grits, and popcorn flour begins with a 100% recycled and compostable bag. The bag is stamped with a wood ring pattern and logo, then sealed with the product tape and labeled with production details. The wood ring pattern visualizes both the farm's name and the topography of the land. Each Package is produced by hand by the farmer, ensuring that every product carries his special touch – from farm to market. Trust your food!"
May 21, 2013 | 4 Comments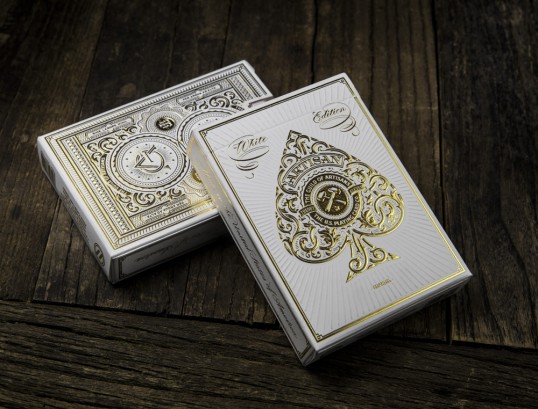 Designed by Simon Frouws | Country: South Africa
From theory11.
"The Artisan White Edition playing cards, like the previous Black Edition, were designed by South African artist Simon Frouws and feature elegant gold foil hot stamped onto ultra-lux white paper. They were produced using FSC-certified papers derived from sustainable forests, vegetable-based inks and starch-based laminates. These are also available in a collector's set with two White Edition Decks and two Black Edition decks in a beautiful laser etched wooden box."
May 21, 2013 | 2 Comments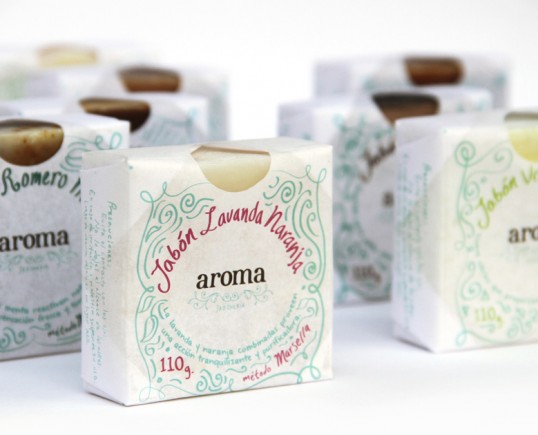 Designed by Claudio Limon | Country: Mexico
"For this project the client asked me to create an affordable package where you could see, and smell the product. It also needed to be easy to package by hand and original.
In the small town in Mexico where I grew up, people would buy soap in bulk which was delivered wrapped in paper. I used this as inspiration and created a square, waxed paper wrapper. An oval die cut was added to allow the consumer to see and smell the product."
May 20, 2013 | No Comments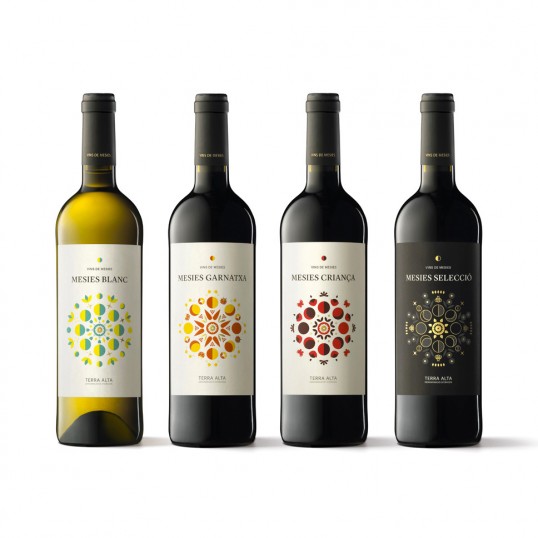 Designed by Albert Lopez-Amor & Txell Gràcia | Country: Spain
"Land, ecological viticulture, astronomy, the strength of the origin: the set of the distinctive elements that define the Ecovitres winery is the basis for the new graphic identity of its wine range, Vins de Mesies.
Colourful, balanced and full of attractive details, the labels of these four products display a visual message that shows the main directions of the brand: respect for nature, authenticity, roots, conviction and thrill."
May 19, 2013 | 4 Comments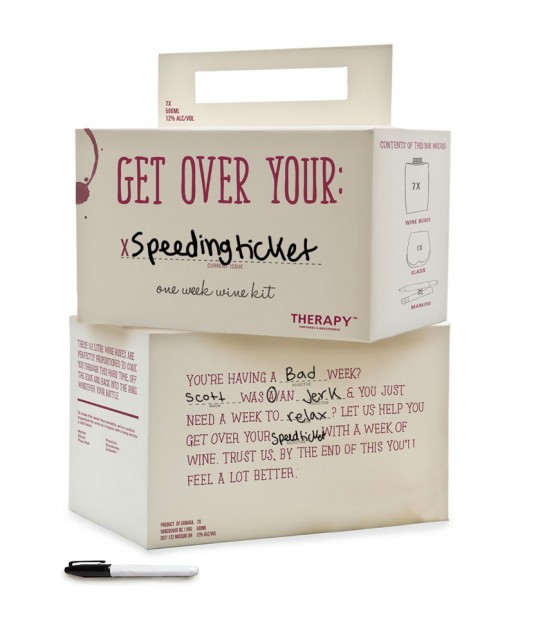 Designed by Natasha Shubaly | Country: Canada
"These wine packages were designed as an interactive way for the consumer to try an assortment of wines. The One Week Wine Sample sets helps consumers get over bad days (job loss, failed exam, fender bender) or to celebrate good ones (birthdays, a raise, new house). The word fill-in lets people express themselves and transforms the package into an engaging experience.
Whether consumed by one person over a week, or shared one night with a few friends, these 1/2 litre wine boxes are perfectly proportioned for any day good or bad."
May 18, 2013 | No Comments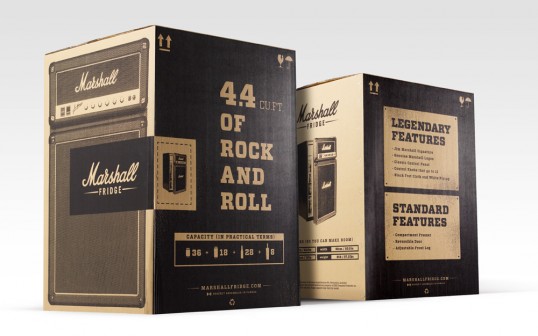 Designed by Proximity | Country: Canada
"Even the box has stage presence. Loud, like a rock star. Practical, like a roadie. In just 48 hours, the Marshall Fridge box garnered over 14 million impressions online. And a few weeks later, a formal complaint from UPS because it was too appealing to thieves."
May 17, 2013 | 1 Comment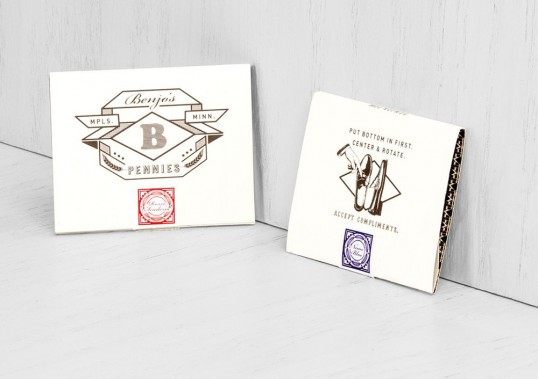 Designed by KNOCK Inc. | Country: United States
"This entrepreneur launched his business offering high-quality shoelaces; when it came time to expand his line, he needed unique packaging to showcase the newest addition: colored coins for penny loafers.The matchbooks aligned with the client's aesthetic and eye for color, showcasing his newest offering while upholding the story of Benjo's brand."
May 17, 2013 | No Comments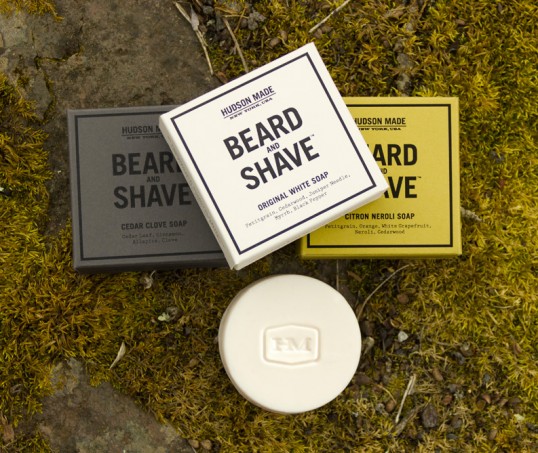 Designed by Hovard Design | Country: United States
"Hudson Made's line of handmade, small batch Beard & Shave Soaps is designed for the bearded man and his clean-shaven brother. These multi-purpose 3.5 oz. discs generate a lather that acts as both a gentle beard shampoo and an exceptional shaving cream.
The Beard & Shave Soap is available in three varieties—Original White, Cedar Clove, and Citron Neroli—each with a distinctive aroma. The personality of these three distinct soaps is conveyed through rich color. Unifying the packaging for the line is bold typography, which strikes a balance between contemporary simplicity and the heritage implied by nineteenth-century design.
The boxes were produced using traditional printing and letterpress typography on sustainable paper. Hudson Made's packaging is manufactured locally and meticulously selected for a truly regional product."