June 22, 2013 | 1 Comment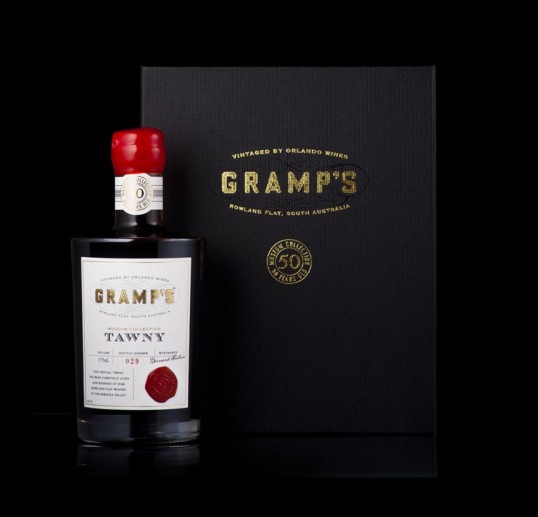 Designed by _Co Partnership | Country: Australia
"Following our refresh of the Gramp's range of premium wines, _Co were briefed to design the 50 year old Museum Tawny, the jewel in the Gramp's family crown. Great things come in small packages and in threes; the limited release of 300 x 375ml bottles, retails at AU$300 per bottle. Showcased in a luxury customised box, this rare and prestigious parcel of wine was a delight to hand craft. We chose a premium Saver Glass bottle and designed a wax seal which was hand applied to every label."
June 12, 2013 | 1 Comment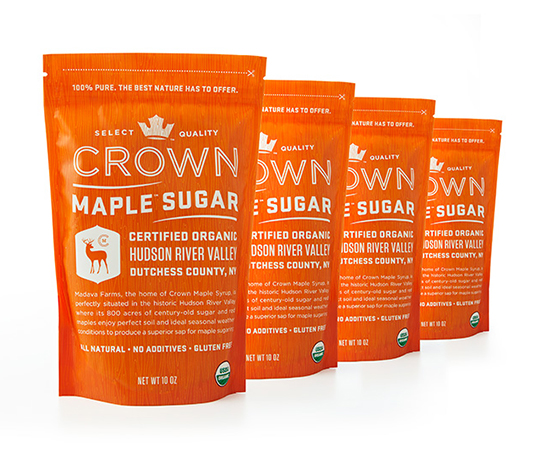 Designed by Studio MPLS | Country: United States
June 12, 2013 | 1 Comment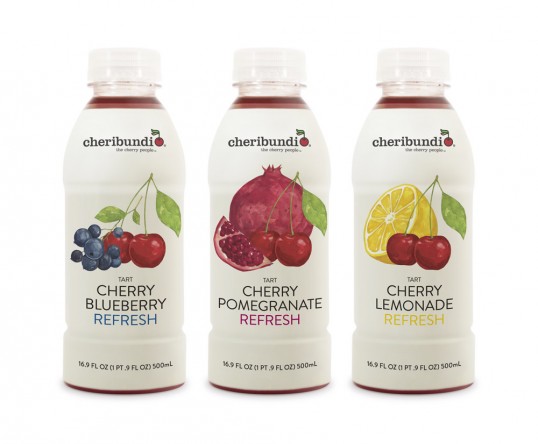 Designed by TDA | Country: United States
"We recently rebranded Cheribundi, an all-natural tart cherry juice drink. Cheribundi is not the artificial flavor-filled red sugar water labeled as "cherry juice" that you drank as a kid. Cheribundi is made from orchard-fresh, tart cherries which are full of phytonutrients and anthocyanins.
The design was inspired by Eric Carle's The Very Hungry Caterpillar. We brought this concept up-to-date by pairing textural watercolor illustrations with clean type and a modern wordmark. All of these elements work together, distinguishing Cheribundi as a sophisticated beverage offering.
This is the first line in a series of rebranding efforts for Cheribundi. In the coming months we will be releasing the Functional line of Cheribundi as well as a Tea Refresh line."
June 11, 2013 | 3 Comments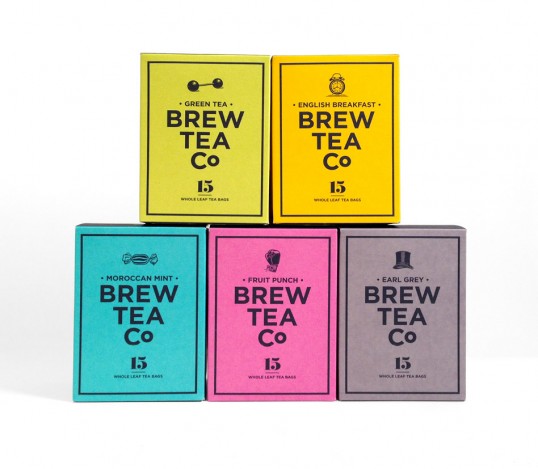 Designed by Interabang | Country: United Kingdom
"Brew were looking to expand into the retail sector, having firmly established themselves supplying tea wholesale to independent shops, museums, galleries and boutique hotels. The rebrand was needed to coincide with this new direction, and also to clarify their offer: not complicated tea or weird tea, but better tea –  both whole leaf tea bags and loose leaf.
We wanted to express this no-nonsense approach, but also covey their enthusiasm and passion for brewing the perfect cup of tea that quickly became apparent during the familiarisation process. Bold, confident typography is offset by a vibrant palette and playful, unexpected icons to denote the seven flavours. The carefully selected contents were brought to the fore on the back of the pack along with the method for brewing the perfect cuppa."
June 11, 2013 | No Comments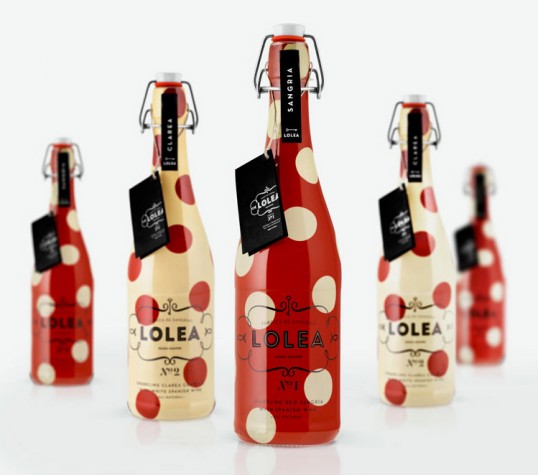 Designed by Estudio Versus | Country: Spain
"As you already know, Sangria is a typical Spanish cocktail, synonymous with social gatherings, celebration and joy. Lolea fulfills the highest expectations of quality and flavor, as well as having a new and shocking design. Lolea is a personal project of some friends who love traditional and artisan Spanish products. Lolea may be of red wine or white wine and it is offered in several presentations and sizes. It is made with high quality wine and natural ingredients.  If you like the idea and want to get us in your publication at the web page you will see much more information."
June 10, 2013 | 23 Comments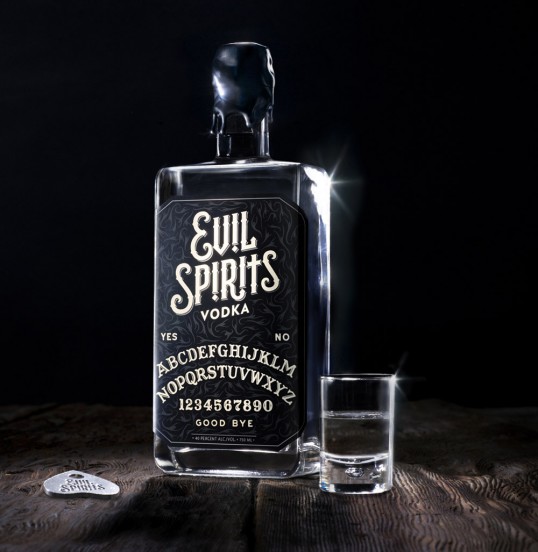 Designed by Saint Bernadine Mission Communications Inc. | Country: Canada
"Evil Spirits is a new premium spirits line that is painstakingly crafted to be sinfully enjoyed. St. Bernadine was tasked with package design and a media kit for the launch.
Evil Spirits Vodka is the product of a distilling craft so refined it must have been exchanged for diabolical favours. St. Bernadine extended this brand promise through every detail of the design language. Custom word mark? Evil. Spirit renderings in matte varnish? Evil. Recipe card? Evil. Ouiji board with commemorative cast pewter planchette? Evil. It's time to succumb to the guilty pleasure of Evil Spirits."
June 10, 2013 | 1 Comment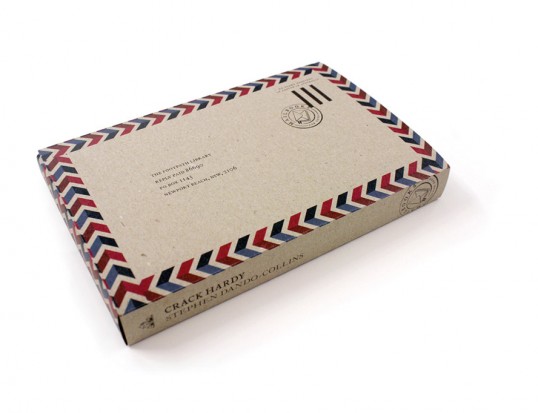 Designed by BMF | Country: Australia
"Mailbooks for Good is an innovation in book publishing, which encourages donations of books to The Footpath Library – a charity which provides books for homeless and disadvantaged Australians. The innovation takes the form of specially designed dust jackets. Once readers have finished the books, they are instructed to turn them inside out and the books become pre-paid pre-addressed parcels. When posted they are sent directly to the charity for distribution to those in need. The dust jacket design is pending patent globally and an international roll-out is planned for the near future. The initiative was created by Creative agency BMF in partnership with Random House Australia."
June 9, 2013 | 1 Comment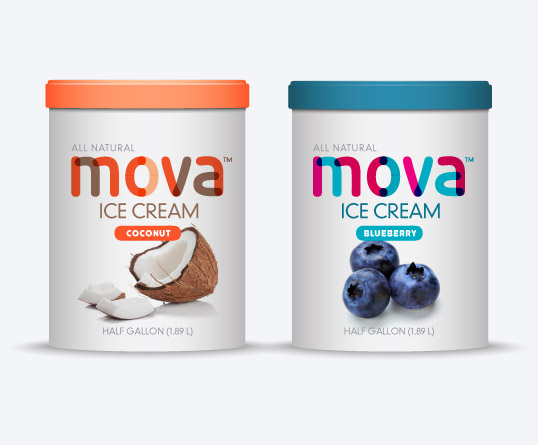 Designed by Luko Designs | Country: United States
"Mova Ice Cream is an English brand ice cream and is now being introduced to the American market. Based in the heart of England's beautiful Camden District, the business is run and owned by husband and wife team Matthew and Isabel Mova.  Mova Ice Cream is full of the finest ingredients skillfully blended into an exciting feast of flavours that are purely indulgent.
In order to captivate the consumer, we brought a quiet purity to the overall design of the packaging yet enlivened it by introducing a whimsical and artistic approach to the Logo/Branding, which was a perfect representation of the bright taste and quality of their products."
June 8, 2013 | 3 Comments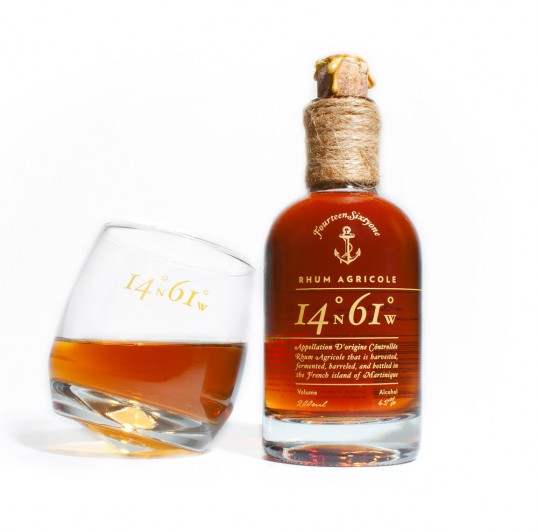 Designed by Cecilia Hedin | Country: United States
"Rhum Agricole is an exclusive rum that is distilled on the French island of Martinique in the Caribbean Sea. Compared to normal rum, rhum agricole is made out of freshly squeezed sugar cane juice, rather then from molasses.
When creating the new liquor brand, Fourteen Sixtyone, I was inspired by the old ocean fare and vintage maps (read pirates). The island of Martinique has the geographic coordinates 14°40n 61°00w, hence the chosen brand name."