February 28, 2014 | No Comments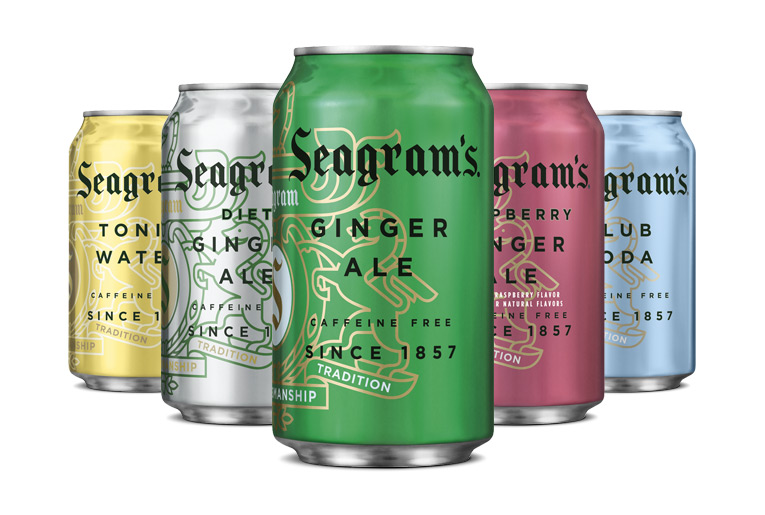 Designed by Hatch | Country: United States
"Seagram's is an iconic, well-respected brand. The Coca-Cola Company asked Hatch to help refresh the Seagram's sparkling line and make it more relevant to the sophisticated adult consumer who is tired of overly sweet beverages. We modernized the brand's crest and then used it in ways that announce that something new is going on. The crest is now more of a friendly element than a crown jewel, with visual treatments such as placing type over it and wrapping it around the corners of cases. And in order to help consumers shop amongst flavors, the cans are flooded with crisp, clean metallic versions of the colors consumers associate with the flavors category-wide."
Continue…
February 26, 2014 | 1 Comment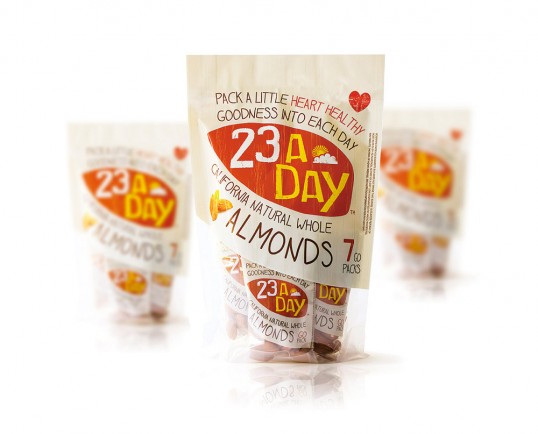 Designed by Edmundson Martin | Country: United States
"Ounce for ounce almonds are one of the most nutrient rich nuts on the planet. Just one handful a day can help support a healthy heart and provide valuable nutrition. Edmundson Martin was engaged by one of the largest California almond growers to create a new retail brand that would key on the health benefits a handful a day offers. The brand dubbed "23 a Day" offers an easy and convenient way to get the perfect daily portion of almond power. The new brandmark has a dynamic presence on pack, providing impact and distinction at shelf level. The overall tone is welcoming and energetic with a cool California vibe… inviting people of all ages to share in the goodness."
February 25, 2014 | 2 Comments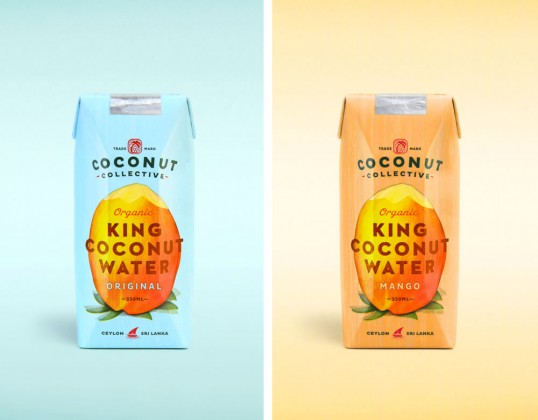 Designed by Marx Design | Country: New Zealand
"Marx Design was asked to create a new Coconut Collective brand that would work across a range of coconut-based products including waters, milks and cooking oils. First up was the organic King Coconut Water, a 330ml Tetra Pak available in original and flavoured variants.
Organic King Coconut Water is sourced from the famed coconut triangle of Sri Lanka, home to the golden thambili (king coconut) – the only coconut harvested specifically for drinking and chosen for its electrolyte content and natural sweetness."
February 25, 2014 | No Comments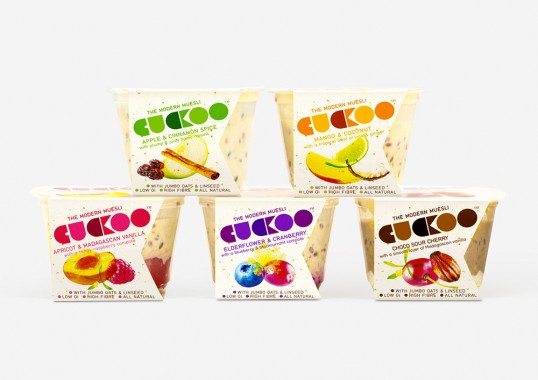 Designed by B&B studio | Country: United Kingdom
"B&B has created the name, identity and packaging for a new brand of bircher muesli. Sold in on-the-go pots, Cuckoo is a wholesome blend of jumbo oats, yoghurt and fruit inspired by the healthy Swiss lifestyle, but characterised by its range of innovative and adventurous flavours, including Mango & Coconut, Elderflower & Cranberry and Dark Chocolate & Sour Cherry."
February 24, 2014 | No Comments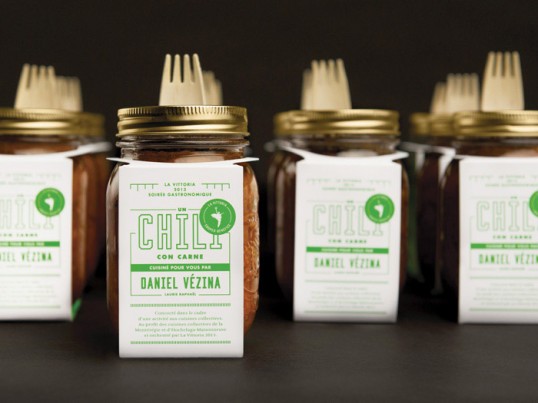 Designed by lg2boutique | Country: Canada
"For its 2013 edition, La Vittoria partnered with Cuisines collectives Hochelage-Maisonneuve and Montérégie, two organizations that promote food autonomy in Québec, notably by reintroducing their members to the basics of cooking. It was a natural fit given cooking is central to all La Vittoria events.
This year's theme took its cue from honoured chef Éric Gonzales (chef at Auberge Saint-Gabriel), who hails from France but now calls Quebec home. The event took shape around the theme of "Roots," inspired by the French heritage on Quebec soil and a return to vegetables from the ground. The creative paid tribute to the earth and its flavours through different pieces that showcased root vegetables, their freshness, raw perfection and elegant shapes.
The edition also marked the second appearance of guest chef César Troisgros, of the Michelin-starred Troisgros family. A further nod to the French heritage of Quebec cuisine."
February 24, 2014 | No Comments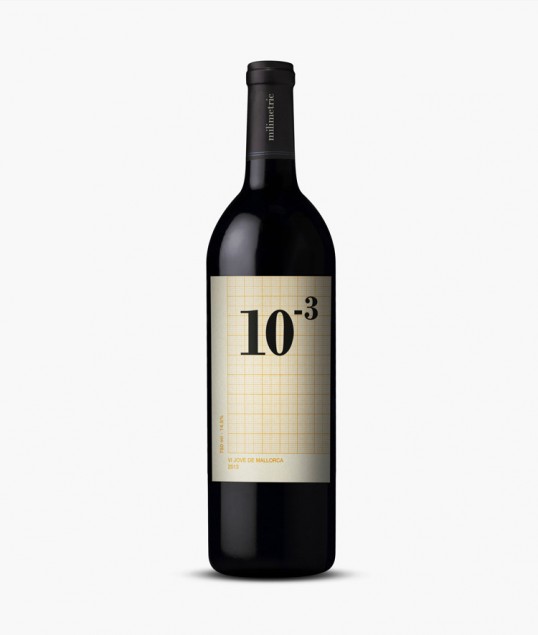 Designed by Walrus | Country: Spain
"As men have been experiencing and gaining knowledge about the processes of wine production, they have also been increasingly incorporating technological elements, which have significantly improved the quality of the products obtained, its predictability and consistency of results. From these developments emerged what is now called Precision Viticulture.
The main objective of this project was to combine the traditional look of the wine, with the concept of precision. The paper used, and the wine's name refers to accuracy or precision, and ten to the minus three power equals one thousandth of a meter, or what is the same, to the millimetre."
February 20, 2014 | No Comments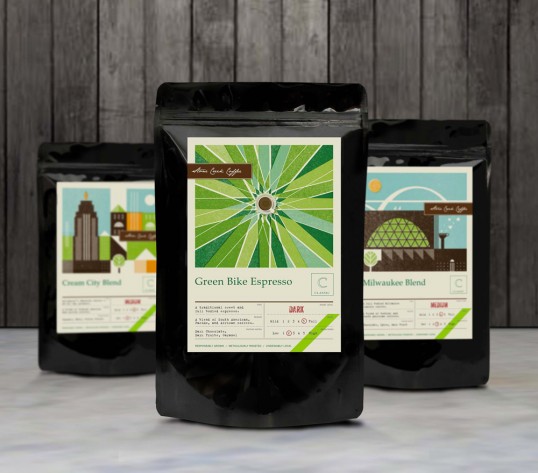 Designed by LP/w Design Studios | Country: United States
"For the past 5 months, LP/w has helped Stone Creek Coffee redefine and reposition their brand. We started with the first manual brew bar in Milwaukee, Wisconsin and now we are releasing all-new packaging. We'd like to introduce our three new series of coffee: Classic, Seasonal and Lab. The Classic series includes all-time favorites like French Roast and Cream City Blend. The Seasonal series is only special selections that will change over the course of the year. The Lab series is for the uber coffee geek, and will be very limited in availability and quantity (often single-sourced from a very small farm that only produces about 20 bags of coffee in total).
We are reorganizing our coffee line better reflects the complex palette of our customers. Often, our loyal customers simply want to wake up and drink a dark roast coffee like our French Roast, and we equate this to comfort food to start off the day. Different customers (or sometimes the same) want to be more experimental and see what is on the cutting edge of coffee. Foodies often discuss a so called "Third-Wave" of coffee and what they are referring to is the both the roast of the coffee and the way in which we serve it (i.e. our manual brew bar)."
February 19, 2014 | 1 Comment
Designed by Brennan Gleason | Country: Canada
"This self directed student project for my final semester of design school was initiated with the goal in mind of creating a unique, eye catching identity and packaging design for a craft brewery.
High Seas Brewing Co. is a home brewed brand myself and my roommate created to give our small batch beer an identity all its own. With his love of the high seas and my love for crafty, simple, eye catching design I saw this as a perfect opportunity to create something great."
February 18, 2014 | 2 Comments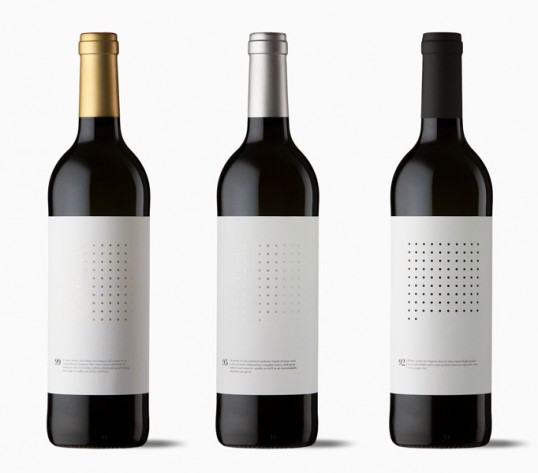 Designed by TSMGO | Country: Spain
"The main graphic element is a registered Dotted Grid®. The second one is the typeface: Didot, the Didot types defined the characteristics of the modern (or Didone) roman type style, with their substantial stems flowing into extremely thin hairlines; the serifs are straight across with virtually no bracketing. Because of the very fine hairlines that are characteristic of modern romans, their use was somewhat restricted in metal types."
February 18, 2014 | 2 Comments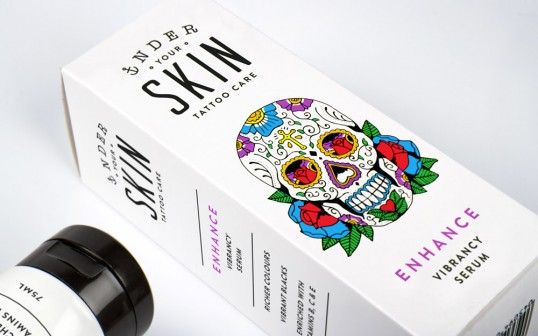 Designed by Robot Food | Country: United Kingdom
"It's cool to get a tattoo and now it might be just as cool to take care of them, thanks to specialist brand innovation agency, Robot Food. Under Your Skin is a new brand for the tattooing world. Its specialist care range supports the growing popularity of tattooing as it extends from sub-culture into the mainstream, both as a means of personal expression and a lifestyle choice.
Created and designed by Robot Food, the brand gives tattoo lovers a product range to, 'Recover', 'Protect' and 'Enhance' their skin-designs, that also stays true to the culture and heritage of tattooing. The brand's striking illustrations, hipster-style typography and memorable name are all balanced with clean, cosmetic credibility and designed to attract everyone from the newly marked to even the most hardcore tattoo lover."