February 11, 2014 | 2 Comments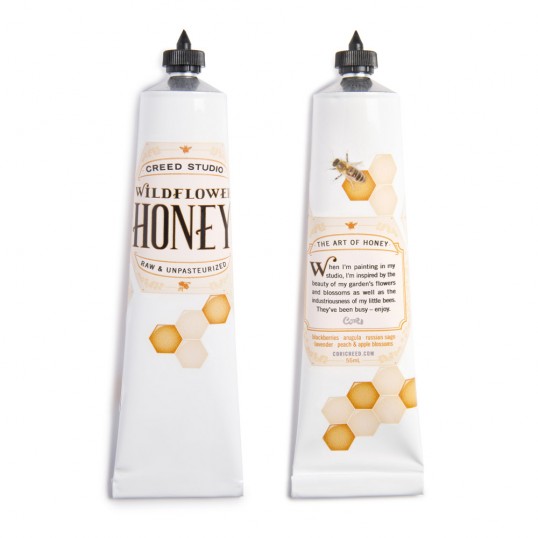 Designed by Saint Bernadine Mission Communications Inc. | Country: Canada
"Two passions collided to create Cori Creed's Wildflower Honey. Acclaimed West Coast landscape artist Cori Creed embraced a family tradition when she introduced bees to her flower garden – which can be admired from her studio window. To celebrate her first harvest, Cori wanted to create a limited edition package that she could share with friends, family, and supporters.
Designed by St. Bernadine, the packaging drew inspiration from Cori's first passion – painting. Using paint tubes, St. Bernadine created a unique and simple package that was perfect for the artist. Custom lettering was created to emphasize this personalized, one-of-a-kind honey, while subtle flourishes and intricate details reflected Cori's dedication to both her art and her garden. A die-cut label was wrapped around each tube, noting the individual flowers that helped to create the honey, along with a personal message from Cori."
February 10, 2014 | 2 Comments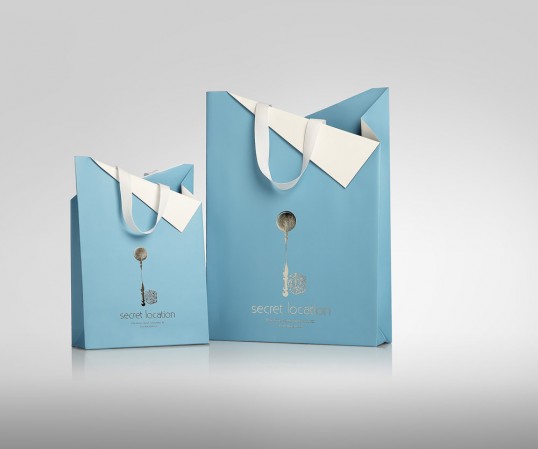 Designed by SabotagePKG | Country: United Kingdom
"SabotagePKG have designed the entire packaging range for Secret Location concept store Vancouver, Canada. 
Capturing the essence of the Vancouver concept store's unique brand, and applying it to each facet of the customer experience for both retail and food.
Taking the store's existing brand and ethos of originality, quality and craftsmanship, we created bespoke designs to complement the unique in-store experience – from the desirable, uniquely designed carrier bag right down to the small, sublime coffee cups & bespoke carrier for the store's tasting room."
February 10, 2014 | No Comments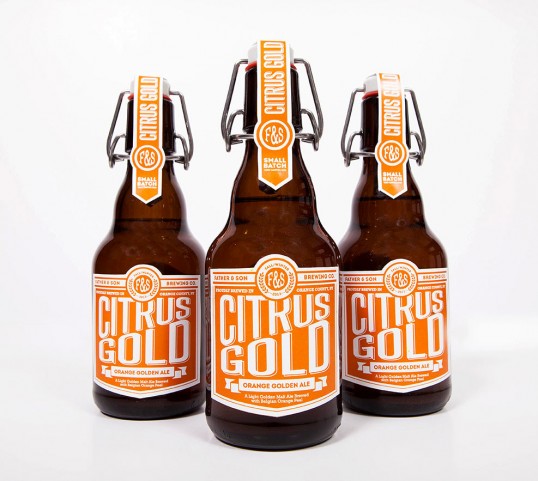 Designed by Craig Valentino Design | Country: United States
"During the 2014 holiday season, as per tradition, the home brew of Father & Son Brewing Company was created. This year, the name Citrus Gold was given to this orange golden ale, which of course was named after the sweet notes of Belgian orange peel used in the brewing process.  The idea was to create a label that was as bright, as bold, and as crisp as the the beer itself, allowing it to accurately represent the brew. 
The beer was then bottled using 2 different sizes of swing top bottles and hand-labeled with bright white thick-stock paper. It was then distributed as holiday promotional gifts."
February 10, 2014 | No Comments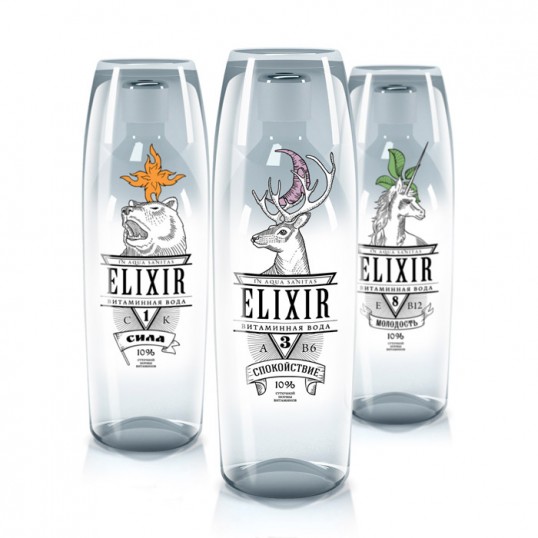 Designed by Barysheva Yana | Country: Russia
"Elixir was chosen as the brand name as it is widely known to represent eternal life, immortality, and well being. The brand logo was then set out in a clear and sharp font representing an up market professional appearance that will appeal to a broad consumer market.
In addition the logo includes the Latin slogan In Aqua sanitas this is taken from the Latin saying "In vino veritas, in aqua sanitas" . "In whine there is truth In water Their is health". This combined with Elixir adds to the overall feeling of health, youth and vitality. To complete the Logo the words Vitamin Water are clearly displayed to insure the consumer understands and relates to the product and its contents.
The brand is divided into 3 varieties each with, A different symbol, Animal, number, vitamin content, and subtitle name that all directly represents the benefits of the individual products. The symbols, numbers, and animals have been carefully selected and combined to create visually attractive graphics. Each with deep symbolic meaning, enabling consumers to relate to the benefits of each product on offer."
February 9, 2014 | 7 Comments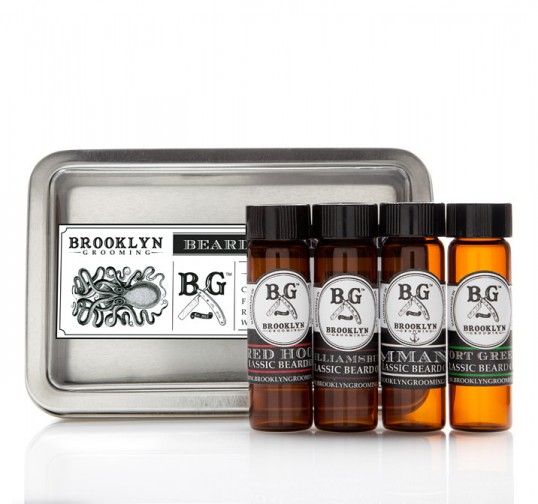 Designed by Alfredo Ortiz Catedral | Country: Mexico
"When I created the Brooklyn Grooming identity I got my inspiration from Victorian barber shops and nautical antiques. I wanted to reflect the  "apothecary aesthetic" that recalls classic and timeless elegance that suggests a simpler time when grooming was paramount in our society to all men."
February 8, 2014 | 1 Comment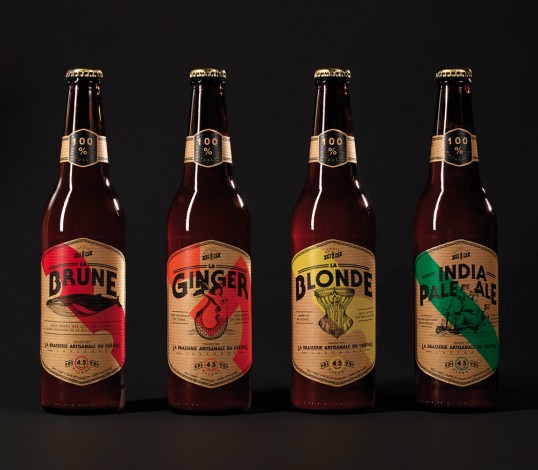 Designed by A3 Studio | Country: Switzerland
"The Brasserie Artisanale du Château based in Lausanne, Switzerland, commissioned the graphic design agency A3 Studio to create four new labels for their traditionally made beer, as well new packaging. 
The beers are brewed with a traditional process, for this reason A3 Studio has developed a graphic style which is both contemporary and traditional. The labels for la Brune, la Blonde, la Ginger and the India Pale Ale are inspired by the sea world and are decorated with ropes. The illustrations (a whale, a corset, a siren, and a ship) are drawn by hand to emphasize the hand made production of the beer, they are inspired by old engravings and sailor tattoos. 
Printed on craft paper, the labels stress the authenticity of the beer. The brown cardboard of the four-pack completes the look."
February 7, 2014 | 2 Comments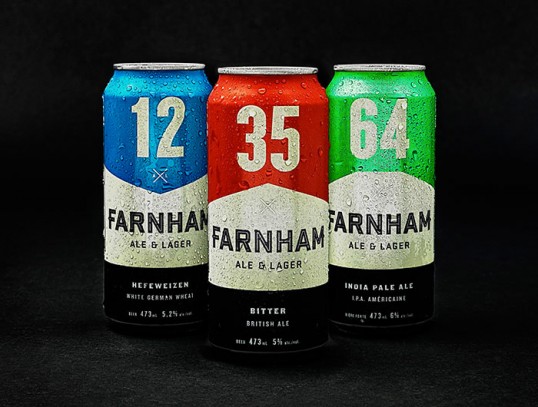 Designed by lg2boutique | Country: Canada
"The Farnham Ale & Lager Brewery is a new company that has just made a splash in the world of Quebec Beers. The brewer, located in the village of the same name, called on lg2boutique to design a brand platform that reflected its product, develop a graphic identity, design packaging and the total identity of the platform.
The branding of Farnham Ale & Lager positions this new Quebec brewer as an innovative brand that stands out in its category because of its taste and because of its look.
All of the graphic elements were chosen to highlight the beer's origin, which was this Eastern Townships railway town. The four flavours stand out with their strong colour codes, their degrees of bitterness are indicated by 12, 27, 33 and 64, highlighted numbers, and the diagonal cross symbolizes a railway crossing.
The platform contains packaging, promotional clothing, caps, glasses and coasters."
February 7, 2014 | 1 Comment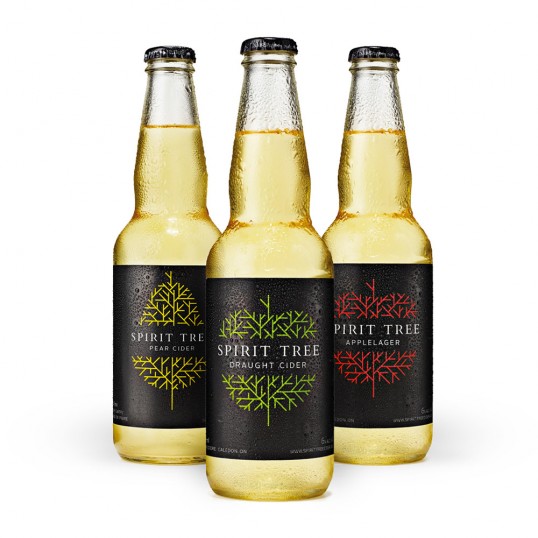 Designed by TAXI | Country: Canada
"Challenge: the challenge for this assignment was to take a small town Mom-and Pop cidery and transform it into a world-class contender within a wildly competitive beverage landscape.
Approach: due to the large volume of products Spirit Tree sells, we knew that a simple, yet bold design system was needed to differentiate each of the products. Spirit Tree has always been known as an apple cidery. With this in mind, we created a logo and visual language using modern-looking apple tree branches as the main design element. These branches were used as a pattern on everything from the packaging, corporate stationery, shopping bag and even as a design element within the store."