March 31, 2014 | 2 Comments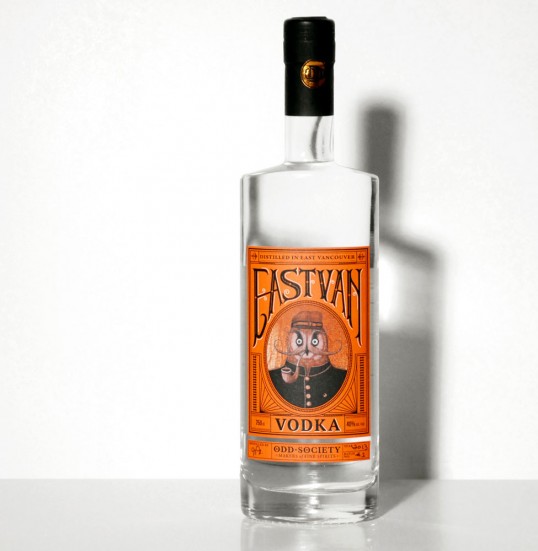 Designed by Cause+Affect | Country: Canada
"Odd Society Spirits is a small-batch craft distillery in the heart of East Vancouver and Cause+Affect was responsible for its entire brand including naming, logo, brand story and website as well as the distillery and tasting lounge interior design and individual product naming and packaging design along with copywriting.
East Van Vodka is the first spirit distilled by Odd Society, which opened its doors for business on Powell Street at the foot of Commercial Drive in late October 2014."
March 30, 2014 | No Comments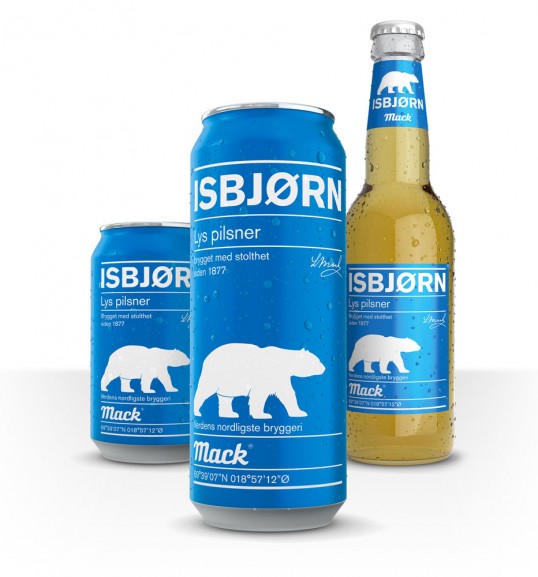 Designed by by north™ | Country: Norway
"In February 2014 Mack Isbjørn is back on the shelves after being away since 2007. This is the first project by north™ has taken on for Macks Ølbryggeri, the worlds northernmost brewery. The goal for Isbjørn is to establish it as a competitor to products like Tuborg pilsener and Ringnes pilsener who today dominate the lower price-bracet in the beer-category in Norway, and to recruit new customers to Mack.
The design lends it's language from Swiss Modernism and challenges the traditional beer-design seen in the category, which makes it stand out on the shelf with great impact both in graphic language and use of color."
March 27, 2014 | 2 Comments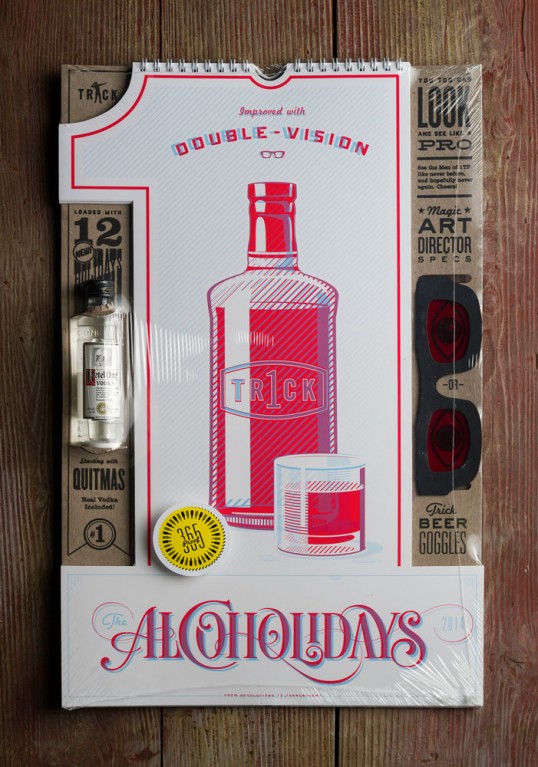 Designed by One Trick Pony | Country: United States
"This is the 10th year our agency is celebrating the "Alcoholidays," so we had to commemorate the occasion in true, ridiculous, and overthe- top style. We created 12 new holidays for our clients to celebrate throughout the year, casted different men from the agency as models for each month, and put the ladies in control to flip the pin-up calendar stereotype on its head. We wrapped the whole thing up in a 2-color overprint technique that required custom decoder glasses to see, and bound it on a die-cut chipboard that was silkscreened inhouse. The result was 365 days full of Alcoholiday cheer."
March 27, 2014 | 3 Comments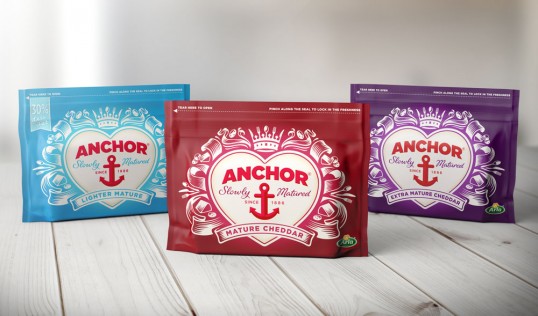 Designed by Elmwood | Country: United Kingdom
"Global brand design consultancy Elmwood has revealed a new packaging design for the cheddar range from much-loved brand Anchor®. The redesign comprises block cheddar in mature, extra mature and lighter, as well as sliced and grated variants, and will be rolled out across supermarkets nationwide from February 2014.
Elmwood were tasked with creating a design that would perfectly balance Anchor's® 'Tastes Like Home' ethos with a high quality product message. The new range look also needed to be recognisably Anchor® while achieving clear stand out in the crowded cheddar fixture."
March 26, 2014 | 2 Comments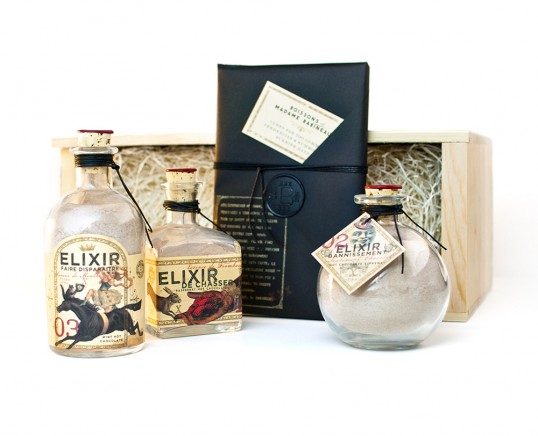 Designed by Ultra Creative | Country: United States
"A year-end pop culture cleansing dipped in the mystique of the French Quarter's darker corners. Relax with a mug of hot chocolate elixir, reflect on 12 scourges that were visited upon us in 2013, and personally conjure a message from beyond to reveal what 2014 holds in store for you."
March 26, 2014 | 1 Comment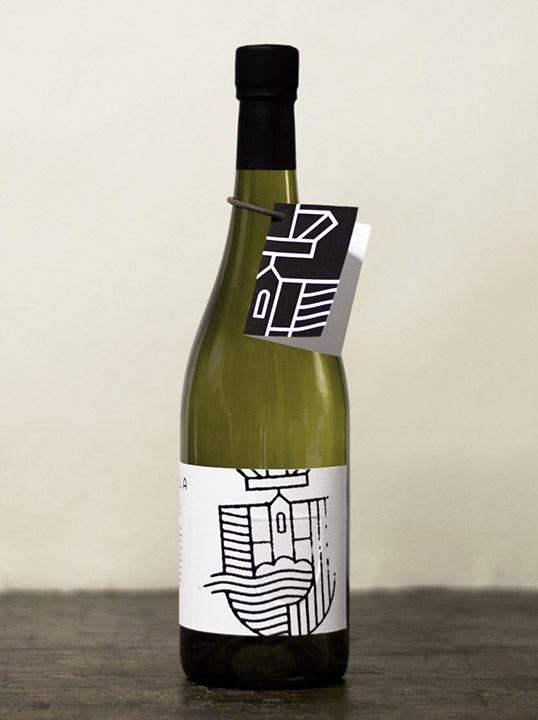 Designed by Kata Moravszki & Richárd Lakosi | Country: Hungary
"The Figula winery vineyards are located at Balatonfüred and its sounding places. One such place is Balatonszőlős – Sóskút. This winery is one of the most beautiful areas and it is mentioned as a crown jewel of the winery. From here came our idea to deal with the coat of arms of the two areas. In compliance with the rules of heraldic coat of arms the combination of the two places has been created. As a great shield the coat of arms of Balatonfüred embraces the coat of arms of Balatonszőlős in a shape of a heart. This is the Fess Point, the most important element of the coat of arms. Thus this sign embodies in a authentically manor the relationship between Wine, Winery and Sóskút-vineyard. 
In this concept we created a custom font for the winery that is modern, but also reflects to the basics of the heraldic emblems."
March 25, 2014 | 2 Comments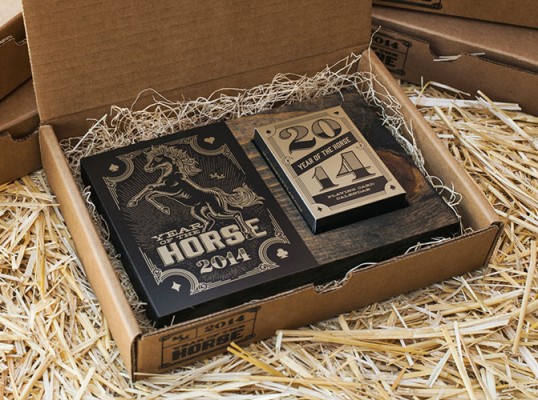 Designed by MM Identity Lab | Country: United States
"Every year, MM Identity Lab produces a calendar that correlates with the Chinese Zodiac. Because 2014 is the Year of the Wooden Horse, we decided to create a poker-inspired desk calendar that doubles as a deck of cards. The woodcut-style illustration and wooden holder play off of the Zodiac. 12 of the 52 cards in the deck represent the 12 months in the year and correlate with the four seasons. These calendar cards can be displayed on the wooden holder to guide a person through 2014. Come the next year, the calendar can hang around as a custom-designed deck of playing cards."
March 25, 2014 | No Comments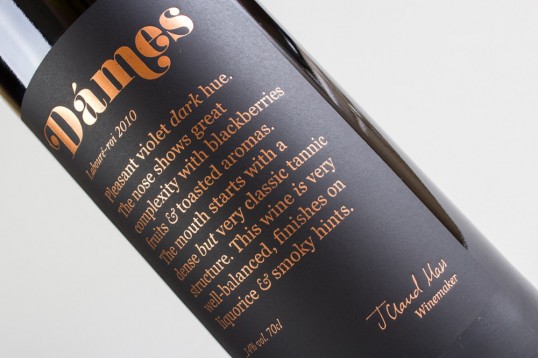 Designed by Fifty3 | Country: United Kingdom
"Dámes Labouré-roi 2010 is a classic complex French red. The brief was to make a classic Bordeaux bottle seductive, mysterious and complex. So we made the taste notes the key element on this print, with a rich copper foil on a substantial recycled board it really makes a pretty good looking bottle label. Each bottle is hand dipped in a copper wax to finish is off."
March 24, 2014 | 1 Comment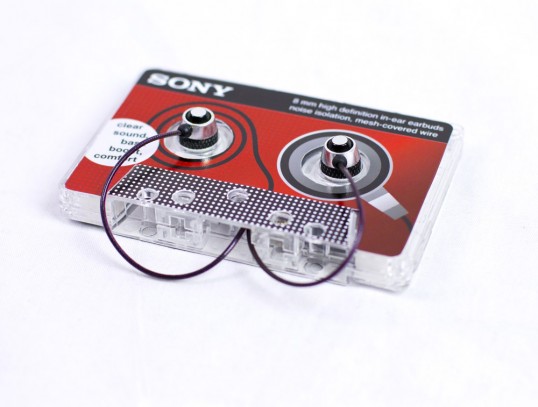 Designed by Alyssa Phillips | Country: United States
"I was given the assignment to package a found object inside of a related object. I chose to package earbuds inside of a cassette tape, giving the now rarely used cassette a fun new purpose."
March 24, 2014 | 1 Comment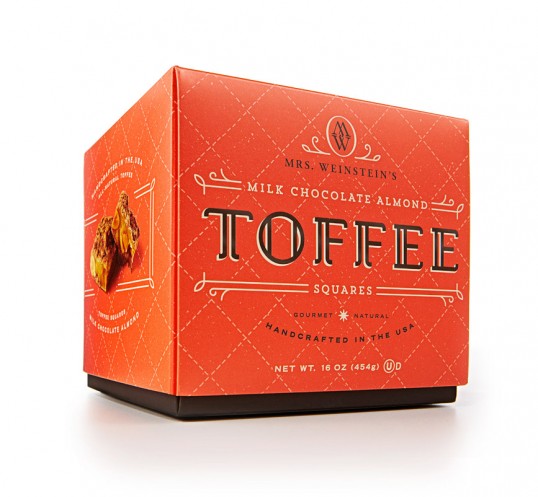 Designed by Studio MPLS | Country: United States
"Mrs. Weinstein's has been making some of the best handmade toffee in America for over forty years. Their recipe goes back for generations, but their packaging design desperately needed modernization. Studio MPLS's packaging redesign covered a variety of flavors, products, and packages, offering Mrs. Weinstein's a coherent design system going forward."