August 27, 2014 | No Comments
Designed by Ostecx | Country: Poland
"Deep Løve is a collaboration of Alebrowar and Norwegian brewery Nøgne Ø. Our tasks were naming and packaging design of this unique beer. As a result, the Collaborative West Coast Belgian Rye Ipa hits the market in the bottle without traditional labels, but with a single-color prints directly on the glass"
August 22, 2014 | 53 Comments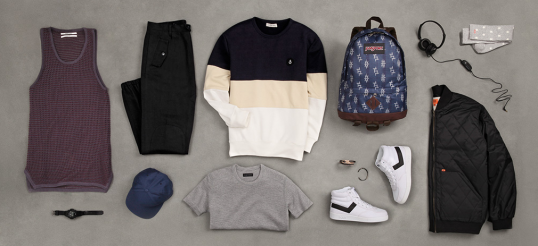 Thanks to everyone who participated. The contest is now closed.
The great folks at East Dane are giving away four $50 gift cards to visitors of Lovely Package. East Dane is a thoughtful, straightforward approach to men's fashion. Serving up heritage brands and new names to men who are more interested in style than trends—who understand that dressing well comes from a combination of confidence and quality construction.
East Dane carries a wide range of popular and hard to find brands which cover everything from men's sneakers to Japanese selvedge raw denim. They also have a wide range sale items with 50% Off men's styles.
So how do you score one of these $50 gift cards? Easy. Just head over to East Dane and pick a favourite item, or what you'll put the $50 gift card towards if you win and then tell us in the comments of this post. Simple. We'll pick a winner from the comments next Friday.
Good luck!
August 21, 2014 | 1 Comment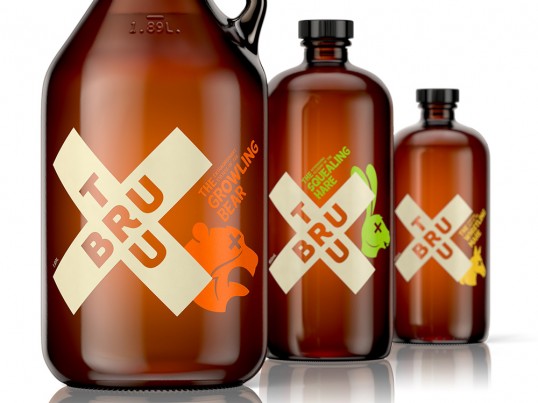 Designed by Epic | Country: Australia
"Tru Bru, meaning 'true flavour, brewery fresh', is a high-tech system of take-home craft beer. With the bottles the primary vehicle and a great opportunity for customer interaction, a clear and engaging brand was developed around the uniquely branded glassware.
Three characters were developed for the three bottle sizes: Boris the bear (the 'growler'), Fitzherbert Sinclair (the 'squealer') and Coco Voltaire (the 'whistler'). Fables were written to profile each character and personality, whilst driving engagement to a wider audience. Naming, identity, store fit-out, collateral, apparel and proprietary drinking glasses completed the project."
August 20, 2014 | 2 Comments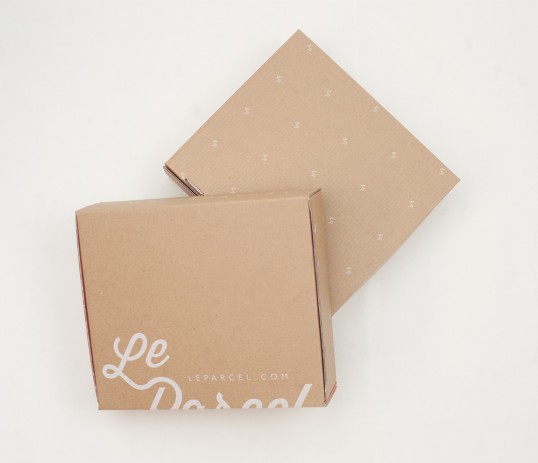 Designed by Seven Fifty Five | Country: United States
"The 2015 Le Parcel packaging system is the 3rd round of packaging systems Seven Fifty Five has created for Le Parcel. Each iteration serving a new purpose; a response to challenges faced by the company's subscription business model.
The challenges to address with this edition of Le Parcel's packaging was first, weight. To accommodate this need the framework of the box had to be completely redesigned, including the use of a lighter-weight cardboard box. Graphics, including the bold pink interior, are silk screened rather than printed on a paper label – a typical graphic application."
August 20, 2014 | 1 Comment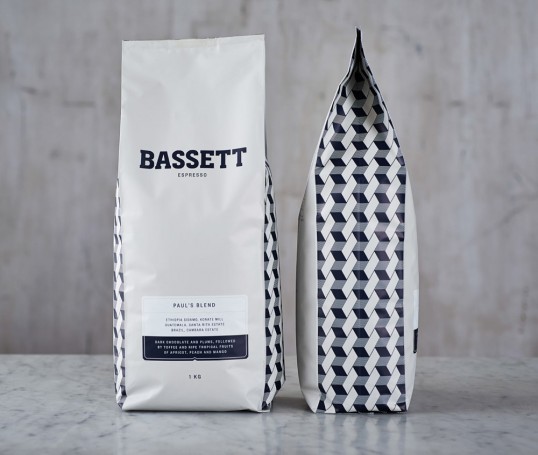 Designed by Squad Ink | Country: Australia
"Paul Bassett, former World Barista Champion, is the visionary behind Bassett Espresso. From the moment Paul presented us with the challenge to reinvigorate his existing coffee brand, we recognised what was to be a truly rewarding collaboration.
Bassett Espresso is a reflection of Paul's personal taste. It portrays his journey of creative expression and the continuation of his relationship with coffee, capturing the imagination and potential of quality espresso."
August 19, 2014 | No Comments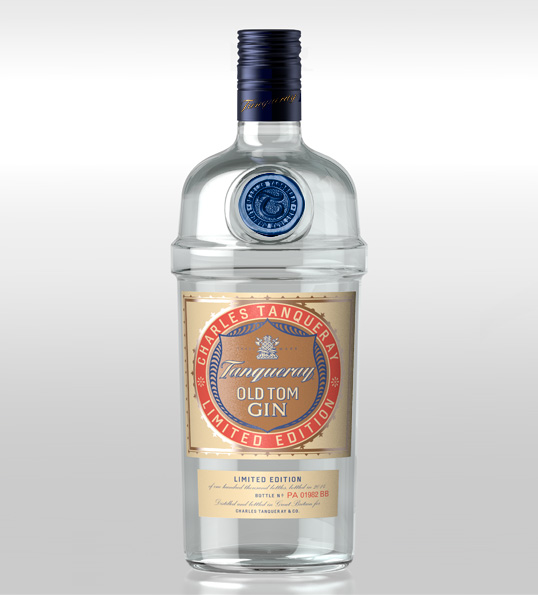 Designed by Sedley Place | Country: United Kingdom
"Diageo is introducing a limited edition of its Tanqueray Old Tom gin with a revitalised label and pack designed by Sedley Place. The creative concept sees the reintroduction of Old Tom gin as a 1litre clear bottle for the bar trade, with a limited run of 100,000 bottles available for purchase. The Old Tom limited edition follows Diageo's successful reintroduction of Tanqueray Malacca gin in 2013″
August 19, 2014 | No Comments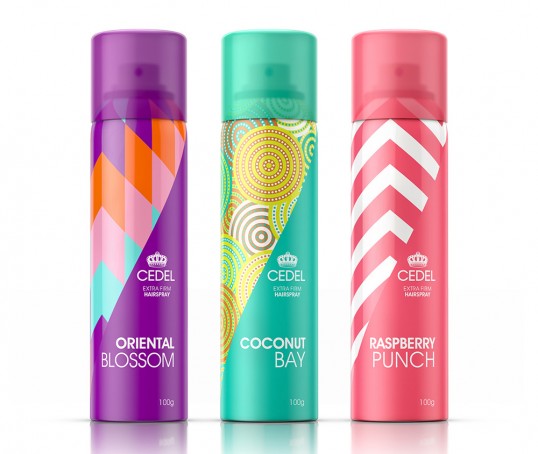 Designed by Epic | Country: Australia
"An established brand rich in heritage, Cedel the iconic Australian bathroom company developed a new range of scented hairsprays to connect with younger consumers.
This fresh update to Cedel's product line transforms moods and perceptions. Amplified by a fun and inspiring contemporary look which is aimed squarely at young, fashion-savvy consumers. Bright, eye-catching packaging with a unique design for each fragrance inspires a sense of occasion and stands proud and confident amongst the orthodox competition on the shelf."
August 18, 2014 | 2 Comments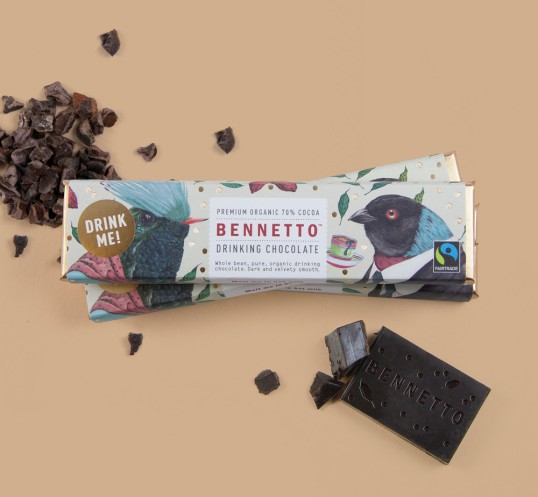 Designed by One Design | Country: New Zealand | Illustration: Henrietta Harris
"Overview: Bennetto Natural Foods Company launched its flagship product this year 'Bennetto Drinking Chocolate'. It is positioned within its market as a luxury confectionery brand, with cacao sourced from a certified Fairtrade cooperative in Peru. 
The two key demographics are business to business and direct to consumer. Within the business to business sector the primary categories targeted are large luxury hotels and international airlines. For our direct to consumer market (via local cafés) is skewed towards health conscious women who enjoy current health food trends and have an adventurous and sophisticated palate. 
In response the product needs to deliver packaging that looks intriguing, imaginative and luxurious while showing quirky, ethical and traditional characteristics."
August 18, 2014 | No Comments
Designed by Cornershop | Country: Australia
"Moolanda is an Aboriginal word meaning "on the far side." The Moolanda vineyards are located on the far side of Barossa Valley. Aboriginal tribes roamed the valley for thousands of years and understood its unique qualities. Several rock art sites found in the region contain ancient drawings created using red, yellow and white ochre; rocks which can be found on Moolanda vineyards this very day. The way the soil interacts with these rocks affects how the vines grow. They are an invaluable part of the grape growing process for Moolanda."
August 6, 2014 | 3 Comments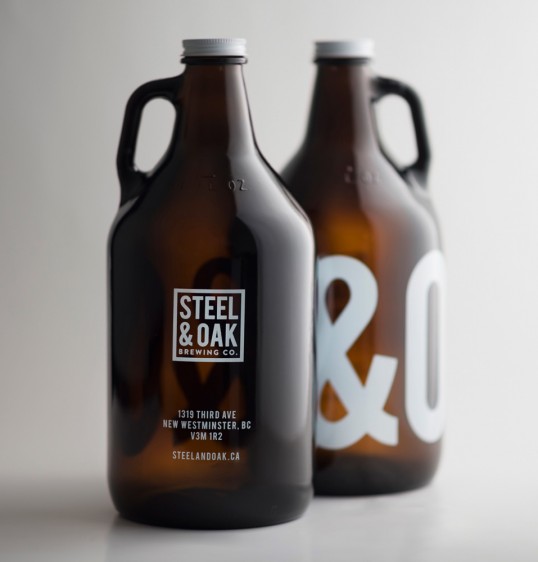 Designed by Also Known As | Country: Canada
"Project overview: Steel and Oak Brewing Co symbolizes the modernness of today while paying homage to the craftsmanship of years long past. A bright young voice in New Westminster's storied past, Steel and Oak is bringing a refreshed perspective and vibrant energy to the craft beer scene.
Supportive, open minded and encouraging clients like this remind us why we opened our doors in the first place. Champions of the process, Steel & Oak embraced the opportunity to get involved and realize their visions through our creative lens. The perspective and insights we gained through working closely and personably with the client helped us create design solutions that resonated early and easily."