March 21, 2015 | 1 Comment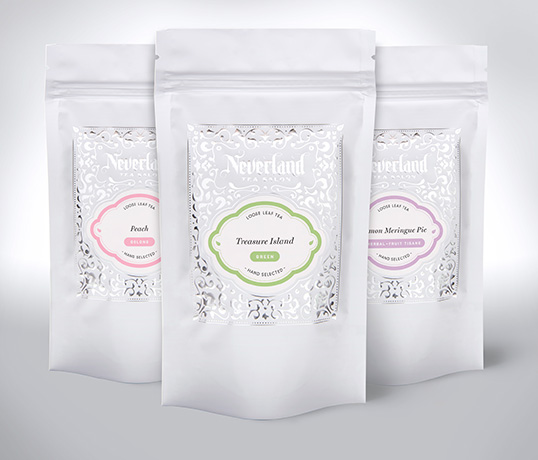 Designed by Saint Bernadine Mission Communications Inc. | Country: Canada
"Neverland Tea Salon partnered with Saint Bernadine Mission Communications to help them with the packaging for their proprietary branded line of hand-selected blended teas. With well over 75 flavours, in over 10 sub groups, the solution required a design system that was flexible, scaleable, and easily navigable. 
The solution resulted in a universal bag (for each net weight size) complete with silver foil branding and ornate detailing. A colour coded system of multiple stickers was developed to allow for a cost effective, yet easy to distinguish system, while easily accommodating a diverse range of sku's with different volume requirements."
March 21, 2015 | No Comments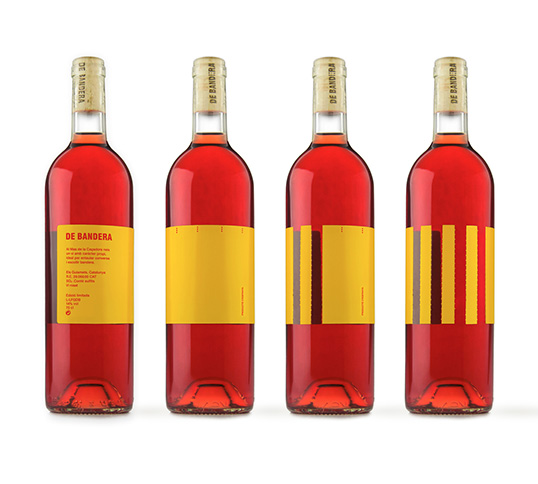 Designed by La Fonda Gràfica | Country: Spain
"Born in the Guiamets 2013′s vintage, this is a handmade wine with strong personality. An ideal wine to start nationalistic debates and to finish choosing flag. The label presents a flags game and the one who holds it can change the composition and transform the Spanish flag into Catalonia's flag (la Senyera)."
March 21, 2015 | No Comments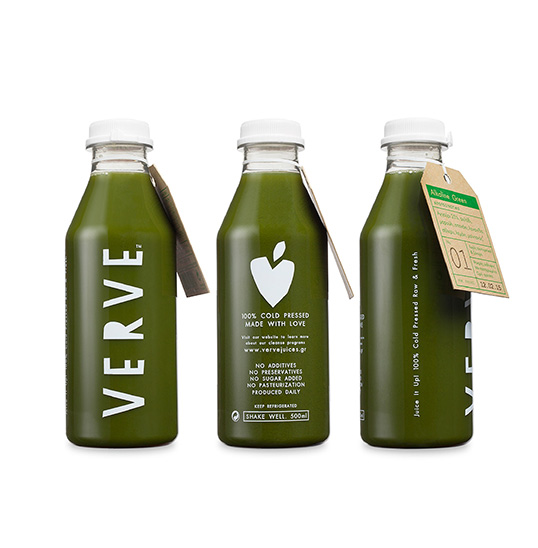 Designed by BOB STUDIO | Country: Greece
"Naming, logo design, branding and packaging for Verve, the first cold pressed juice and cleanse company in Greece, established in 2014. They offer a variety of 6 juices and 2 milks made with raw and fresh ingredients using only the cold pressed method.
Their identity is simple and clean, using a strong logo and the vivid colors of the juices themselves, revealing the freshness and purity of the brand. Logo typography is simple and primitive made by strong cut letters, inspired in a way on how we cut fruits and vegetables everyday at home.
Each juice is identified firstly by its color and secondly by a paper label on top, where you can find all information on the specific juice like ingredients, nutrition facts, series number on a cleansing program etc. Having a generic bottle and different labels reduces bottle production costs a lot and eases the way of everyday hand bottling. All applications follow the same branding rules and the strong identity of Verve."
March 21, 2015 | 1 Comment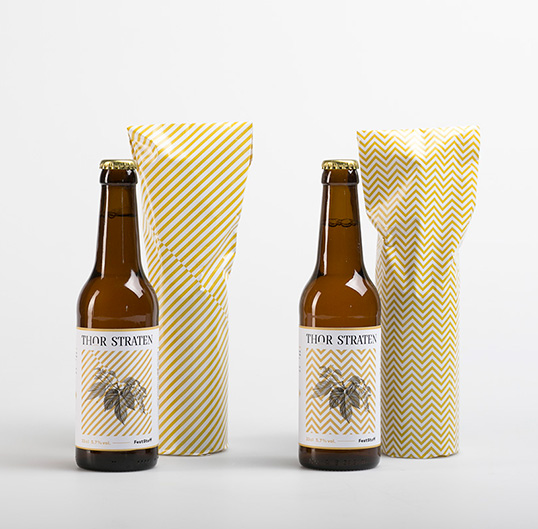 Designed by Yannick zur Strassen | Country: Germany
"Thor Straten, coming from an old family name – meaning gate and street – is a beer that can't be purchased, it is only given away as a present for festive occasions by the family. That is reflected in the identity and packaging. The pattern of the wrapping paper becomes a major element, also on the packaging itself."
March 20, 2015 | No Comments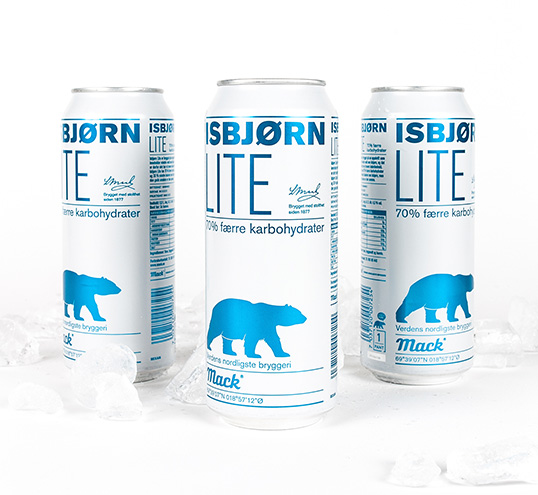 Designed by by north™ | Country: Norway
"After the relaunch of Mack's Isbjørn in February 2014, Mack's Isbjørn beer has been a success, stealing market share from the competition, and is currently Mack's best selling product. It seemed only natural to follow up on the product with a Lite version of the same brew. The design is closely related to the original Isbjørn, and being a calorie-reduced beer it only seemed natural to reverse the colors."
March 15, 2015 | 1 Comment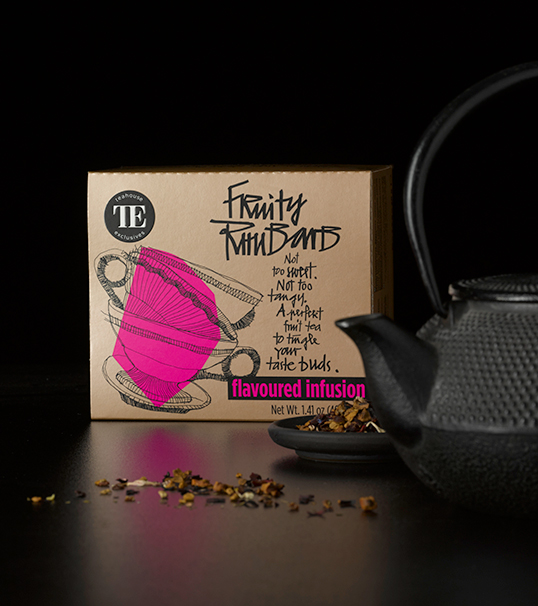 Designed by Peter Schmidt Group | Country: Germany
"Tea drinkers are individuals of strong character, people who like to indulge in a moment of deceleration in their daily lives, and this is the target group of Teahouse Exclusive's "Everyday Line". The packaging is of a bronze, shimmering quality and adorned with loosely drawn images of different cups and teapots, while thanks to a bold, colour coding approach, each tea variety immediately catches the eye. The typography has also been 100% handpicked, just like the teas themselves, with individual writing styles that promote their originality. This is as personal as it gets."
March 15, 2015 | No Comments
Designed by Patswerk | Country: The Netherlands
"We like brewing beer and handing out presents. So we decided that our 7 year anniversary was the perfect time to combine these things. We created a super limited package for our clients and friends, including 2 home-brewed beers. A nice and smooth porter and one extremely hoppy IPA.
The packaging is printed using 3 carefully selected PMS colors, making the packaging really 'pop'.The labels are silkscreened in 3 colors on transparent vinyl stickers, showing the color of the bottle."
March 15, 2015 | 1 Comment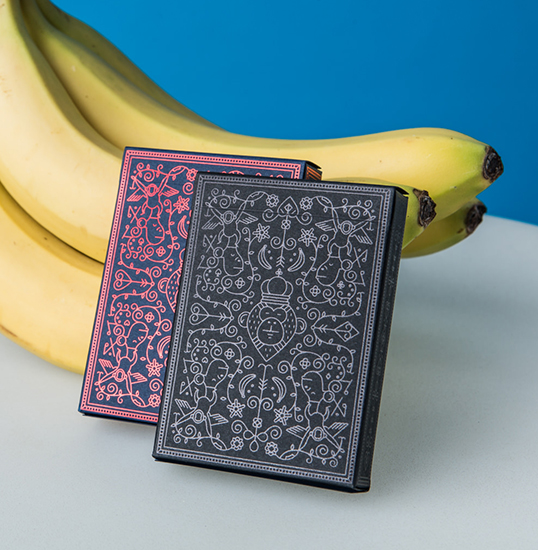 Designed by Fuzzco | Country: United States
"MailChimp Playing Cards are a collaboration between MailChimp, Fuzzco, and theory11, with a design that reflects their philosophy of simplicity and fun. The result is breathtaking – featuring custom court cards, ultra thin borders, and an elegant back design.
Best of all, MailChimp is donating 100% of their proceeds to the Fugees Academy: a non-profit organization devoted to working with child survivors of war."
March 15, 2015 | No Comments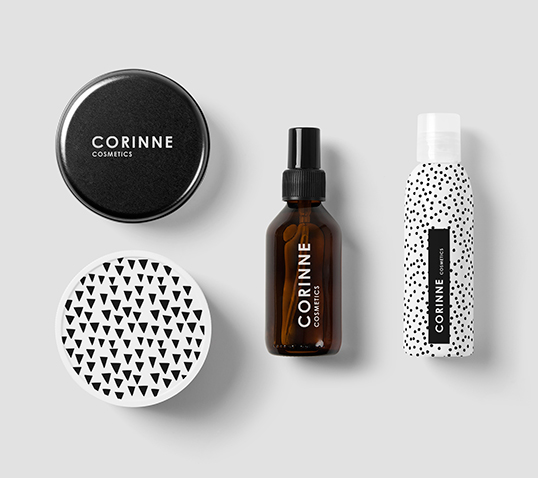 Designed by Anna Trympali | Country: Greece
"Corinne is a lyric poet from Tanagra in Beotia, modern in appearance and perceptions, independent, liberal, social, deep thinking. She loved reading, occultism and astrology.
Corinne's mission is to create the most effective and high quality skin care, hand and naturally made, products using the most efficacious active ingredients around the world. Our inspiration is the nature and its precious treasures, which combined with passion, love, knowledge and responsibility, create natural, effective and innovative beauty and wellness products."
March 8, 2015 | 1 Comment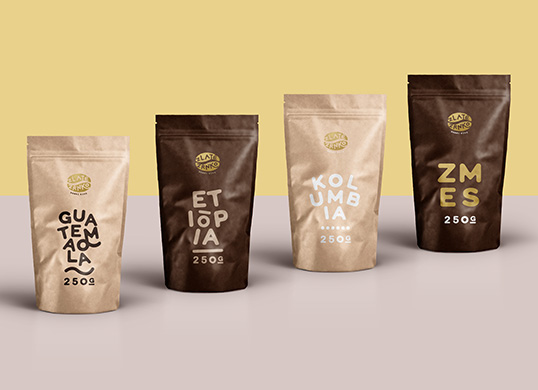 Designed by Michal Slovák | Country: Slovakia
"Zlaté Zrnko is premium arabica coffee roasted in Slovakia. The name Zlaté Zrnko means Golden Bean."