August 31, 2015 | No Comments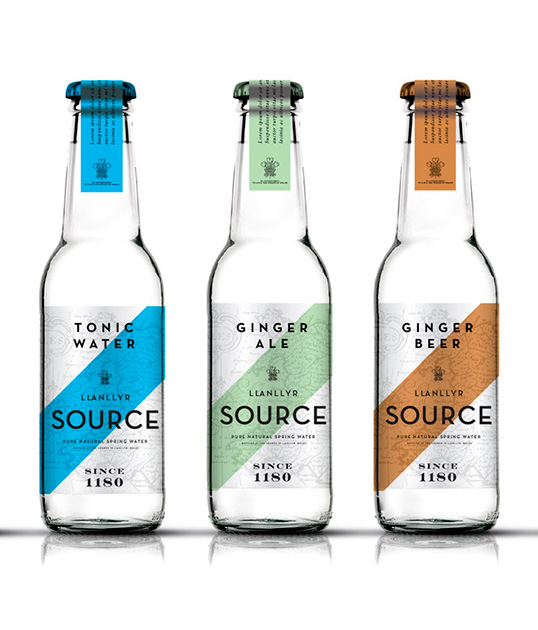 Designed by Adam&Co | Country: United Kingdom
"Since 1180, the organically farmed fields of Llanllyr, Wales has been producing near perfect natural spring water. In 1999, a member of the same family who had been farming the land for over 300 years started bottling and distributing the water under the brand name Llanllyr Source. Source quickly became recognized by the world's leading hotels, sommeliers, and chefs as one of the most perfectly balanced, purist tasting natural spring waters.
"Source hired Adam&Co., in partnership with Adned, to contemporize the brand. Our goal was to better tell the brand's rich history to a modern audience, re-establish the brand's luxury positioning, and to introduce a new line of flavored mixers based on the same brand name. This came to life through a new brand strategy, brand identity, messaging and packaging. The location and history are key to the brand's story which we communicated through the use of a map texture and consistent use of the words "Since 1180."
August 27, 2015 | No Comments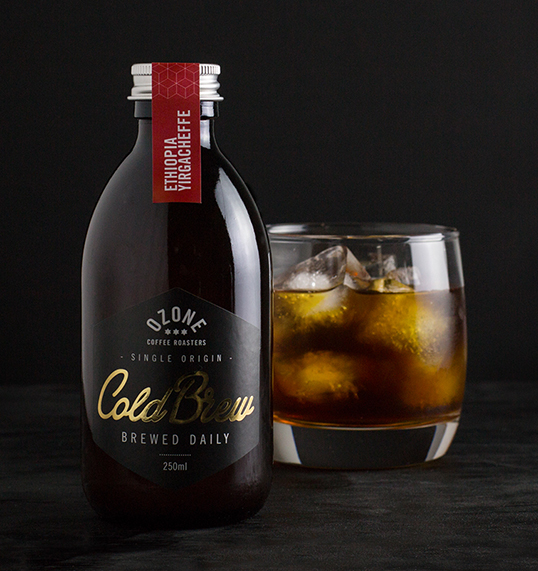 Designed by Macfarlanes Assist | Country: New Zealand
"The Ozone Coffee Cold Brew were designed to serve both New Zealand and United Kingdom specialty coffee markets. The cap labels provide a proof of seal and indicate the origin of the single brewed coffee. The brown bottle is a nod to the days of old – vessels for rejuvenating elixirs and home-brewed beer. Presented on a hexagonal label, the gold foiling of the product label captures the eye and reinforces the attention to detail and craft that goes into making each brew by hand."
August 26, 2015 | No Comments
Designed by Moruba | Country: Spain
"Pirineos is a wine from Somontano in need of a new image. The natural surroundings of this winery inspired us to feature the figure of a horse as a metaphor for untamed and exuberant nature that, guided by the hand of man, can produce its best fruits.
"There is a profound impulse in nature. Like a wild and noble animal that we are allowed, sometimes, to attract and to form. Pirineos gives shape and expression to the spirited bravery of Somontano".
August 24, 2015 | 2 Comments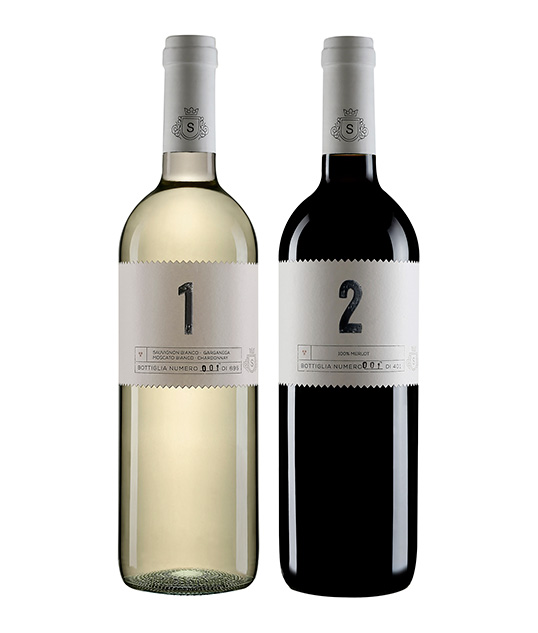 Designed by Onice Design | Country: Italy
"In the XIII century, the Italian mathematician Leonardo Fibonacci discovered a sequence of numbers with a particular feature: each numbers is the sum of the previous two. The sequence (1, 1, 2, 3, 5, 8, 13, 21, etc) appears many times in nature, describing a wide number of biological settings: branching in trees, arrangement of leaves in a stem, the flowering of artichoke, the spiral of shells, the seeds on a sunflower. It is also widely used in design, geometry, architecture, computation, art."
August 24, 2015 | No Comments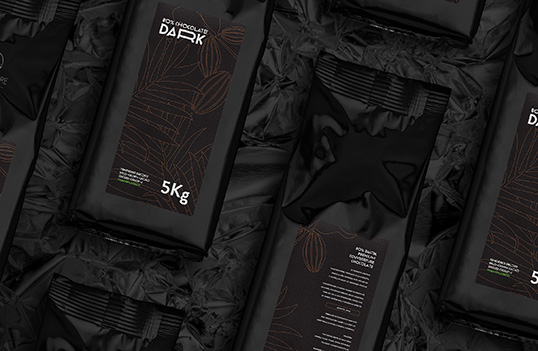 Designed by Michal Slovák | Country: Slovakia
"Around 99.99% of world cacao tree production is growing on plantations. The rest, 0.01% of world production features very rare wild-grown cacao.
Biosphere – Fine Honduran Cacao comes from Wampusirpi, location immediately adjacent to Río Plátano Biosphere Reserve in Honduras which has been a World Heritage site and biosphere reserve since 1982. In 2011, UNESCO placed the reserve on the List of World Heritage. This premium couverture chocolate has exceptional quality and single origin.
It was important not to follow Aztec or Mayan motifs, which are very common on many chocolate labels from this region. Exceptional quality product needed exceptional design. The aim was to illustrate the atmosphere of the jungle where the cacao grows. Therefore the label for 80% dark chocolate was illustrated as rainforest at night. Tempered chocolate drops are packed in 5kg bags and are sold only to trade."
August 19, 2015 | No Comments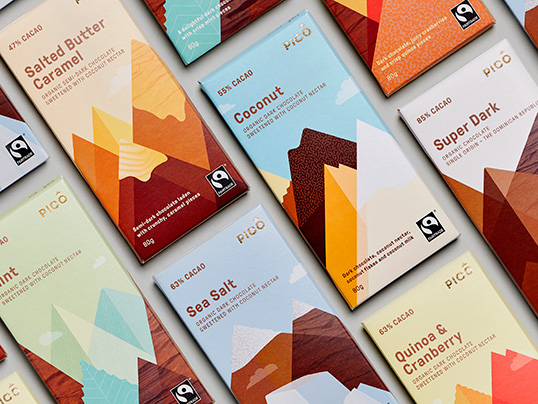 Designed by Swear Words | Country: Australia
"PICO is a premium gluten-free, vegan, fair trade certified, Swiss chocolate range conceived and designed in Melbourne.
A premium chocolate range launching in an already visually busy environment, Pico required impactful, contemporary branding and packaging whilst giving a nod to its Swiss chocolate-making heritage. Our solution is inspired by Swiss poster art and its bold geometric forms reinterpreted as flavour and texture cues in the context of an abstract mountain range designed to lend strong shelf impact."
August 17, 2015 | 1 Comment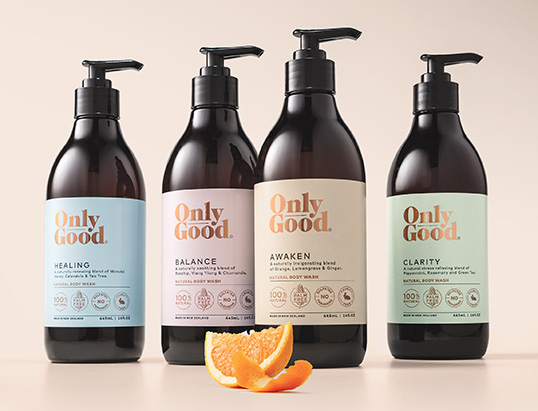 Designed by Milk | Country: New Zealand
"Our brief from long-term personal care client API was to deliver an eco-friendly, 'department-store-type' brand into supermarkets at an affordable price. Making an uncompromising, design-led range accessible, at an affordable price point.
As natural and gentle as it gets the product needs to sell based on more than simply its ethical credentials – it's got to feel desirable and an everyday indulgence.
As always in the FMCG space, quick, clear communication is key – so the name Only Good was key to representing the 'all or nothing', no compromises range. 'Decor appeal' is important – sleek amber bottle, simple design, and strong use of typography make this a pack that can be proudly displayed in the bathroom. A more natural high-end aesthetic."
August 14, 2015 | No Comments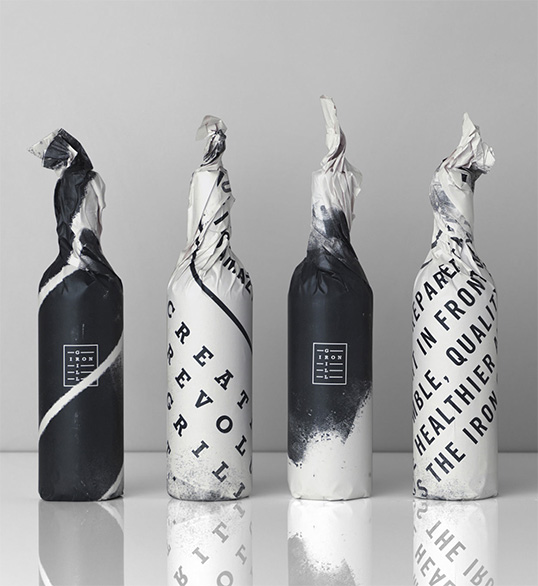 Designed by End of Work | Country: Australia
"A spirited new brand identity with a healthy attitude and an appetite for opinion. The grill is king. The logo is quite literally type on a grill and by using a graphic inspired by the grill, the visual identity has an impactful, almost militant quality with thick black scorch marks burned into key pieces. The packaging was designed to be as visible as possible on the super-lean budget. The interiors, signage, uniforms, point of sale and packaging all reflect this natural, clean ethos, using raw materials and earthy finishes, we paid homage to the handmade and bespoke offer that is the Iron Grill way. This idea drove the identity, which in turn drove the direction of the interior, the textures, the materials, the uniforms. All these elements build a engaging and memorable experience."
August 14, 2015 | No Comments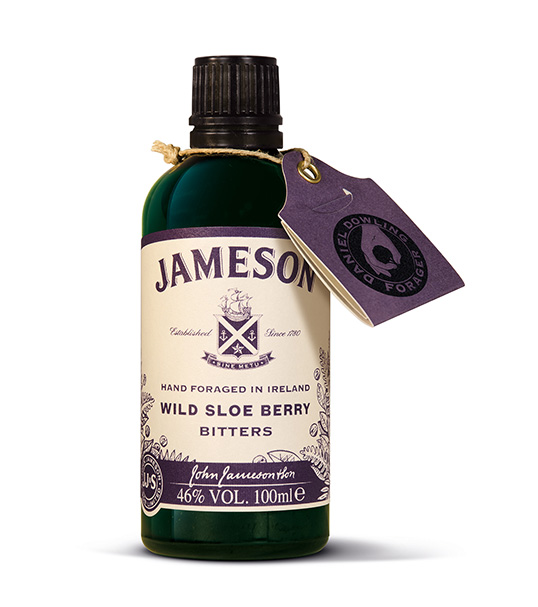 Designed by Pearlfisher | Country: United Kingdom
"Pearlfisher has created the brand and packaging design for the new Wild Sloe Berry Bitters, byJameson. This is a new, beautifully crafted and locally sourced Bitters brand from Jameson thatdelves into the brand's Irish roots and flavours, and is designed to give influential bartenders anddrink enthusiasts new ways to enjoy and experience the iconic whiskey brand.
With the rapid growth in Bitters brands, a certain "type" of Bitters language is quickly saturatingthe category. Pearlfisher's task was to create a visually distinctive look and feel for JamesonBitters, whilst ensuring we complement, respect and become a great companion to the Jamesonmaster brand."
August 12, 2015 | No Comments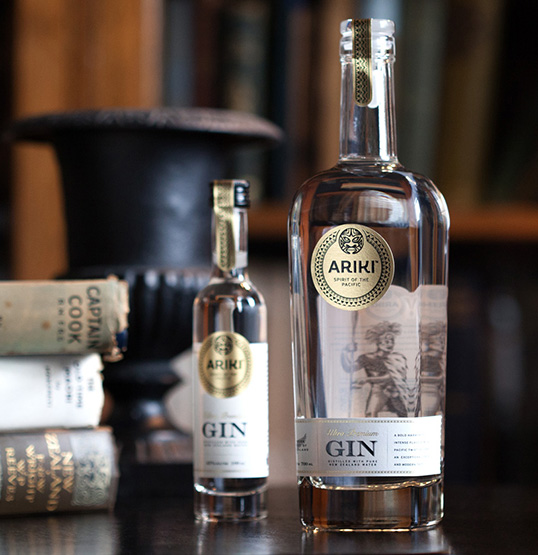 Designed by Redfire Design | Country: New Zealand
"Yes, the Vodka & Gin space is full of competition and dominated by global spirits conglomerates. So if your considering entering this segment you need to go in with your eyes wide open and have a damn good point of difference to carve your niche and get sales.
Enter Ariki. A new player based in New Zealand with a Pacific twist targeting a global audience. Ambitious – Yes! Inspirational – more so.
We loved the challenge to craft this premium spirit brand inspired from Polynesian origins. It was not your stereotypical brand that showcased sun, sea, sand and palm trees ( although we all love that- right) but one that resonated with sophistication, class, taste and flavour profiles that teased and aroused your taste buds."