November 27, 2015 | 1 Comment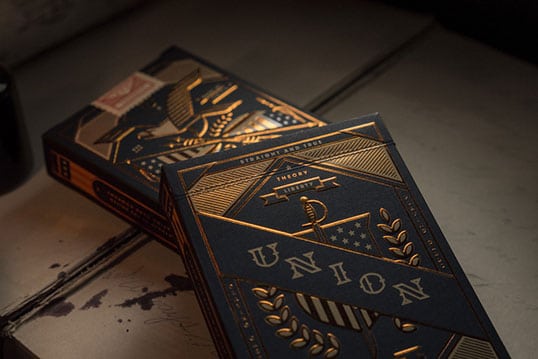 Designed by Jay Fletcher | Country: United States
"Timeless Americana is laced throughout the design, with iconography of colonial America and patriotic symbols of peace, prosperity, and potential. Unions are Made in America, using FSC-certified paper, vegetable-based inks, and starch-based laminates. Over a year in development, every aspect of the design was created from scratch – from the breathtaking court cards to the back design and Ace of Spades.
As a special edition, Unions are available in a historic Ironside Edition, with a display made of authentic 300-year-old reclaimed wood from the Charles Towne Navy Yard, used in construction of actual ships during the Revolutionary War and War of 1812. Four decks are inset in a special edition plank, branded with the US Constitution across the face."
November 26, 2015 | No Comments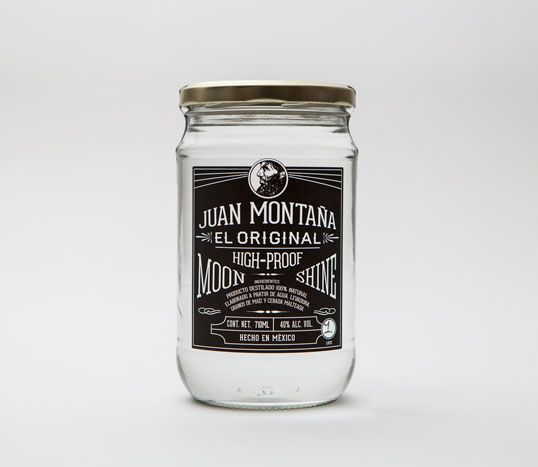 Designed by Sociedad Anónima | Country: Mexico
"Moonshine was the name given to illegally distilled whiskey during the US Prohibition, among this time, production was carried out at night, under the moon's rays. Juan Montaña is a Mexican distilled liquor which represents the southern US., made out of natural products such as water, yeast, corn kernels and barley. Its branding, packaging and graphic language are inspired by the story of a typical old hermitliving in the southern US Mountains, represented with a vintage ilustration at the top of the label. We chose to merge a rustic style with spare printing techniques to create a fresh design, combined with old fashioned elements to reflect the natural essence of the product. The result is a label with a vintage and raw look that give it a handmade feel."
November 26, 2015 | 1 Comment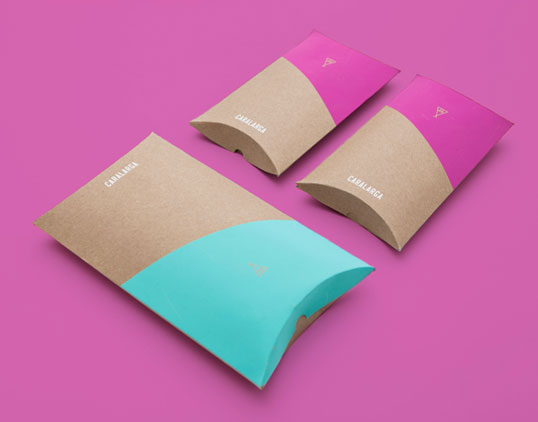 Designed by Sociedad Anónima | Country: Mexico
"Caralarga is a Mexican jewelry design firm. This project included the creation of visual identity and the design of the packaging. The brand concept was inspired and based by the work of Native Americans, trying to communicate this idea through the icon in the logo, which is a tepee that represents the two capital letters of the designer and founder of the brand: Ana Holschinder. We chose to work with a bright and vibrant color palette, combined with a modern sans serif font, which would reflect the energy of the brand. The result is a simple, yet unique, clean and bold packaging printed in full color and matte coated, using a geometric shape printed over half the surface of the box  to give a particular and friendly look."
November 26, 2015 | No Comments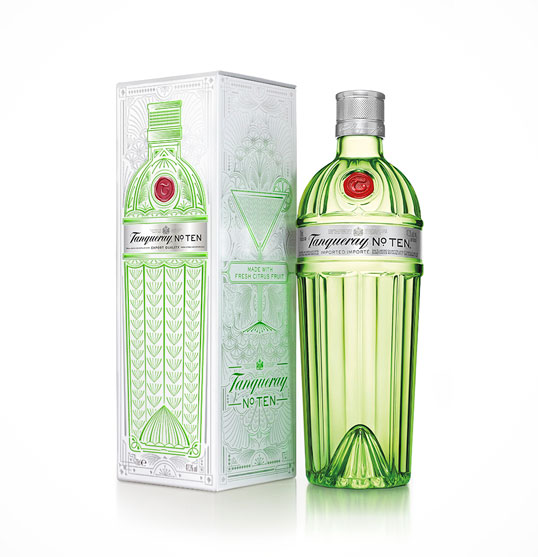 Designed by ButterlyCannon | Country: United Kingdom
"Tanqueray No. TEN is a super-premium gin from Diageo Reserve's luxury portfolio of World Class spirits. Using a unique combination of botanicals, Tanqueray No. TEN is an ideal choice for a number of serves, including the classic martini.  Its instantly recognisable bottle design celebrates the fresh whole citrus fruits that have always defined the spirit with ten elegant facets flowing down the green bottle, meeting at the base, taking the shape of a citrus squeezer and capturing the 1920s Art Deco period perfectly.
ButterflyCannon was asked to create a glamorous gift box that brought its dazzling 1920's style to life for the festive season."
November 25, 2015 | No Comments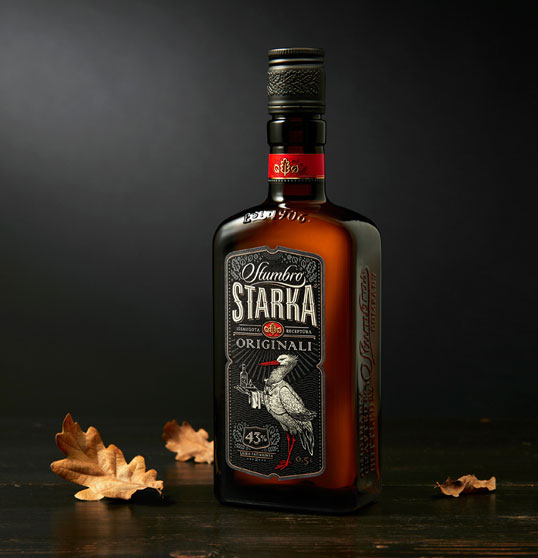 Designed by Studija CREATA | Country: Lithuania
"They say that in the old days, Lithuanian men would make Starka on the birth of their first son. An aged vodka in honor of the stork's delivery. Strong and special. Triple distilled rye vodka, with the leaves of apples and pears. Apples for richness and pears for a long, full life. Buried in an oak barrel, it would wait patiently for the son's wedding day.
For the revamp of Stumbro Starka, we want to blow the dust off this interesting and rich beverage. Our goal is for Starka to be known as the unique Lithuanian beverage that it is – one that you should be proud of treating guests to or bringing as a gift.
By changing the image of Stumbro Starka, in essence, we created a whole from its parts: from the new, uniquely-shaped, dark glass bottle adorned with raised calligraphy and the rich label which tells the legend of the beverage, to the bottle stopper decorated with an oak leaf wreath."
November 24, 2015 | No Comments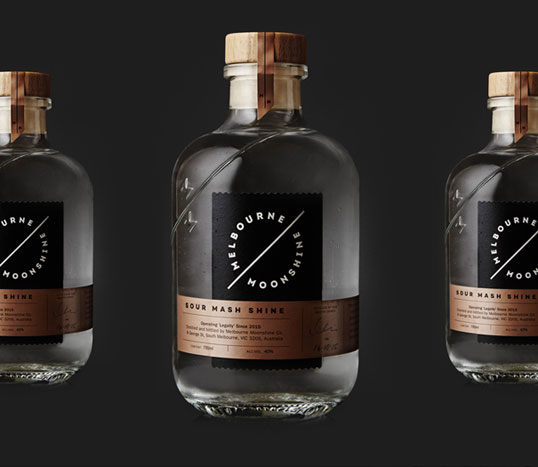 Designed by Sense | Country: Australia
"Melbourne Moonshine is a brand new alcohol firm based out of South Melbourne. For its branding, packaging and website, we drew influences from the bootleg history of moonshine itself, as well as the shape of the celestial moon and the copper of the alembic stills used to create this unique liquor.
Melbourne Moonshine was also the opportunity for Sense to design our first spirit bottle, which made us proud as punch (Moonshine punch, of course).
The pillars of this fine drop's brand identity include photography referencing film noir aesthetics and a tone of voice full of Appalachian jargon and down-home attitude and we can tell you, we had as much fun as a moonshiner sampling from the still working on this job."
November 24, 2015 | No Comments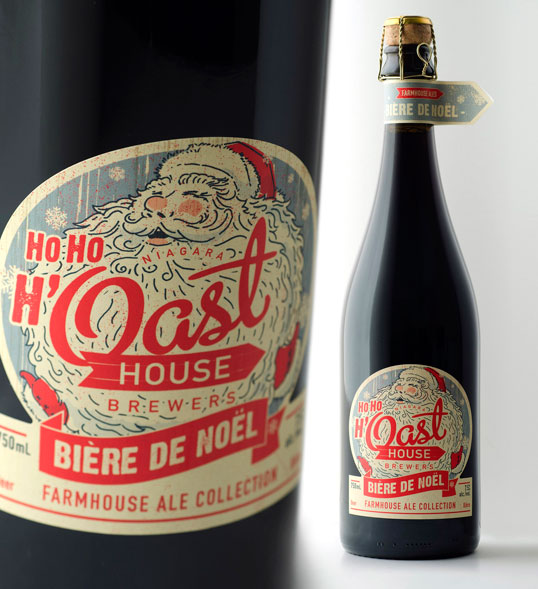 Designed by Insite Design | Country: Canada
"The Niagara Oast House Bière de Noël is a limited edition winter warmer and like their other Farm House Ales, it's brewed and bottle conditioned in a traditional Belgian style.
Continuing on the series of seasonal Farm House Ale packages, we envisioned this jolly Ho Ho H'Oast calling Santa with a more robust and à la mode beard. A beard Noel one might say."
November 23, 2015 | No Comments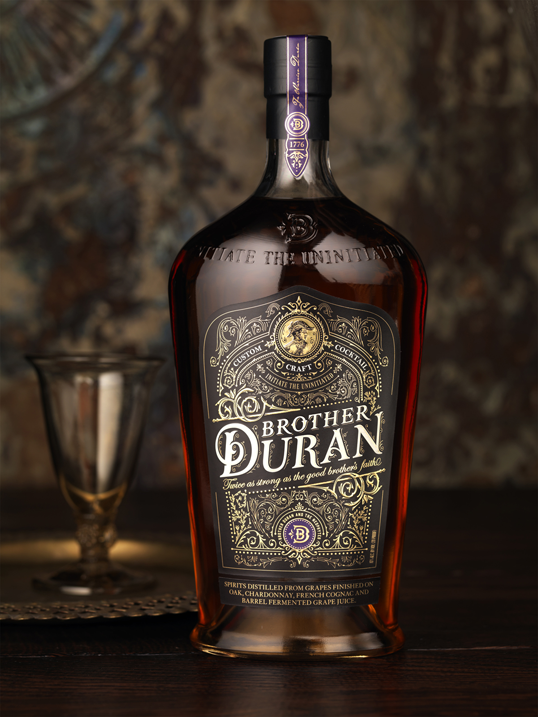 Designed by CF Napa Design | Country: United States
"The client came to CF Napa to design the custom bottle, identity and packaging for their new grape-based spirit, inspired by a brandy recipe developed by Father Narciso Duran (Brother Duran) while serving in the California missions during the early 1800's. His brandy was described as "double distilled and twice as strong as the good brother's faith." Taking our lead from the time period, we designed a custom bottle that pulled cues from historic brandy bottles and a label that imbues a texture of rich gold filigree to complete the opulent embodiment of this luxury spirit."
November 19, 2015 | 2 Comments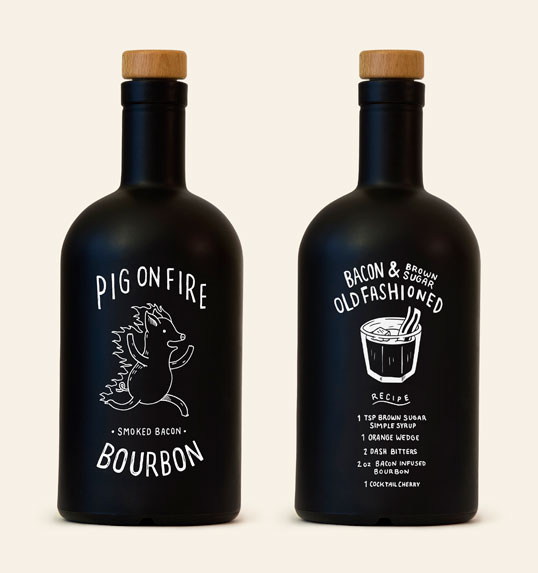 Designed by John Larigakis & Jon Mandell | Country: Canada
"Pig On Fire is a small batch hand crafted bourbon infused with applewood smoked bacon."
November 18, 2015 | No Comments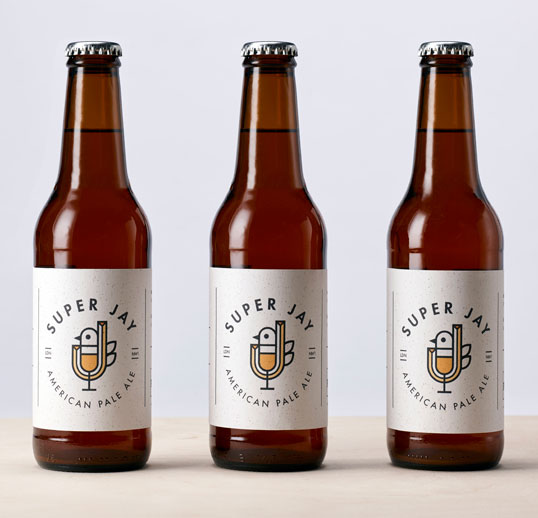 Designed by PWW | Country: United States
"Combining a warming back-story, an illustrative packaging style, and organic American Pale Ale – Super Jay is born!
PWW is a strategic design firm based in London and Seattle, and Super Jay is our very own craft beer made from the bottom up. During beer production, the flavour comes first and the brand identity second, and this is what differentiates Super Jay from other craft beers. Super Jay's brand identity firstly combines character and individuality, with the beer itself following on to match.
The creation of Super Jay is the result of two back-stories merged together. Beginning with the 'Jay' part came from PWW's Graphic Designer Mark Johnson, growing up near Lake District and surrounded by Jaybirds, this became his focal drawing point and inspiration for Super Jay's graphic design. 
Directly linking to the history of beer, Jaybirds colonised Asia, Europe and Africa, to then eventually migrate to North America, which is close to PWW with our second studio based in Seattle. Consequently, beer made the same transition between multiple continents, growing in Europe, to then eventually end up in North America within the leading craft beer movement.  
The 'Super' part comes from PWW's final beer in the craft series, which will be marketed and available to buy. The recipe will be for a strong shandy, with a memorable flavour."