August 20, 2014 | No Comments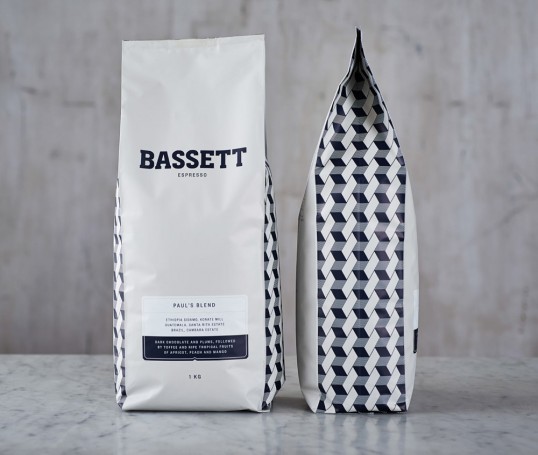 Designed by Squad Ink | Country: Australia
"Paul Bassett, former World Barista Champion, is the visionary behind Bassett Espresso. From the moment Paul presented us with the challenge to reinvigorate his existing coffee brand, we recognised what was to be a truly rewarding collaboration.
Bassett Espresso is a reflection of Paul's personal taste. It portrays his journey of creative expression and the continuation of his relationship with coffee, capturing the imagination and potential of quality espresso."
June 16, 2014 | No Comments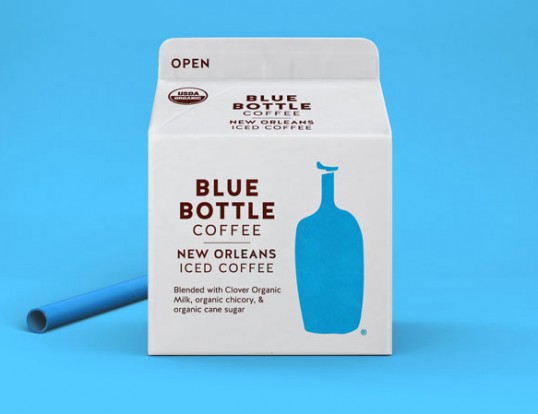 Designed by Pearlfisher | Country: United States
"Task: To create a new expression for Blue Bottle's New Orleans Iced Coffee, extending the intimate Blue Bottle experience from carefully curated cafes to a carton, reaching a larger audience and standing out on shelves in mass retailers.
Scope: Brand strategy, identity, and packaging design.
Solution: The new design for Blue Bottle's New Orleans Iced Coffee stays true to the heart of Blue Bottle, challenging coffee category cues while remaining modest and utilitarian. Pearlfisher has elevated Blue Bottle's current equities and clarified their word mark to increase its stature, simplifying messaging on pack and playing up the Blue Bottle blue to increase shelf impact."
March 17, 2014 | 6 Comments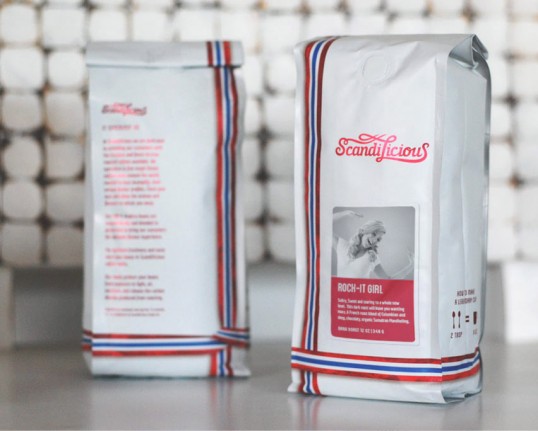 Designed by Paone Creative | Country: Canada
"No bakery experience is complete without wafting aromas of fresh brewed coffee. Paone Creative was happy to create a unique and versatile coffee bag. The bag had to amplify the visuals established for this Vancouver restaurant branding project. A ribbon pattern was made using the colours of the Scandinavian flag. The ribbon wraps around the bag just like a parcel or a gift – it's all wrapped up and ready for you to give. Scandilicious sells specialty blends of coffee in small batches. For economical purposes the bag was designed to be generic and a sticker is used to identify with the different bean types."
March 4, 2014 | No Comments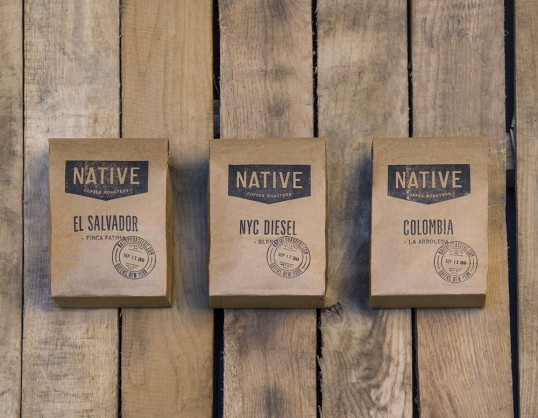 Designed by Naomie Ross & Daniel Renda | Country: United States
"Native Coffee Roasters is an independent roaster located in Queens, NY. Inspired by hand-painted gothic lettering and utilitarian design, we created an overall look which evokes classic New York City with a touch of grit while maintaining a clean and modern feel."
February 20, 2014 | No Comments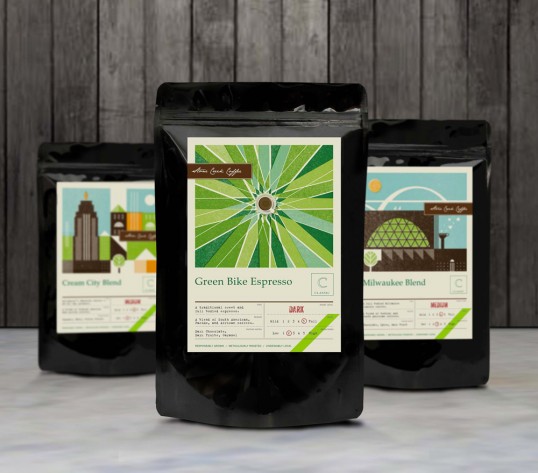 Designed by LP/w Design Studios | Country: United States
"For the past 5 months, LP/w has helped Stone Creek Coffee redefine and reposition their brand. We started with the first manual brew bar in Milwaukee, Wisconsin and now we are releasing all-new packaging. We'd like to introduce our three new series of coffee: Classic, Seasonal and Lab. The Classic series includes all-time favorites like French Roast and Cream City Blend. The Seasonal series is only special selections that will change over the course of the year. The Lab series is for the uber coffee geek, and will be very limited in availability and quantity (often single-sourced from a very small farm that only produces about 20 bags of coffee in total).
We are reorganizing our coffee line better reflects the complex palette of our customers. Often, our loyal customers simply want to wake up and drink a dark roast coffee like our French Roast, and we equate this to comfort food to start off the day. Different customers (or sometimes the same) want to be more experimental and see what is on the cutting edge of coffee. Foodies often discuss a so called "Third-Wave" of coffee and what they are referring to is the both the roast of the coffee and the way in which we serve it (i.e. our manual brew bar)."
February 12, 2014 | No Comments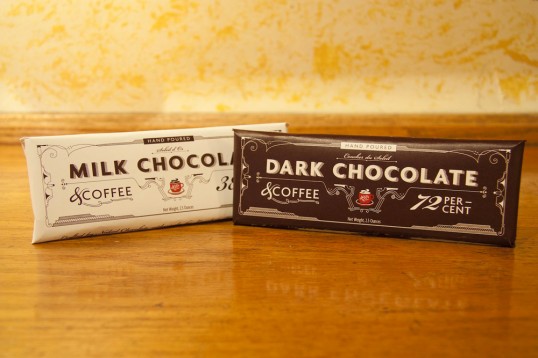 Designed by Physical Pixel | Country: United States
"Looking to expand their specialty offerings, I worked with Lambertville Trading Company to create a new product that incorporated two varieties of their delicious coffee with chocolate from Bucks County, Pennsylvania's Naked Chocolate. Influenced by the historical use of LTC's location as a pharmacy/soda fountain in the late 1800′s, my goal was to make these chocolates feel special, considered, and unique, and in keeping, each bar is made by hand in small batches and individually wrapped.
The chocolate is available in two styles, a 38% milk with a light roasted coffee and a 72% dark with a dark roasted coffee, each lending their unique flavor characteristics to the bars."
February 10, 2014 | 2 Comments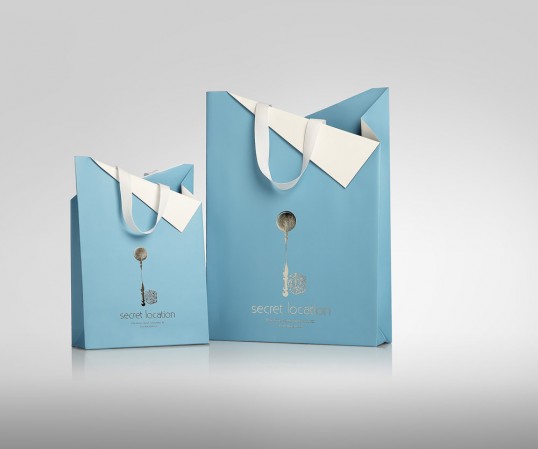 Designed by SabotagePKG | Country: United Kingdom
"SabotagePKG have designed the entire packaging range for Secret Location concept store Vancouver, Canada. 
Capturing the essence of the Vancouver concept store's unique brand, and applying it to each facet of the customer experience for both retail and food.
Taking the store's existing brand and ethos of originality, quality and craftsmanship, we created bespoke designs to complement the unique in-store experience – from the desirable, uniquely designed carrier bag right down to the small, sublime coffee cups & bespoke carrier for the store's tasting room."
November 11, 2013 | 1 Comment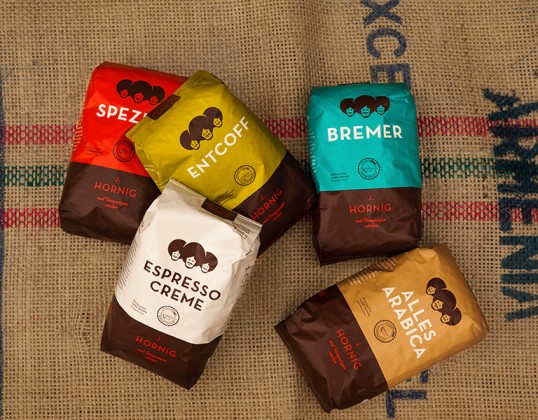 Designed by Moodley Brand Identity | Country: Austria
"For 100 years now, J. Hornig has been bringing delicious coffee to Austria. It's a popular family-run business with traditional roots. Nevertheless there's no better time than now to "restart" the brand. To focus on the future and to stop following the trends of the past few decades. J. Hornig still knows how coffee tastes best: Black, natural and home-made. It's the essence that counts most. And the pleasure when roasting coffee."
August 20, 2013 | 2 Comments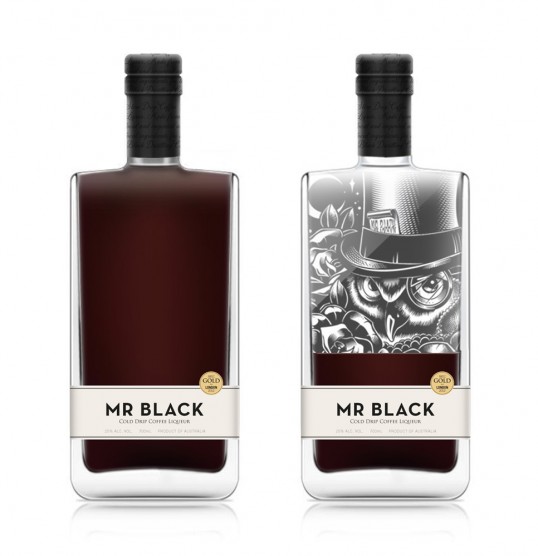 Designed by MR BLACK | Country: Australia
"We know MR BLACK isn't for everyone, it's not some cloying sickly sweet kiddie drink. It's a rich, cold drip coffee liqueur for those who appreciate good coffee so our packing needed to speak to that. At MR BLACK we're lovers of creative culture, so we knew we had to get a local artist in to help complete the product. At the same time, we didn't want it to be an overpowering element of the design or to draw attention from the liquid inside.
Sydney artist Dale Bigeni created an original artwork for the bottle that is screen printed on the back face, revealing only as the liquid is drunk. This allows us to have quite a bold and minimal design on shelf, but has some interest and playfulness once taken home. At the end of the day, we just wanted MR BLACK to look as good as it tastes."
July 25, 2013 | No Comments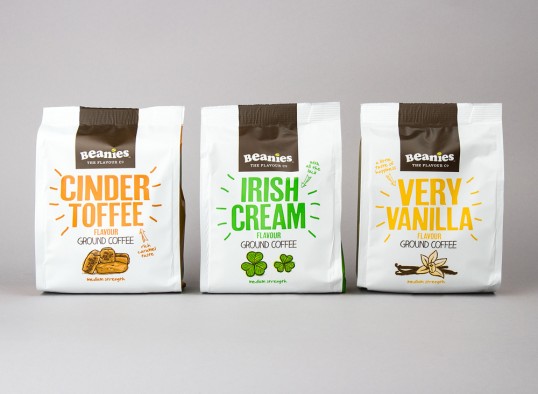 Designed by Robot Food | Country: United Kingdom
"Beanies The Flavour Co. has launched a range of flavour coffee exclusively for Sainsbury's, with a new design created by specialist branding partner Robot Food. The creative team worked in close collaboration with Sainsbury's to deliver exactly what it felt was missing from the shelves. Beanies' commitment to satisfy the retailer was rewarded in volume orders, which are hitting the shelves by mid July.
The range includes three instant flavours and three roast ground flavours. Flavours include Amaretto, Irish Cream, Cinder Toffee and Very Vanilla."