September 14, 2014 | 6 Comments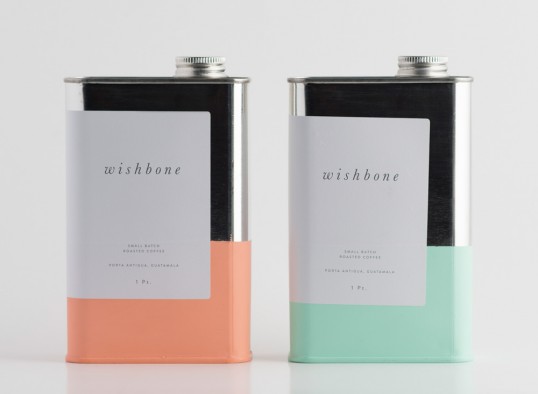 Designed by Also Known As | Country: Canada
"The client and project overview: Earlier this year we gave ourselves a challenge: to re-imagine the traditional approach to packaging coffee and create something that we could share with our clients and friends – and so, Wishbone Brew was born. Conceptualized and created by the team at AKA and assembled together by hand, it's been a long time in the making — but worth the wait in order to share & enjoy it with some of our favourite people.
The design and creative solution: Our main objective was to re-think traditional packaging methodology. Used as a tool to showcase our ability to think & work beyond convention, we determined from the out-set that drawing inspiration from uncommon sources was essential to the success of the project. Cue the Turpentine: An attractive shape, an airtight seal, something unexpected. This container delivered on all counts, but how to break from the unfriendly, industrial, and for all intensive purposes toxic associations we as consumers have made with that form?
A bright yet soft colour palette combined with elegant and approachable serif type helps soften the brand against the harshness of material. A quick sanding, prime, and dip in paint helps add some individuality among the products and re-enforces the handmade nature of the product, No two wishbones being exactly the same."
June 16, 2014 | No Comments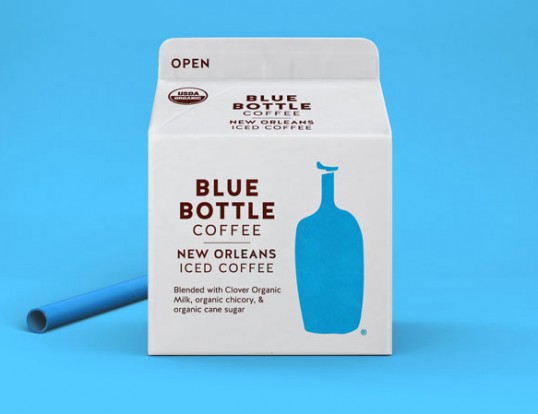 Designed by Pearlfisher | Country: United States
"Task: To create a new expression for Blue Bottle's New Orleans Iced Coffee, extending the intimate Blue Bottle experience from carefully curated cafes to a carton, reaching a larger audience and standing out on shelves in mass retailers.
Scope: Brand strategy, identity, and packaging design.
Solution: The new design for Blue Bottle's New Orleans Iced Coffee stays true to the heart of Blue Bottle, challenging coffee category cues while remaining modest and utilitarian. Pearlfisher has elevated Blue Bottle's current equities and clarified their word mark to increase its stature, simplifying messaging on pack and playing up the Blue Bottle blue to increase shelf impact."
March 4, 2014 | 1 Comment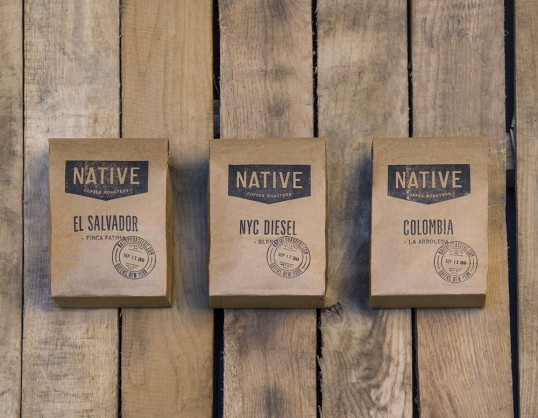 Designed by Naomie Ross & Daniel Renda | Country: United States
"Native Coffee Roasters is an independent roaster located in Queens, NY. Inspired by hand-painted gothic lettering and utilitarian design, we created an overall look which evokes classic New York City with a touch of grit while maintaining a clean and modern feel."
February 20, 2014 | No Comments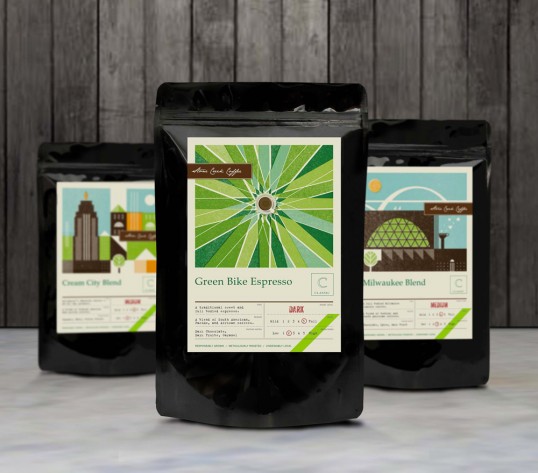 Designed by LP/w Design Studios | Country: United States
"For the past 5 months, LP/w has helped Stone Creek Coffee redefine and reposition their brand. We started with the first manual brew bar in Milwaukee, Wisconsin and now we are releasing all-new packaging. We'd like to introduce our three new series of coffee: Classic, Seasonal and Lab. The Classic series includes all-time favorites like French Roast and Cream City Blend. The Seasonal series is only special selections that will change over the course of the year. The Lab series is for the uber coffee geek, and will be very limited in availability and quantity (often single-sourced from a very small farm that only produces about 20 bags of coffee in total).
We are reorganizing our coffee line better reflects the complex palette of our customers. Often, our loyal customers simply want to wake up and drink a dark roast coffee like our French Roast, and we equate this to comfort food to start off the day. Different customers (or sometimes the same) want to be more experimental and see what is on the cutting edge of coffee. Foodies often discuss a so called "Third-Wave" of coffee and what they are referring to is the both the roast of the coffee and the way in which we serve it (i.e. our manual brew bar)."
March 5, 2013 | 1 Comment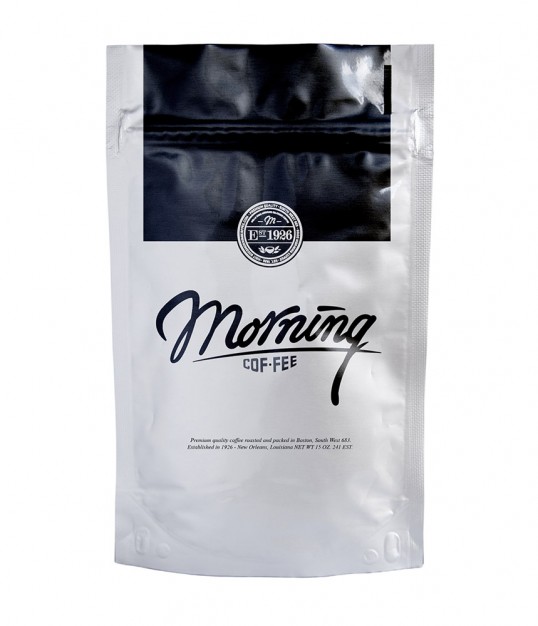 Designed by Studio Konfirm | Country: The Netherlands
"We were asked to create this new coffee brand called Morning Coffee. The main subject was to make it simple and make it questionable. What is in the bag? What's the brand about? The best things can be said in one line, that's what we did. Good Morning, Coffee! Who doesn't want to start the morning with a good cup of power beans?"
March 1, 2013 | 2 Comments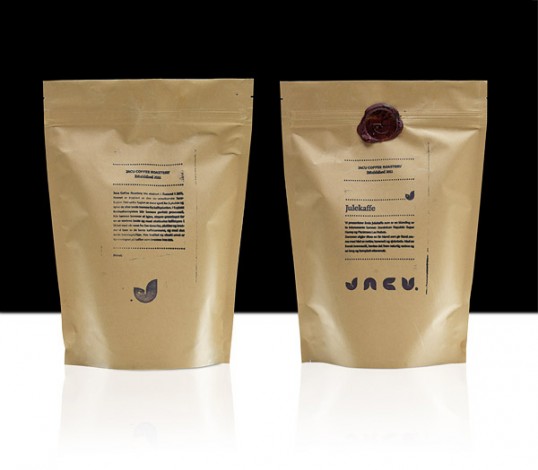 Designed by Tom Emil Olsen | Country: Norway
"The Jacu bird lives in South America and is known for something quite extraordinary; It flies from coffee plantation to coffee plantation and picks and eats the tastiest coffee cherries. The fruit makes its way through the bird's digestive system, and the seeds of the fruit – coffee beans – come out perfectly processed. These coffee beans are among the most exclusive in the world. This story has inspired us, and the bird has lent its name to the new micro-roastery in Ålesund, Norway. 
Jacu Coffee Roastery was established in 2011. Like the jacu bird, they pick and roast only the best beans. They look for great plantations, optimal processing, and the roasting profiles which will make the most out of each bean. They work with passion, patience, and without compromise."
February 20, 2013 | No Comments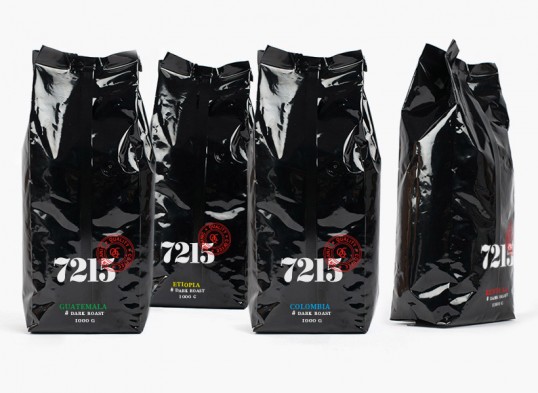 Designed by Blanc | Country: Sweden
"7215 is an all organic brand that specializes in coffee and chocolates with their own trademark – Organic Quality Coffee. 7215 wanted a modern and exclusive look for their products. The key words being Quality, Robust, Exclusive and Trendy. The aim is to get fashionable and wealthy city people, with a desire to choose organic products, to buy their high quality products and visit their coffee shops. The logo was created to capture the robust nature of coffee with the blackness of the font, together with the sense of exclusive quality in the stamped red seal."
February 9, 2013 | 1 Comment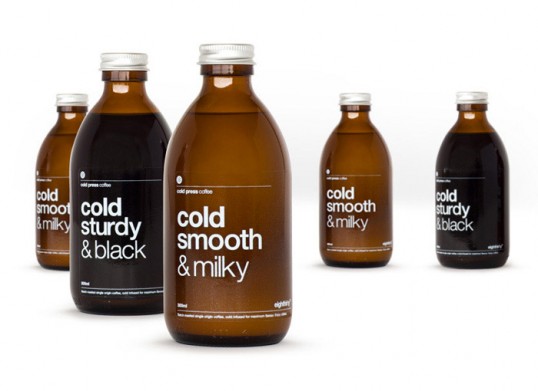 Designed by Butcher & Butcher ltd | Country: New Zealand
"Originally designed in 2009 Eighthirty Coffee Roasters asked Butcher & Butcher ltd to refresh their packaging for 2013. The packs talk directly to your taste buds, celebrating subtle differences in each flavour, origin and blend. 
We maintained a simple colour palate, while the ephemeral typographic treatment allows each pack to have a unique voice, yet change as the coffee flavours and brand evolve over time."
October 6, 2012 | 4 Comments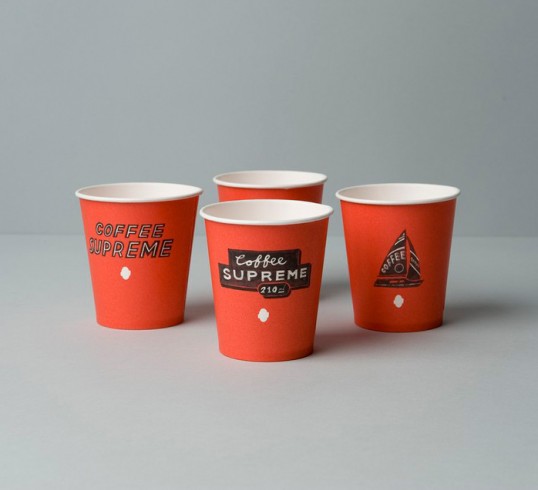 Designed by Hardhat Design | Country: United Kingdom
"Coffee Supreme's take-out cups were already known in NZ and Australia for being unusual, distinctive and quirky, so while we knew from our re-brand brief that they wanted the brand to 'grow up', we felt it was important they didn't lose their individuality.
Ideally they also needed to convey Coffee Supreme's love & enthusiasm for the handmade craft of making coffee, that they were confident and quirky, approachable and supportive, and staying true to the good old fashioned standards the company started out with."
October 4, 2012 | 7 Comments
Designed by Regular Coffee | Country: United States
"We are very excited about our latest venture, REGULAR COFFEE.  This startup company is a spin-off of our current and  successful company, Rowster Coffee.  By utilizing existing infrastructure we are taking boutique coffee to the masses at wholesale prices.
Why are we doing this?"