May 17, 2015 | 1 Comment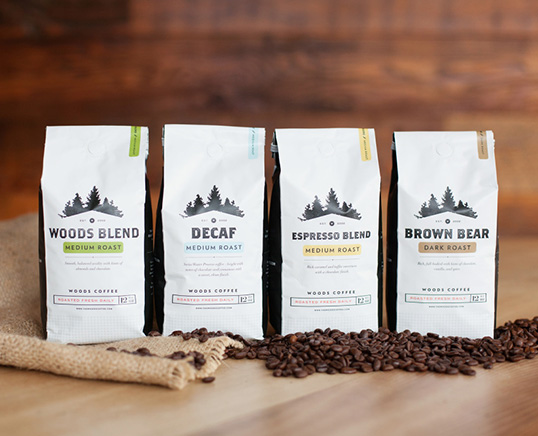 Designed by Man Man Van | Country: Unites States
"Woods Coffee is a family run company in Northern Washington.  They recently started their own roasting operation and it was our job to come up with a good face for the bags.  We created several variations for each individual blend, along with a few additional elements such as a cold brew bottle and illustrations for mugs."
April 20, 2015 | No Comments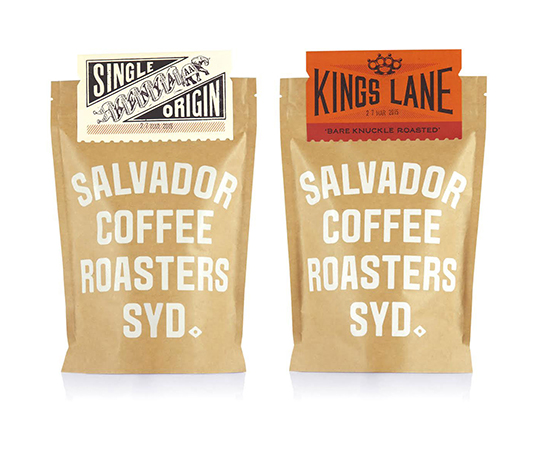 Designed by Co Partnership | Country: Australia
"Salvador are roasters of fine imported coffee beans from around the world. Their high-grade roasts have long been prized amongst Sydney's inner city crowd, however their previous branding had failed to attract new wholesale clients.
Marcio the owner of Salvador is a friendly expressive and very Brazilian character. He meticulously crafts each roast to perfect its own unique character and flavour, with a reputation among his peers in the trade for his artisan approach to roasting. With this hands on style, he retains the romantic Brazilian flair learnt from his grandfather Quintana Salvador, his inspiration for the brand.
Co Partnership have brought new life to the brand, strengthening its brand story with a confident authentic look to capture the wonderful brand story. The core logo design works in harmony with the different roast labels and on its own to provide a strong stand alone identity for everything from signage to merchandise."
February 15, 2015 | No Comments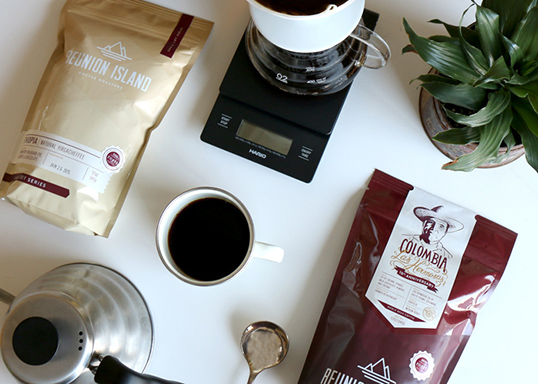 Designed by Reunion Island Coffee | Country: Canada
"In 2014, Reunion Island Coffee Roasters undertook the largest rebranding project in the company's 20 year history. The goal was to evolve the brand into a better space that reflected all we aim to be: quality-focused, sustainable, customer-driven, progressive and approachable. The natural place for us to begin this process was with our most public-facing packages: our 12 oz retail bags."
January 21, 2015 | 3 Comments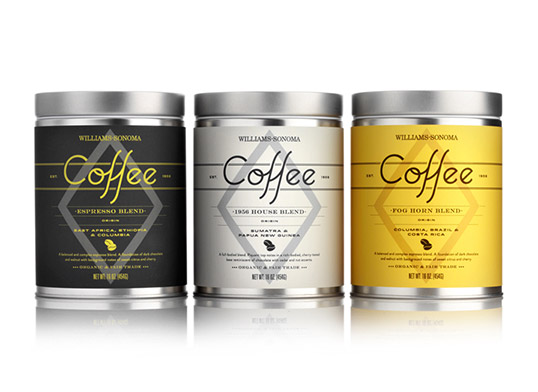 Designed by Pavement | Country: United States
"Pavement designed this simple, sophisticated label to help customers instantly connect Williams-Sonoma's famous culinary expertise with the quality and complex flavors to be found in their new gourmet blends of coffee. Following the inspiration of gourmet tasting notes, we created a typestyle, color palette and design that distinguishes each blend, while making each appear easily accessible for any occasion and method of brewing."
December 17, 2014 | No Comments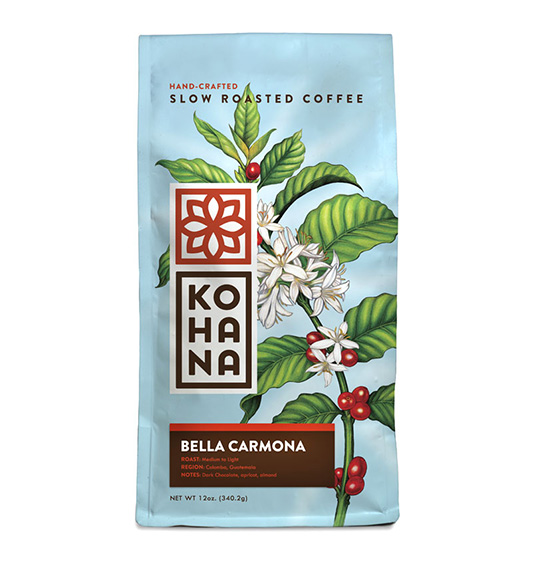 Designed by Helms Workshop | Country: United States
"Kohana's coffee is exceptional, but their brand identity was dated, out of sync with their values and missing the mark with contemporary coffee culture. With the brand poised to enter the national market and launch a new product line, it was a perfect moment to shun evolution in favor of revolution.
We proposed a bold transition from a dated packaging system to an identity focused on the islands that inspired the brand, its values and the ritual of enjoying a cup of coffee. To help, we invited artist Abi Daniel to capture the beauty and energy of the coffee plant. The result is a striking package that not only conveys a sense of Hawaii, but translates to just about anywhere people enjoy a moment of reflection."
November 15, 2014 | 3 Comments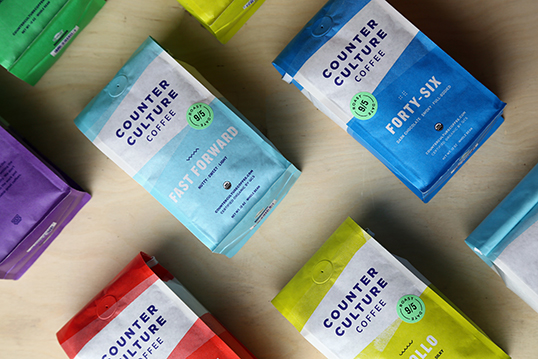 Designed by Counter Culture Coffee | Country: United States
"Counter Culture Coffee is pleased to unveil a new look for its products, with bold, colorful designs and biodegradable packaging—along with new product names for four of its six year-round coffees. Debuting on Friday, October 3rd, the update reflects the company's continual evolution as an innovative coffee roaster—a leader within the specialty coffee industry for nearly two decades—and serves as the centerpiece of an overall aesthetic up-fit for Counter Culture that brings greater cohesion to the various facets of their business."
September 14, 2014 | 7 Comments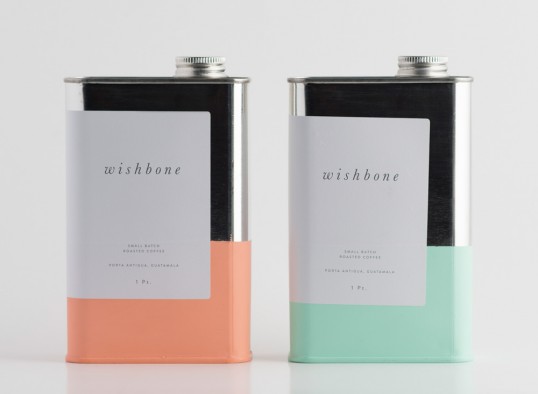 Designed by Also Known As | Country: Canada
"The client and project overview: Earlier this year we gave ourselves a challenge: to re-imagine the traditional approach to packaging coffee and create something that we could share with our clients and friends – and so, Wishbone Brew was born. Conceptualized and created by the team at AKA and assembled together by hand, it's been a long time in the making — but worth the wait in order to share & enjoy it with some of our favourite people.
The design and creative solution: Our main objective was to re-think traditional packaging methodology. Used as a tool to showcase our ability to think & work beyond convention, we determined from the out-set that drawing inspiration from uncommon sources was essential to the success of the project. Cue the Turpentine: An attractive shape, an airtight seal, something unexpected. This container delivered on all counts, but how to break from the unfriendly, industrial, and for all intensive purposes toxic associations we as consumers have made with that form?
A bright yet soft colour palette combined with elegant and approachable serif type helps soften the brand against the harshness of material. A quick sanding, prime, and dip in paint helps add some individuality among the products and re-enforces the handmade nature of the product, No two wishbones being exactly the same."
June 16, 2014 | No Comments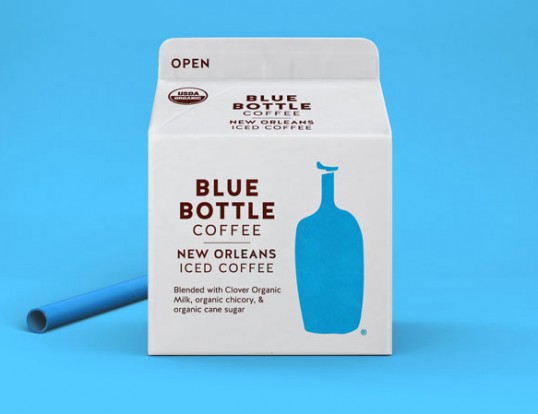 Designed by Pearlfisher | Country: United States
"Task: To create a new expression for Blue Bottle's New Orleans Iced Coffee, extending the intimate Blue Bottle experience from carefully curated cafes to a carton, reaching a larger audience and standing out on shelves in mass retailers.
Scope: Brand strategy, identity, and packaging design.
Solution: The new design for Blue Bottle's New Orleans Iced Coffee stays true to the heart of Blue Bottle, challenging coffee category cues while remaining modest and utilitarian. Pearlfisher has elevated Blue Bottle's current equities and clarified their word mark to increase its stature, simplifying messaging on pack and playing up the Blue Bottle blue to increase shelf impact."
March 4, 2014 | 1 Comment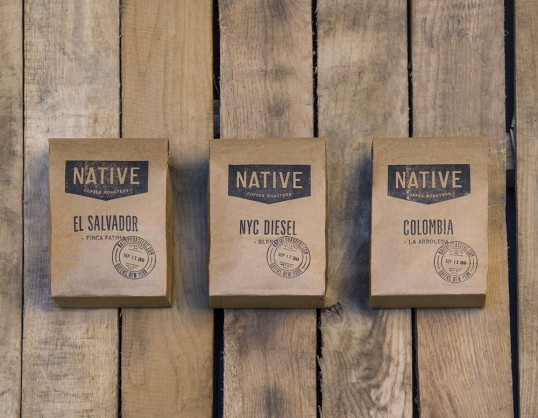 Designed by Naomie Ross & Daniel Renda | Country: United States
"Native Coffee Roasters is an independent roaster located in Queens, NY. Inspired by hand-painted gothic lettering and utilitarian design, we created an overall look which evokes classic New York City with a touch of grit while maintaining a clean and modern feel."
February 20, 2014 | No Comments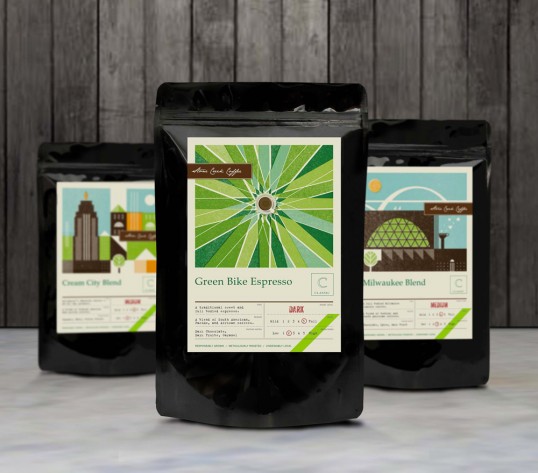 Designed by LP/w Design Studios | Country: United States
"For the past 5 months, LP/w has helped Stone Creek Coffee redefine and reposition their brand. We started with the first manual brew bar in Milwaukee, Wisconsin and now we are releasing all-new packaging. We'd like to introduce our three new series of coffee: Classic, Seasonal and Lab. The Classic series includes all-time favorites like French Roast and Cream City Blend. The Seasonal series is only special selections that will change over the course of the year. The Lab series is for the uber coffee geek, and will be very limited in availability and quantity (often single-sourced from a very small farm that only produces about 20 bags of coffee in total).
We are reorganizing our coffee line better reflects the complex palette of our customers. Often, our loyal customers simply want to wake up and drink a dark roast coffee like our French Roast, and we equate this to comfort food to start off the day. Different customers (or sometimes the same) want to be more experimental and see what is on the cutting edge of coffee. Foodies often discuss a so called "Third-Wave" of coffee and what they are referring to is the both the roast of the coffee and the way in which we serve it (i.e. our manual brew bar)."