November 11, 2013 | No Comments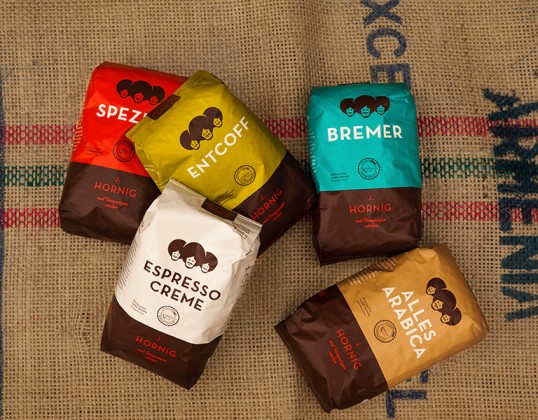 Designed by Moodley Brand Identity | Country: Austria
"For 100 years now, J. Hornig has been bringing delicious coffee to Austria. It's a popular family-run business with traditional roots. Nevertheless there's no better time than now to "restart" the brand. To focus on the future and to stop following the trends of the past few decades. J. Hornig still knows how coffee tastes best: Black, natural and home-made. It's the essence that counts most. And the pleasure when roasting coffee."
August 20, 2013 | 2 Comments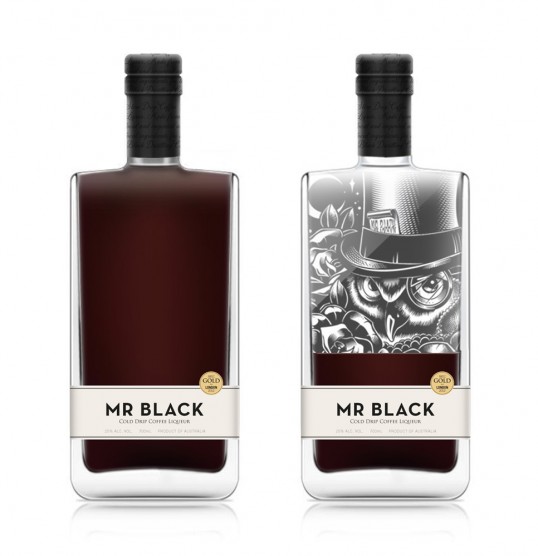 Designed by MR BLACK | Country: Australia
"We know MR BLACK isn't for everyone, it's not some cloying sickly sweet kiddie drink. It's a rich, cold drip coffee liqueur for those who appreciate good coffee so our packing needed to speak to that. At MR BLACK we're lovers of creative culture, so we knew we had to get a local artist in to help complete the product. At the same time, we didn't want it to be an overpowering element of the design or to draw attention from the liquid inside.
Sydney artist Dale Bigeni created an original artwork for the bottle that is screen printed on the back face, revealing only as the liquid is drunk. This allows us to have quite a bold and minimal design on shelf, but has some interest and playfulness once taken home. At the end of the day, we just wanted MR BLACK to look as good as it tastes."
July 25, 2013 | No Comments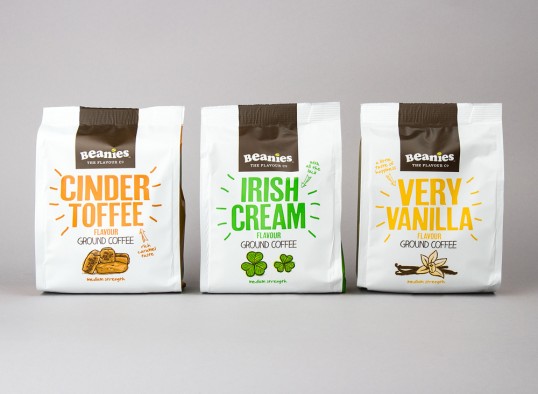 Designed by Robot Food | Country: United Kingdom
"Beanies The Flavour Co. has launched a range of flavour coffee exclusively for Sainsbury's, with a new design created by specialist branding partner Robot Food. The creative team worked in close collaboration with Sainsbury's to deliver exactly what it felt was missing from the shelves. Beanies' commitment to satisfy the retailer was rewarded in volume orders, which are hitting the shelves by mid July.
The range includes three instant flavours and three roast ground flavours. Flavours include Amaretto, Irish Cream, Cinder Toffee and Very Vanilla."
March 5, 2013 | 1 Comment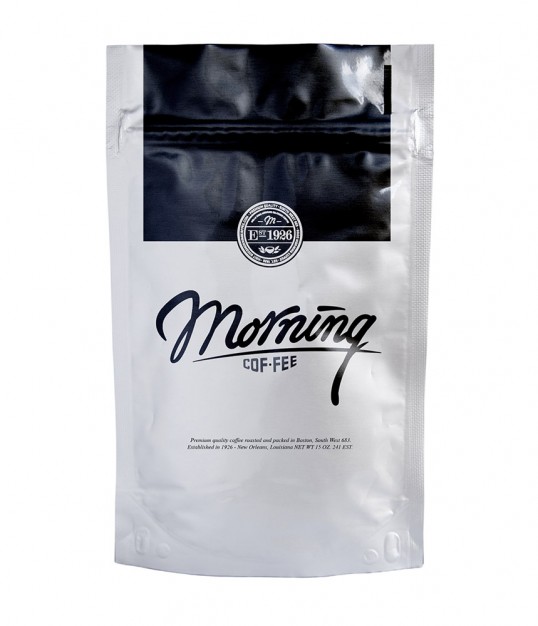 Designed by Studio Konfirm | Country: The Netherlands
"We were asked to create this new coffee brand called Morning Coffee. The main subject was to make it simple and make it questionable. What is in the bag? What's the brand about? The best things can be said in one line, that's what we did. Good Morning, Coffee! Who doesn't want to start the morning with a good cup of power beans?"
March 1, 2013 | 2 Comments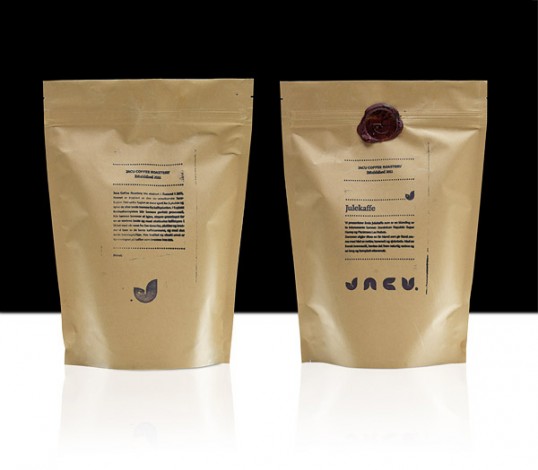 Designed by Tom Emil Olsen | Country: Norway
"The Jacu bird lives in South America and is known for something quite extraordinary; It flies from coffee plantation to coffee plantation and picks and eats the tastiest coffee cherries. The fruit makes its way through the bird's digestive system, and the seeds of the fruit – coffee beans – come out perfectly processed. These coffee beans are among the most exclusive in the world. This story has inspired us, and the bird has lent its name to the new micro-roastery in Ålesund, Norway. 
Jacu Coffee Roastery was established in 2011. Like the jacu bird, they pick and roast only the best beans. They look for great plantations, optimal processing, and the roasting profiles which will make the most out of each bean. They work with passion, patience, and without compromise."
February 20, 2013 | No Comments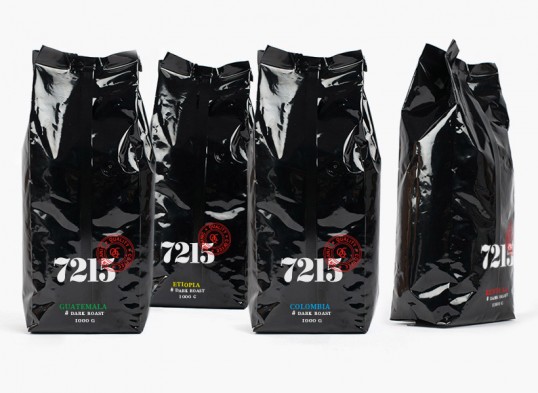 Designed by Blanc | Country: Sweden
"7215 is an all organic brand that specializes in coffee and chocolates with their own trademark – Organic Quality Coffee. 7215 wanted a modern and exclusive look for their products. The key words being Quality, Robust, Exclusive and Trendy. The aim is to get fashionable and wealthy city people, with a desire to choose organic products, to buy their high quality products and visit their coffee shops. The logo was created to capture the robust nature of coffee with the blackness of the font, together with the sense of exclusive quality in the stamped red seal."
February 9, 2013 | 1 Comment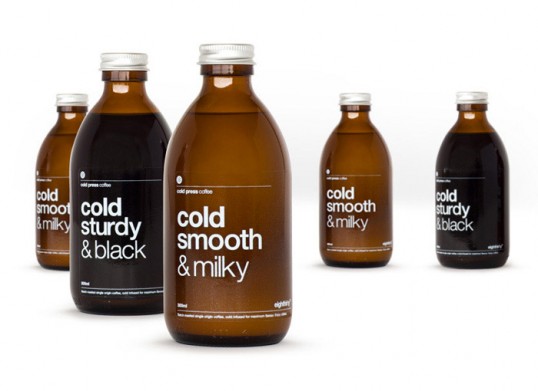 Designed by Butcher & Butcher ltd | Country: New Zealand
"Originally designed in 2009 Eighthirty Coffee Roasters asked Butcher & Butcher ltd to refresh their packaging for 2013. The packs talk directly to your taste buds, celebrating subtle differences in each flavour, origin and blend. 
We maintained a simple colour palate, while the ephemeral typographic treatment allows each pack to have a unique voice, yet change as the coffee flavours and brand evolve over time."
January 15, 2013 | 2 Comments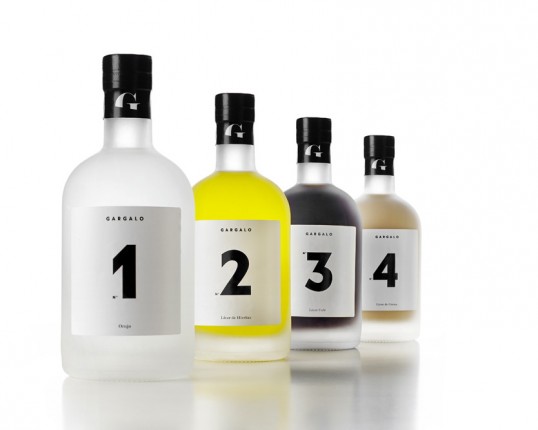 Designed by Solo | Country: Spain
"Naming and label design for the new line of spirits of Gargalo, based on the traditional flavors of galician liqueurs: "Orujo", herbal liqueur, coffee liqueur and cream liqueur. Each variety was given a number that consumers could easily identify and remember, creating a closer link with the company and maintaining the new corporate identity of sobriety and elegance."
October 6, 2012 | 4 Comments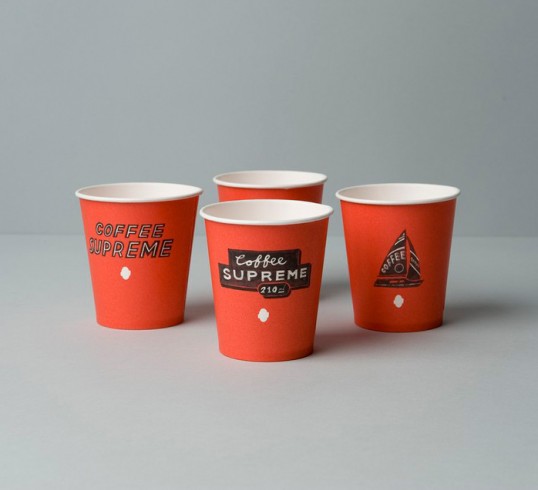 Designed by Hardhat Design | Country: United Kingdom
"Coffee Supreme's take-out cups were already known in NZ and Australia for being unusual, distinctive and quirky, so while we knew from our re-brand brief that they wanted the brand to 'grow up', we felt it was important they didn't lose their individuality.
Ideally they also needed to convey Coffee Supreme's love & enthusiasm for the handmade craft of making coffee, that they were confident and quirky, approachable and supportive, and staying true to the good old fashioned standards the company started out with."
October 5, 2012 | 2 Comments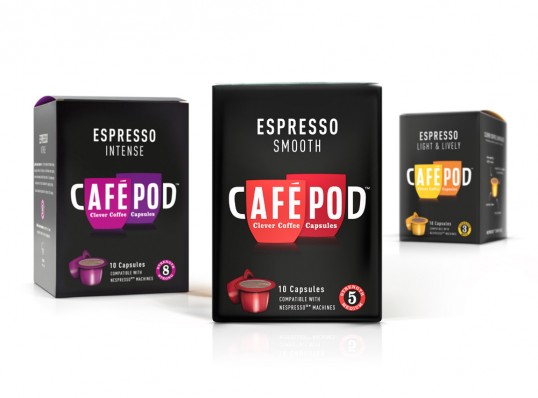 Designed by B&B studio | Country: United Kingdom
"For 20 years, Nespresso has been the king of premium coffee pod systems, its exclusivity guaranteed by restricting capsule sales to specialist stores and online only. But when its design patents expired in 2012, the market for Nespresso-compliant capsules opened up to a host of competitors.
Our friends at Cafépod were first to market with a concise range of coffee pods exclusive to Waitrose stores. With just the name in place, our role was to create a brand identity, packaging and web presence with the potential to encourage Nespresso loyalists to switch to a brand from the supermarket shelves.
Inspired by Cafépod's desire to democratise a premium product, we set about expressing the social aspect of the coffee moment with a pair of clinking cups. The aesthetic combines gourmet cues, vibrant taste and contemporary character, all carefullly balanced to capture our everyday luxury brief."