June 2, 2015 | 1 Comment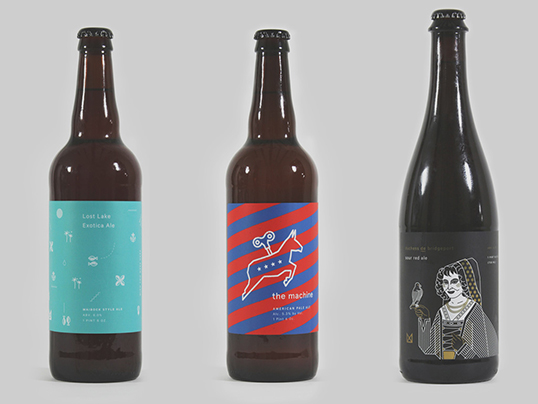 Designed by Franklyn | Country: United States
"Marz — both as a brewery and a brand — is a collaborative endeavor made up of a community of artists, home brewers, beer nerds, and probably your cousin, all united by our desire to make exceptional (and provocative) brew. Each beer label is incredibly different, each collaboration unique and bizarre. Since our brand identity and packaging needs to accommodate so much weirdness, it's always changing: Imagine if the Coke logo dropped out of school, traveled around, snorted things, experimented, then got its shit together and slapped itself on a beer. We're a challenger who's still rough around the edges, and we try our best not to be boring or expected. Since that would be boring. Out of the bajillion (seriously, count them) craft breweries we see out there, no one is taking big risks with their beer or their brands. We're doing that with Marz, and we're excited to share our beautiful mess."
May 26, 2015 | No Comments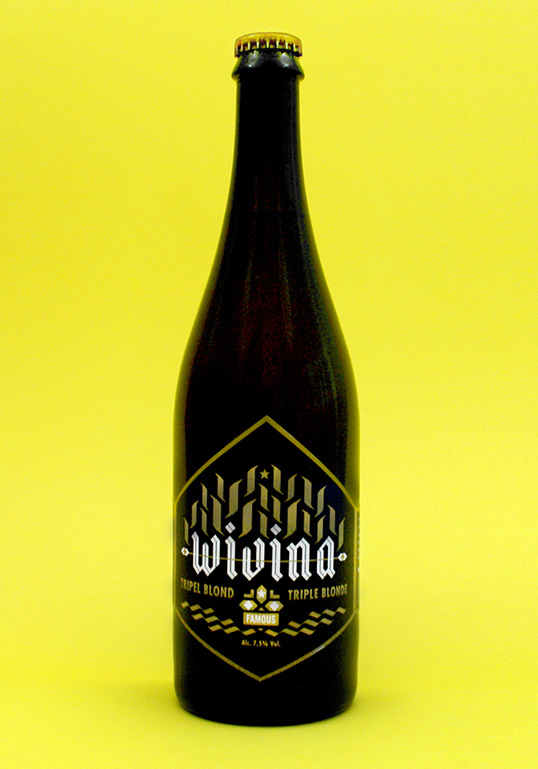 Designed by The Last Dodo | Country: Belgium
"This was a limited edition blonde triple beer that was brewed and bottled to celebrate the move of Famous (ad agency) in to their new offices in the former Wivina monastery.These bottles was sent to their clients, originally there would be signature glass made for the beer, but unfortunately the costs were to high.
The clients received the bottles with following copy:
In the 12th century, close to a spring in the west of Brussels, the holy Wivina founded an abbey which was named after her. Several hundred years later Famous moved in this blessed place and celebrated that memorable event with this specially brewed abbey beer. Wivina is a blonde tripel beer based on 100% natural ingredients: water, malt, spices, hops and yeast. The result is an unpasteurized and unfiltered natural beer with fermentation in the bottle."
May 5, 2015 | 1 Comment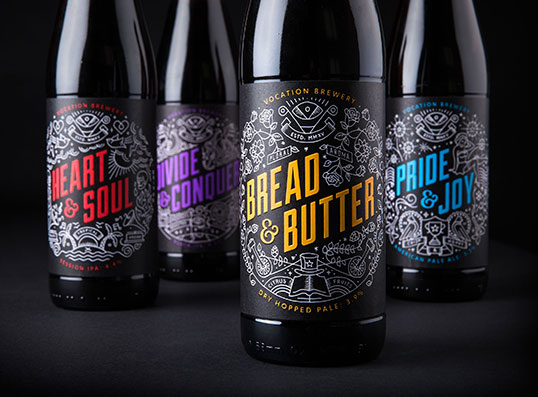 Designed by Robot Food | Country: United Kingdom
"Craft beer is riding the crest of a wave, and as microbreweries gain in popularity, brand identities are getting more expressive and creative. Robot Food's identity for new microbrewery, Vocation, is as daring as the beer it crafts.
John Hickling brews beer with distinctive, punchy flavour. Each hop forward beer stands out from the norm and names such as 'Heart & Soul' and 'Divide & Conquer' fly the flag for the brewery's fearless attitude. Vocation's beers are bold, brave and uncompromising and like beer, like brewer, they all epitomise Hickling's passion for his trade. John originally left his job in a bank, sold his house and set up his first brewery, Blue Monkey. After selling up to explore new ventures John realised he only had one vocation. He's now back where he belongs, brewing the types of beer he wants to drink."
May 4, 2015 | 1 Comment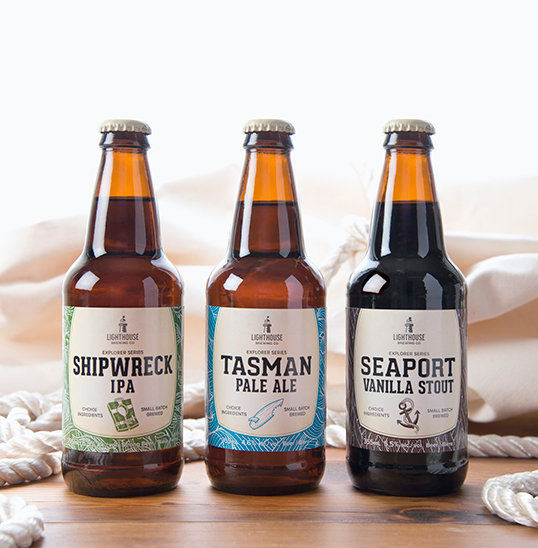 Designed by Saint Bernadine Mission Communications Inc. & Blended| Country: Canada
"As part of an entire portfolio rebrand, St. Bernadine was asked to help create a new look for Lighthouse Brewing Co.'s "Explorer Series" family of craft beers. Lighthouse Brewing's Explorer Series is a family of craft beers brewed for those looking for a little more in their beers; more hop, more malt, more character.
This inspired a design system that was created to reflect the layers and complexity of the beers, while still honouring the hand crafted nature of the brews and remaining true to the brand's nautical positioning. For launch, the family included Shipwreck IPA, Tasman Pale Ale, and Seaport Vanilla Stout."
April 24, 2015 | 1 Comment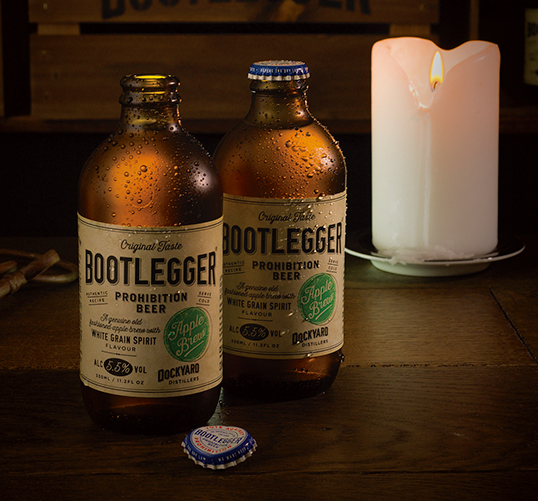 Designed by Halewood International | Country: United Kingdom
"In the years of Prohibition, Moonshiners used fruit juice to sweeten their raw, illicit booze before transporting it in used spirit bottles. Inspired by these lawless rebels, independent drinks company Halewood International created Bootlegger Apple Brew – an old fashioned apple beer that's flavoured with White Grain Spirit.
The packaging is inspired by American Prohibition and vintage drink labels and has a raw, hand made feel, featuring simple black typography on an old paper background. The variant is communicated using a green stamp which adds a pop of colour and reflects the apple flavour. A 330ml stubby bottle was chosen to give the brand a point of difference from the rest of the spirit beer category and reflects the uniquely distinctive liquid.
To complete the look the bottle features a red, white and blue crown inspired by the anti Prohibition badges of the era."
April 13, 2015 | 2 Comments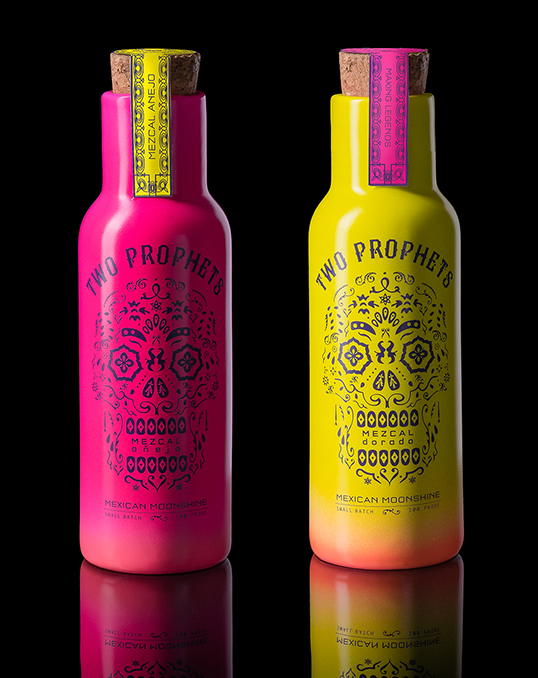 Designed by Aaron-Harper Lee | Country: United States | Student Work
"The objective was to design sustainable packaging for multiple units of breakable items such as glass or ceramics while keeping shelving and display in mind.
The concept was a hybrid of polar worlds where the dead meet the living. A homage to the Mexican holiday Dia De Los Muertos (Day of the Dead), was merged with the American tradition of Moonshine crafting. Two varieties of Mezcal Liquor – Añejo and Dorado – represent legendary twin warriors reincarnated as the sun and the moon. Presented together as a pair of bottles with respective shot glasses, this project demonstrates that it is possible to design sustainable packaging for multiple units of breakable goods with little material.
The target audience for Two Prophets are thrill-seekers and curious millennials."
March 21, 2015 | No Comments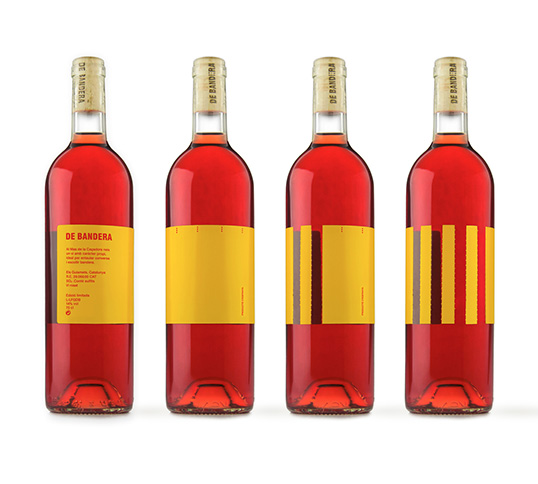 Designed by La Fonda Gràfica | Country: Spain
"Born in the Guiamets 2013′s vintage, this is a handmade wine with strong personality. An ideal wine to start nationalistic debates and to finish choosing flag. The label presents a flags game and the one who holds it can change the composition and transform the Spanish flag into Catalonia's flag (la Senyera)."
March 21, 2015 | 1 Comment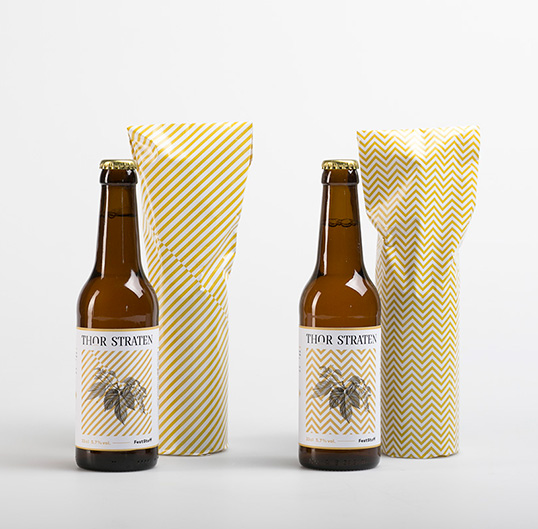 Designed by Yannick zur Strassen | Country: Germany
"Thor Straten, coming from an old family name – meaning gate and street – is a beer that can't be purchased, it is only given away as a present for festive occasions by the family. That is reflected in the identity and packaging. The pattern of the wrapping paper becomes a major element, also on the packaging itself."
March 20, 2015 | No Comments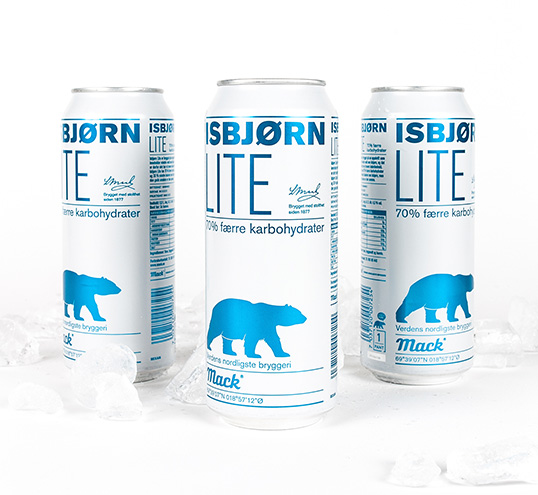 Designed by by north™ | Country: Norway
"After the relaunch of Mack's Isbjørn in February 2014, Mack's Isbjørn beer has been a success, stealing market share from the competition, and is currently Mack's best selling product. It seemed only natural to follow up on the product with a Lite version of the same brew. The design is closely related to the original Isbjørn, and being a calorie-reduced beer it only seemed natural to reverse the colors."
March 15, 2015 | No Comments
Designed by Patswerk | Country: The Netherlands
"We like brewing beer and handing out presents. So we decided that our 7 year anniversary was the perfect time to combine these things. We created a super limited package for our clients and friends, including 2 home-brewed beers. A nice and smooth porter and one extremely hoppy IPA.
The packaging is printed using 3 carefully selected PMS colors, making the packaging really 'pop'.The labels are silkscreened in 3 colors on transparent vinyl stickers, showing the color of the bottle."