January 19, 2009 | 2 Comments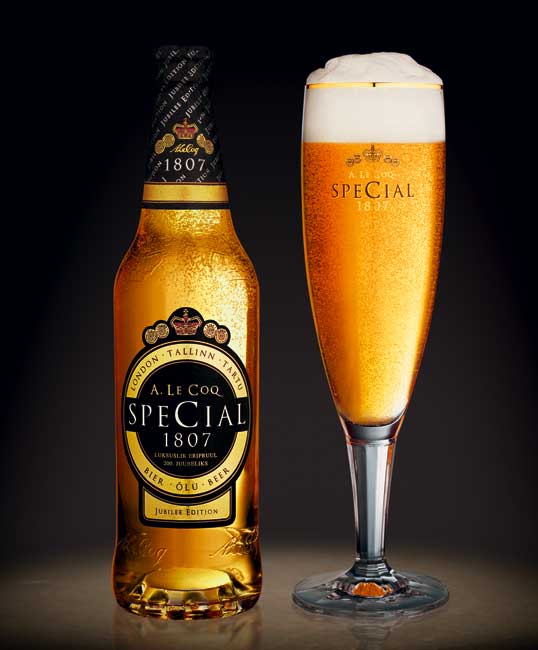 Designed by Taevas Ogilvy | Country: Estonia
Thanks to Estonia based Taevas Ogilvy for sending us this great Upscale beer packaging.
January 16, 2009 | 1 Comment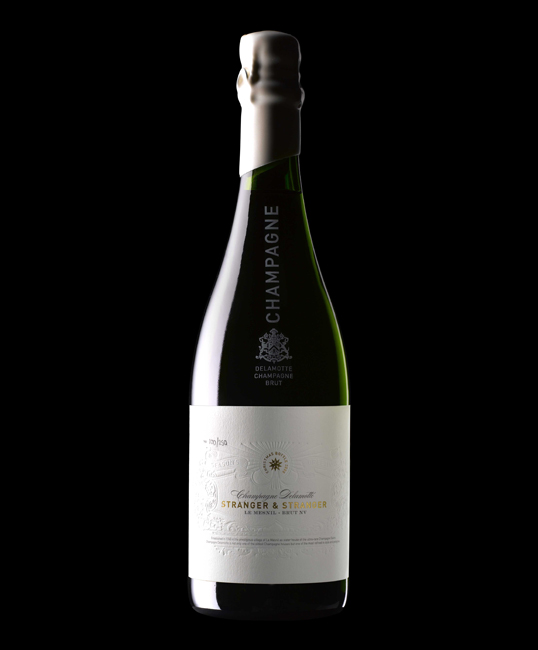 Designed by STRANGER & STRANGER | Country: United Kingdom
Thanks to STRANGER & STRANGER who were very kind and sent us this beautiful Christmas gift. Their yearly bottle of Christmas champagne is limited to 250 bottles with each one numbered. Be sure to check out the embossing detail in the super-sized image after the jump.
January 14, 2009 | No Comments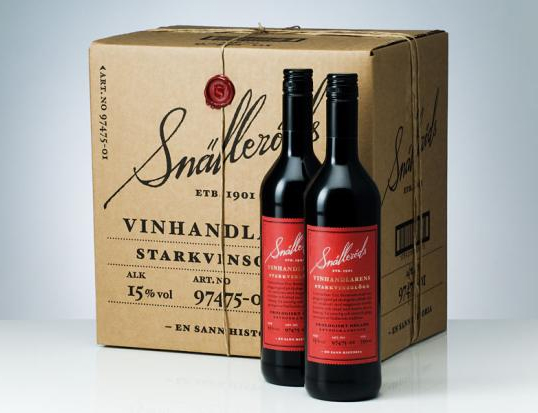 Designed by Neumeister | Country: Sweden
"Input: Snälleröds Ångbränneri is a family-run distillery that specialises in producing traditional spirits such as snaps and glögg for connoisseurs in Sweden, Finland and Germany.
Output: A new visual identity for the entire product range that brings to life the mission of the brand – to uphold and refine Swedish drinking traditions.
Outcome: Spearheaded by the launch of the new premium glögg, Snälleröds is in the process of repositioning their brand in the Swedish market."
January 12, 2009 | No Comments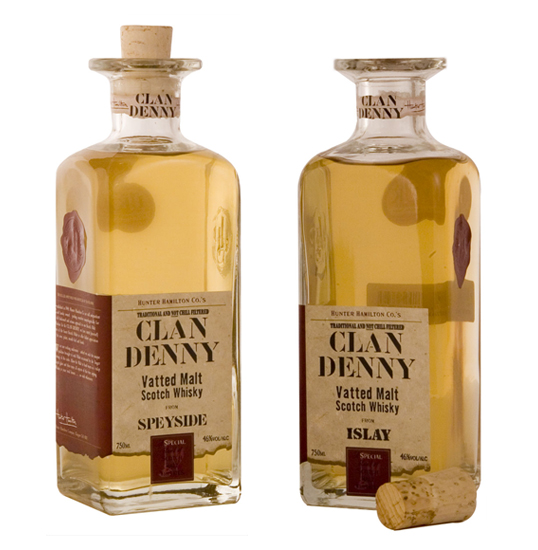 Country: United States | Fonts used: FF Flightcase, unknown. See Stencil Antiqua Rough, distressed fonts
"AAAAAhh the story of this brand!!! For one of our Taiwanese clients some years ago we had to develop a brand incorporating his Anglicised name – Dennis (he liked MacDennis!!) We put our foot down and insisted on something vaguely authentic that has now become CLAN DENNY, though Dennis did not become a client, alas!"
January 9, 2009 | 1 Comment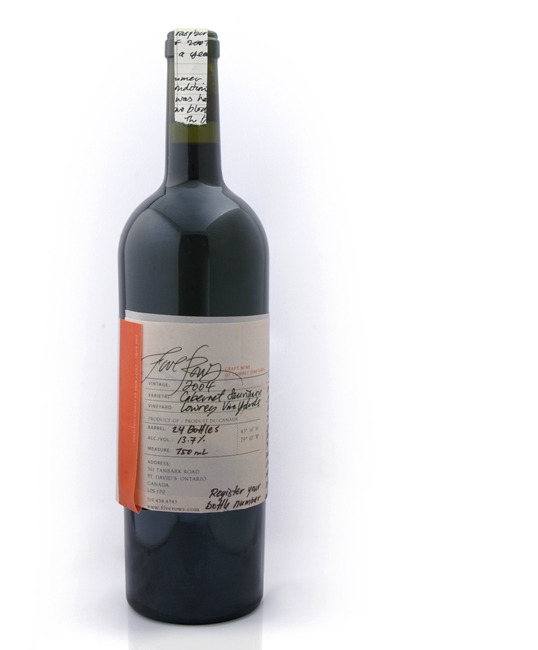 Designed by Insite | Country: Canada
"This is 5th generation grape grower and winemaker Wes Lowrey's entry into the exploding Canadian wine scene. Located in the Ontario appellation of St. David's Bench, this premium hand made wine expresses the character of the area and terroir in very low volume production – ranging from 24 bottle lots to 200 cases per release.
To reflect the time and passion involved in this type of winemaking, the packages are also hand involved and produced in small numbers – some hand completed, folded and applied. The bottles are finished simply with a dime of wax on top to protect the cork and have a stripped down simplicity."
January 8, 2009 | No Comments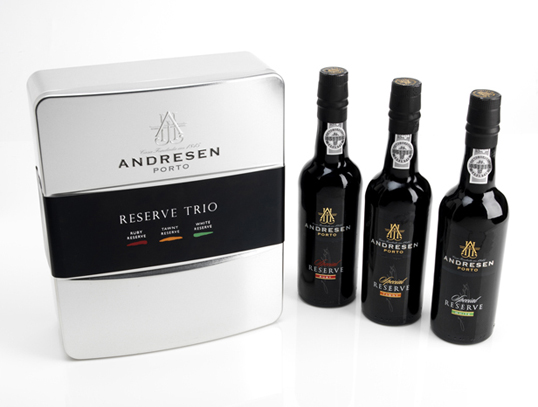 Designed by Wren & Rowe | Country: United Kingdom | Fonts used: Perpetua, Copperplate
"J.H. Andresen produce the some of the finest Port in the world, and wanted to offer a selective gift pack to their consumers. I designed a bespoke brushed steel box and pared down the Port language to fit with the existing Andresen range. This was a NPD project, and was a huge duty free success, selling out almost immediately. The brief follows builds on an existing relationship where I was involved with the design of their Century Port and solely responsible for the 2004 design of their website."
January 8, 2009 | 5 Comments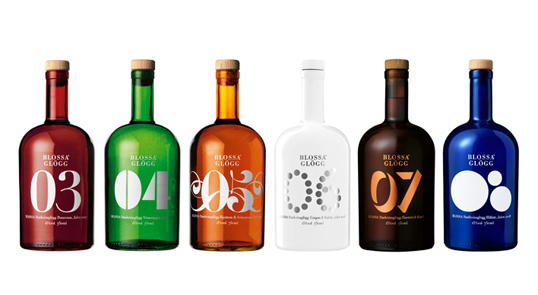 Designed by BVD | Country: Sweden | Fonts used: hand lettering, Fat Face, Futura Black, and Gill Sans Shadowed. See also: Frieze.
"A bottle that is shorter and rounder than other Blossa products. The shape of the bottle is kept from year
to year, with the colours and typography changing to reflect that particular year's design and flavour."
January 6, 2009 | No Comments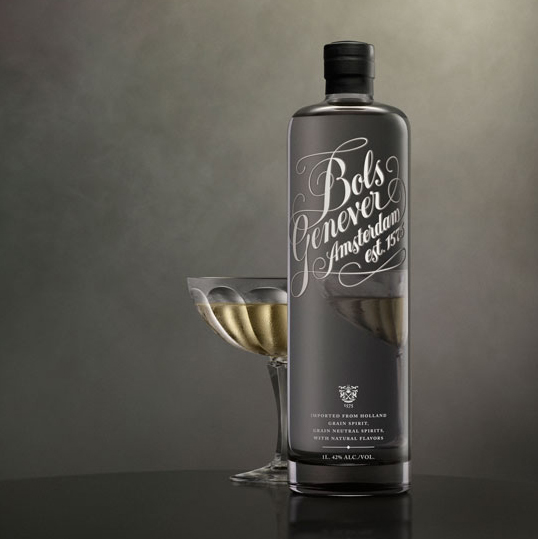 Designed by …,staat | Country: The Netherlands | Fonts used: hand calligraphy by Niels Shoe Meulman (see Copperplate Scripts), Adobe Caslon.
January 6, 2009 | No Comments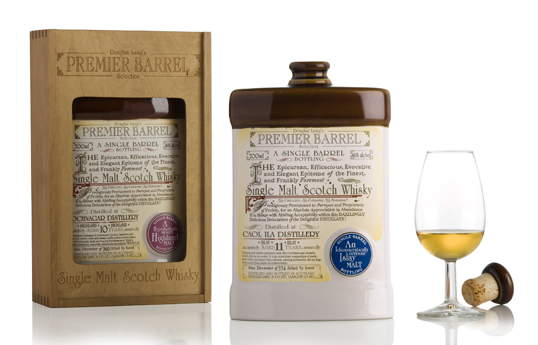 Country: United States | Fonts used: University Roman, Caslon Open Face, hand lettering. See Antique Serifs
"Returning to the "good old days" of Victorian Music Hall for it's inspiration, our new ceramic decanter goes by the name of PREMIER BARREL, and replicates Scotch Whisky Decanters from the late 1800's. Actually, it also looks like an old fashioned bed-pig, designed to keep you warm on cold winter nights – a job its Malt Selection can still do for you!"
January 5, 2009 | 8 Comments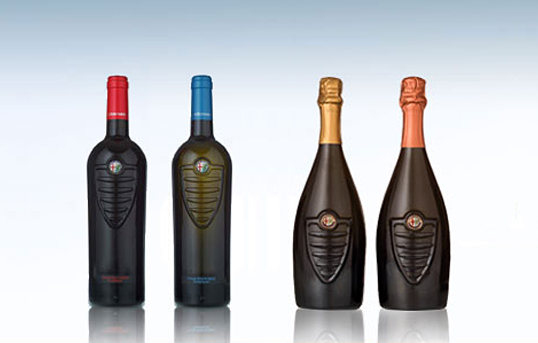 Alfa Romeo wine? I can't say I really like the idea of car companies branding products like this, but these bottles with the raised Alfa grille look pretty nice.
Via Scrimaglio