August 26, 2009 | 2 Comments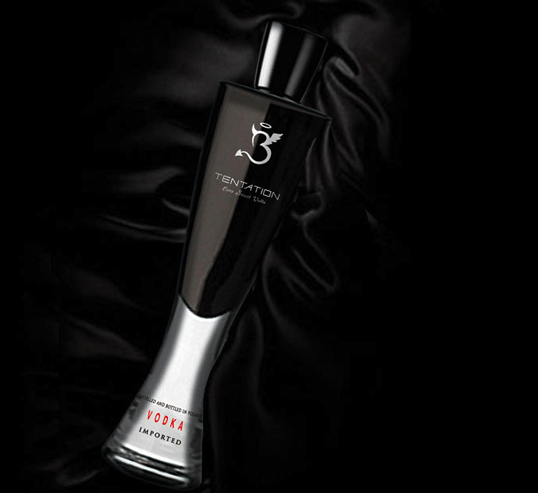 Designed by Optima Brand Design | Country: France
"This Vodka packaging is designed for a female target, but not only. The French Designer, Patrice Rouillard, has imagined this exciting bottle, thinking about women's delicacy and their beauty. It's inspired from luxurious perfume shapes and under lines women's ambiguity. Angel and Demon, Soft and Wild, Mother and Lover, Pure and Dark.
A 'Haute Couture' package, with soft and pure lines, make of this bottle, a jewel in a case. A real French Touch.
Creation of brand identity, design of glass shapes, declension of communication on the whole concept."
August 25, 2009 | 1 Comment
Designed by Redthumb | Country: The Netherlands
Interesting use of label shape to convey the name of La Tulipe, an award winning french wine.
August 24, 2009 | 3 Comments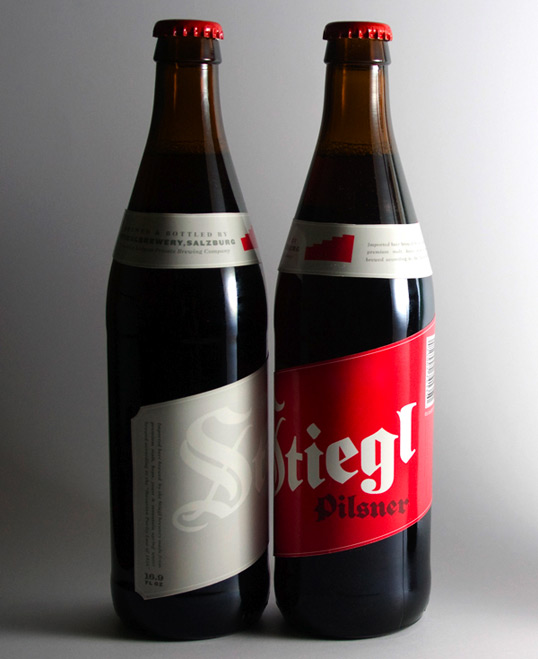 Designed by Skinny Ships | Country: United States
"Introducing a beer into an already saturated market a difficult task, but when the beer brand has such a rich history it's a little easier to distinguish it from the competition.
Retaining the brands extensive elements; bold blackletter logo treatment, the staircase icon, and deep crimson red kept the familiarity within the brand. But updating and incorporating new elements; such as the diagonal rising label that mirrors the upward motion of the staircase logo, brings a contemporary feel to the traditional brew."
August 20, 2009 | 7 Comments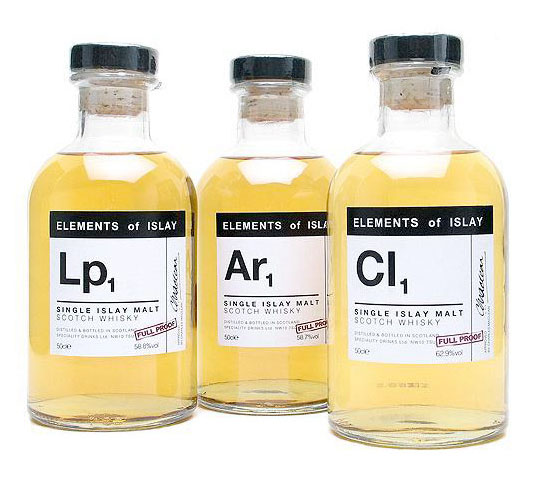 Designed by Specialty Drinks | Country: United Kingdom

"The Elements of Islay, a new range of Single Islay Malt Whiskies, draws its inspiration from traditional medical laboratory labels and packaging – even the bottle used is called 'pharmacy'. Each label depicts the distillery's 'Element' symbol alongside a batch number (eg Lp1)."


August 17, 2009 | 5 Comments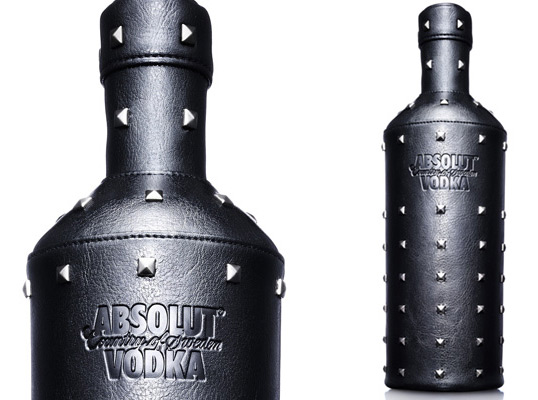 Designed by Natalia Brilli | Country: France
"Absolut worked with designer Natalia Brilli, who is known for wrapping things in leather. This time she of course wrapped the iconic Absolut bottle in leather and added studs to it as well, giving it a real rock vibe."
Via Highsnobiety
August 17, 2009 | No Comments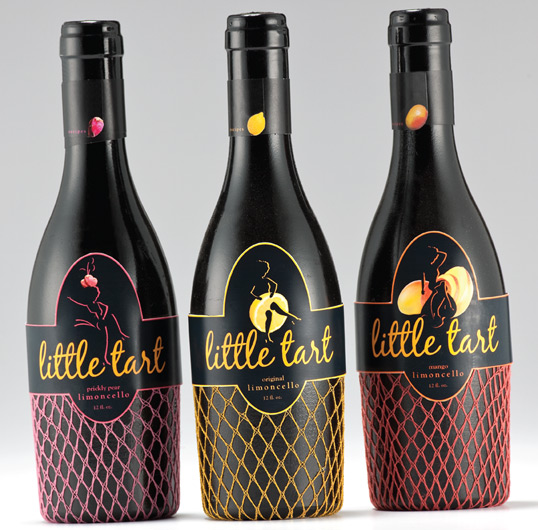 Designed by Stephanie Rachmeler | Country: United States
"Little Tart is flavored limoncello with a little sass; the tagline is "Not all girls are made of sugar and spice. Some are a little tart." It comes in 3 flavors: Original (Cancan dancer), Mango (Jazz lounge singer) and Prickly Pear (Vegas showgirl). Peel the label off the neck to reveal cocktail recipes."
August 17, 2009 | 3 Comments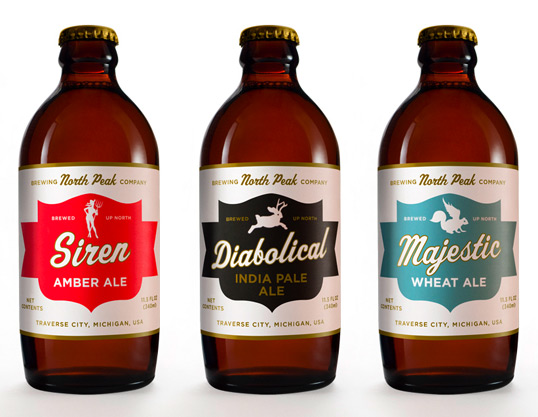 Designed by Neatly Trimmed Beard | Country: United States
"Northern United Brewing Company, owners of the two most successful brew pubs in Michigan, North Peak and Grizzly Peak, is making its beer available in stores for the first time. North Peak in six packs of 12 oz stubby bottles. Grizzly Peak in 22 oz high gravity singles — macro micros. The brewpubs themselves have kind of an old timey log cabin vibe. So we tried to make something that wouldn't look out of place among the classics – the beers from back in the day. Simple. Clean. Midwestern."
August 14, 2009 | 2 Comments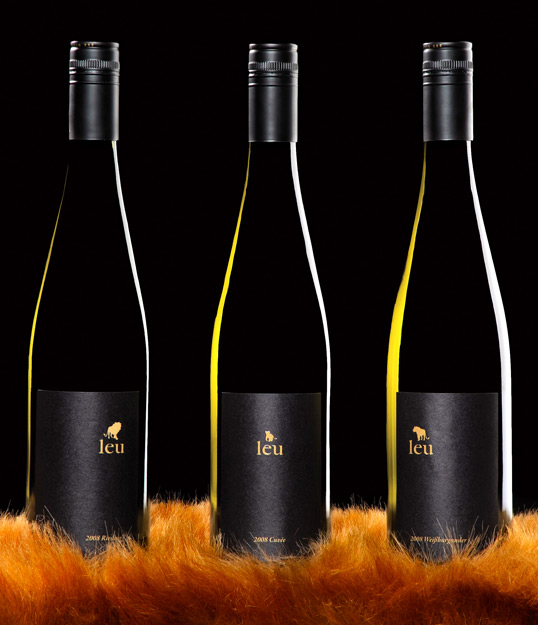 Designed by Die Medienagenten | Country: Germany
"Tradition with a new face: Godfather at the naming of the trademark wines of the winery Korell (three grapes in Gault-Millau) was the arms animal of the more than 500-year-old wine dynasty of the Nahe – Leu. The old, harmonious poetic name of the lion contrasts the clear and distinctive bottle design of yellow on black.
The agency Die Medienagenten, is specialized in wine marketing and developed a trilogy of "distinctive trademark wines", which adds a new experimental mark to the classic collection.
The label is reduced to three essential messages: vintage, grape type and of course trademark name. However, the three trademark wines are distinguishable on first sight. With the fresh, mineral Riesling, the old Leu from the arms turns into a male lion with a distinctive mane. The lioness stands for the rather fine and versatile wine Burgundy and the Cuvee from both wines is correctly shown as a small lion on the label"
August 11, 2009 | No Comments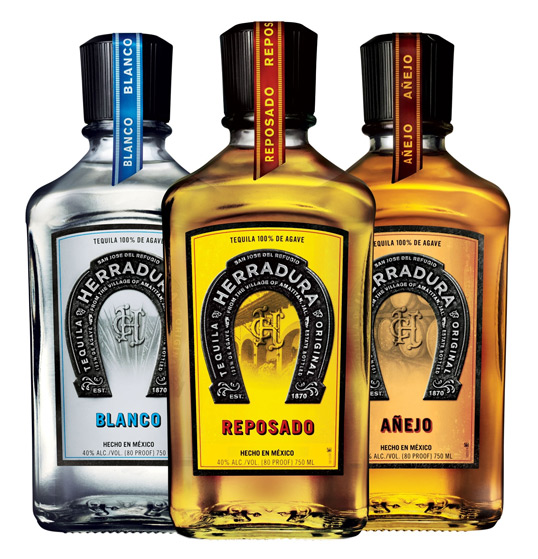 Designed by Duffy & Partners | Country: United States
"We feel privileged to work with such a well-respected company as Brown-Forman," said Joe Duffy, chairman and principal of Duffy & Partners. "Our goal was to use design to help position Tequila Herradura for international growth, yet maintain respect for its past with an authentic presentation. We used Mexican heritage, culture and spiritual folklore as the basis for our design inspiration and translated it to a worldwide audience."
Brown-Forman, one of the largest American-owned companies in the wine and spirits business, tapped Duffy & Partners to redesign Tequila Herradura's brand, identity and packaging. With a strategic vision to the future, the company and Duffy used design to help position the brand for growth outside of its homeland, yet maintain respect for its past with an authentic presentation"
August 11, 2009 | No Comments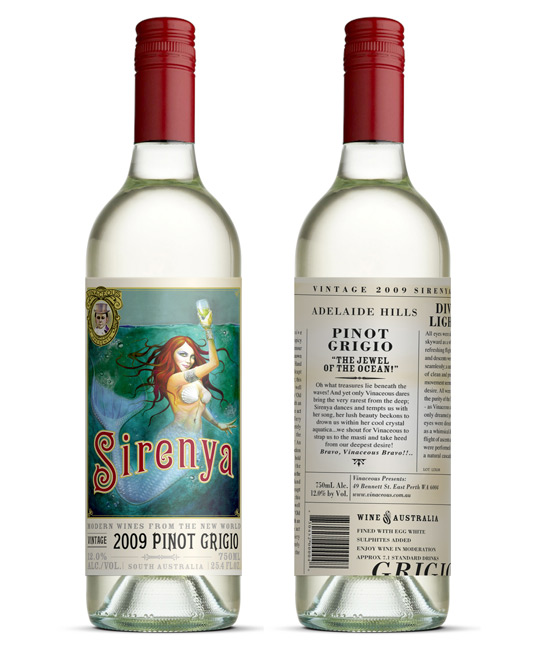 Designed by Public Creative | Country: Australia
"Another new release from Vinaceous Wines, new range of wines based on circus characters. These wines have a cult following in Australia, we also designed A0 posters most of which are quickly 'souvenired' by poster collectors."