May 19, 2009 | 5 Comments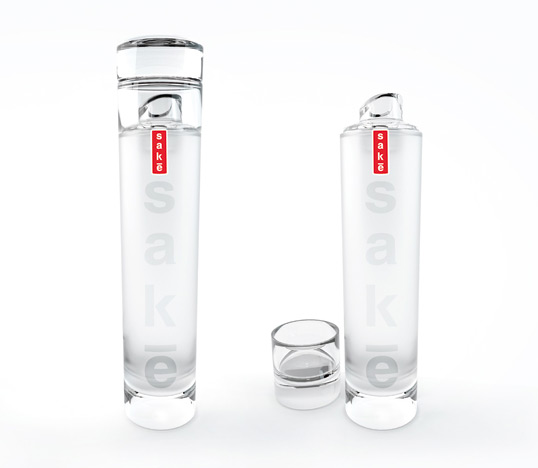 Designed by B&T | Country: France
"SAKÉ. The product's shape was inspired by the Japanese bamboo, and the cap of the bottle doubles as a sake cup."
May 14, 2009 | No Comments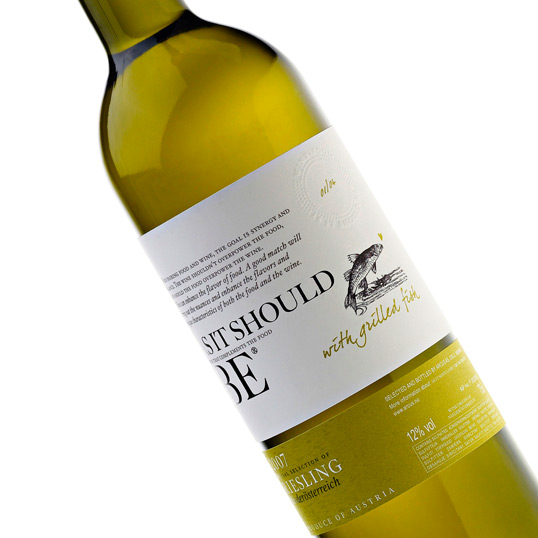 Designed by DesignersJourney | Country: Norway
"Food+Wine Concept. The idea for this wine was aiming to help all that people that dont know which wine to choose for which food. The result is a modern yet trustworthy and tasteful label."
May 9, 2009 | 16 Comments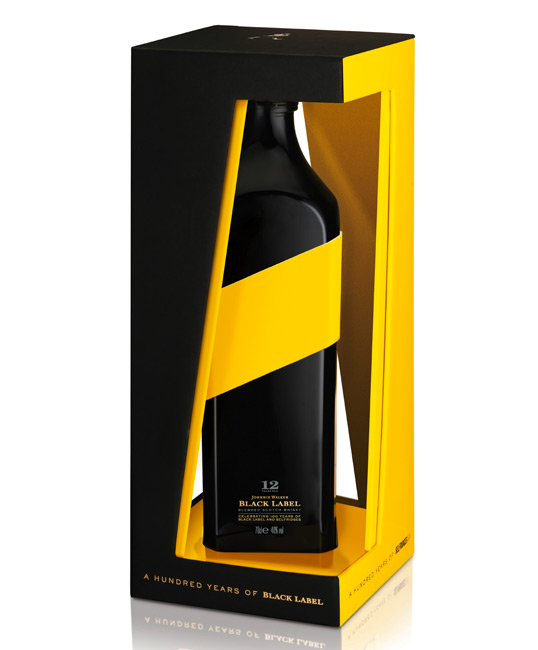 Designed by Bloom | Country: United Kingdom | Font: Engravers
"We've just designed a limited edition bottle to mark the 100 year anniversary of both Johnnie Walker Black Label and Selfridges. Each of the 100 bespoke bottles produced has a real leather label and is individually numbered. Exclusive to Selfridges, each bottle costs £100."
May 4, 2009 | 1 Comment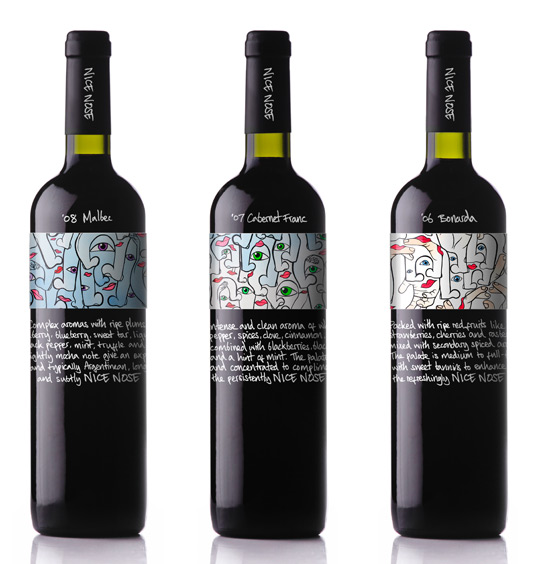 Designed by Robot-food | Country: United Kingdom
"Robot-food was tasked to produce a new boutique label for a series of high-end wines from the RPB Winery in The Mendoza region of Argentina.
The aim was to appeal to a new younger generation of full-bodied red wine lovers. The team managed this through direct descriptions, combined with unique illustration to set the brand apart and compliment each wine's distinct character.
Each single grape wine has a subtly unique flavour and has been limited to less than 1000 cases."
May 3, 2009 | 1 Comment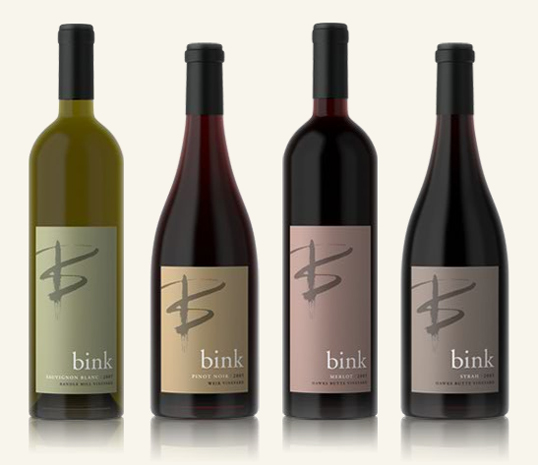 Designed by The Engine Room | Country: United States
"Bink Wines are acclaimed artisan wines, hand crafted small lots of sustainably grown fruit from premier vineyards in the hills of the Yorkville Highlands, Mendocino County in California."
May 1, 2009 | 2 Comments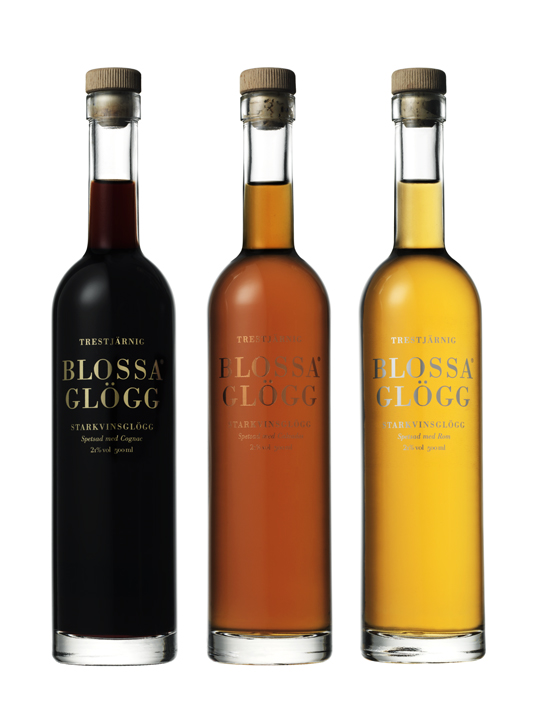 Designed by BVD (Blidholm Vagnemark Design) | Country: Sweden | Font: Bodoni
"With the launch of Blossa Trestjärnig Calvados the Trestjärnig series of Trestjärnig Cognac and Trestjärnig Rom is complete. This premium series is the finest and highest alcohol content of all the Blossa Glögg products.
A series of three products in the Blossa family represents the premium range of Blossa products. A tall, thin, clear glass bottle was custom designed for this product series and communicates the sophisticated elegance of the nature of the series. Gold, Silver and Copper colours within the typography form a complementary suite and represent the content of each product, cognac, rum and calvados. The colour of the liquid itself is custom blended to visually communicate the flavour and provide a clear color coding between the three products. The typography is consistently Bodoni, as is the logo, keeping the graphic language simple and unified."
May 1, 2009 | 1 Comment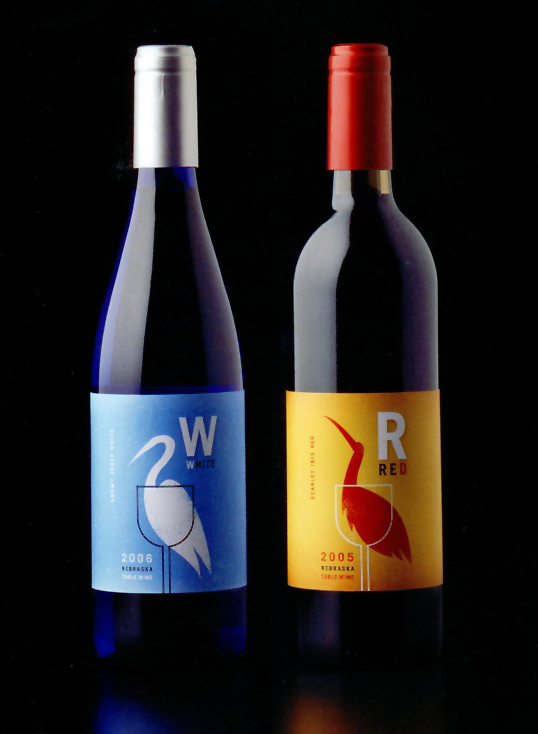 Designed by Bailey Lauerman | Illustrator: James Strange | Country: United States
Wine sold locally in Lincoln, Nebraska to support the children's zoo. The 2005-2006 series features the Snowy Egret, one of the zoo's birds. The 2007 series featured other zoo animals.
April 28, 2009 | 2 Comments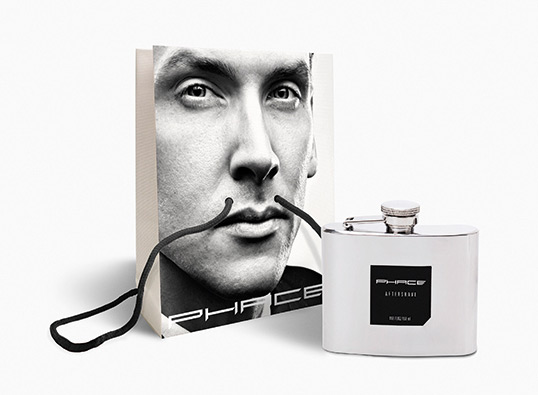 Designed by George Lin | Country: Canada
More work from the IDEA Program at Capilano University. This time George Lin sends us some of his projects.
April 27, 2009 | 14 Comments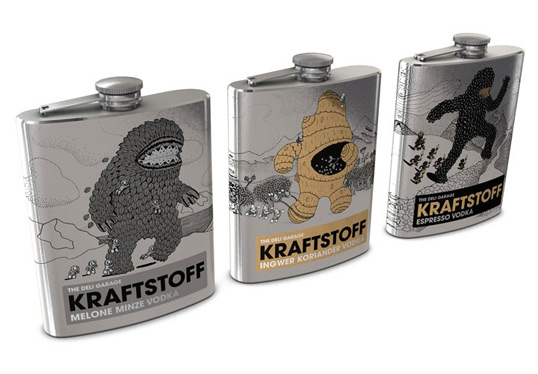 Designed by KOREFE | Illustration: Heiko Windisch | Country: Germany | Font: ITC Avant Garde Gothic
"The flasks can hold 0.2 litres. The writing is in German, the flavours are espresso, ginger-coriander and melon-mint. The package design won an award at this year's German Art Director's Club (ADC) Competition."
April 26, 2009 | 2 Comments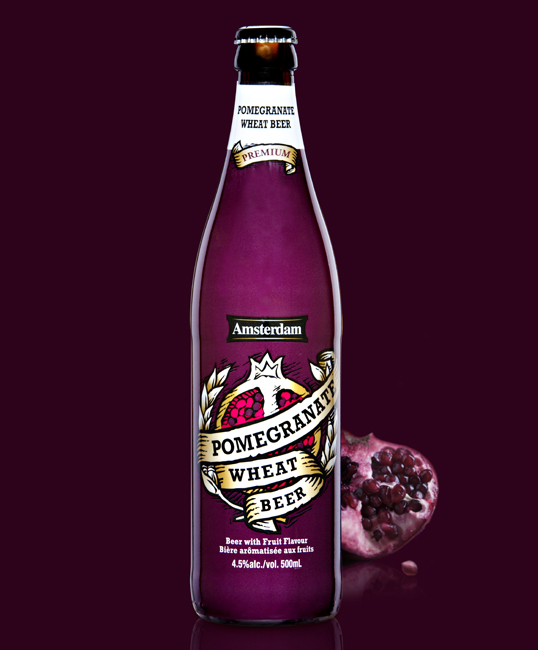 Designed by Brand & Tonic | Country: Canada | Font: Rockwell
"Fresh work from under-the-radar boutique Brand & Tonic Inc., puts a seasonal crown on Amsterdam Brewery's award-winning Pomegranate Wheat Beer."