January 27, 2009 | 7 Comments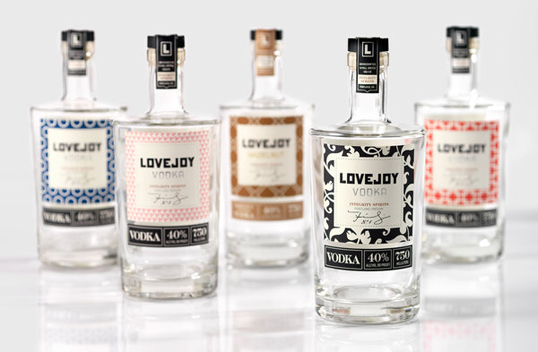 Designed by Jared Milam | Country: United States | Font used: P22 Constructivist Square
"Integrity Spirits announced its presence to the world with two inaugural products, Lovejoy Vodka and Lovejoy Hazelnut. Lovejoy is a vodka that stands out from the crowded liquor shelves because of its design concept. Lovejoy Vodka comes with a variety of labels, allowing customers to choose the design that fits their mood, décor, or gift situation."
January 26, 2009 | No Comments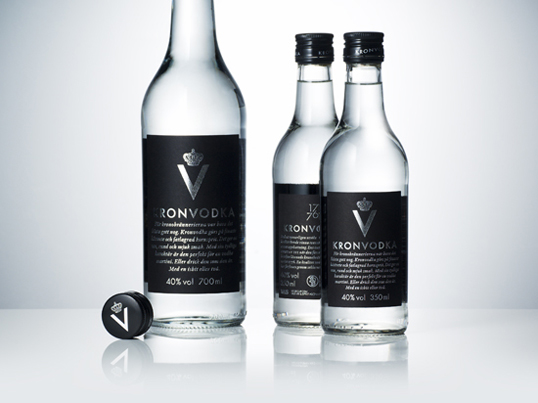 Designed by Neumeister | Country: Sweden | Font used: Futura
"Input: V&S, one of the world's leading international spirits companies, wanted to regenerate Kronvodka, Swedish vodka brand with a royal heritage dating back to the 18th century.
Output: Kronvodka's black and silver packaging with the new symbol was designed to attract a male audience between the age of 35-49.
Outcome: At the relaunch, Kronvodka immediately attracted attention in the media as well as in the shops. The sales forecast was quickly revised upwards."
January 25, 2009 | No Comments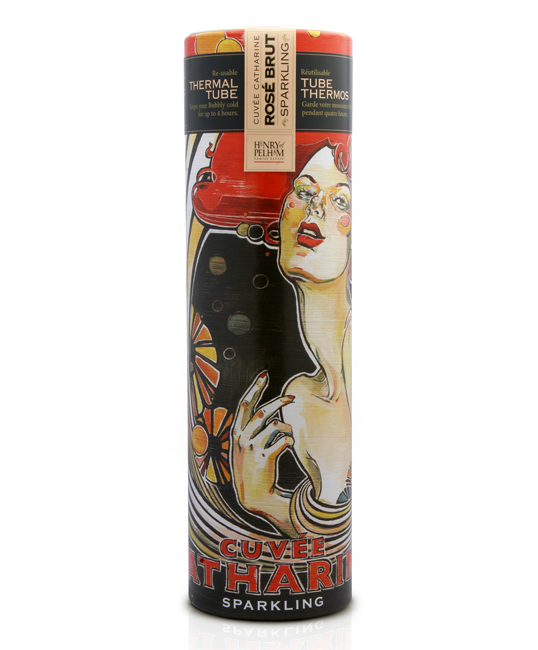 Designed by Insite | Illutsrator: Jacqui Oakley | Country: Canada
"The darling of the Canadian Sparkling Wine market, Cuveé Catharine needed to step it up and standout a little more to catch the eye of the premium Champagne market that may be wondering from the $100 – $300 price tags during these attentive times.
Consequently we created this collectible thermal tube to carry and cool the wine in – it's is minimally branded once the cigar bands are removed so that it looks great and keeps cool for many hours and many uses."
January 24, 2009 | No Comments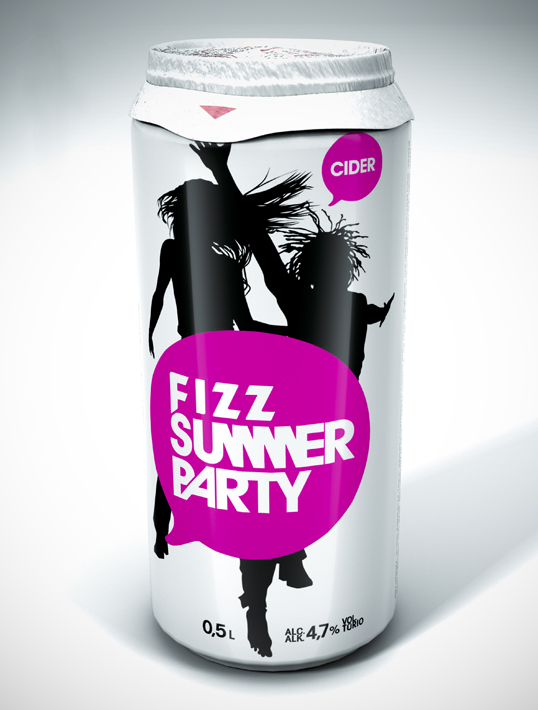 Designed by Taevas Ogilvy | Country: Estonia
January 23, 2009 | No Comments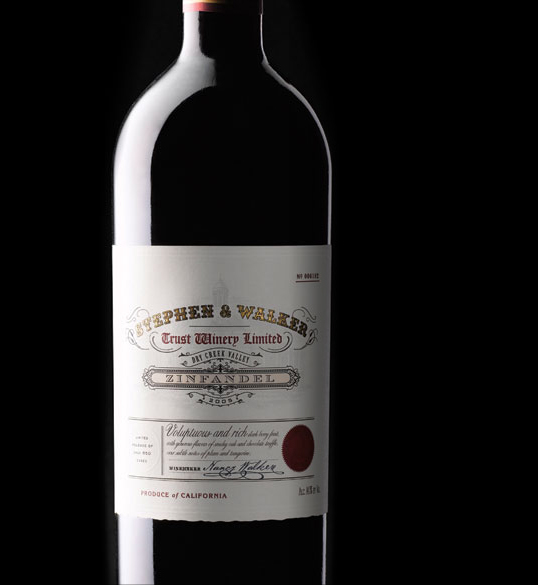 Designed by STRANGER & STRANGER | Country: United Kingdom
January 22, 2009 | 2 Comments
Country: United States | Fonts used: Cochin, Copperplate, various handwriting fonts.
"Replicating the sample bottles sent to us from stock held at the Distilleries – these wee 20cl bottles appear to have been hand written by one of the team pulling the sample (full marks for legibility!). We select specific bottlings from the 700cl capacities and fill first about 150-200 of the 20cl bottles – so these are little "rarities" – small bottles, in small quantities, from a very small bottling, from a small family company. Fortunately Fred and Stewart are full size.
They do allow the consumer however to taste a small amount before investing in the larger bottle (for himself or a Club) and they are also causing quite a stir in the gift giving sector of the whisky business."
January 19, 2009 | 2 Comments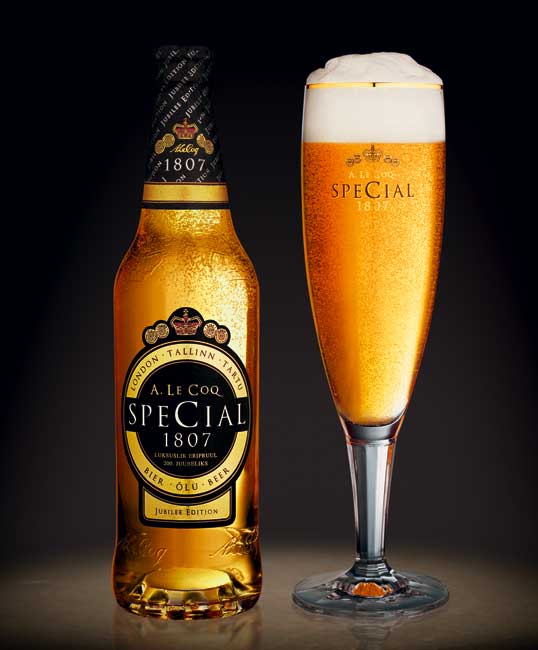 Designed by Taevas Ogilvy | Country: Estonia
Thanks to Estonia based Taevas Ogilvy for sending us this great Upscale beer packaging.
January 16, 2009 | 1 Comment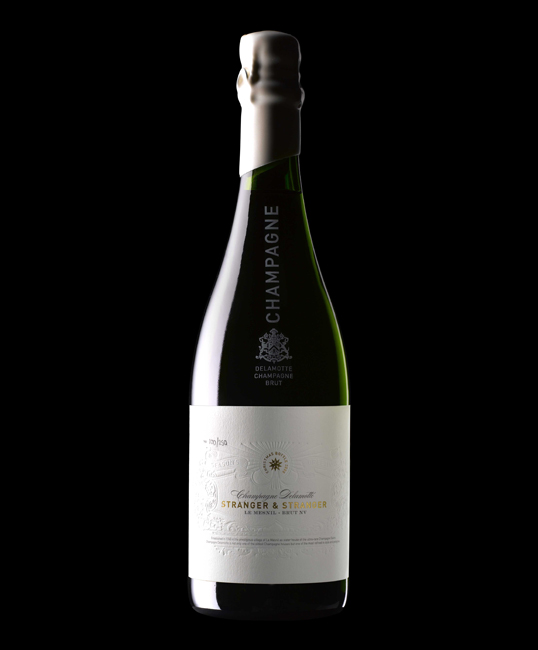 Designed by STRANGER & STRANGER | Country: United Kingdom
Thanks to STRANGER & STRANGER who were very kind and sent us this beautiful Christmas gift. Their yearly bottle of Christmas champagne is limited to 250 bottles with each one numbered. Be sure to check out the embossing detail in the super-sized image after the jump.
January 14, 2009 | No Comments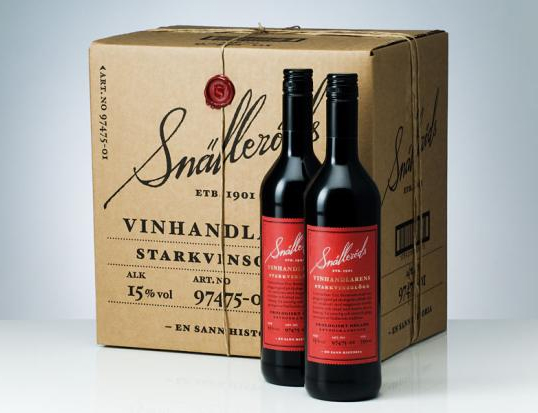 Designed by Neumeister | Country: Sweden
"Input: Snälleröds Ångbränneri is a family-run distillery that specialises in producing traditional spirits such as snaps and glögg for connoisseurs in Sweden, Finland and Germany.
Output: A new visual identity for the entire product range that brings to life the mission of the brand – to uphold and refine Swedish drinking traditions.
Outcome: Spearheaded by the launch of the new premium glögg, Snälleröds is in the process of repositioning their brand in the Swedish market."
January 12, 2009 | No Comments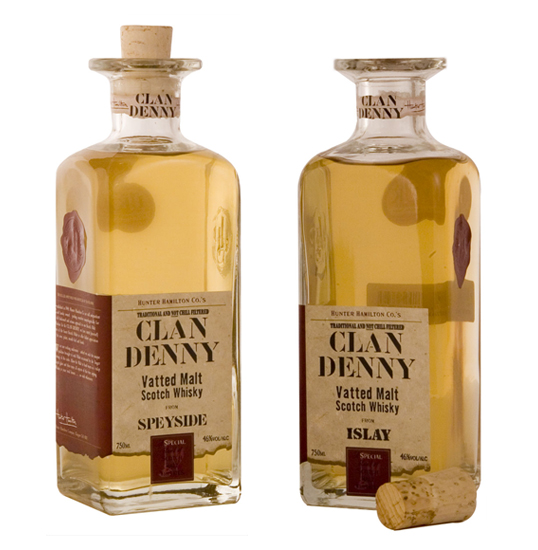 Country: United States | Fonts used: FF Flightcase, unknown. See Stencil Antiqua Rough, distressed fonts
"AAAAAhh the story of this brand!!! For one of our Taiwanese clients some years ago we had to develop a brand incorporating his Anglicised name – Dennis (he liked MacDennis!!) We put our foot down and insisted on something vaguely authentic that has now become CLAN DENNY, though Dennis did not become a client, alas!"