January 8, 2009 | No Comments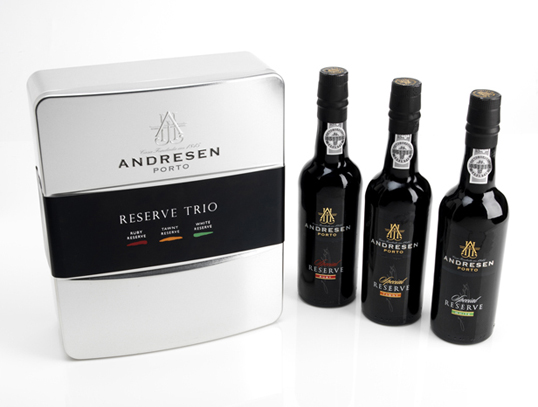 Designed by Wren & Rowe | Country: United Kingdom | Fonts used: Perpetua, Copperplate
"J.H. Andresen produce the some of the finest Port in the world, and wanted to offer a selective gift pack to their consumers. I designed a bespoke brushed steel box and pared down the Port language to fit with the existing Andresen range. This was a NPD project, and was a huge duty free success, selling out almost immediately. The brief follows builds on an existing relationship where I was involved with the design of their Century Port and solely responsible for the 2004 design of their website."
January 8, 2009 | 5 Comments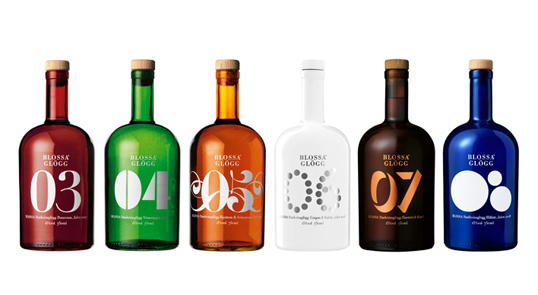 Designed by BVD | Country: Sweden | Fonts used: hand lettering, Fat Face, Futura Black, and Gill Sans Shadowed. See also: Frieze.
"A bottle that is shorter and rounder than other Blossa products. The shape of the bottle is kept from year
to year, with the colours and typography changing to reflect that particular year's design and flavour."
January 6, 2009 | No Comments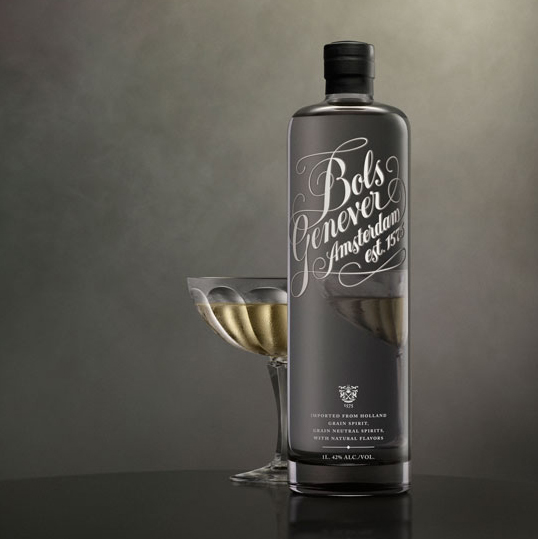 Designed by …,staat | Country: The Netherlands | Fonts used: hand calligraphy by Niels Shoe Meulman (see Copperplate Scripts), Adobe Caslon.
January 6, 2009 | No Comments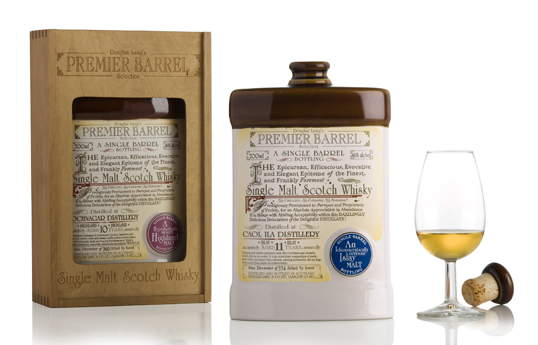 Country: United States | Fonts used: University Roman, Caslon Open Face, hand lettering. See Antique Serifs
"Returning to the "good old days" of Victorian Music Hall for it's inspiration, our new ceramic decanter goes by the name of PREMIER BARREL, and replicates Scotch Whisky Decanters from the late 1800's. Actually, it also looks like an old fashioned bed-pig, designed to keep you warm on cold winter nights – a job its Malt Selection can still do for you!"
January 5, 2009 | 8 Comments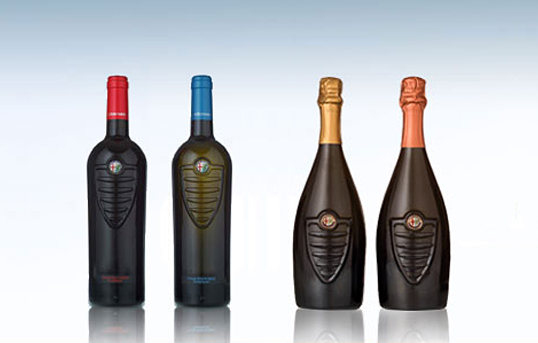 Alfa Romeo wine? I can't say I really like the idea of car companies branding products like this, but these bottles with the raised Alfa grille look pretty nice.
Via Scrimaglio
January 1, 2009 | No Comments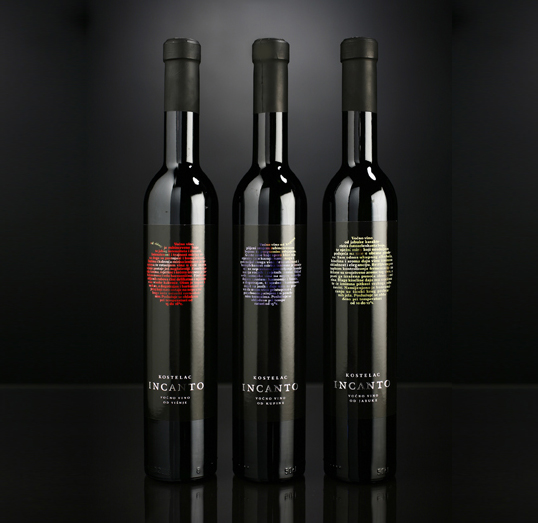 Designed by Bruketa&ZinicOM | Country: Croatia
"What are fruit wines? Many people don't know so for Incanto we decided to put labels with typographic illustrations on the front of the bottle, containing a text that tells you all about fruit wines, how they are drank and served. Incanto wines come in three different flavors, apple, blackberry and sour cherry so there are three different labels."
December 30, 2008 | 1 Comment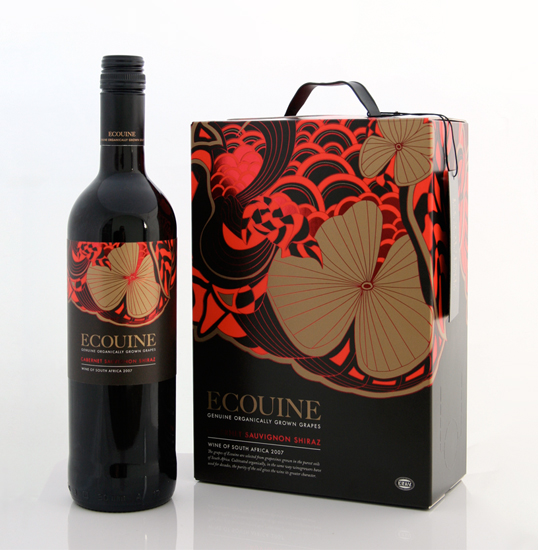 Designed by Thomas Perrson | Country: Sweden | Fonts used: Big Caslon, Futura
Thomas Perrson produced this concept of an ecological wine inspired by haute couture for wineagency "Modern Fluids".  This was his final project at Berghs SoC in Stockholm.
December 25, 2008 | No Comments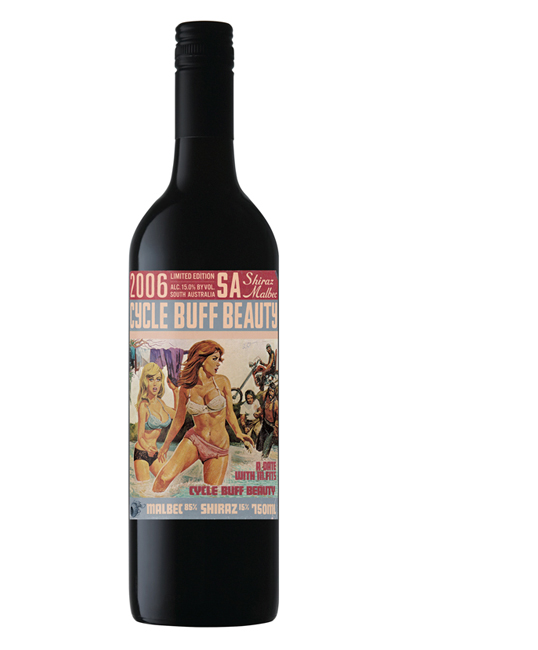 Designed by Mash | Country: Australia
"Cycle Buff Beauty, the first cab off the rank for a new brand in the wine making game. Misfits Wine Co. are all about a newly emerging wine making culture that separates itself from the growing big business take-overs of wine producers. They are all about holding onto the more romantic notion of making new wines and holding onto the creativity and quality of their produce. They are not a part of the usual wine swilling set, so packaging needed to pull as far a way as possible from the a-typical, while also conveying a brand personality that reflected the values of the 3 creators of Misfits Wine Co."
December 23, 2008 | No Comments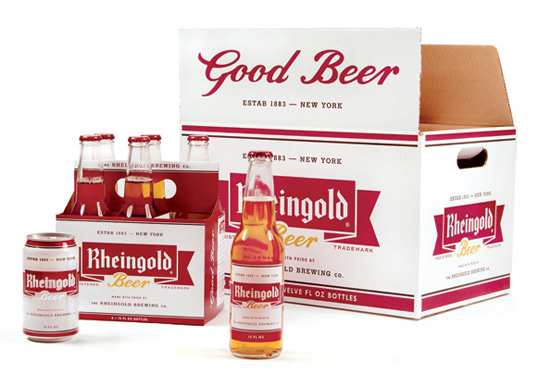 Great work from The Powell Rogers Project | Country: United States
December 22, 2008 | No Comments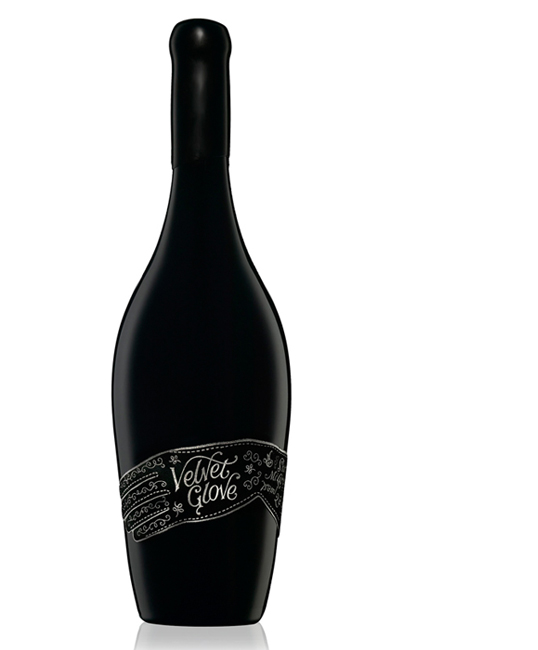 Designed by Mash | Country: Australia

"To keep consistency with previous packaging we used a lot of handwritten/drawn elements to keep continuity to their signature style! Mash illustrated a velvet glove in a very refined elegant style used in the 1920's. The name lent itself beautifully to a velvet label which screams luxury to the touch and then applied to a new amazing shaped bottle finished off with a wax dipped cork. Drinks well with anything."