December 18, 2008 | No Comments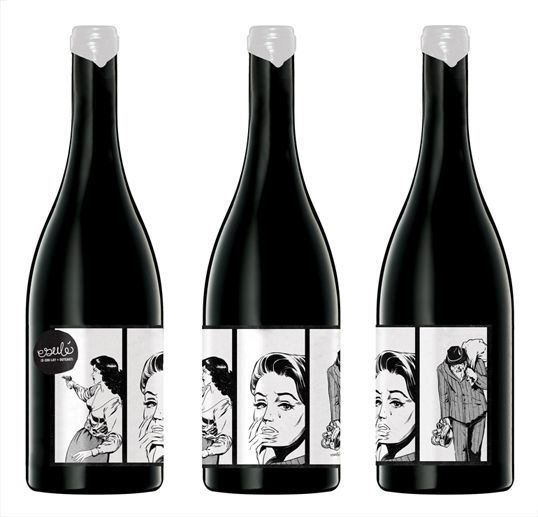 Designed by Mash | Country: Australia
"'Esule', to fall from grace. The plight of the once king of wine grapes, Cabernet Sauvignon. This grape variety has lost some of it's popularity as other grape varieties have come into vogue. The brief was to communicate this fact. The imagery shows a somewhat cryptic tale, a gun yielding woman another in tears and the result, a life changed forever as the once successful is now just a bum on the street. The end character still holds his former crown. It is not he who has changed, it is them. The Esule, a modern day Cabernet Sauvignon that rates as a super premium wine."
December 17, 2008 | 1 Comment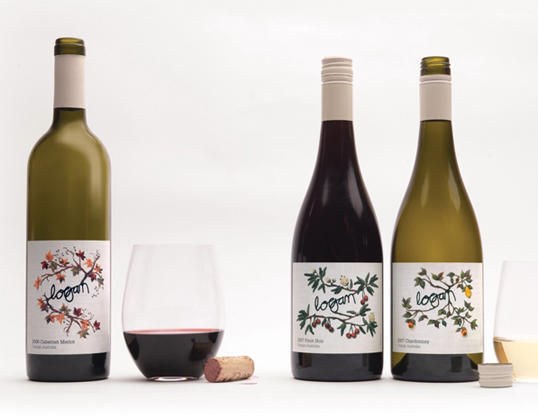 Designed by War Design | Country: Australia
"Peter Logan's very particular approach to his winemaking inspired the choice of dimensional embroidery. This unique approach to embroidery was a fitting metaphor for the patience, care and love that goes into every bottle. By embroidering beautiful, intricate compositions of fruits, berries, leaves and flowers, each label visually represents the textures and flavors inside."
December 17, 2008 | No Comments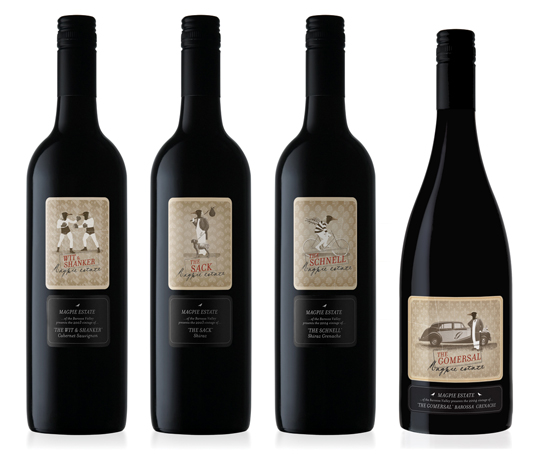 Designed by Mash | Country: Australia
"Magpie Estate a range boutique wines where each wine has an individual illustration relating to the individual wine. Collage illustrations were developed to be unique from one another, but also hold consistency so the viewer could recognise each individual wine as 'Magpie Estate'. Magpie characters were developed to add a unique personality to each wine; as the wines themselves have there own unique personality. The front labels also include text handwritten by Mash to add a hands-on feel to a hands-on small production wine."
December 17, 2008 | 1 Comment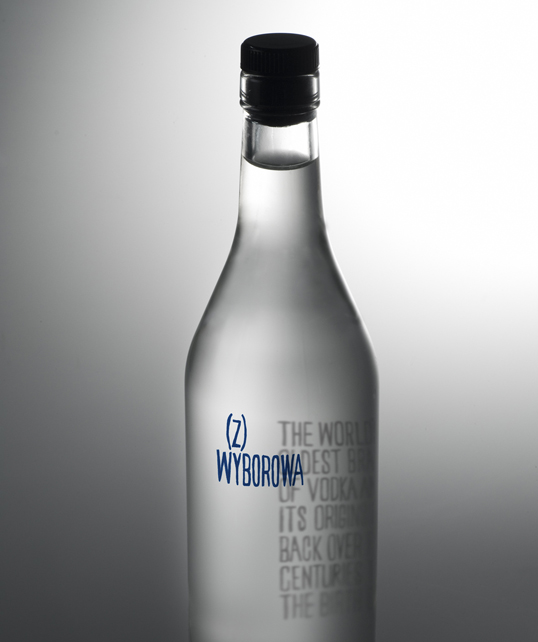 Designed by Hamish Smyth | Country: Australia
"I re-branded the Polish Vodka brand Wyborowa. My concept uses hand drawn typography – arching back traditional Polish graphic design which featured a lot of handmade type. The clarity of the vodka is its main feature, which is emphasised by having the story of the Vodka's origin on the back of the bottle. The viewer peers through the product to read the story. When viewed on an angle the viewer gets an interesting warped optical effect whilst isolating the products name on the front of the bottle."
December 16, 2008 | 4 Comments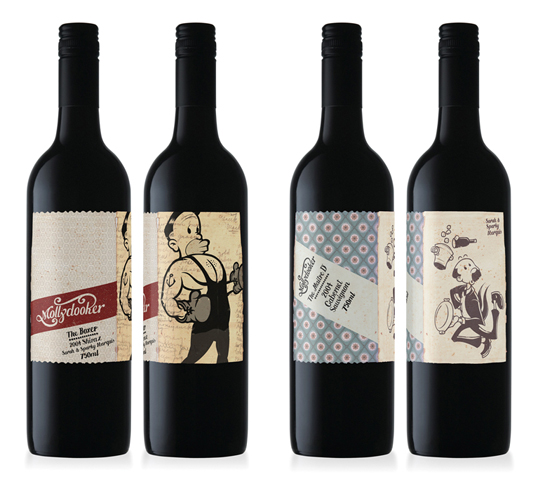 Designed by Mash | Country: Australia
"Mollydooker, slang for left handed. Both proprietors of the Mollydooker Wines brand are left handed, hence the brand name. The brand identity has been created to go against the grain of the 'same old' wine branding approach. The aim was to create visual communication for a brand with its own personality, not just another player in the wine industry.
December 15, 2008 | No Comments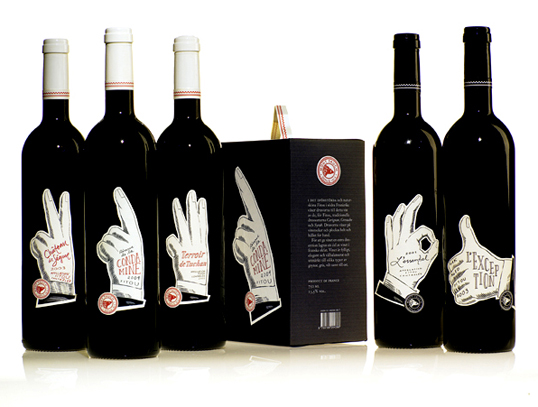 Designed by Hanna Backman | Country: Sweden
"Visual identity to a collection of wines  from Mont Taucha. Quality leaps in the first three, while the two prestigious wines symbolizes thumbs up and excellent."
December 15, 2008 | No Comments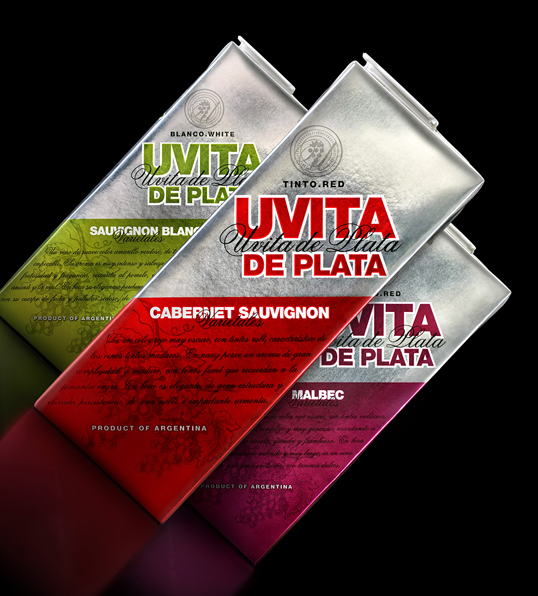 Design by Tridimage | Country: Argentina | Fonts used: Helvetica and Flemish Script. See more Copperplate Scripts
"The Argentine package design agency Tridimage created the brand and package design for Uvita de Plata, an Argentine contemporary Varietal Wine brand produced by RPB . Tridimage took advantage of the expressive possibilities of the metalized Tetra Pak container to differentiate the new brand in its crowded category."
December 13, 2008 | 5 Comments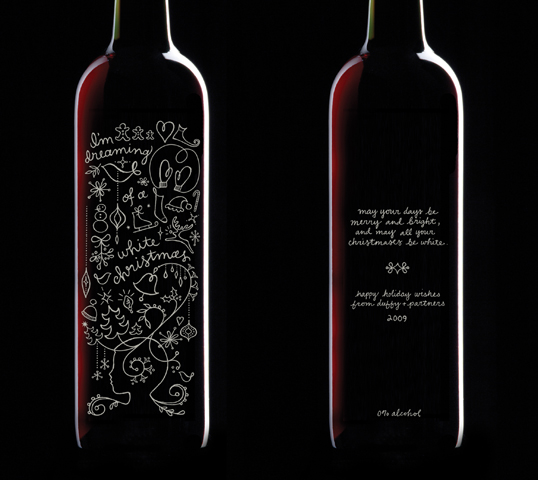 Designed by Duffy & Partners | Country: United States
"Minneapolis based graphic design firm (Duffy & Partners), have again created their unique annual wine bottle designs. The design for holiday 2008 is elegant with a touch of whimsy and will be a great conversation piece at any holiday party, or can even make a unique holiday centerpiece for those fancy dinner tables. Better yet, because it has 0% alcohol, Duffy & Partners can ship these beautifully designed bottles to their clients and friends all over the world."
December 13, 2008 | 1 Comment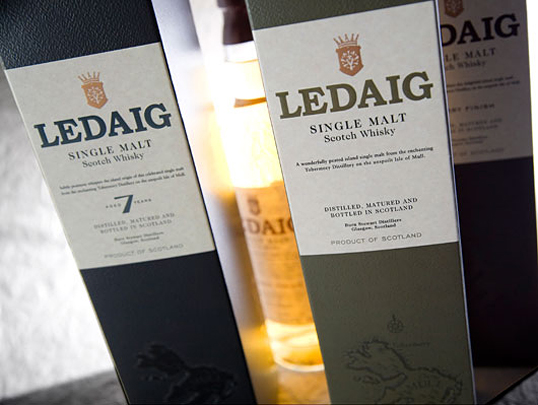 Designed by 999 Design | Country: United Kingdom
"When Burn Stewart Distillers introduced a new Sherry Cask Finish to their Ledaig range they briefed us to reposition the brand as a premium product through distinctive label design and to distinguish the classic, 7 year old and Sherry Cask Finish with a clear colour hierarchy.
December 12, 2008 | 1 Comment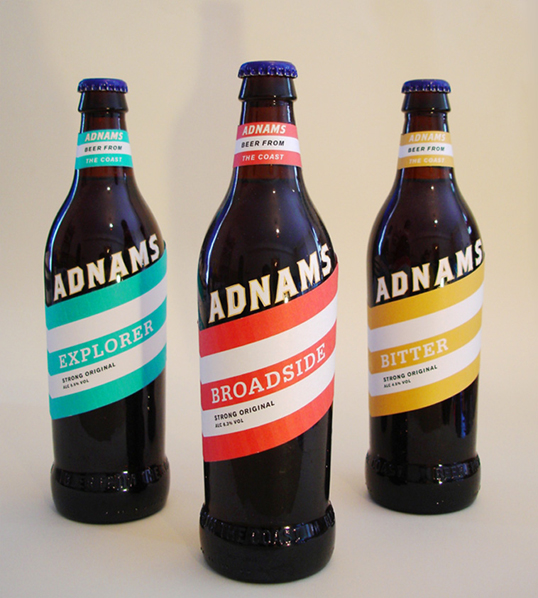 Designed by Thorbjørn Ankerstjerne | Country: United Kingdom | Fonts used: Brothers, Serifa
"Redesign a classic designed beer label. I thought that ADNAMS, Beer from the Coast deserved a bit more of a beachy look."