February 15, 2015 | No Comments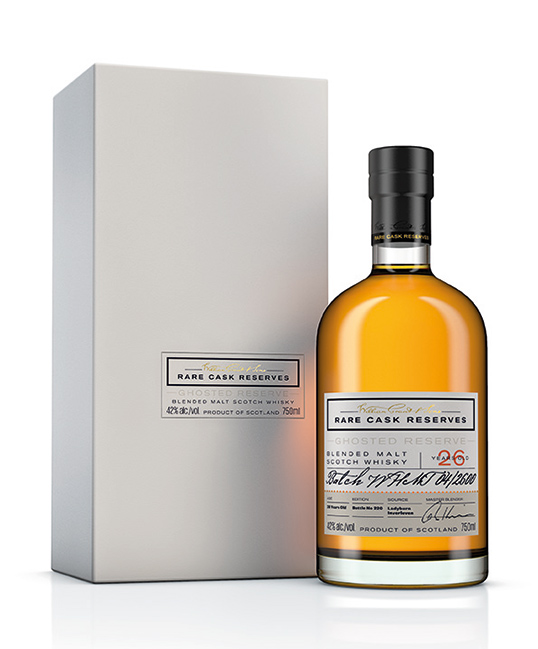 Designed by threebrand | Country: Scotland
"Premium spirits company William Grant & Sons, has commissioned international creative design agency, threebrand, to launch its new Ghosted Reserves. 
Part of William Grant & Sons Rare Cask Reserves programme, the 'ghosted vattings' will offer consumers the opportunity to access some of the rarest Scotch whisky stocks, from distilleries no longer in operation.  
threebrand's remit was to design both a label set and secondary packaging to complement the unique story of the Ghosted Reserves. Both were to be premium and tactile. 
Malcolm Thomson, associate creative director at threebrand, commented: "A palette of grey tones was selected to reflect the ghostly nature of the vattings, drawing on themes of opacity."
February 15, 2015 | No Comments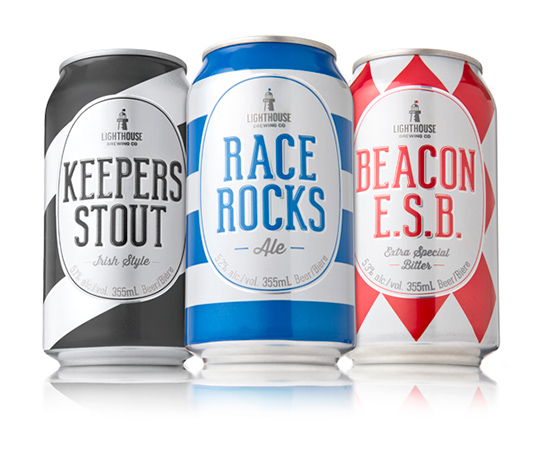 Designed by Saint Bernadine Mission Communications Inc. | Country: Canada
"As part of an entire portfolio rebrand, St. Bernadine was asked to help create a new look for Lighthouse Brewing Co.'s "House Series" family of craft beers.
Aligned with the brand's nautical positioning, and inspired by bold, colourful patterns found on lighthouses around the world, the team at St. Bernadine created striking patterns for the family (Race Rocks Amber Ale: horizontal stripes, Keepers Stout: diagonal bars, Beacon ESB: diamonds, and Bowline Pilsner: checked squares).
The flat white base colour brings family unity to the series as well as echoing the lighthouse namesake, while the colourful patterns allow each flavour to be easily distinguished within the series and contribute to findability and presence in a visually cluttered craft category."
January 28, 2015 | 1 Comment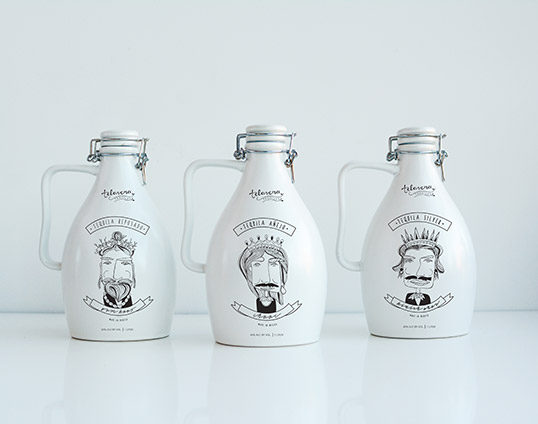 Designed by Hannah Hart | Country: United States
"For this project I was assigned to create alcohol packaging, so I chose to do Mexican tequila. As I did my initial research, I was very inspired by the culture, arts and history of Mexico, specifically Talavera. Talavera is the word used to identify the beautiful handmade pottery and fine ceramics that are trademarks of Mexican craftsmanship.
Just as Mexican Talavera was created with strict standards and regulations in order to preserve the expert nature of its craft, I expect every bottle of my tequila to be crafted in this same way; with precise ingredients and regulations that go into making every bottle a beyond tasteful experience.
To give each bottle of tequila the utmost feeling of prestige, I incorporated an important element in Mexican culture and history: Mayan gods. Religion played an enormous role in talavera ceramics so I wanted to make these characters come to life on each bottle in a sophisticated, yet lively way. I drew a series of illustrations on what I believed the Mexican gods would look like. The gods that are seen on the substrates are: Yum Kaax, The God of Nature; Chaac: The God of Rain; and Kinich Ahau: The God of the Sun. The illustrations were then transferred to the bottles using acetone and touched up by hand with a sharpie."
January 18, 2015 | No Comments
Designed by Fivethousand Fingers | Country: Canada
"Dageraad Brewing bottled their first beer in the Spring of 2014, entering a competitive West Coast craft beer market. Despite a saturated market Dageraad had an opportunity to stand out as one of the only breweries in the area focusing exclusively on Belgian-style beer. Dageraad brews two regular beers and a series of limited edition seasonals, all available in single-serve bottles and refillable growlers."
January 14, 2015 | No Comments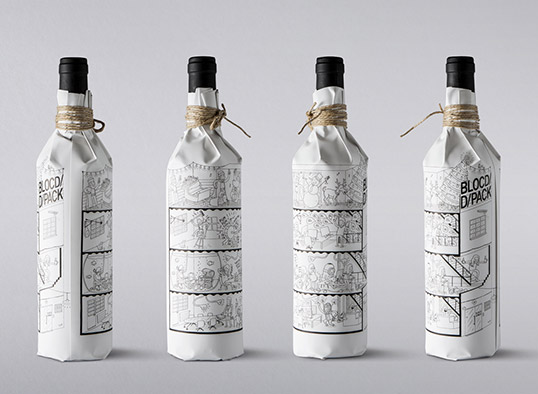 Designed by BLOCD/ | Country: Spain
"Self-promotion created for the Christmas holidays. We gave our customers a wine bottle with our buildings picture of BLOCD/ and D/PACK with all the all the team in a fun illustrated comic."
December 28, 2014 | No Comments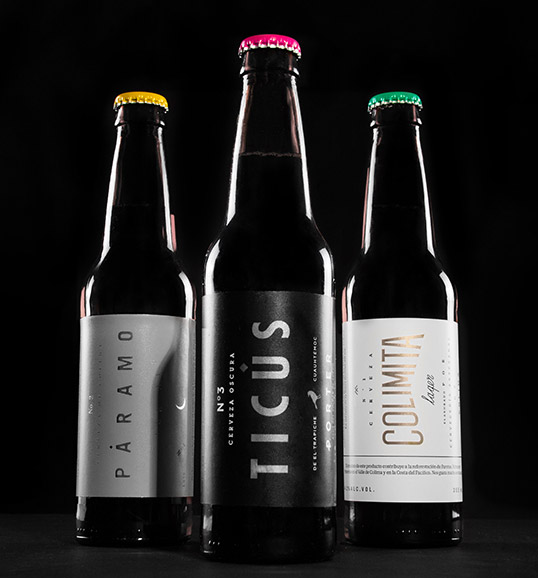 Designed by Anagrama | Country: Mexico
"La Cervecería de Colima" is a new Mexican brewery located in the town of "El Trapiche" in the state of Colima in Mexico. The brewery dedicates all its hard work into perfecting its three unique handcrafted beers for international sale and distribution.
Our branding proposal is a modern visual translation of every distinguished traditional element from Colima and its surroundings, such as its magnificent local Colima volcano. We developed a friendly, simple-looking brand that honours the human touch and workmanship behind every product.
Three craft beers were brewed to mark the beginning of the brand's legacy. First, the main one: Colimita, the beer from the earth and favorite of the sun. Second, Páramo, a Pale Ale inspired by the whisperings in the streets of Comala. And finally, Ticús, relative of the crow, Cervecería de Colima's dark beer. From light to dark labels and bright colored caps, the bottles' design resemble the uniqueness and the hard work behind each individual brew."
December 26, 2014 | 2 Comments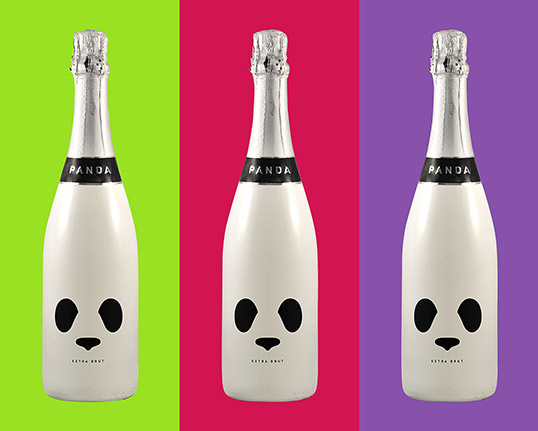 Designed by Dizen | Country: Argentina
"Provide brief rationale behind the work being submitted: Vigneron S.A. came to the studio with the requirement to design the image for a sparkling wine focused on a young, modern and sophisticated target. We design a minimalistic image taking advantage of the iconic force of the name."
December 26, 2014 | No Comments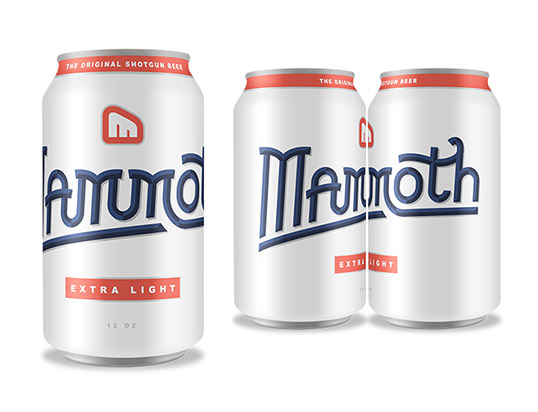 Designed by Sam O'Brien | Country: United States
"Raging Mammoth's inaugural product, the Tusk, provided a simple and clean way to "shotgun" beer. As their brand gained popularity after a successful backing on Kickstarter, the founders explored expanding their product line into other beer tools and even beer itself.
This spec work highlights Mammoth, "the Original Shotgun Beer."
Our Nation's colors shine forth bold and true in the brand's identity to pay tribute to what college America is all about– cold, crappy beer and binge drinking."
December 17, 2014 | 1 Comment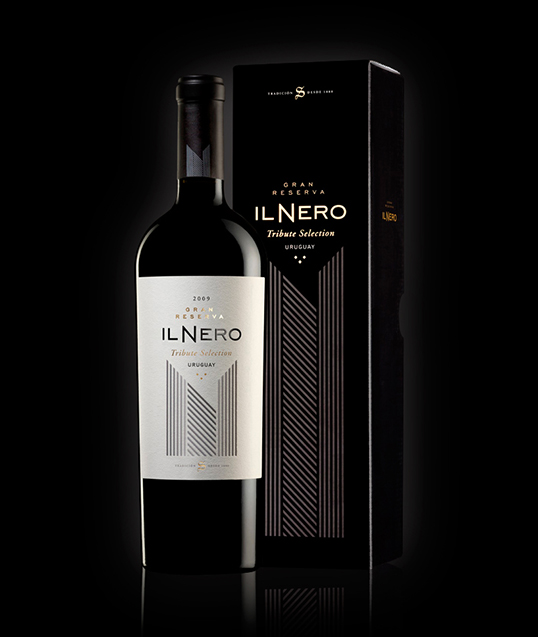 Designed by Dizen | Country: Argentina
"The studio was commited to design the image for the top wine of Antigüa Bodega Stagnari. This wine was created as a Tribute to the Winery founder: Don Héctor Nelson Stagnari.
Il Nero Gran Reserva presents an stylized "N", the three stars represents the 3 generations that are actually actives in the Winery."
December 16, 2014 | No Comments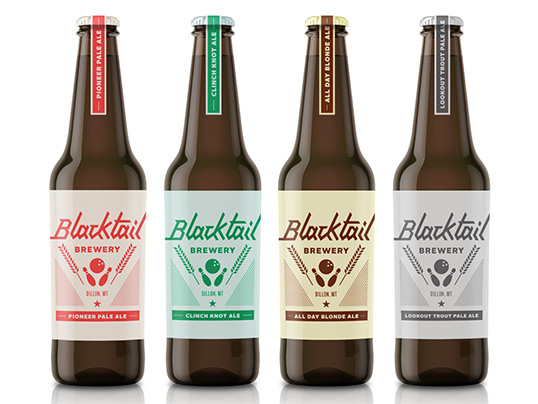 Designed by Glenn Chan | Country: Singapore
"Blacktail Brewery is a concept project for a small microbrewery based in Dillon, Montana. The owners had purchased an old bowling alley as a place to start their business, and needed an identity and packaging that differentiated themselves from the rest of the other microbrews.
A bowling bowl and pins hints to the microbrews' roots, while a bespoke blackletter logotype helps them stand out from other beers. The pastel color palette also works well in contrast to the hard-edged blackletter logotype."