March 20, 2015 | No Comments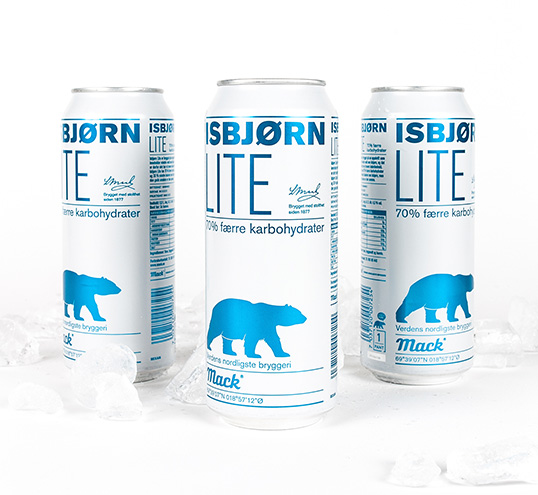 Designed by by north™ | Country: Norway
"After the relaunch of Mack's Isbjørn in February 2014, Mack's Isbjørn beer has been a success, stealing market share from the competition, and is currently Mack's best selling product. It seemed only natural to follow up on the product with a Lite version of the same brew. The design is closely related to the original Isbjørn, and being a calorie-reduced beer it only seemed natural to reverse the colors."
March 15, 2015 | No Comments
Designed by Patswerk | Country: The Netherlands
"We like brewing beer and handing out presents. So we decided that our 7 year anniversary was the perfect time to combine these things. We created a super limited package for our clients and friends, including 2 home-brewed beers. A nice and smooth porter and one extremely hoppy IPA.
The packaging is printed using 3 carefully selected PMS colors, making the packaging really 'pop'.The labels are silkscreened in 3 colors on transparent vinyl stickers, showing the color of the bottle."
February 22, 2015 | 3 Comments
Designed by Roman Davydyuk, Yaroslav Cherkunov & Katya Chanysheva | Country: Ukraine
"Tusk craft beer. The idea was to express that the new beer is very severe. It's meant for tough guys who don't whine or complain about their life."
February 22, 2015 | No Comments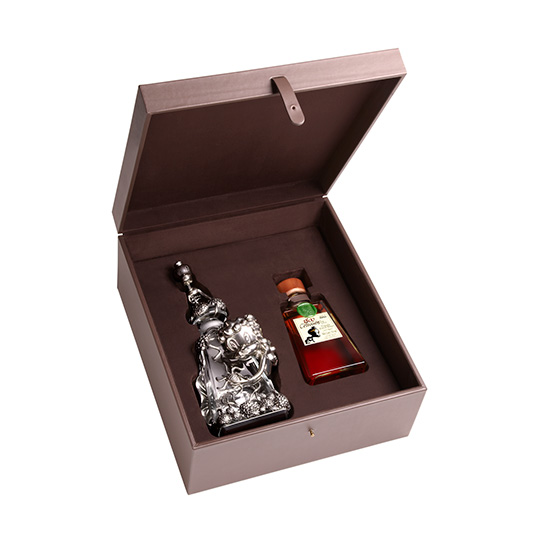 Designed by Gary Baseman | Country: United States
"The launch of 1800 Colección® showcases the brand's commitment to art and innovation, especially through creative packaging.  1800® Tequila commissioned Gary Baseman, a famed Los Angeles-based artist known for his dynamic pop art imagery, to create a stunning sculpture to encase the exceptional liquid. Baseman designed a pewter decanter he calls "Sirena Del Deseo" (translates to "Mermaid of Desire"), which tells the tragic story of true love and the fight to achieve it. This tale, about a Mexican warrior who perishes in the sea after traveling into the ocean depths in search of his enchanted mermaid, was the brainchild of Baseman, who was inspired by a trip to Mexico to witness the 1800® Tequila production process. The handmade decanter, which took close to three years to create, exhibits Baseman's artistic philosophy of "the beauty of the bittersweetness of life."
February 15, 2015 | No Comments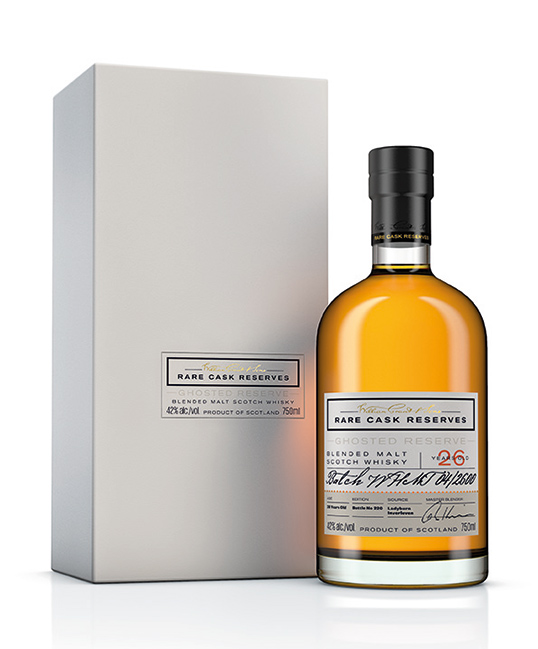 Designed by threebrand | Country: Scotland
"Premium spirits company William Grant & Sons, has commissioned international creative design agency, threebrand, to launch its new Ghosted Reserves. 
Part of William Grant & Sons Rare Cask Reserves programme, the 'ghosted vattings' will offer consumers the opportunity to access some of the rarest Scotch whisky stocks, from distilleries no longer in operation.  
threebrand's remit was to design both a label set and secondary packaging to complement the unique story of the Ghosted Reserves. Both were to be premium and tactile. 
Malcolm Thomson, associate creative director at threebrand, commented: "A palette of grey tones was selected to reflect the ghostly nature of the vattings, drawing on themes of opacity."
February 15, 2015 | No Comments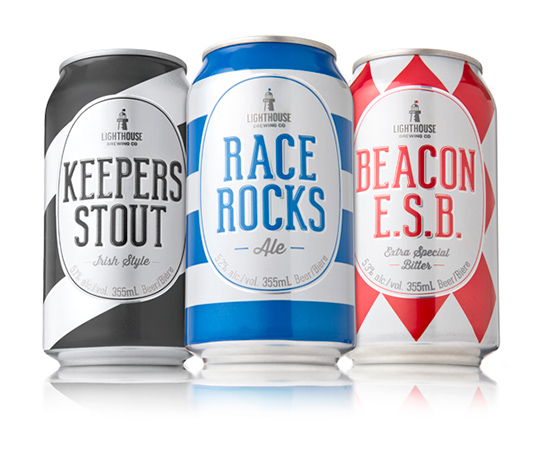 Designed by Saint Bernadine Mission Communications Inc. | Country: Canada
"As part of an entire portfolio rebrand, St. Bernadine was asked to help create a new look for Lighthouse Brewing Co.'s "House Series" family of craft beers.
Aligned with the brand's nautical positioning, and inspired by bold, colourful patterns found on lighthouses around the world, the team at St. Bernadine created striking patterns for the family (Race Rocks Amber Ale: horizontal stripes, Keepers Stout: diagonal bars, Beacon ESB: diamonds, and Bowline Pilsner: checked squares).
The flat white base colour brings family unity to the series as well as echoing the lighthouse namesake, while the colourful patterns allow each flavour to be easily distinguished within the series and contribute to findability and presence in a visually cluttered craft category."
January 28, 2015 | 1 Comment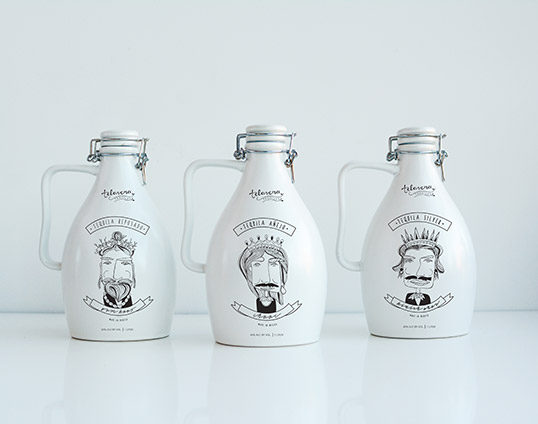 Designed by Hannah Hart | Country: United States
"For this project I was assigned to create alcohol packaging, so I chose to do Mexican tequila. As I did my initial research, I was very inspired by the culture, arts and history of Mexico, specifically Talavera. Talavera is the word used to identify the beautiful handmade pottery and fine ceramics that are trademarks of Mexican craftsmanship.
Just as Mexican Talavera was created with strict standards and regulations in order to preserve the expert nature of its craft, I expect every bottle of my tequila to be crafted in this same way; with precise ingredients and regulations that go into making every bottle a beyond tasteful experience.
To give each bottle of tequila the utmost feeling of prestige, I incorporated an important element in Mexican culture and history: Mayan gods. Religion played an enormous role in talavera ceramics so I wanted to make these characters come to life on each bottle in a sophisticated, yet lively way. I drew a series of illustrations on what I believed the Mexican gods would look like. The gods that are seen on the substrates are: Yum Kaax, The God of Nature; Chaac: The God of Rain; and Kinich Ahau: The God of the Sun. The illustrations were then transferred to the bottles using acetone and touched up by hand with a sharpie."
January 21, 2015 | 1 Comment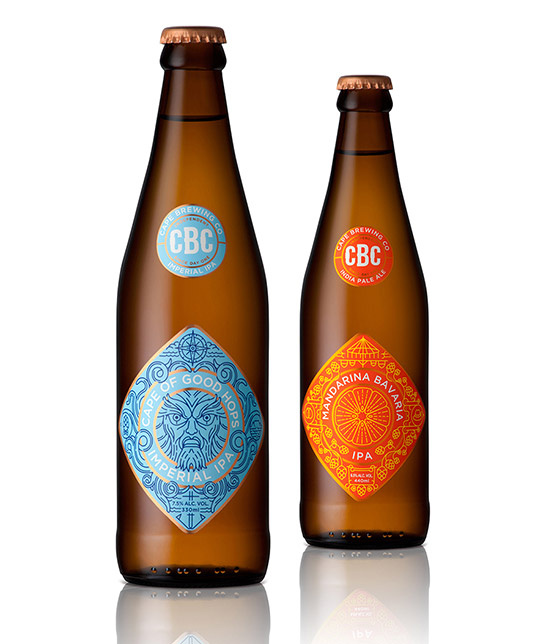 Designed by Jane Says & MUTI | Country: South Africa
"We were commissioned by design studio Jane Says to illustrate two labels for the Cape Brewing Company, a South African producer of craft beer. Both beers have a distinct flavour profile and story behind them which served as inspiration for the designs."
January 18, 2015 | No Comments
Designed by Fivethousand Fingers | Country: Canada
"Dageraad Brewing bottled their first beer in the Spring of 2014, entering a competitive West Coast craft beer market. Despite a saturated market Dageraad had an opportunity to stand out as one of the only breweries in the area focusing exclusively on Belgian-style beer. Dageraad brews two regular beers and a series of limited edition seasonals, all available in single-serve bottles and refillable growlers."
January 14, 2015 | No Comments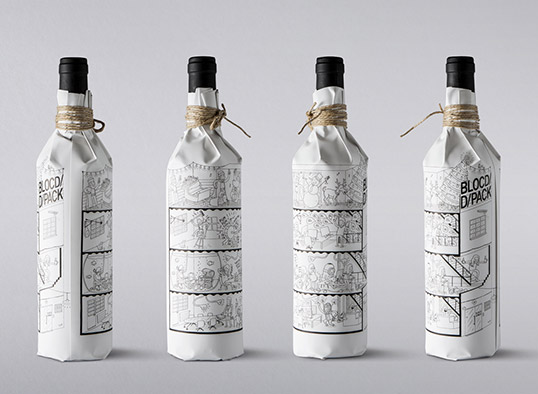 Designed by BLOCD/ | Country: Spain
"Self-promotion created for the Christmas holidays. We gave our customers a wine bottle with our buildings picture of BLOCD/ and D/PACK with all the all the team in a fun illustrated comic."