December 15, 2008 | No Comments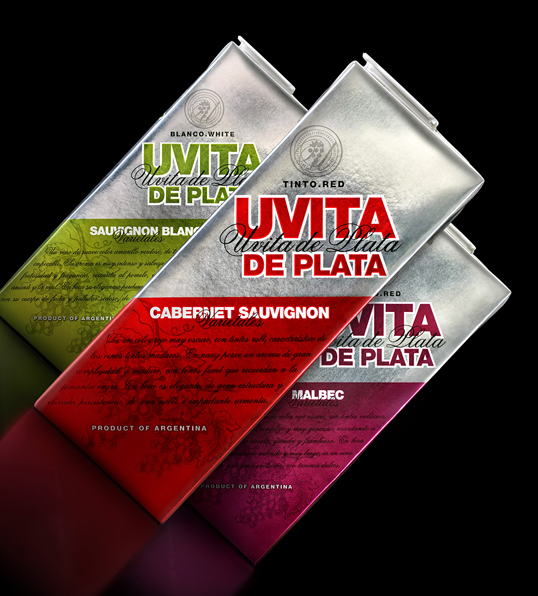 Design by Tridimage | Country: Argentina | Fonts used: Helvetica and Flemish Script. See more Copperplate Scripts
"The Argentine package design agency Tridimage created the brand and package design for Uvita de Plata, an Argentine contemporary Varietal Wine brand produced by RPB . Tridimage took advantage of the expressive possibilities of the metalized Tetra Pak container to differentiate the new brand in its crowded category."
December 13, 2008 | 5 Comments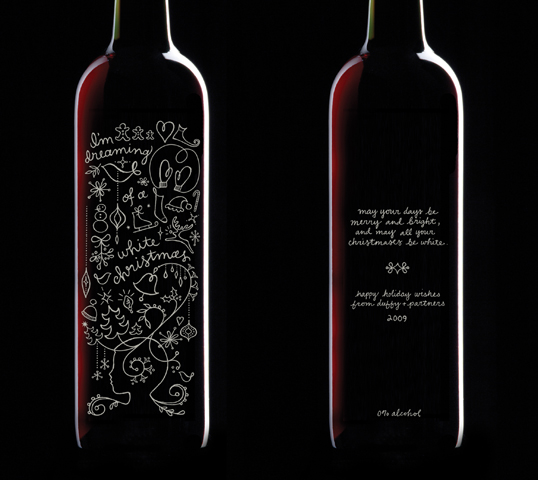 Designed by Duffy & Partners | Country: United States
"Minneapolis based graphic design firm (Duffy & Partners), have again created their unique annual wine bottle designs. The design for holiday 2008 is elegant with a touch of whimsy and will be a great conversation piece at any holiday party, or can even make a unique holiday centerpiece for those fancy dinner tables. Better yet, because it has 0% alcohol, Duffy & Partners can ship these beautifully designed bottles to their clients and friends all over the world."
December 13, 2008 | 1 Comment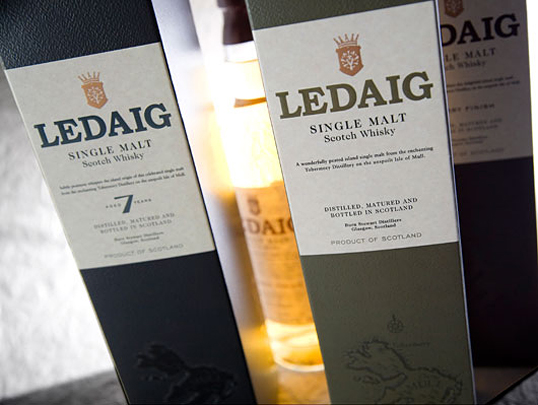 Designed by 999 Design | Country: United Kingdom
"When Burn Stewart Distillers introduced a new Sherry Cask Finish to their Ledaig range they briefed us to reposition the brand as a premium product through distinctive label design and to distinguish the classic, 7 year old and Sherry Cask Finish with a clear colour hierarchy.
December 12, 2008 | 1 Comment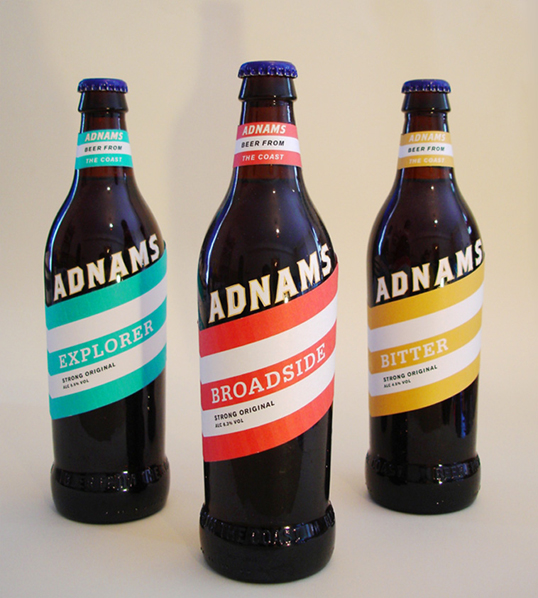 Designed by Thorbjørn Ankerstjerne | Country: United Kingdom | Fonts used: Brothers, Serifa
"Redesign a classic designed beer label. I thought that ADNAMS, Beer from the Coast deserved a bit more of a beachy look."
December 12, 2008 | No Comments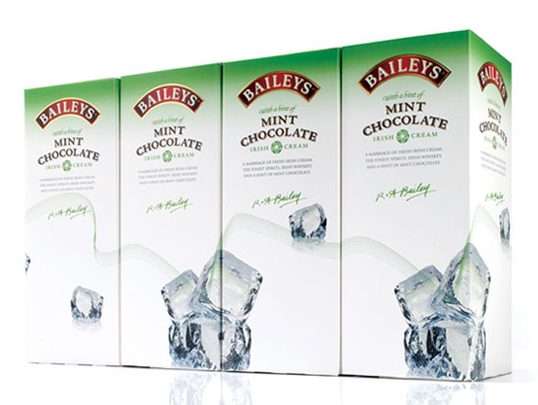 Designed by The Creative Method | Country: Australia
"A new range of flavoured Baileys products rquired some stylish gift packaging for the festive season."
December 11, 2008 | 2 Comments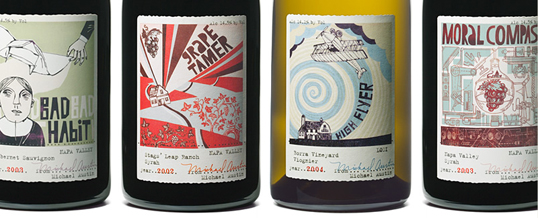 Designed by Hatch | Country: United States
"The Michael Austin Winery was started by two long-time friends, whose names are 'Michael' and 'Austin.' Rather than pretend that Michael Austin actually exists, we invented stories about a character (loosely inspired by the founders' lives) for each label. 'Bad Habit' refers to how the two met in a catholic high school, 'High Flyer' because one of them flies small airplanes, etc."
December 11, 2008 | No Comments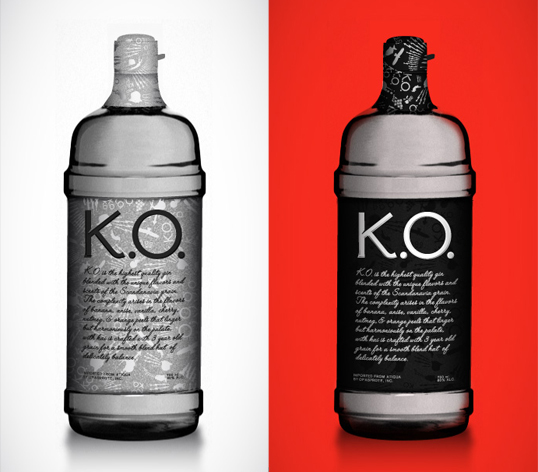 Designed by Alro™ | Country: United States
"Bottle design for K.O. Gin. The sleeve features a spot-varnished pattern with embossed logo."
December 11, 2008 | No Comments
Designed by Sandstrom Partners | Country: United States
"St-Germain is an artisan French liqueur made from hand-picked wild elderflowers. The picking season is only a few days each spring, so every bottle is individually numbered with that year's vintage. The bottle shape was created by our client, Robert Cooper, who was inspired by French Art Deco and the eclectic aesthetic of Paris. This remarkable form presented several challenges for labelling. A comprehensive identity system was created, positioning the product between serious French luxury brand status and the everyday accessibility of a Parisian bistro – not unlike the sophistication of St-Germain-des-Pres and the Left Bank."
December 10, 2008 | 4 Comments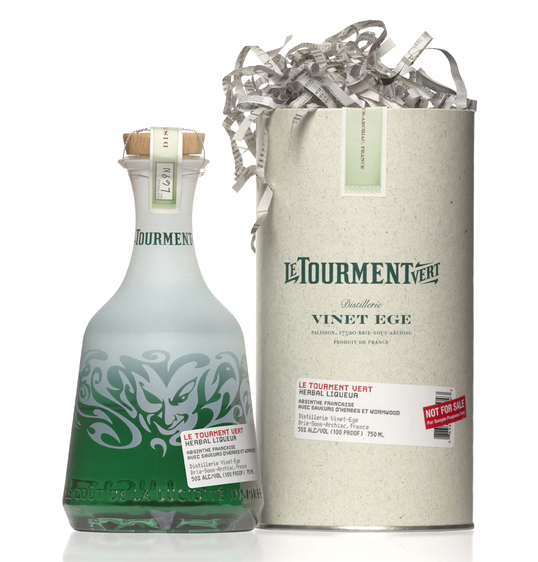 Designed by Turner Duckworth | Country: United States
"This authentic absinthe was created by Vinet Ege distillery in France for limited distribution. Our design was inspired by the swirling, cloudy patterns that form when absinthe is mixed with water."
December 10, 2008 | 1 Comment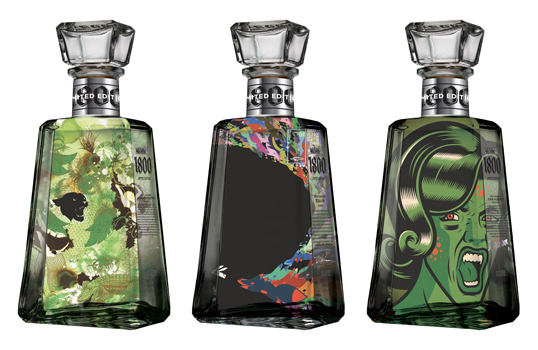 "Earlier this year 1800® Tequila launched an inspired campaign featuring nine cutting-edge artists it considers to be Essential. These artists and their artwork were featured as part of a national advertising campaign including print, billboards, internet, and radio, and now each piece of artwork is featured on 1800® limited edition tequila bottles, available nationwide in stores now.
Each artist is different, with work that could've been found in the hottest gallery, saved on a computer, or on any wall in any city throughout the world. These are artists that are willing to follow their independent vision."