March 29, 2009 | 3 Comments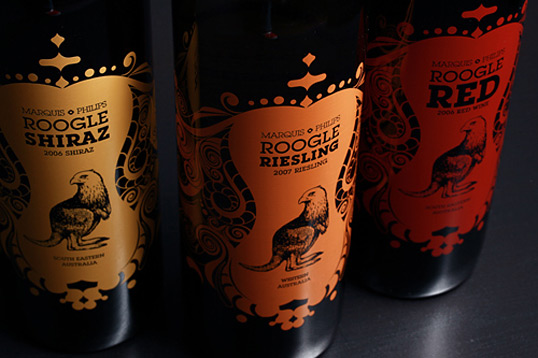 Designed by Adhemas Batista | Country: United States/Australia | Fonts: ITC Lubalin Graph
The Grateful Palate is a unique food brand with creative and tasteful products specialized in the US and Australian markets. With an enormous and very creative wine product line brands such as 'Evil', 'Bitch' and the 'Roogle' a medieval creature half eagle, half kangaroo. Adhemas Batista was invited to create a whole new identity for the new franchise product line named 'Baby Roogle'."
March 29, 2009 | No Comments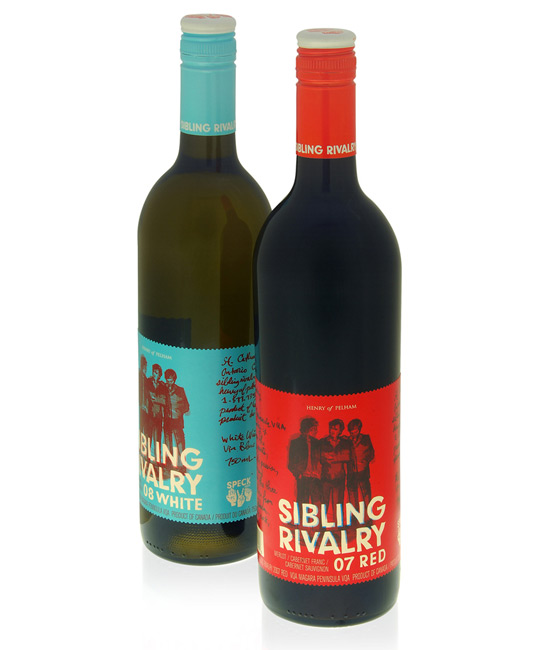 Designed by Insite Design | Country: Canada | Font: Futura
"Sibling Rivalry is a blend of the talent, passion and inspiration of the 3 Speck brothers behind the formidable wine talent of Henry of Pelham, one of Canada's most successful and respected wineries.
Ontario wineries are renowned for making exceptional however classical varietal focused wines. To step outside this constraint, and to showcase the beauty in blending wine from within an estate, the Speck brothers produced Sibling Rivalry.
March 26, 2009 | No Comments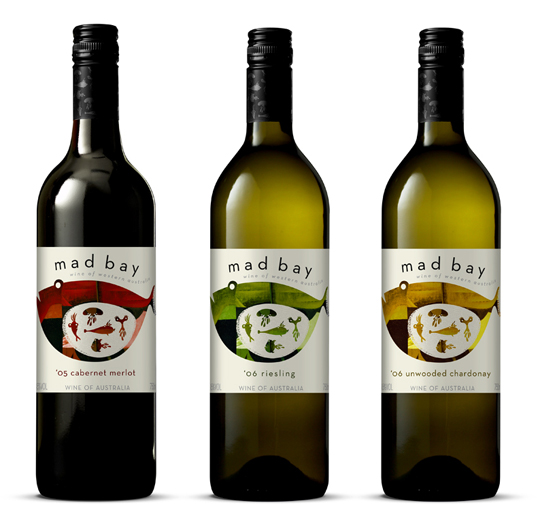 Designed by Public Creative | Country: Australia | Fonts used: Neutraface
"An unpretentious wine brand for a niche in the UK market for contemporary, fresh, new world wines. MadBay was subsequently released in Australia due to its popularity in the UK."
March 23, 2009 | 1 Comment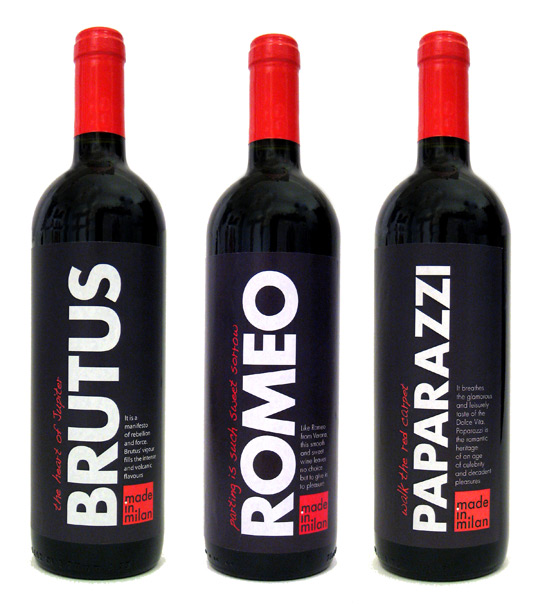 Designed by Fabio Bressan | Country: Italy | Fonts: Futura, low-grade script (alt: quality handwriting fonts)
"Madeinmilan is a unique wine label committed to selecting excellent wines from northeast Italy.
Products: The heritage of Madeinmilan Wines is one of the oldest traditions in the Italian wine industry, with roots going back to the Roman Empire. This strictly Italian collection is composed exclusively of native grape varieties: a masculine Sangiovese (named Brutus), a smooth and sweet Cagnina (Romeo), and a reddish, fizzy, mischievous Lambrusco (Paparazzi).
March 20, 2009 | 4 Comments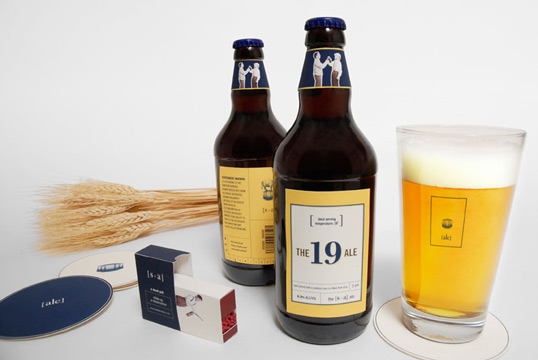 Designers: Lisa Llanes, Andy Carlyle, Elena Schroeder | Writer: Kimberly Healy | Art Director: Dave Ortega | Country: United States
"Steak and Ale: Rebranded Steak and Ale (s+a) with it's own beer and grilling items (utensils, rubs, wood chips) with a style combination of seriousness and wit and a fictional family history. Other items include matchboxes, Brewmaster's Society packaging, coasters, to-go containers, retail bag and a menu. Each item has a little surprise when you open it or flip it over."
March 18, 2009 | 5 Comments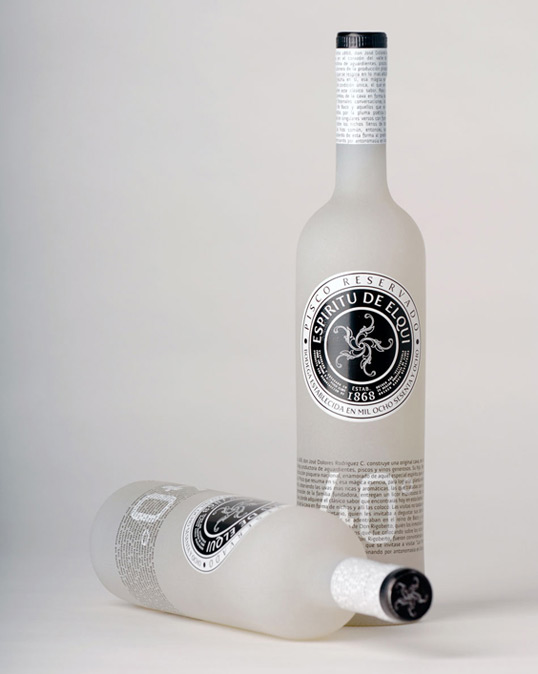 Designed by Edward Pearson, GRAFIKART | Country: Chile
"The story behind this brand, which was begun by a gentleman called Rigoberto Rodriguez Rodriguez in the late 1800's is as follows:
The story is quite funny, Rigoberto was the son of the founder and being of a well read and refined personality had a great sense of humour and also was rather eccentric. He ventured in making these piscos and wines and gained great reputation. He started storing these wines in Niches – thus the name 'Los Nichos' specially made for keeping the right temperature.
March 16, 2009 | 9 Comments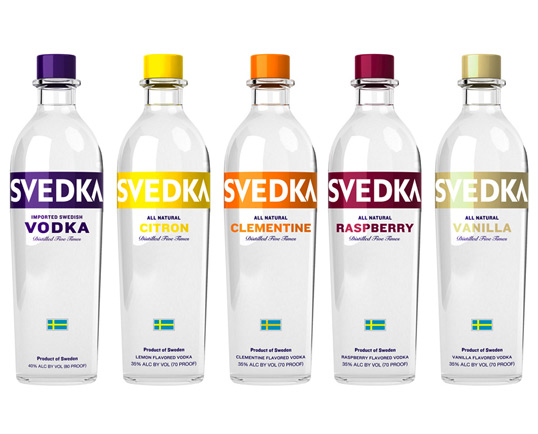 Designed by ESTABLISHED | Country: United States | Fonts used: custom type, Snell Roundhand.
"The new bottle for Svedka imported Swedish vodka had to be bilingual: It needed to speak  to younger scenesters who consider themselves "in the know" and hang out at trendy nightspots as well as an older, more affluent consumer who likes to have a drink at home. This meant the packaging had to look equally attractive lit up on the back-bar of a hip club as well as lining a club store's shelf, said Marina Hahn, svp, marketing for Spirits Marque One, Svedka's U.S. importer."
March 12, 2009 | 2 Comments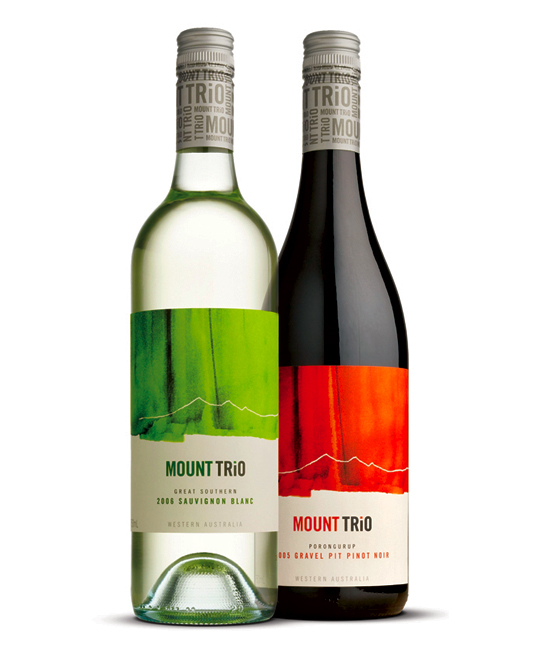 Designed by Public Creative | Country: Australia | Fonts used: Trade Gothic
"Contemporary wine producers, Mount Trio, engaged Public Creative deliver branding which embodied a bold sense of place without using traditional and cliché images of mountains etc."
March 12, 2009 | 5 Comments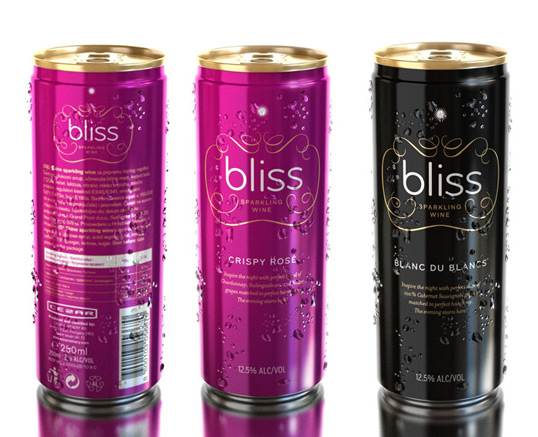 Designed by 360 Unibrand | Country: Serbia | Font used: Bryant
"Unibrand Belgrade proposed two designs including the naming for Cezar Winery from Germany – sparkling wines, both red and white (crispy rose and blanc du blanc) as the answer to growing market segment specialy in HORECA.
This type of drink is gaining popularity across Europe predominantly among female consumers as early-night drink. Girls ought to love it!"
March 10, 2009 | 2 Comments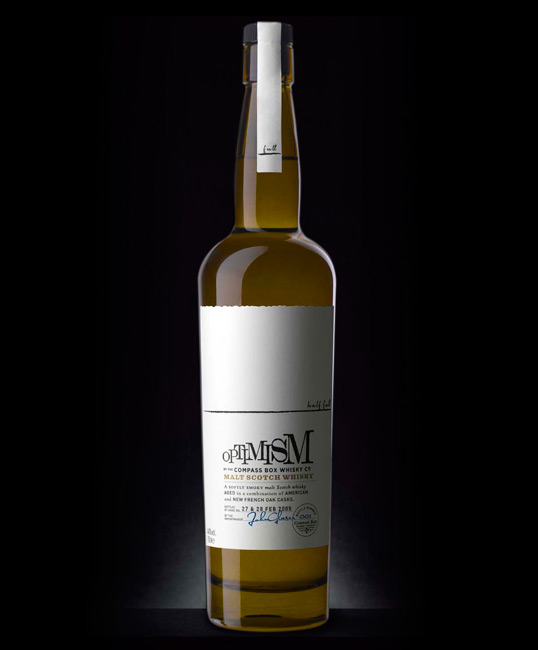 Designed by STRANGER & STRANGER | Country: United Kingdom | Fonts used: Old Times American, Sacre Bleu
STRANGER & STRANGER sent us their latest work. Be sure to check out the detail after the jump.
"Our client, John Glaser, is hoping to help people think more positively about the economic situation with his fin hand bottled blended scotch. To the optimist the glass (bottle) is half full…"