March 16, 2009 | 9 Comments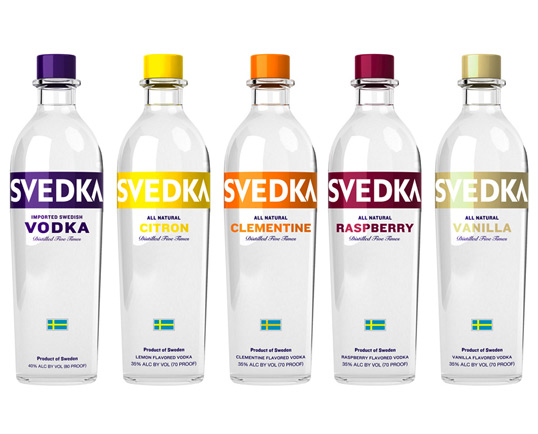 Designed by ESTABLISHED | Country: United States | Fonts used: custom type, Snell Roundhand.
"The new bottle for Svedka imported Swedish vodka had to be bilingual: It needed to speak  to younger scenesters who consider themselves "in the know" and hang out at trendy nightspots as well as an older, more affluent consumer who likes to have a drink at home. This meant the packaging had to look equally attractive lit up on the back-bar of a hip club as well as lining a club store's shelf, said Marina Hahn, svp, marketing for Spirits Marque One, Svedka's U.S. importer."
March 12, 2009 | 2 Comments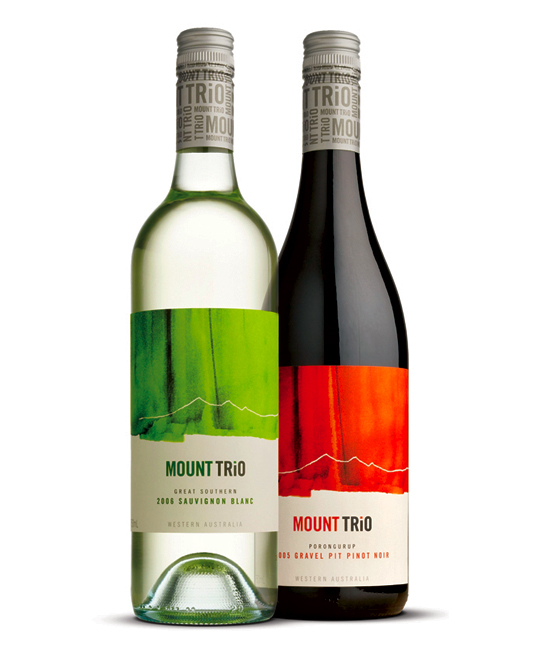 Designed by Public Creative | Country: Australia | Fonts used: Trade Gothic
"Contemporary wine producers, Mount Trio, engaged Public Creative deliver branding which embodied a bold sense of place without using traditional and cliché images of mountains etc."
March 12, 2009 | 5 Comments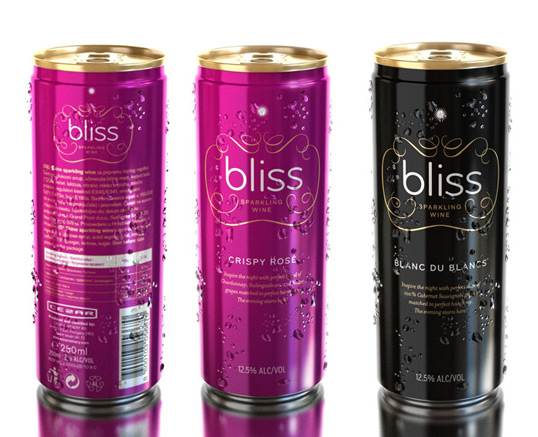 Designed by 360 Unibrand | Country: Serbia | Font used: Bryant
"Unibrand Belgrade proposed two designs including the naming for Cezar Winery from Germany – sparkling wines, both red and white (crispy rose and blanc du blanc) as the answer to growing market segment specialy in HORECA.
This type of drink is gaining popularity across Europe predominantly among female consumers as early-night drink. Girls ought to love it!"
March 10, 2009 | 2 Comments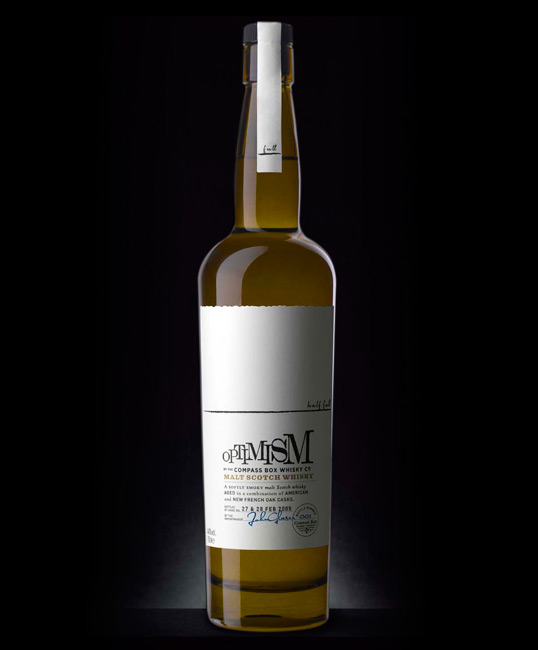 Designed by STRANGER & STRANGER | Country: United Kingdom | Fonts used: Old Times American, Sacre Bleu
STRANGER & STRANGER sent us their latest work. Be sure to check out the detail after the jump.
"Our client, John Glaser, is hoping to help people think more positively about the economic situation with his fin hand bottled blended scotch. To the optimist the glass (bottle) is half full…"
March 10, 2009 | 1 Comment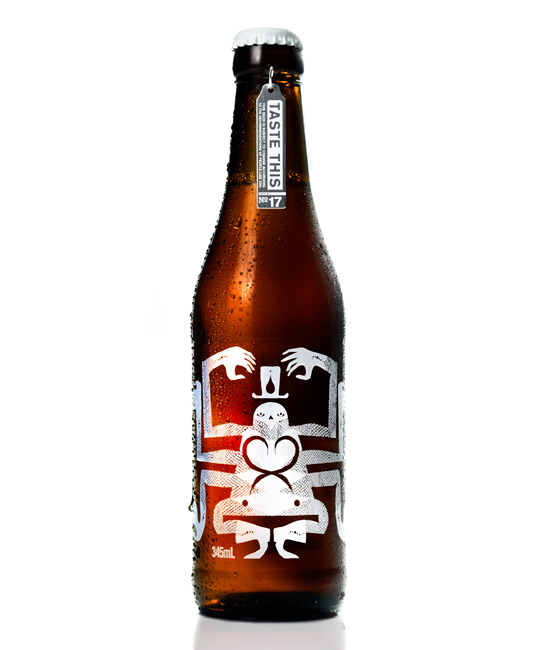 Designed by The Taboo Group | Country: Australia
"On the 110th day we said ʻlet it be named'. And from that day forward it would be called Nelson.
It's been a long time coming, but the Trial Brew, also known as Batch #15, has finally been dubbed and
officially launched.
Trial Brew began its life in a plain bottle appearing as a silent sponsor of music, fashion, and art events
during the latter months of 2008. At these events, as well as through a website and special information
postcard, we gathered feedback from creative types (approximately 1,000 of them) regarding the look, taste,
and possible names for the beer.
March 9, 2009 | 2 Comments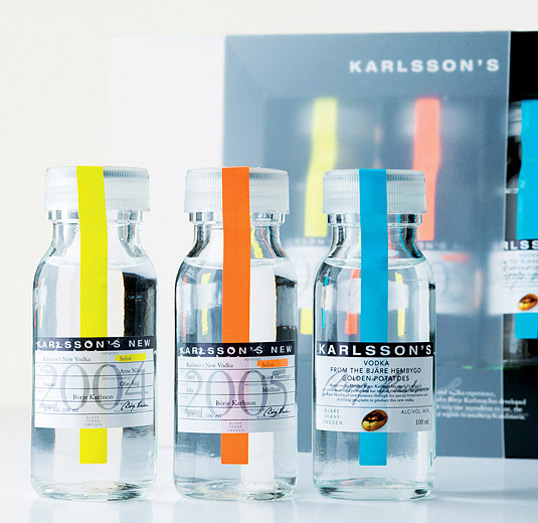 Designed by The Brand Union | Country: Sweden |  Fonts used: Helvetica, ITC Garamond, Trade Gothic
"Most people would probably have been satisfied with such an outstanding career, and rested on their laurels – but not Hans. On the contrary! Instead, he left the ad agency and started Brindfors Design, from 1999 part of Enterprise IG Group. And with his creative direction for Karlsson's vodka perhaps starting a new chapter in the Swedish vodka story."
March 7, 2009 | No Comments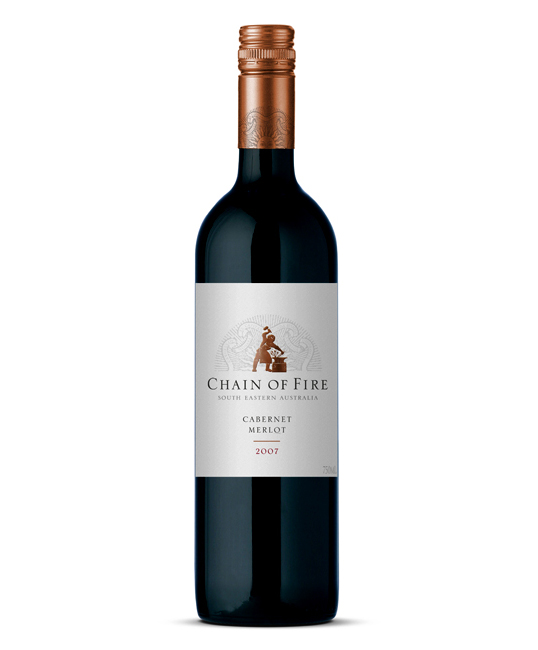 Designed by Public Creative | Country: Australia | Font used: Serlio
"The new brand from Robert Oatley Vineyards features Vulcan (the Greek god of volcanoes) representing an extinct chain of volcanic mountains located in the regions from which the wines are sourced."
March 5, 2009 | 2 Comments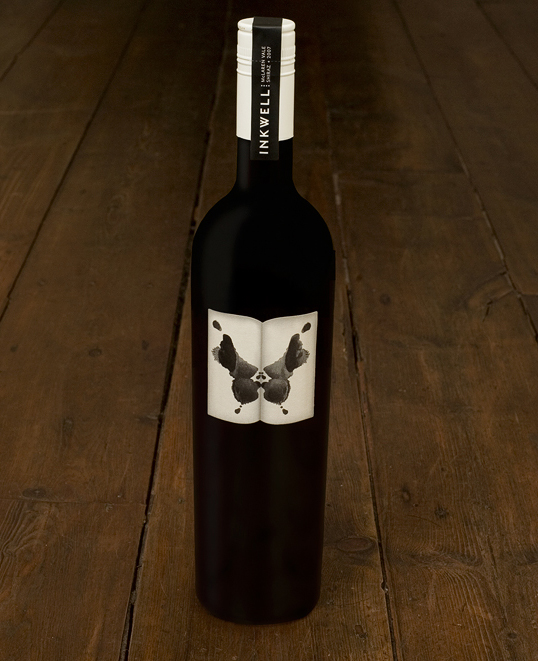 Designed by Mash | Country: Australia | Fonts used: Priori Sans
"Inkwell approached Mash to rejuvenate their wine packaging and brand identity. The ink splatter forms the central part of the brand identity and packaging. Logo type was kept simple and used on a neck label to keep separation between the type and the strong yet simply presented ink imagery. The label shape reflects the open pages that would create such a pattern. Uncoated stock was used with 2 levels of high build gloss varnish on the ink area, giving the label a three dimensional feel."
March 5, 2009 | 1 Comment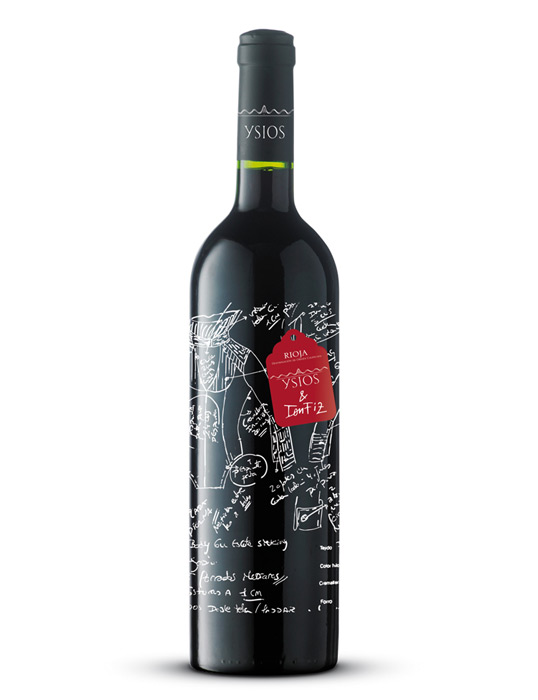 Designed by Supperstudio | Country: Spain
"The latest collection of Ion Fiz presented this week at Madrid Fashion Week has a very singular novelty, came the birth of the first fruit of the union between a designer's inspiration and know of a great winemaker. A 2005 vintage wine author, elegant but with a heel, designed, dressed and labeled by the enfant terrible of Spanish fashion."
March 3, 2009 | 1 Comment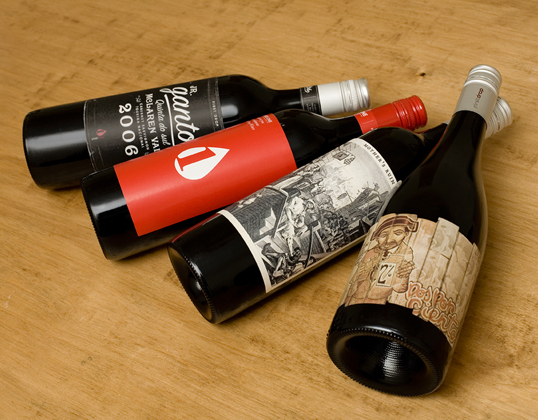 Designed by Mash | Country: Australia

"Over the past year Mash has been working with the award winning First Drop Wines to produce a variety of labels. Featured here are Jr Gantos, The Red One, Mothers Ruin and Two Percent. Mash worked with San Francisco based Illustrator Rueben Rude who helped illustrate the Two Percent label. Stay tuned for two more First Drop projects. Currently a work in progress that includes a flagship product; said to be the holly grail of wines"