February 26, 2009 | 1 Comment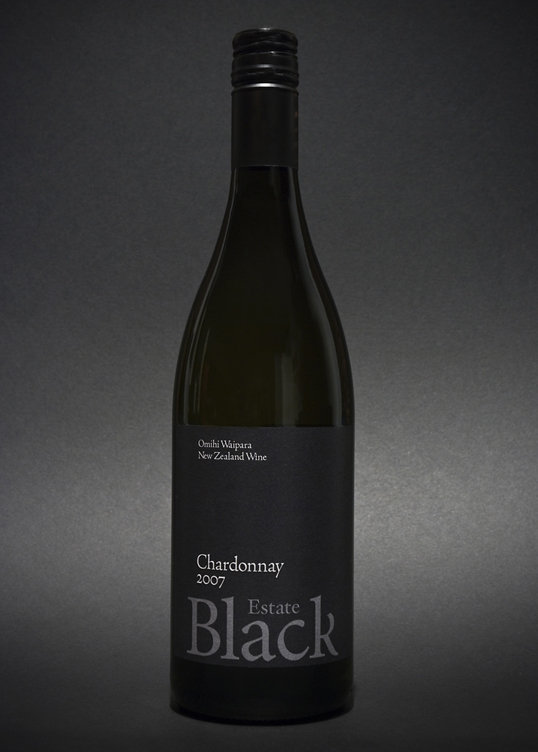 Designed by Sons & Co. & Robert Jamieson | Country: New Zealand | Fonts used: Minion
February 25, 2009 | 1 Comment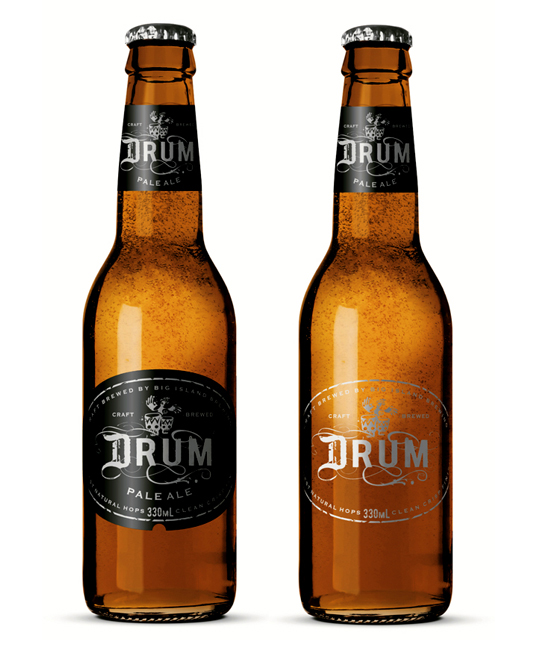 Designed by Public Creative | Country: Australia
"Drum is a new beer product aimed squarely at the late night club scene. Public Creative created the name, character, story and designed all the branding for Drum."
February 24, 2009 | 2 Comments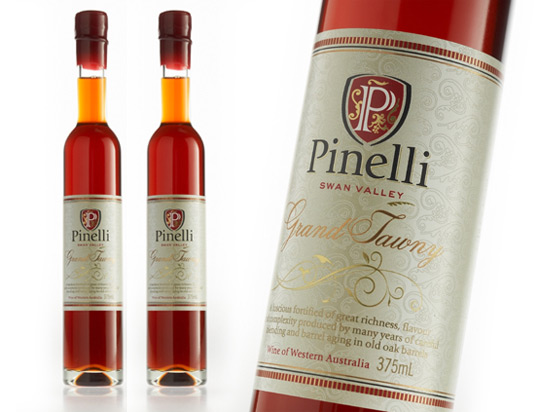 Designed by Iannello Design | Country: Australia | Fonts used: Colonna, ITC Giovanni, Sackers Gothic, Formal Script
"Located in Western Australia's Swan Valley region, Pinelli's is a traditional family owned winery with old fashioned methods and values. The 'Crest' logo developed for them and subsequent promotional material & labeling system helps reflect this traditional appeal and re-enforce a sense of history, and old fashioned values while projecting a modern, clean and visually appealing look and feel."
February 23, 2009 | 3 Comments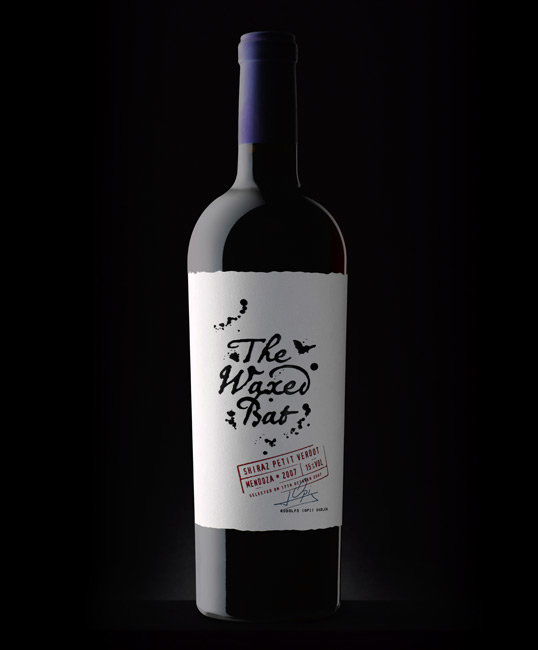 Designed by STRANGER & STRANGER | Country: United Kingdom | Fonts used: FF Confidential
"A super-premium, pitch dark, high alcohol wine. The bizarre brand name derives from a childhood memory of the winemaker. His father had some ancient bottles of wine stored in a cellar inhabited by bats which used to scare him as a boy. The bottles had wax seals on them. It was these elements that came together in his mind to give the term Waxed Bats."
February 23, 2009 | 1 Comment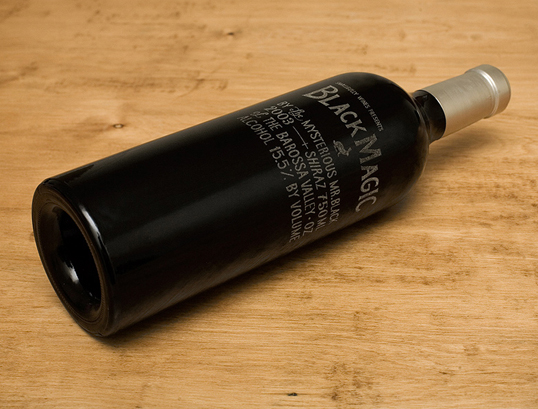 Designed by Mash | Country: Australia
"The top of the pops produce for Small Gully, by wine maker Stephen Black.  This limited edition wine represents the best of the Small Gully range and a wine personally developed by the mysterious Mr. Black. The concept was to produce a simple hand written, almost home made package, as if the wine maker had scratched the details of the wine into the bottle himself. A beautiful imported glass bottle was chosen that Mash then had laser etched. The words actually cut into the surface of the glass giving a great tactile and very raw feel. Something that screen printing could not achieve. The result was a cross between contemporary luxury and personalised roughness."
February 21, 2009 | No Comments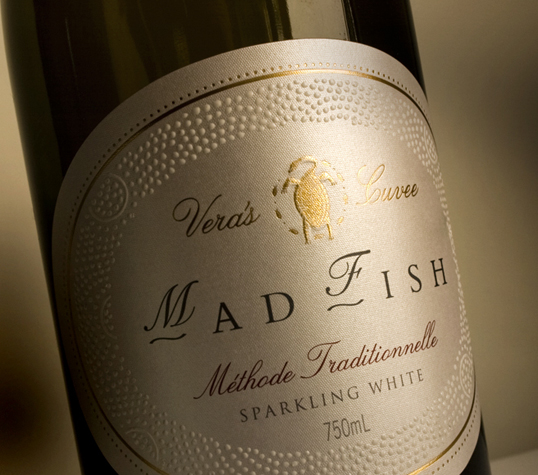 Designed by Public Creative | Country: Australia | Fonts used: Formal Script, Trajan
"The limited release MadFish Sparkling label was designed to work in sympathy with already famous Australian MadFish wine brand."
February 20, 2009 | 2 Comments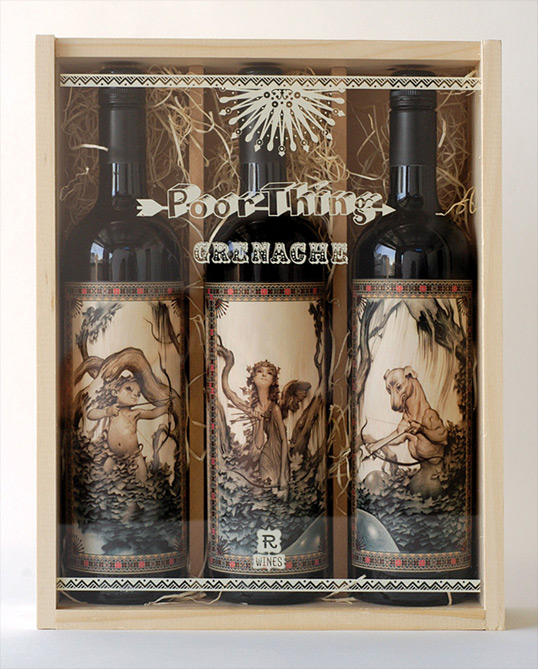 Designed by James Jean | Country: United States
"I worked with the Grateful Palate a while ago on a series of wine labels, and they are finally available for sale. The theme was Southern Gothic, and I brainstormed some concepts with owner Dan Philips and designer Beth Elliot. They gave me a lot of creative freedom, and the typography was expertly done by Jeff Keedy. There are little bits of foil printed in the intricate framing elements.
I researched the imagery and stories from the region and time period to get inspired: some immediate triggers were kudzu, sprawling oak trees, and antebellum images like the Southern Belle."
February 19, 2009 | 2 Comments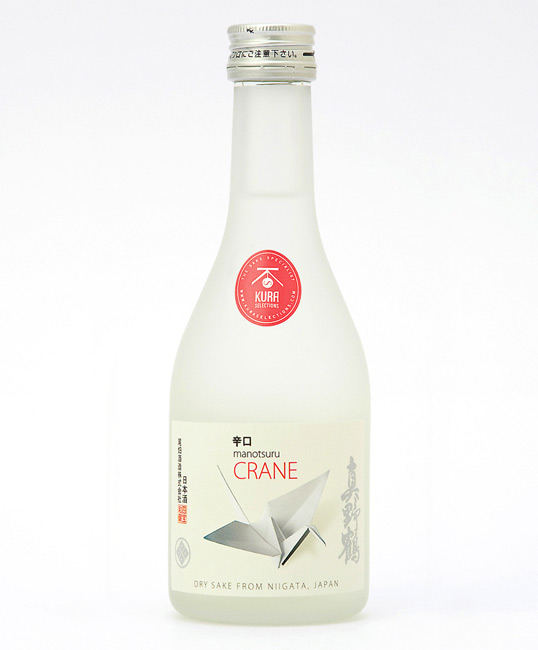 Designed by Boldrini & Ficcardi | Country: Argentina | Fonts used: Myriad
Thanks to Boldrini & Ficcardi for sending us this Origami inspired design for Crane Sake.
February 19, 2009 | 7 Comments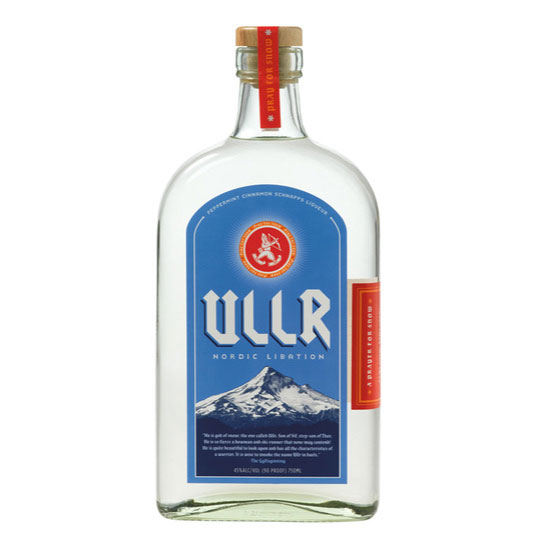 Designed by Leopold Ketel & Partners | Country: United States | Fonts used: FF Pullman
"The peppermint schnapps category didn't have a brand that truly represented the lifestyle of its audience. So we worked with Hood River Distillers to create ULLR, a libation for snow enthusiasts named after the Norse god of snow sports."
February 18, 2009 | 1 Comment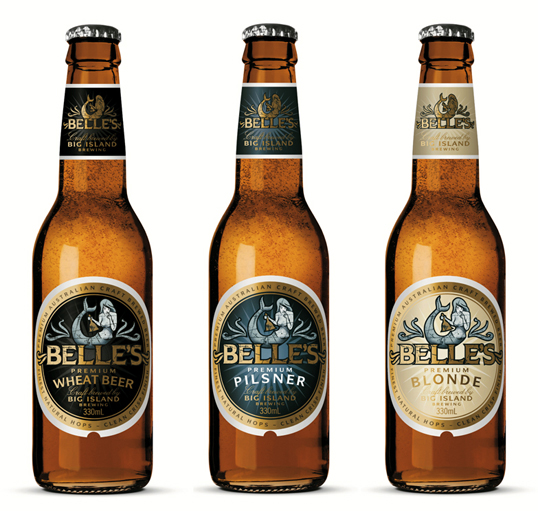 Designed by Public Creative | Country: Australia
"Belle's is a new beer product aimed squarely at the premium end of the market. Public Creative created the name, character, story and designed all the branding for Belle's beer."