September 18, 2013 | 3 Comments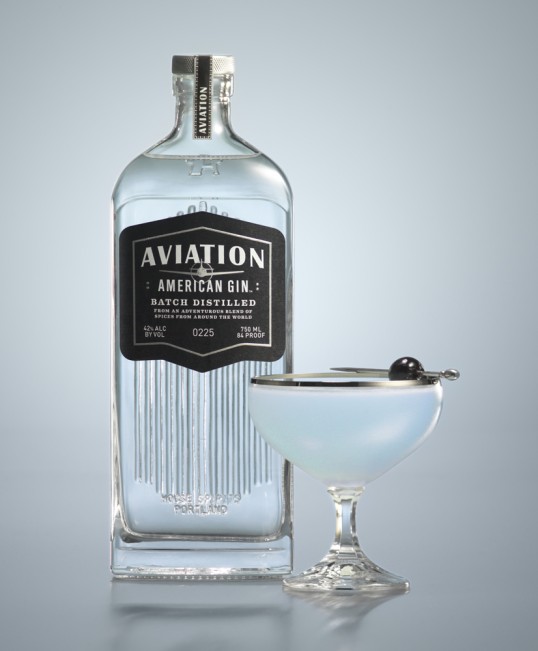 Designed by Sandstrom Partners | Country: United States
"Award-winning brand design agency Sandstrom Partners announced it has completed a dramatic new package design for Portland-based distillery House Spirits' flagship product, Aviation Gin, according to Sandstrom president Jack Peterson.
House Spirits is one of the most established and fastest-growing craft-distilleries in the United States, and the company needed to establish its point of differentiation from traditional London Dry Gin.
"Up until now, gin has been a spirit closely associated with the English—London dry gin," Peterson said. "Aviation is creating the new American Gin experience, downplaying juniper and adding other adventurous botanicals such as cardamom, lavender, Indian sarsaparilla, coriander, anise, and dried sweet orange peel for a more balanced flavor. The bottle and label are designed to strikingly differentiate the brand from the pack in an American way."
September 16, 2013 | 1 Comment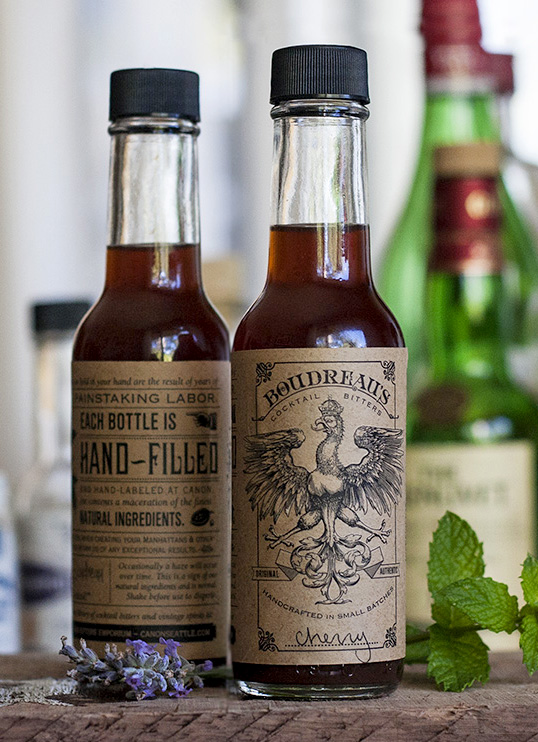 Designed by David Cole Creative | Country: United States
"This project was another chance for me to work with Canon Seattle's famous Jamie Boudreau – award winning bartender, restaurateur, curator of the world's best drink selection (an actual award, 2013)  and great client. I was excited to have this opportunity to dress up his signature bitters with the premium label design they deserve. An embossed, common (master) label design with write-in varietal name is flexible and affordable, while at the same time lending a hand-made touch to these authentically hand-made bitters."
September 15, 2013 | 3 Comments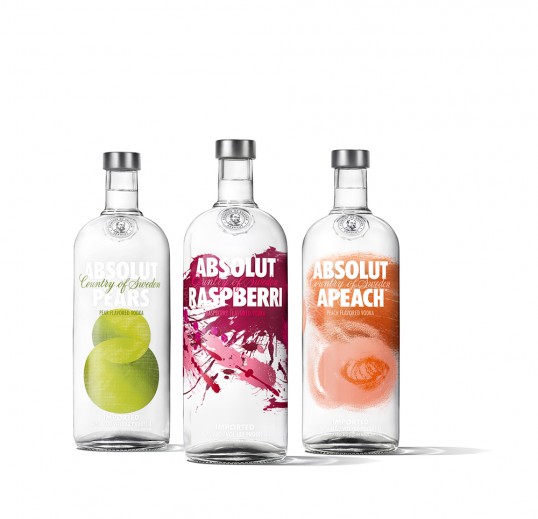 Designed by The Brand Union | Country: Sweden
I know we're a bit late to the party with this work, but it's great nonetheless.
"This is one of the most dramatic changes we've ever made, and our biggest and most transforma- tive design project ever. Our goal was to give our customers distinctive designs that are unlike anything one has ever seen. Vibrant, captivating bottles that bring energy to any occasion and celebrate the fact that every flavour in the ABSOLUT VODKA range is something extraordinary," says Anna Kamjou, Global Design Director at ABSOLUT. "The standard
thinking says a fruit-flavoured vodka requires fruit imagery. We wanted to break that convention. We asked our design team to reach into the symbolism and myths tied to the ingredients to find each flavour's core essence — and then amplify that essence through art."
September 14, 2013 | No Comments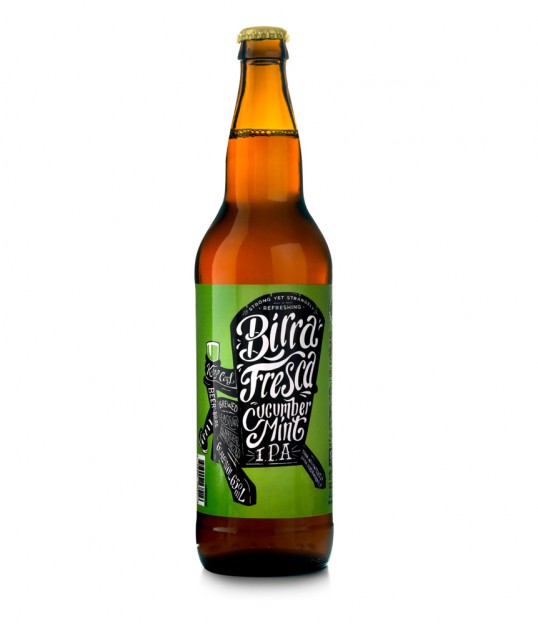 Designed by Saint Bernadine Mission Communications Inc. | Country: Canada
"Birra Fresca, a palate smacking cucumber mint IPA, is the latest addition to R&B Brewing's family of hand-crafted beers design by Saint Bernadine Mission Communications Inc. Strong, yet strangely refreshing, this beer's cucumber and mint notes inspired the fresh summer colours and cues, while the beer's 6% heft required a deep comfortable chair.
Like other R&B Brewing beers, the design language is inspired by R&B's resolutely hand crafted product – as such, every element on the packaging is rendered by hand, including the bar code. Key brand story elements, hand rendered in expressive type, and additional varietal information, like IBU scale, boil information, aging temperature, hop and barley type and mix all support R&B's independent, craft positioning."
September 10, 2013 | No Comments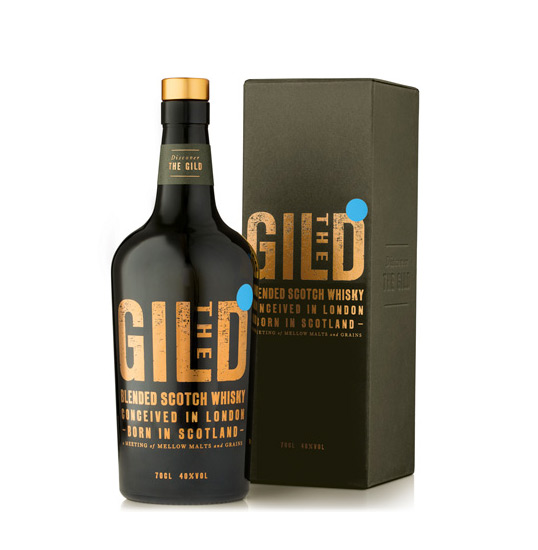 Designed by Pearlfisher | Country: United Kingdom
"Task: To create a new standout and authentic whisky brand for the Russian market and beyond that would help make the world of whisky accessible.
Scope: Strategy, brand identity, naming, brand language and tone of voice, structure and graphics.
Solution: The new brand and packaging design challenges the category standards and creates a new language for the whisky market. The brand equities are ownable to the Gild and designed to work as recognisable signposts for the whisky community. The brand identity, inspired by letterpress, is bold and authentic and communicates a high level of craftsmanship, clarity and refinement. The name refers back to the guilds of London – the masters and the craftsmen – but has a double meaning with 'gild' also referring to the gold standard. The bottle states that the whisky is 'conceived in London, born in Scotland' to establish its Western heritage and desirable credentials that the primary Russian audience is seeking."
September 9, 2013 | 6 Comments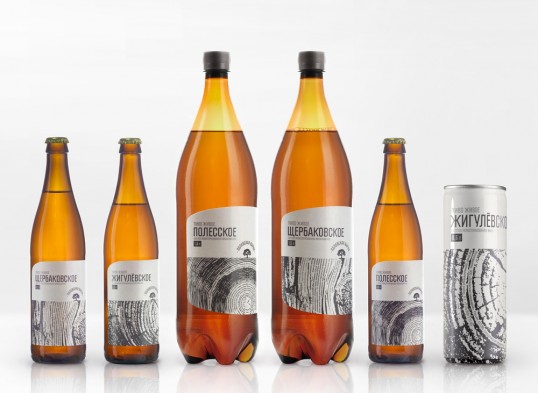 Designed by Red Pepper | Country: Russia
"Beer package concepts are usually very beautiful.
But in reality, the Russian's law demands placing a lot of additional mandatory information on the bottle. And this becomes a problem, because sometimes this information occupies more than 50% of label space.
Looking on the brewery's logo in a shape of a tree, we have chosen direction of eco-labels and used the texture of tree bark and felling. We embedded all mandatory information about consist and limitations to the natural wood texture, saving the visual harmony and purity of idea.
100% of mandatory information shown. 100% of idea saved. 100% not fake and already in stores."
September 6, 2013 | 1 Comment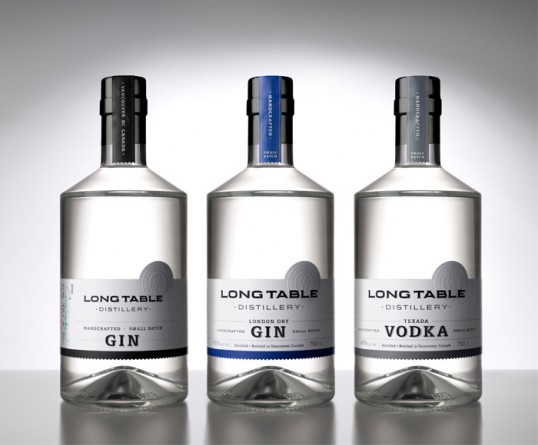 Designed by Saint Bernadine Mission Communications Inc. | Country: Canada
"Long Table Distillery is a producer of handcrafted, premium, small-batch spirits based in Vancouver, BC. Its West Coast heritage, expert knowledge, and dedication to organic, high-quality ingredients were the foundation for the design by Saint Bernadine Mission Communications Inc. A design identity that reflected the distillery's commitment to craft and focus on small-batch quality was developed for its selection of unique gins, vodkas, and specialty spirits.
The design system needed to accommodate colour coding for flavours of their permanent line, as well as a system to allow for small artisan batches that are sold principally on site. To reflect the artisanal quality of the brand, key elements included a hand-stamped batch number, handwritten varietal, perforated edges, and dotted rules that act as a device to divide information on the label."
September 6, 2013 | No Comments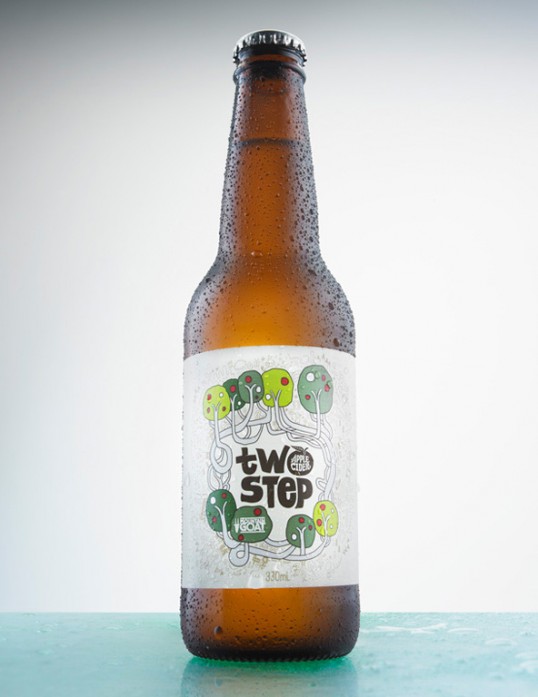 Designed by Freeform Advertising + Design | Country: Australia | Illustration: Rudi de Wet
"We needed to create packaging that allowed Mountain Goat to stand out as the quality contender, whilst avoiding the conventions of many other labels (colour choices, obvious apple imagery etc).
Yet it still needed to be clear it was a cider. For this, we imagined the kind of orchard a brand like Mountain Goat might source its apples from.
We then entered relevant terms into Google image search, and created a visual mashup of the more random results. These became the inhabitants of the orchard, such as the two-stepping goats, car castle, sneaky ninja and drum tractor.
The final product was this quirky, illustrated label which gave us a unique visual language for all packaging and communications."
September 5, 2013 | No Comments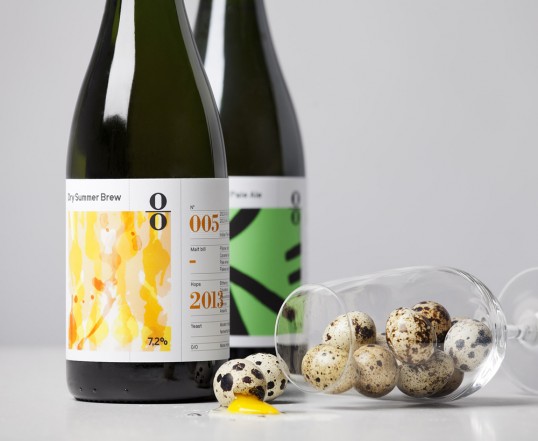 Designed by Lundgren+Lindqvist | Country: Sweden
"O|O Brewing is a recently founded micro-brewery built upon a foundation of many years of home brewing. Founded by two beer connoisseurs – O|O aims for quality rather than quantity, brewing high-end beers serving as a suitable alternative to the traditional choice of wine in fine dining contexts. We designed O|O's identity and packaging. The logotype was inspired by brewmaster Olle Andersson's peculiar glasses, his characteristic appearance having become somewhat synonymous with the brand.
With many friends of the brewery being involved in creative disciplines – we designed the labels leaving a defined space serving as a canvas for artist collaborations. With each beer being produced in limited quantities, the labels will serve as a micro-gallery growing over time."
September 5, 2013 | 4 Comments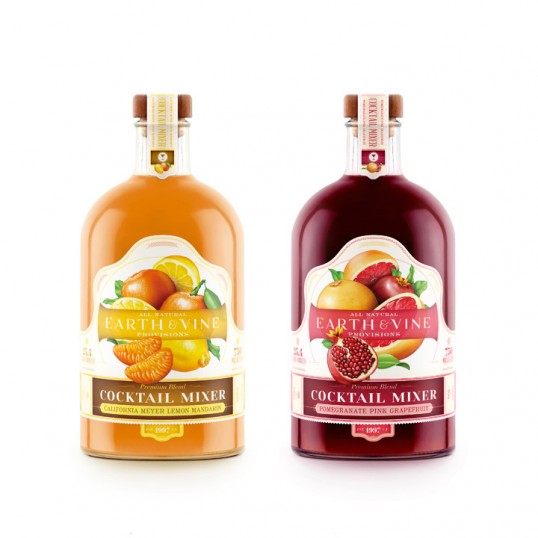 Designed by Moxie Sozo | Country: United States
"Earth & Vine Provisions offers more than 60 different jams, sauces, dressings and beverage elixirs for the gourmet market. Whether someone is a beginner cook or an advanced chef, the California-based company offers something for everyone. Earth and Vine's dedication to crafting the finest products on the market has garnered them numerous international awards, but also means the products are priced at a premium. Unfortunately, the branding and packaging did not reflect the quality of the food itself. Moxie Sozo was hired to rebrand, reposition and repackage Earth and Vine's entire lineup. Beginning with the beverage elixirs, the agency examined every aspect of Earth and Vine's offerings, including the pricing strategy. Since relaunch, Earth and Vine's sales have increased over 450%. The company is now positioned for strong growth and is reaching a far greater audience than ever before."