February 7, 2014 | 2 Comments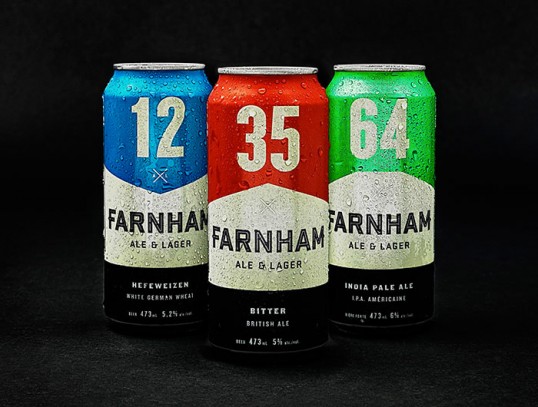 Designed by lg2boutique | Country: Canada
"The Farnham Ale & Lager Brewery is a new company that has just made a splash in the world of Quebec Beers. The brewer, located in the village of the same name, called on lg2boutique to design a brand platform that reflected its product, develop a graphic identity, design packaging and the total identity of the platform.
The branding of Farnham Ale & Lager positions this new Quebec brewer as an innovative brand that stands out in its category because of its taste and because of its look.
All of the graphic elements were chosen to highlight the beer's origin, which was this Eastern Townships railway town. The four flavours stand out with their strong colour codes, their degrees of bitterness are indicated by 12, 27, 33 and 64, highlighted numbers, and the diagonal cross symbolizes a railway crossing.
The platform contains packaging, promotional clothing, caps, glasses and coasters."
February 7, 2014 | 1 Comment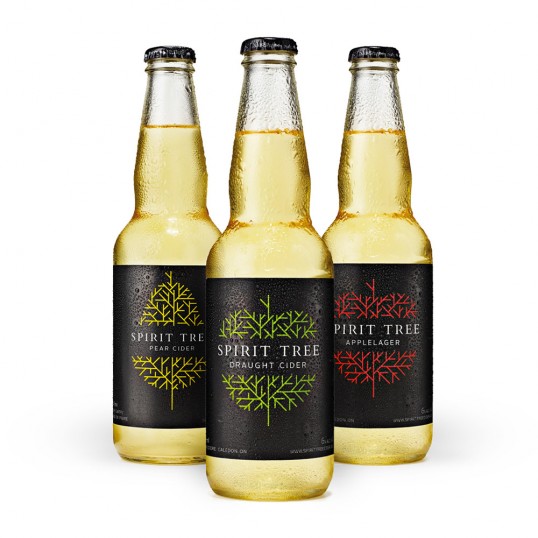 Designed by TAXI | Country: Canada
"Challenge: the challenge for this assignment was to take a small town Mom-and Pop cidery and transform it into a world-class contender within a wildly competitive beverage landscape.
Approach: due to the large volume of products Spirit Tree sells, we knew that a simple, yet bold design system was needed to differentiate each of the products. Spirit Tree has always been known as an apple cidery. With this in mind, we created a logo and visual language using modern-looking apple tree branches as the main design element. These branches were used as a pattern on everything from the packaging, corporate stationery, shopping bag and even as a design element within the store."
January 1, 2014 | 1 Comment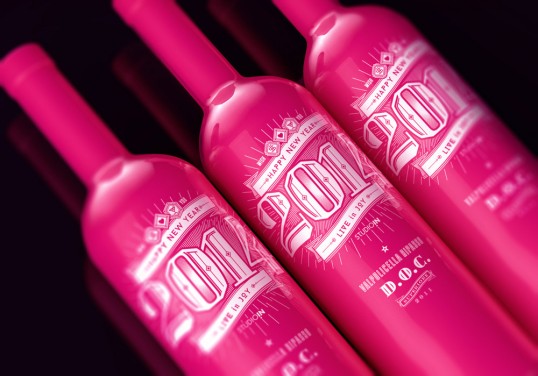 Designed by STUDIOIN | Country: Russia
"2013 was difficult but it also allowed us to achieve our ambitious goals. We created many interesting projects and won awards for our unique design of COMON SAVA wine. We've also expanded our presence beyond the Russian market, and are sure that the coming year will be even more progressive. 
For the fifth year in a row we've create a  New Year's present to give to our friends and partners. The bright and starry design reflects our mood.
The team at STUDIOIN wishes a Happy New Year and good luck to everyone! Hurray!"
December 30, 2013 | 1 Comment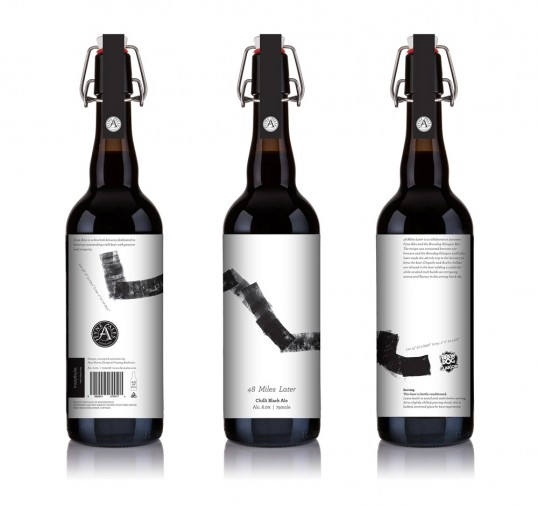 Designed by Freytag Anderson | Country: United Kingdom
"48 Miles Later" is a collaboration brew between Fyne Ales and Brewdog, all in the spirit of Brewdog's recent #Collabfest. The result is a unique Smoked Chilli Black Ale named '48 Miles Later', relating to the distance between the Brewdog bar and the Fyne Ales brewery.
We were engaged by Fyne Ales to develop a label for a limited edition 750ml release of the beer. In collaboration with designer Matt Burns, we developed a concept that would incorporate the two locations as well as the breathtaking drive required to reach the brewery from Glasgow to the shores of Loch Fyne. We interpreted the twists and turns of the epic route using ink and roller onto A1 textured board.
In addition to the beer label we created a short brand film. The film evokes the taste, textures and warmth of the beer whilst capturing the craftsmanship and bespoke nature of the craft beer brewing process."
December 30, 2013 | No Comments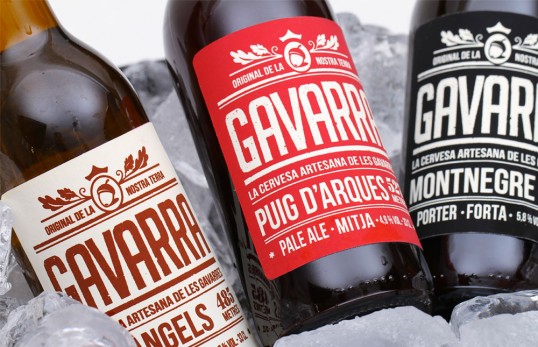 Designed by Font3studi | Country: Spain
"Gavarra beer is made in the traditional manner and seeks to convey the values, history and authenticity of the local cork production trade that dates back to the early 18th century. Peelers, hauliers and stopper makers who, with their effort and dedication, were pioneers in exploiting the finest cork material in the world, while at the same time ensuring the preservation of the landscape of the Gavarres hills.
The territory of the Gavarres, as has always happened and still happens today with any inhabited area, reflects the activities and ways of life of the various human communities that have populated it. The names of the places and their legends reveal a way of perceiving and interpreting his world."
December 28, 2013 | 1 Comment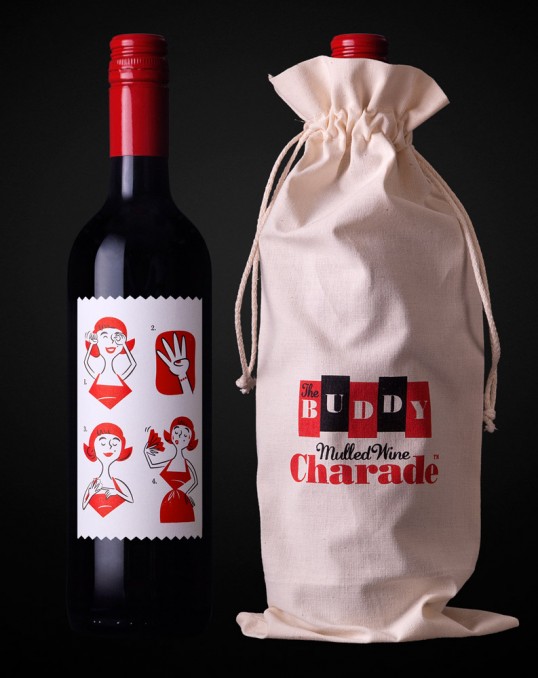 Designed by Buddy | Country: United Kingdom
"This year we decided to combine two of our favourite seasonal pastimes, enjoying a glass of hot mulled wine and a fun game of charades.
To provide a few extra clues, we had a bit of fun with the descriptor on the back label…
Our mulled wine charade features a full-bodied and voluptuous character, ably supported by an irresistibly fruity and distinctly Lemmony note.
If you prefer it warm (and some do), heat gently in a saucepan. Avoid boiling, which will spoil the flavour –now that would be a drag.
So Happy Christmas from everyone at Buddy. We hope this year's celebrations are Wilder than ever!"
December 17, 2013 | No Comments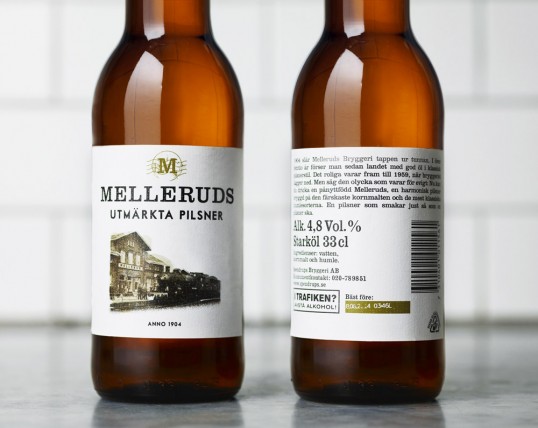 Designed by Neumeister | Country: Sweden
"Whoever said you can't recreate the past, apparently never told Spendrups master brewer, Richard Bengtsson. Inspired by archives and a fascination with historical brewing techniques, Bengtsson did just that, re-launching a Swedish classic that hadn't been around for over 50 years. Although Melleruds brewery is long gone, we wanted to respect the rebirth of its prized pilsner with a design language that presents the nostalgia and unvarnished aesthetic of the 1940s in a way that is current and inviting. Everything from the logotype to label design and packaging takes you back to a time when simplicity trumped sophistication, colour was a fad, and the words 'ordinary' and 'traditional' were considered high praise. Fast-forward to the present and you've got design that gets noticed, because it is honest. That stays fresh, because it is authentic. The perfect dressing for a beer Bengtsson considers "just as it should be."
December 16, 2013 | 2 Comments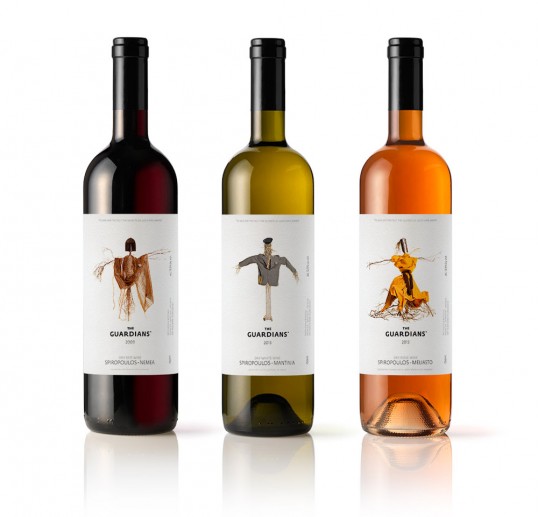 Designed by mousegraphics | Country: Greece
"The briefing (in brief):  we have a new type of wine which we would like to brand in an interesting way.
The target consumer: mass market product of good value and good price. Foreign and Greek markets.
The design: The client gave us freedom to think in any possible direction in order to create a consumer friendly, interesting identity for the new wines, which will be sold in Greece and abroad. This is an old family of prestigious winemakers with close ties to the land, the vineyards and even the unique buildings situated since the 19th c. in historic buildings, at the areas of Mantinea and Nemea in the Peloponnese. Updated with organic farming methods, the company's activity aims to produce high quality grapes and wines while protecting the ecosystem and the environment. All the above inspired a design based on the age old figure of the vineyard guardian: the scarecrow. An item of folk art, of basic necessity and common practice, the scarecrow has been the object of fascination by artists and village people alike. Festivals are organized around the world to celebrate the imagination and ingenuity involved in its making. Mousegraphics commissioned a well known Greek artist to draw and then make three different scarecrows to represent the white, red and rose labels. They were then photographed by a fashion and art photographer, with equal care. The brand name "the Guardians" is accompanied on the packaging by the small phrase: "to serve and protect the secrets of good wine-making ", and this summarizes our concept and its references."
December 13, 2013 | 1 Comment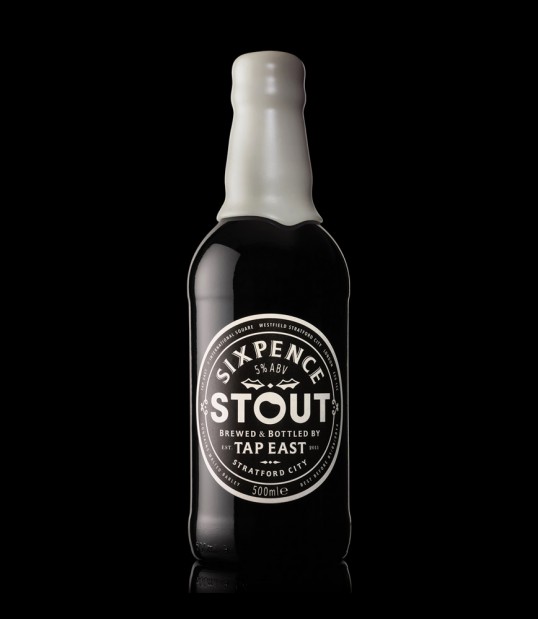 Designed by Midday | Country: United Kingdom
"With a subtle flavour profile of a traditional christmas pudding, our brief was to name and design this festive stout. Our solution, 'Sixpence Stout' was inspired by the coin traditionally baked into a Christmas pudding in Victorian times for good luck. The design references the Christmas pudding with a festive holly placed above the "O" of the stout and the brandy butter inspired waxing on the neck of the bottle. The design also takes influence from vintage ale labels of the period."
December 9, 2013 | No Comments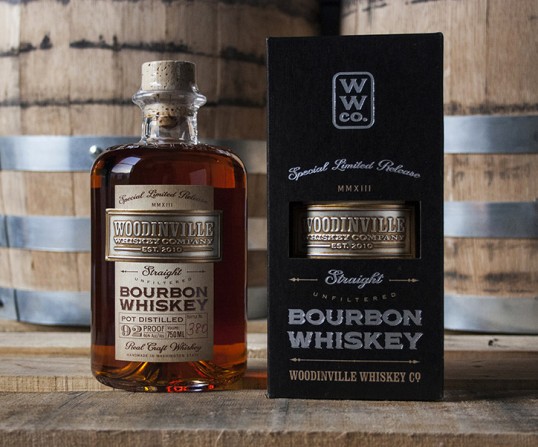 Designed by David Cole Creative | Country: United States
"I am proud to work with Woodinville Whiskey Company. They are producing some fantastic spirits and they're doing it with soul – and lots of local flavor (not to mention local grains). This project included an original label and carton design for their first ever straight bourbon. It's a special moment for a young distillery to release their first straight whiskey – it takes years of patience and there's no shortcutting it. I took the same approach on the package design."