February 18, 2014 | 2 Comments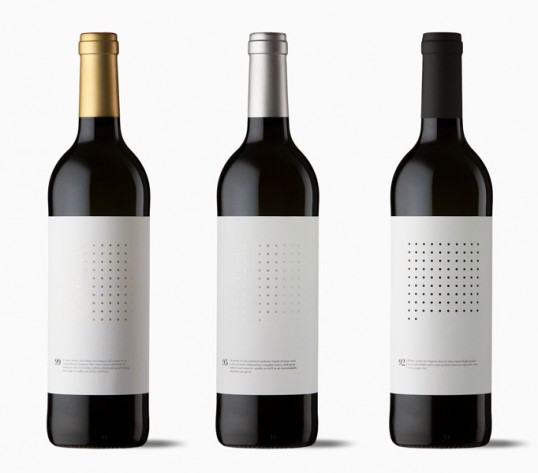 Designed by TSMGO | Country: Spain
"The main graphic element is a registered Dotted Grid®. The second one is the typeface: Didot, the Didot types defined the characteristics of the modern (or Didone) roman type style, with their substantial stems flowing into extremely thin hairlines; the serifs are straight across with virtually no bracketing. Because of the very fine hairlines that are characteristic of modern romans, their use was somewhat restricted in metal types."
February 17, 2014 | No Comments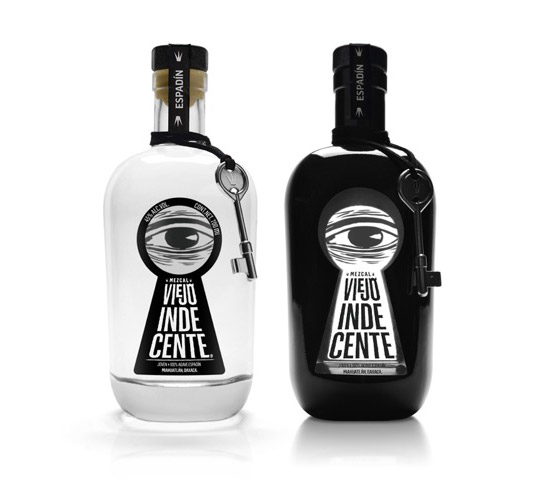 Designed by YuJo! Creatividad Aplicada | Country: Mexico
"We all have a dark side. It may remain hidden most of the time, but every once in a while, a glimpse of our other selves cannot be denied. 
Viejo Indecente opens the door to that other you. Is someone peeking through the keyhole or is it you who is looking into the forbidden? 
With a transparent spirit and bottle, we made the keyhole real by printing the eye in the back and letting an alpha circle in the upper part of the front label. 
Either by holding the bottle with both hands o rotating it over the table, this mysterious character's eye comes to life and follows you as you fight with your inner, darker self."
February 16, 2014 | 2 Comments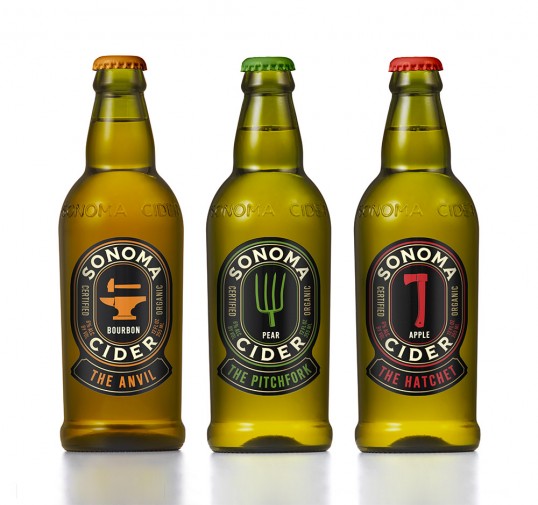 Designed by Sandstrom Partners | Country: United States
"Award-winning brand design agency Sandstrom Partners announces the completion of brand strategy and design for Healdsburg, California-based Sonoma Beverage Works for its new Sonoma Cider line, according to Sandstrom president Jack Peterson.
"Sonoma Beverage Works is a business owned by a family with a true passion for producing the finest American-made cider available," Peterson said. "Our brand design and packaging was carefully developed to reflect that passion for quality in every way."
February 13, 2014 | No Comments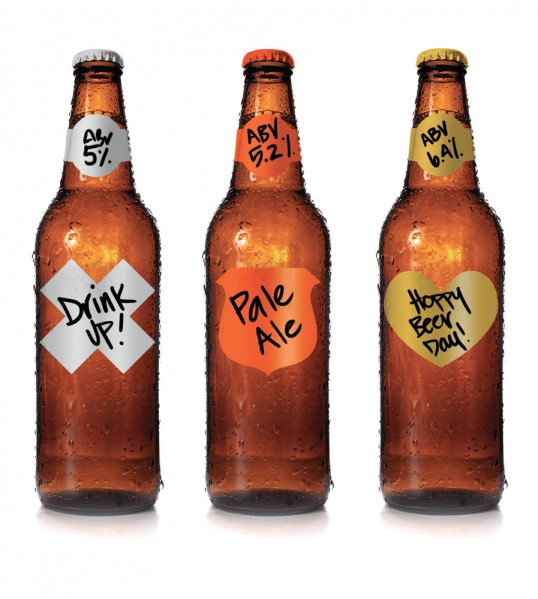 Designed by Garage Monk | Country: United States
"Writable. Washable Reusable. Mark your bottle by color and or write on them with a dry-erase marker. The labels come in several colors and shapes and are made of durable waterproof vinyl sticker material. They are ice proof, sweat proof and machine washable. Use your labeled bottle over and over again."
February 10, 2014 | No Comments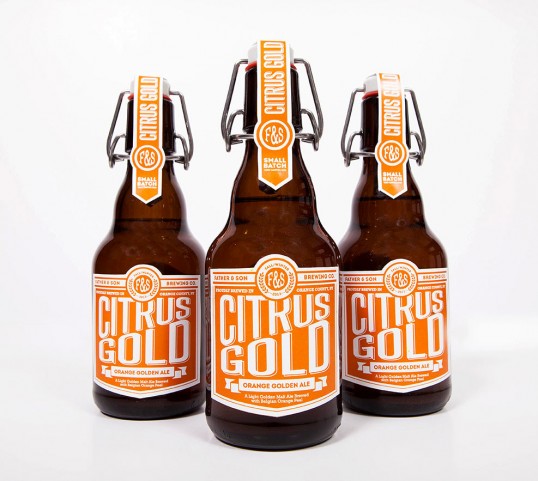 Designed by Craig Valentino Design | Country: United States
"During the 2014 holiday season, as per tradition, the home brew of Father & Son Brewing Company was created. This year, the name Citrus Gold was given to this orange golden ale, which of course was named after the sweet notes of Belgian orange peel used in the brewing process.  The idea was to create a label that was as bright, as bold, and as crisp as the the beer itself, allowing it to accurately represent the brew. 
The beer was then bottled using 2 different sizes of swing top bottles and hand-labeled with bright white thick-stock paper. It was then distributed as holiday promotional gifts."
February 8, 2014 | 1 Comment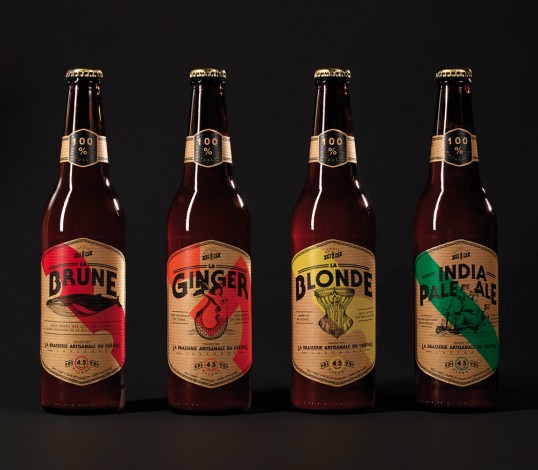 Designed by A3 Studio | Country: Switzerland
"The Brasserie Artisanale du Château based in Lausanne, Switzerland, commissioned the graphic design agency A3 Studio to create four new labels for their traditionally made beer, as well new packaging. 
The beers are brewed with a traditional process, for this reason A3 Studio has developed a graphic style which is both contemporary and traditional. The labels for la Brune, la Blonde, la Ginger and the India Pale Ale are inspired by the sea world and are decorated with ropes. The illustrations (a whale, a corset, a siren, and a ship) are drawn by hand to emphasize the hand made production of the beer, they are inspired by old engravings and sailor tattoos. 
Printed on craft paper, the labels stress the authenticity of the beer. The brown cardboard of the four-pack completes the look."
February 7, 2014 | 2 Comments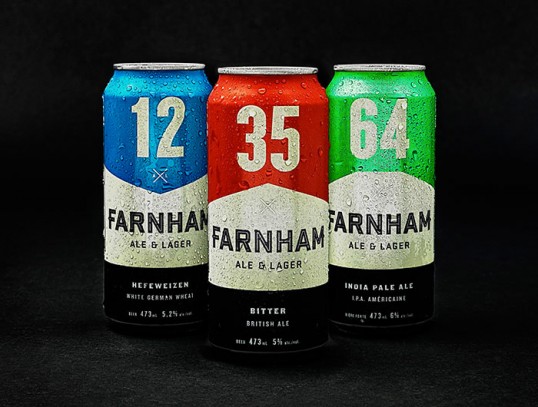 Designed by lg2boutique | Country: Canada
"The Farnham Ale & Lager Brewery is a new company that has just made a splash in the world of Quebec Beers. The brewer, located in the village of the same name, called on lg2boutique to design a brand platform that reflected its product, develop a graphic identity, design packaging and the total identity of the platform.
The branding of Farnham Ale & Lager positions this new Quebec brewer as an innovative brand that stands out in its category because of its taste and because of its look.
All of the graphic elements were chosen to highlight the beer's origin, which was this Eastern Townships railway town. The four flavours stand out with their strong colour codes, their degrees of bitterness are indicated by 12, 27, 33 and 64, highlighted numbers, and the diagonal cross symbolizes a railway crossing.
The platform contains packaging, promotional clothing, caps, glasses and coasters."
February 7, 2014 | 1 Comment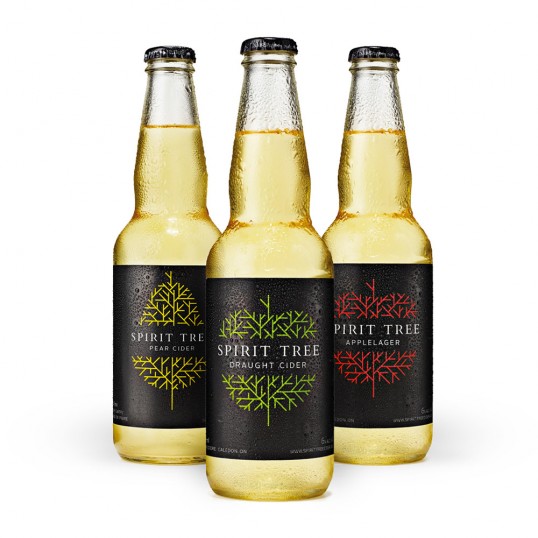 Designed by TAXI | Country: Canada
"Challenge: the challenge for this assignment was to take a small town Mom-and Pop cidery and transform it into a world-class contender within a wildly competitive beverage landscape.
Approach: due to the large volume of products Spirit Tree sells, we knew that a simple, yet bold design system was needed to differentiate each of the products. Spirit Tree has always been known as an apple cidery. With this in mind, we created a logo and visual language using modern-looking apple tree branches as the main design element. These branches were used as a pattern on everything from the packaging, corporate stationery, shopping bag and even as a design element within the store."
January 1, 2014 | 1 Comment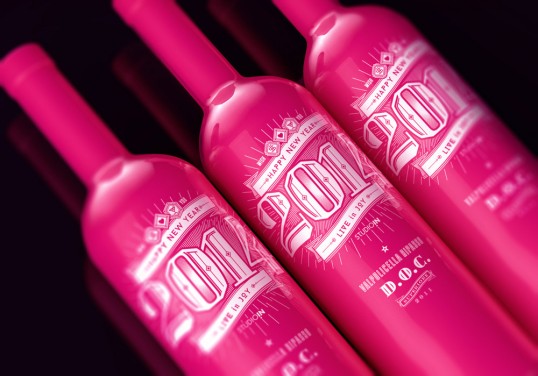 Designed by STUDIOIN | Country: Russia
"2013 was difficult but it also allowed us to achieve our ambitious goals. We created many interesting projects and won awards for our unique design of COMON SAVA wine. We've also expanded our presence beyond the Russian market, and are sure that the coming year will be even more progressive. 
For the fifth year in a row we've create a  New Year's present to give to our friends and partners. The bright and starry design reflects our mood.
The team at STUDIOIN wishes a Happy New Year and good luck to everyone! Hurray!"
December 30, 2013 | 1 Comment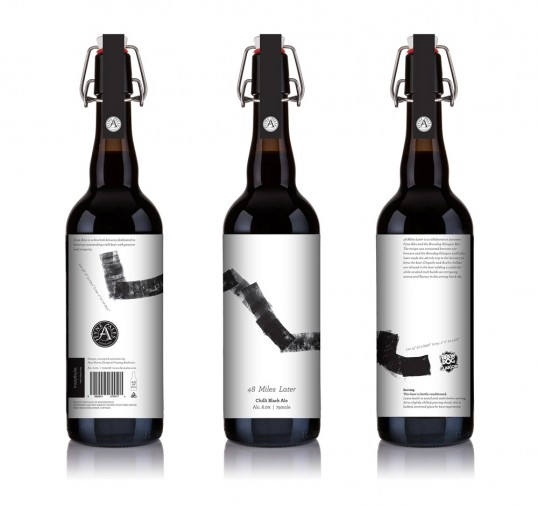 Designed by Freytag Anderson | Country: United Kingdom
"48 Miles Later" is a collaboration brew between Fyne Ales and Brewdog, all in the spirit of Brewdog's recent #Collabfest. The result is a unique Smoked Chilli Black Ale named '48 Miles Later', relating to the distance between the Brewdog bar and the Fyne Ales brewery.
We were engaged by Fyne Ales to develop a label for a limited edition 750ml release of the beer. In collaboration with designer Matt Burns, we developed a concept that would incorporate the two locations as well as the breathtaking drive required to reach the brewery from Glasgow to the shores of Loch Fyne. We interpreted the twists and turns of the epic route using ink and roller onto A1 textured board.
In addition to the beer label we created a short brand film. The film evokes the taste, textures and warmth of the beer whilst capturing the craftsmanship and bespoke nature of the craft beer brewing process."