January 15, 2013 | 2 Comments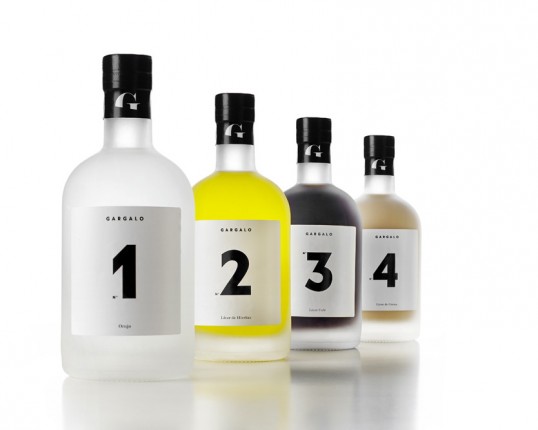 Designed by Solo | Country: Spain
"Naming and label design for the new line of spirits of Gargalo, based on the traditional flavors of galician liqueurs: "Orujo", herbal liqueur, coffee liqueur and cream liqueur. Each variety was given a number that consumers could easily identify and remember, creating a closer link with the company and maintaining the new corporate identity of sobriety and elegance."
January 13, 2013 | 2 Comments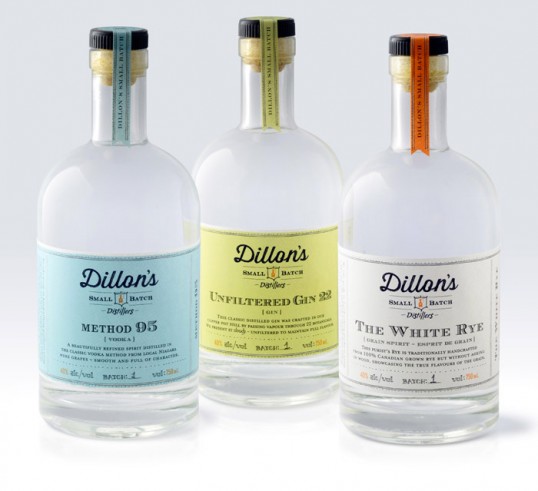 Designed by Insite Design | Country: Canada
"Dillon's Small Batch Distillers is a new entry into Canada's craft spirit scene; making crafty ultra high quality spirits in a Chad copper pot still in Beamsville Ontario, the heart of wine country. The goal was to create a crisp, easy and cheerful brand and package that could tell the story of pure natural ingredients and transparency in the Dillon's process.
Among the core products — Gin, Rye, Vodka and Bitters, Dillon's creates ever changing seasonal spirits in small batches so a packaging solution that could be fashionable while cost effective for small volumes was imperative. Consequently the stripped down palette and clear reliance on colour does the trick; modest low volume print costs while telling the brand story and creating a sunny presence on their store shelves and your bar."
January 8, 2013 | 3 Comments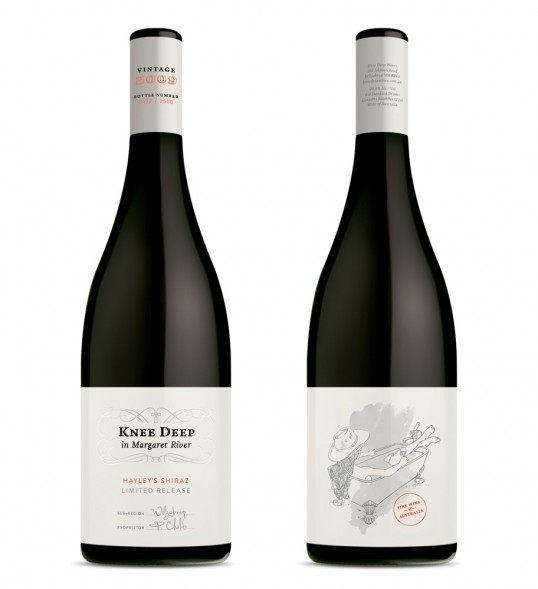 Designed by Studio Lost & Found | Country: Australia
"Knee Deep is an award-winning winery and restaurant based in Wilyabrup, Margaret River, Western Australia. We were commissioned by the owners, Phil and Sue Childs, to help them improve their packaging and strengthen their positioning in the marketplace."
January 7, 2013 | 4 Comments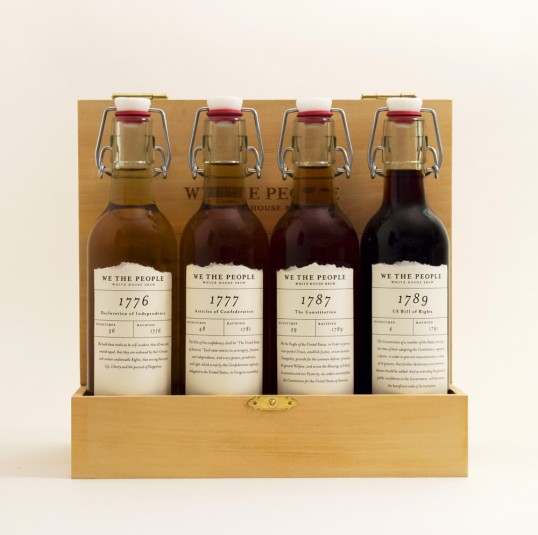 Designed by Michelle Wang | Country: United States
"This is a branding and packaging project for beer being brewed in the White House. Instead of being sold in stores, honorary guests receive this as a limited edition four-pack sampler from the President.  This fictional brand is named We the People, drawing inspiration from the historic documents on which our nation is founded on. The labels on each bottle pay tribute to a different document. Similar to how these documents are displayed in the National Archives in Washington DC, the packaging is meant to be utilized as a display case."
December 27, 2012 | 6 Comments
Designed by Toni Hall | Country: United States
"Neverclear is a classier, less clear version of Everclear. Neverclear is a grain alcohol which has a very strong alcohol content. I made this package to reflect the effects of alcohol after having a few glasses while still staying classy with clean typography. The bottle is a diamond shape, and when you turn the bottle back and forth the optical illusion changes as you see it through the glass. These optical illusions will only become more interesting as the party goes on."
December 27, 2012 | No Comments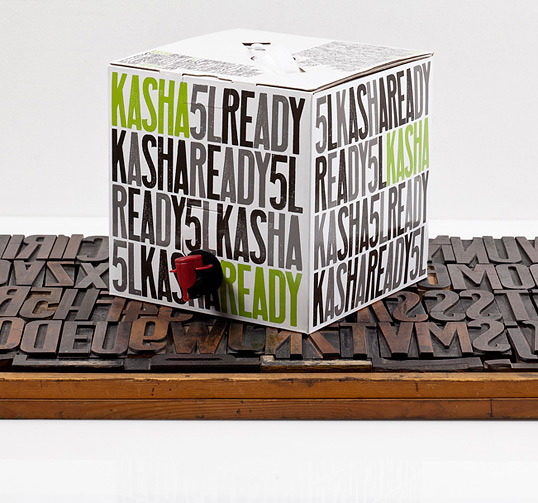 Designed by Marks | Country: Switzerland
"A taste of caipirinha. Graphic design from letterpress wooden typewriter "vintage fonts, recycle". The idea is to create a graphic frame when stacking the boxes."
December 26, 2012 | 5 Comments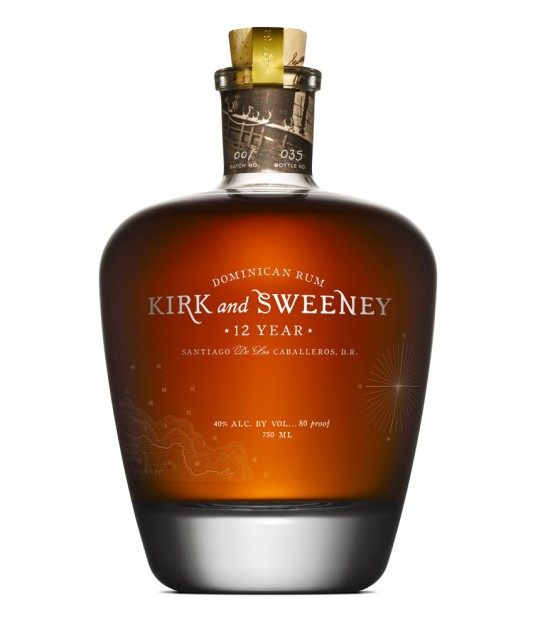 Designed by Studio 32 North | Country: United States
"Kirk and Sweeney was a wooden schooner, best known for smuggling rum from the Caribbean to the Northeast during the early years of Prohibition. The bottle and the raised cork were inspired by the elegantly squat 18th-century onion bottles, which typically contained rum. Playing off the concept of global navigation, an antique nautical map of the main rum smuggling route is silkscreened around the circumference of the bottle. The neck features custom hand-numbering, which speaks to the rare and precious nature of the cargo. Along with the ornate logo, the photo of the ship and the safety seal printed to look like nautical brass, the design serves as a reminder of the risk so many were willing to take for a taste of quality Carribean rum during the 1920's."
December 19, 2012 | 3 Comments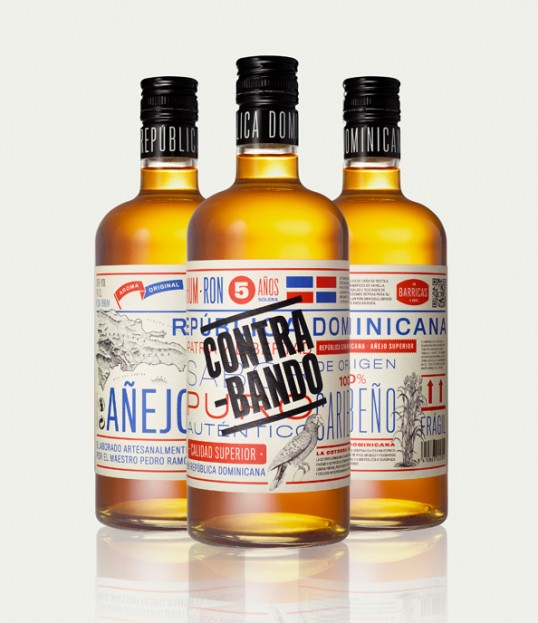 Designed by Tres Tipos Gráficos | Country: Spain
"Label design for Grupo Caballero's new rum. The goal was to emphasize the product's caribbean roots by stamping its name "Contrabando" (meaning smuggling in spanish) forcefully over the traditional graphic imagery, as if local customs had busted an original foreign product."
December 19, 2012 | 1 Comment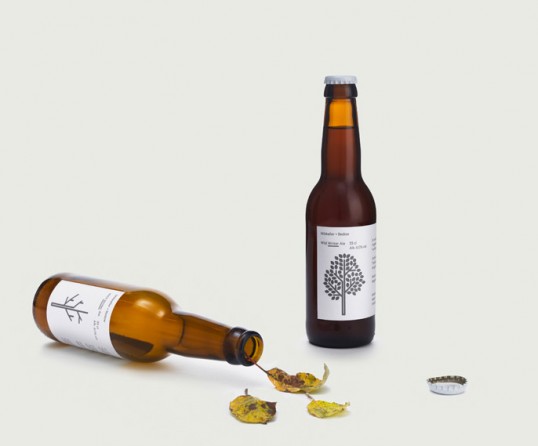 Designed by Bedow | Country: Sweden
"A collaboration with Danish brewery Mikkeller. This Wild Winter Ale is the fourth in a series of four seasonal beers released during 2012. The label is printed with a heat sensitive color — when the label gets warm the apple tree loses its leaves. Limited to 3,500 bottles."
December 18, 2012 | No Comments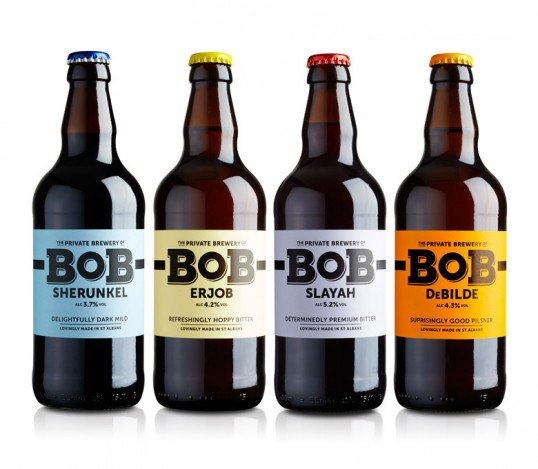 Designed by Distil Studio | Country: United Kingdom
"What do you get when you combine words and phrases with good honest beer?… BoB.
Short for 'Best of British', this St Albans based microbrewery uses quirky wordplay to set them apart.
We've worked with BoB to develop a modern and distinctive brand identity, with a touch of tradition for good measure, and a label system that can adapt to an ever increasing range of amazing beers, bitters and ales. With such inspired beer names as 'BoB Shurunkel', 'BoB Erjob' and 'BoB Bidazzler', we've let the beers do the talking.
The visual hierarchy ensures that the 'BoB' identity works hand-in-hand with each beer name whilst an unconventional colour palette marks this friendly brewery as a true one-off – now fully prepared for an ever increasing demand from local restaurants and pubs."