August 20, 2013 | 3 Comments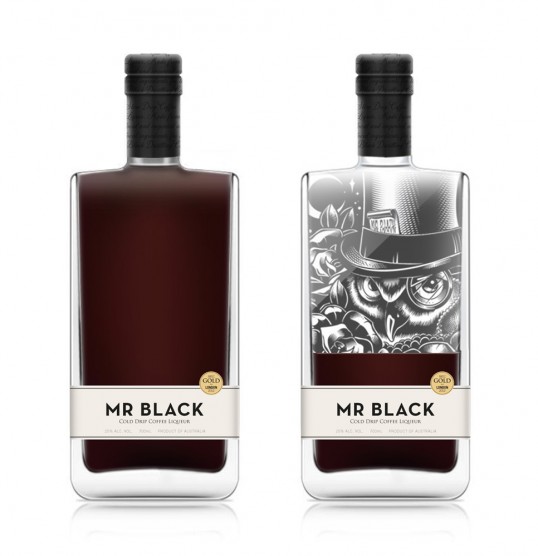 Designed by MR BLACK | Country: Australia
"We know MR BLACK isn't for everyone, it's not some cloying sickly sweet kiddie drink. It's a rich, cold drip coffee liqueur for those who appreciate good coffee so our packing needed to speak to that. At MR BLACK we're lovers of creative culture, so we knew we had to get a local artist in to help complete the product. At the same time, we didn't want it to be an overpowering element of the design or to draw attention from the liquid inside.
Sydney artist Dale Bigeni created an original artwork for the bottle that is screen printed on the back face, revealing only as the liquid is drunk. This allows us to have quite a bold and minimal design on shelf, but has some interest and playfulness once taken home. At the end of the day, we just wanted MR BLACK to look as good as it tastes."
August 17, 2013 | 4 Comments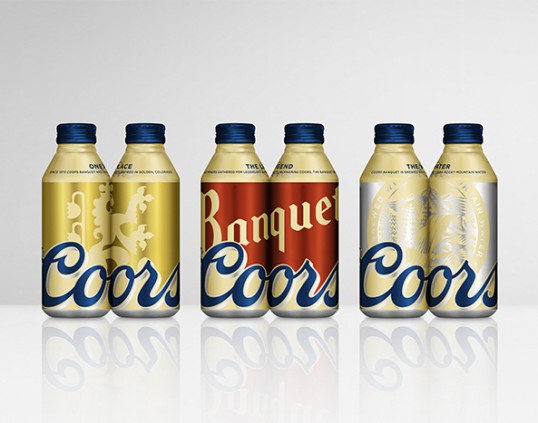 Designed by Landor | Country: United States
"From its origin as the beverage of choice at Colorado miner banquets to its high-quality ingredients, Coors Banquet is the one and only beer that exemplifies the legendary timeless western spirit.
The Banquet Beer celebrates its rich heritage with the limited release of three special edition pint designs, each commemorating an iconic symbol that has made Coors Banquet The Legend Since 1873."
August 15, 2013 | 1 Comment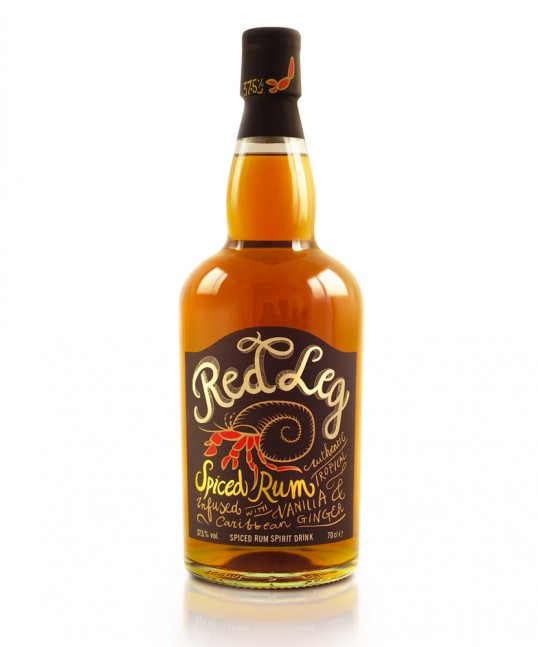 Designed by ButterlyCannon | Country: United Kingdom
"Premium brand design agency ButterflyCannon have created the brand identity and pack design for RedLeg, an authentic Caribbean spiced rum infused with Jamaican vanilla, ginger and spices.
RedLeg's design captures the brand's laid back Caribbean spirit; casual, chilled and totally Irie. An attitude shared by the brand's friendly little symbol –  the red legged hermit crab – a native of the glorious Caribbean coral reef whose scarlet legs protrude from its tiny shell and appear to have caught a little too much sun. A likeness that didn't go unnoticed when the pale, rum loving, immigrants arrived from Scotland in the 17th Century and suffered from the same sun burn issues, their descendants still known today as the Red Legs.
"We feel that ButterflyCannon interpreted our brief perfectly. We're delighted with the end result; the packaging design alone has led to bar listings!" Don Goulding, CEO Blavod Drinks.
The design has also already won a silver medal in the 2013 San Francisco Spirit Awards."
August 14, 2013 | 6 Comments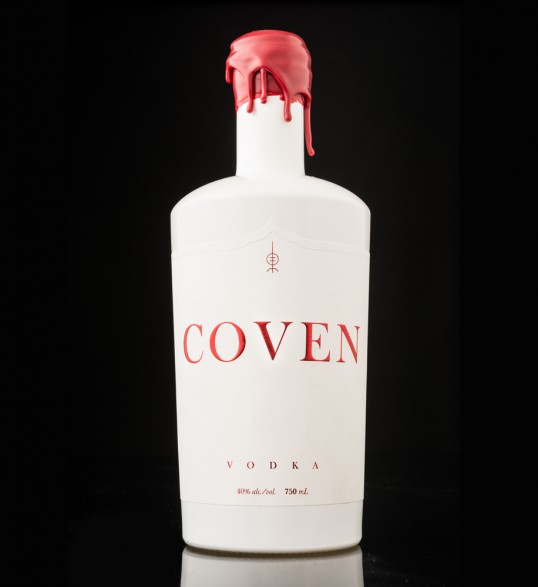 Designed by Hired Guns | Country: Canada
"Hired Guns Creative provided the product naming, branding, and packaging design for Coven, a vodka from Arbutus Distillery, Vancouver Island's newest craft distillery.
Cloaked in the heavy mists of the West Coast, a timeless rite enchants those who seek a greater spirit. Initiation requires strict dedication to the craft. There is power in numbers, so gather together because when the light fades, the ritual begins.
We've been waiting for you."
August 12, 2013 | 1 Comment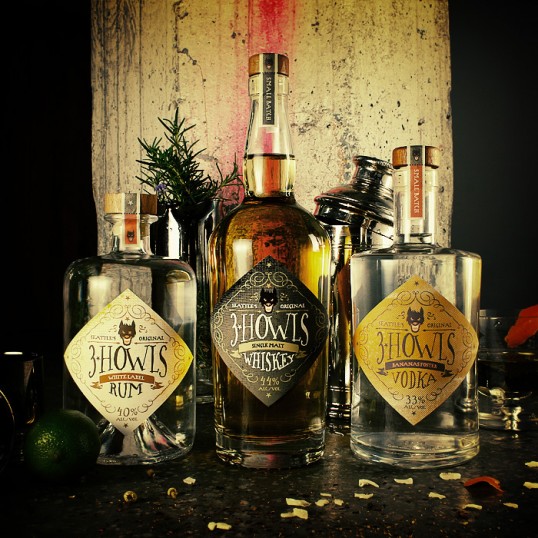 Designed by Force & Form | Country: United States
"Force & Form was commissioned to create an idiosyncratic brand identity for a new distillery, one that could blend Old World traditions with the creative vibe of Seattle's SODO district—which the distillery calls home. We named, branded and packaged the distillery "3 Howls" as an homage to a British legend. As the tale goes, Hell's hound howls 3 times before dragging revelers to the Underworld. The dog's color varies from village to village, from victim to victim—but their fate remains the same. While 3 Howls' spirits won't drag you to hell, they are attracted to revelers. Hand lettering reinforces the handcrafted, small batch nature of the brand positioning, as well as the gritty terroir of the Distillery's home. Traditional typographic structures and calligraphic flourishes honor distilling's rich visual history. The diamond-shaped dieline maximizes shelf pop and unifies the brand across 3 traditional bottles. The result is gritty neo-traditionalism—branding that fits into but stands out from the crowded Seattle distilling scene. 3 Howls is a blend of grit and finesse—authenticity and imagination."
August 11, 2013 | 3 Comments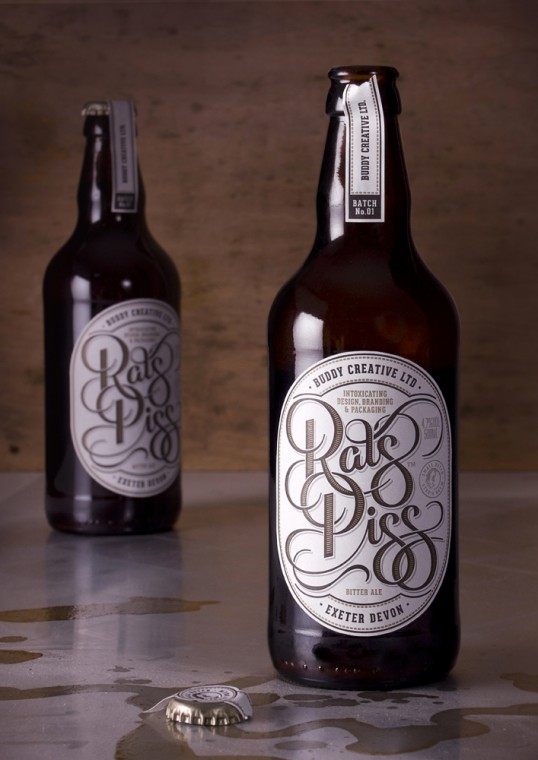 Designed by Buddy | Country: United Kingdom
"Late last year, we indulged our inner brewers and had a go at making our own beer. As designers, we thought it would give us a hands-on insight to the basic principles of the brewing process, and as drinkers, we thought it would give us a barrel-load of good times.
Sadly, the results weren't quite what we'd hoped and on reflection, we've decided to leave the brewing to the experts.
We branded and packaged our produce appropriately and sent it out to local brewers and craft beer producers to introduce ourselves."
August 10, 2013 | No Comments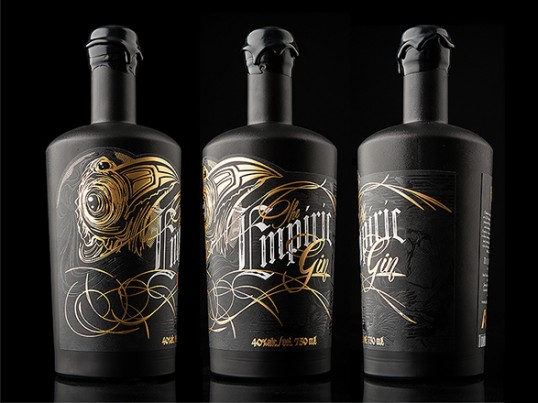 Designed by Hired Guns | Country: Canada
"Hired Guns Creative provided the product naming, branding, and packaging design for The Empiric, a gin from Arbutus Distillery, Vancouver Island's newest craft distillery.
Cloaked in midnight black, ever-present, seldom seen, The Empiric resides amid the twisted cedars of temperate West Coast rain forests. Ruled by ritual, The Empiric gathers strength from the spirits, invoking darkness to expose light. A bearer of natural magic and harbinger of deeply shrouded secrets, The Empiric is a menacing beauty, bringing clarity only to those who are truly worthy. Decades of knowledge and practice collide, exploding into a spirit that tastes like no other, an ethereal blend of the finest West Coast herbs and botanicals.
Darkness Will Bring Light."
August 5, 2013 | No Comments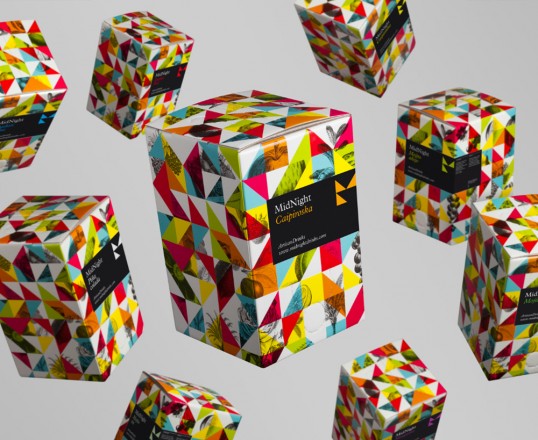 Designed by Mucho | Country: United States
"MidNight drinks is proposing a unique idea for cocktail consumption. Using a simple system involving a backing box with cocktail mixes and a box shaker, their intention is to revolutionize the way people create cocktails both in bars and at home. The cocktail mixes maintain the essence of classic cocktails but this new method results in surprisingly excellent quality cocktails.
We were invited to generate a new brand identity that could retain the tradition and elegance of cocktail making, whilst reflecting this revolutionary new method. Based on the geometric reinterpretation of the 'M' and the 'N' in Mid Night we created a system of triangles that when mixed with classic engravings of fruits generate a kaleidoscopic visual language. It really captures this new and fun way of creating cocktails."
July 26, 2013 | 3 Comments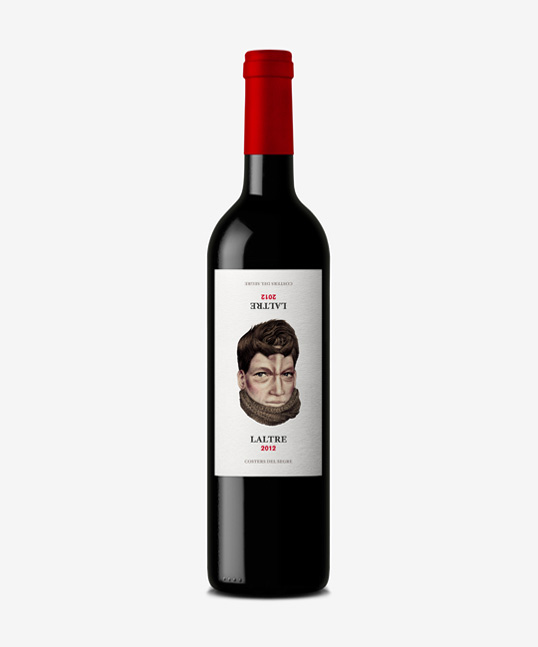 Designed by Dorian | Country: Spain
"At the gates of the Pyrenees, embraced by the norther mountain range "Sierra Larga" and halfway between the regions of Segrià and Noguera, lie the vineyard of the winery "Lagravera". A singular and unique vineyard in Catalonia for being located on an old gravel pit.
Laltre is the youngest wine they produce and its new design represents, through an optical illusion, the merged values of his youth with the experience and wisdom of the traditional methods which follows the winery."
July 25, 2013 | 3 Comments
Designed by Cartils | Country: United Kingdom
"Unique in the world as a premium alcoholic ice tea, Harry Brompton's was launched this month with success. In a matter of weeks demand has soared, and it seems that Harry Brompton's ice tea is not only here to stay, but it's here to conquer the world. In the traditional tea-loving country of Britain the brand was finally launched after years of perfecting the 'secret' hand-crafted recipe.
CARTILS Branding & Packaging Design Consultants were responsible for the design, reaffirming their expertise in the area of 'New Product Developments'."