May 28, 2013 | 2 Comments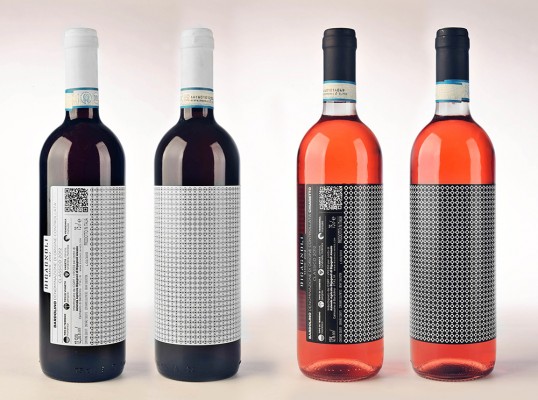 Designed by Onice Design | Country: Italy
"Bigagnoli Wines is a new wine producer in the Garda Lake area of Northern Italy. The other producers in the area often use classic labels on their bottles. Bigagnoli breaks out this habit and challenges the market norm by creating special edition wines dressed to look like perfume. A geometrical black and white pattern, different on each product enhances the luxury of the wine and embraces the bottle in a precious texture."
May 23, 2013 | 2 Comments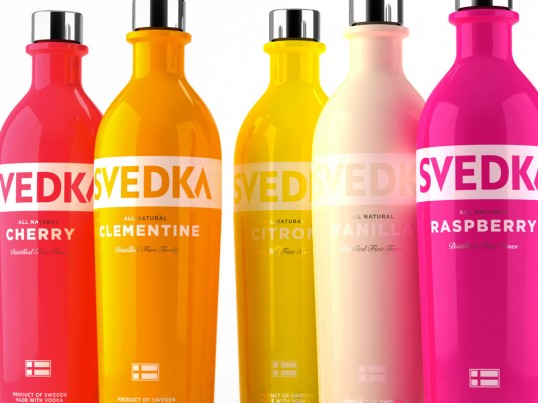 Designed by ESTABLISHED | Country: United States
"ESTABLISHED has redesigned Svedka's entire product range. Using a ground breaking approach, ESTABLISHED enabled the use of super saturated colors throughout the range through an innovative shrink wrapping technique. The strong color perfectly reflects the bold attitude of the Svedka brand, while ensuring that the bottles pop off the shelf.
The shrink wrap technique also allows Svedka to easily and efficiently launch special edition flavors throughout the year or to react to changing market trends quickly and at low cost."
May 23, 2013 | No Comments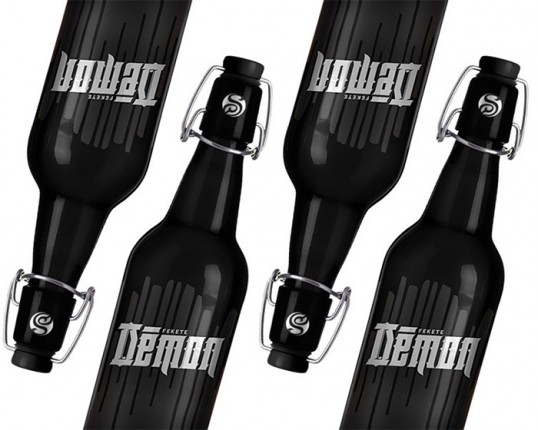 Designed by Csaba Bernáth | Country: Hungary
"Concept design for this Hungarian dark beer from Soproni. My idea was to design a dark and elegant  full body design broken with dripping black ink from the top to fit to the beer's dark and strong mysteries."
May 22, 2013 | 1 Comment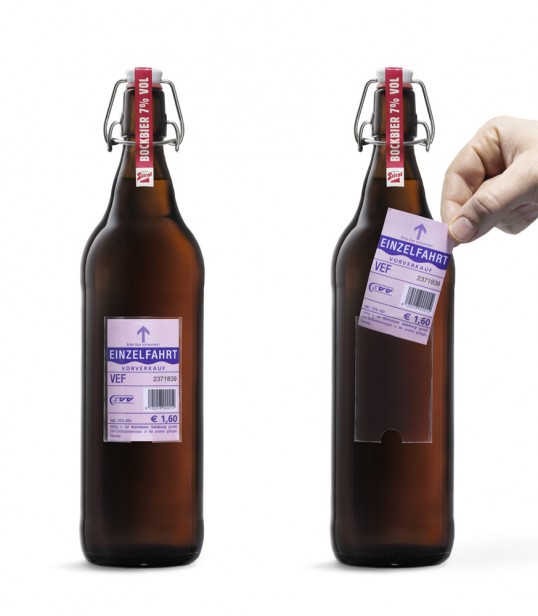 Designed by Demner, Merlicek & Bergmann | Country: Austria
"A beer that cares for you. Getting home safely: the new package design for Stiegl's strongest beer.
The problem: during Christmas time, true beer lovers are especially keento Stiegl's Bock beer. With 7% vol. it's quite a strong beer, making the ride home by car rather unsafe.
The solution: For a temporary promotion the former labels of the strong beer are being replaced with tickets to Salzburg's public transportation services. Stiegl offers that consumers of Bock beer may use this cost- and risk-free public transport service in Salzburg to make it home safe and sound and spend the Christmas holidays in the comfort of your home with your loved ones."
May 20, 2013 | No Comments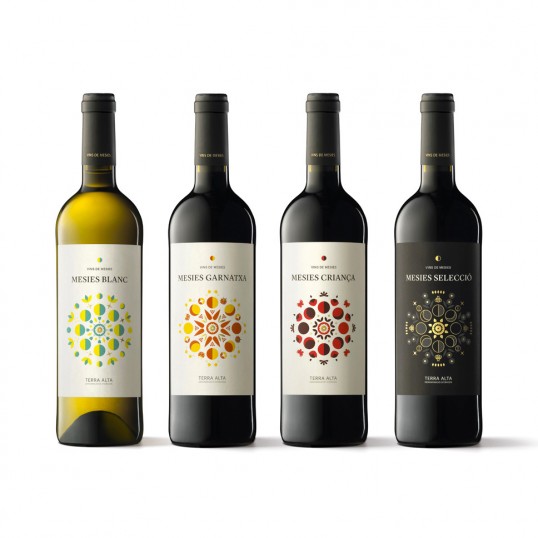 Designed by Albert Lopez-Amor & Txell Gràcia | Country: Spain
"Land, ecological viticulture, astronomy, the strength of the origin: the set of the distinctive elements that define the Ecovitres winery is the basis for the new graphic identity of its wine range, Vins de Mesies.
Colourful, balanced and full of attractive details, the labels of these four products display a visual message that shows the main directions of the brand: respect for nature, authenticity, roots, conviction and thrill."
May 19, 2013 | 4 Comments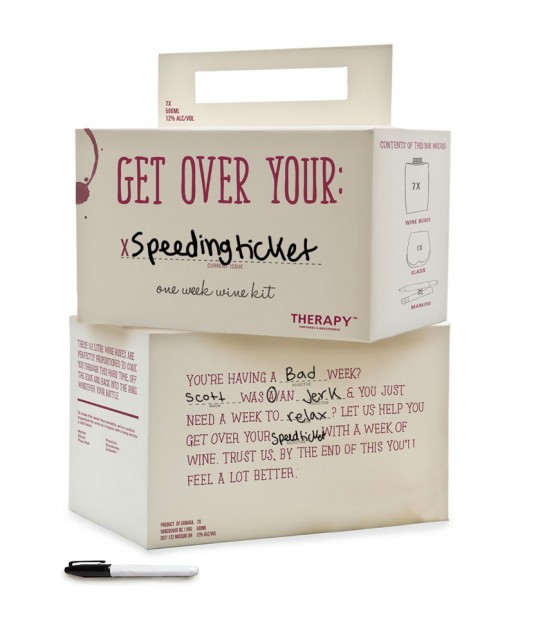 Designed by Natasha Shubaly | Country: Canada
"These wine packages were designed as an interactive way for the consumer to try an assortment of wines. The One Week Wine Sample sets helps consumers get over bad days (job loss, failed exam, fender bender) or to celebrate good ones (birthdays, a raise, new house). The word fill-in lets people express themselves and transforms the package into an engaging experience.
Whether consumed by one person over a week, or shared one night with a few friends, these 1/2 litre wine boxes are perfectly proportioned for any day good or bad."
April 29, 2013 | 4 Comments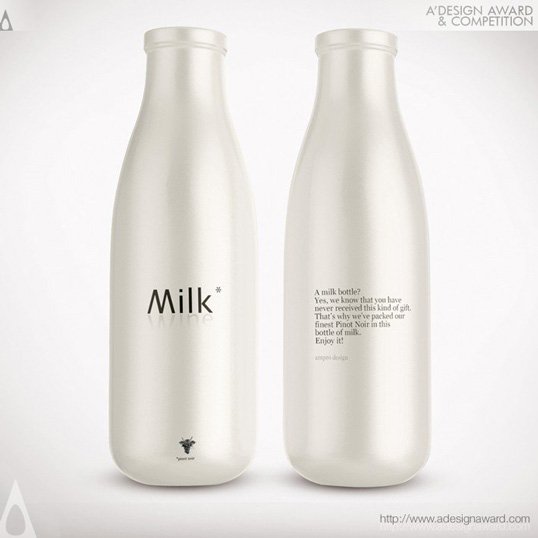 Undercover Pinot Noir by Alexandru Patru
Lovely Package presents the winners of worldwide A' Design Award & Competitions' Packaging Design Award Category which is devoted exclusively to the art of brand packaging. Each year packaging designers, manufacturers and creative agencies compete at the A' Design Award & Competition's Package Design Category for honor, prestige and international recognition. Here are a few of the projects we chose to highlight, for the rest be sure to check out all of the winners at A' Design Award & Competition.
April 28, 2013 | No Comments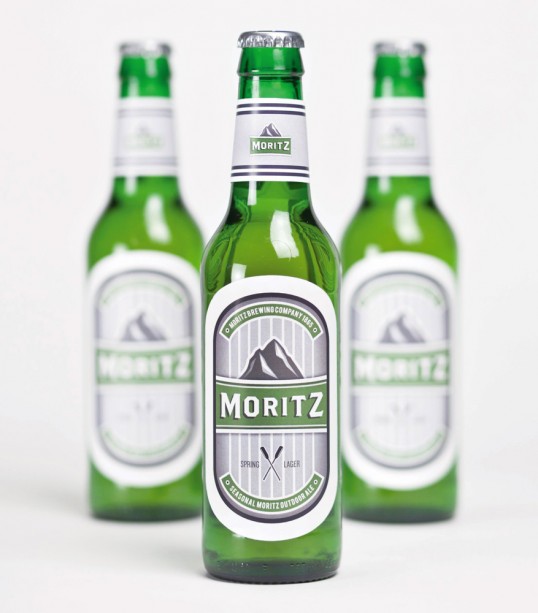 Designed by Charlie Bailey | Country: United States
"I redesigned Moritz Beer's branding and labels for my packaging class at the University of Akron. I wanted to create a seasonal beer that could be enjoyed during the summer months."
April 28, 2013 | 2 Comments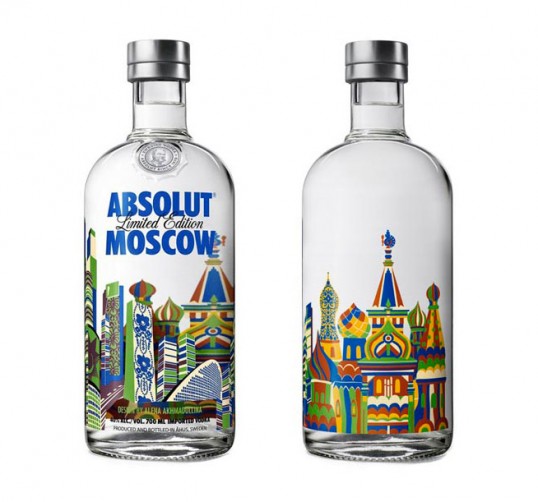 Designed by Cocoon Group | Country: Russia
"Cocoon Group collaborates with Pernod Ricard and Russian fashion designer Alena Akhmadullina to develop ABSOLUT Moscow, a limited edition that pays tribute to Russian clutural heritage. This collectable bottle, available only in Russia, features a striking, dynamic, and fairy-tale inspired design, and will be on shelves during a limited period of time from April 2013.
The bottle is designed to make Absolut closer and more appealing to Russian consumers by presenting Russian culture codes in new, creative ways, the bottle celebrates the revivalism of traditional Russian culture. Beautiful, traditional architecture, collected from several parts of Moscow, are contrasted with a glimpse of Russia's future."
April 26, 2013 | 3 Comments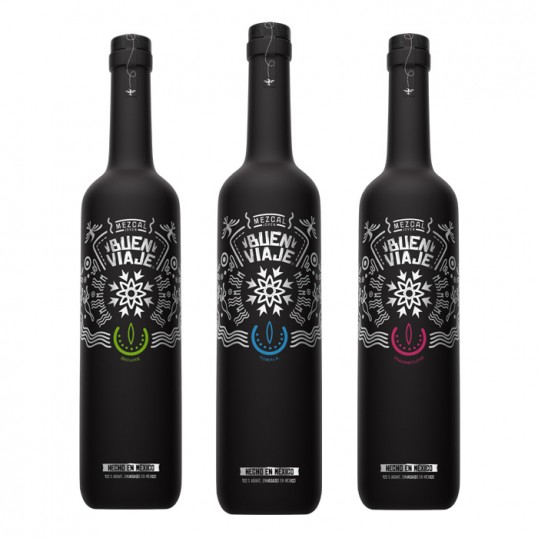 Designed by Sake Group | Country: Mexico
"The challenge with Mezcal Buen Viaje was to design a bottle that represented the artisanal, traditional and handmade aspects of Mexico and at the same time that contained the spirit of our ancestors reflected in it. To accomplish it, we got our inspiration from Huichol art. The huicholes are an old community that makes handcrafts based on their daily dreams. Recent discoveries say that this community was possibly one of the first ones in producing mezcal.
The choice of painting the bottles black was done as homage to the black clay of Oaxaca, Mexico, one of the biggest known crafts in that state. The hummingbirds placed in the top corners of the logo represent power-animals; they're considered one the most important symbols in ancient Mexican culture because this animals were the representation of god Huitzilopochtli. The flower in the center of the logo symbolizes energy and the strongest part of the maguey plant before it dies. It's the plants last breath.
And last but not least, every different type of agave was identified with a different color at the bottom of the logo in a shape that represented the third eye."