April 10, 2013 | 1 Comment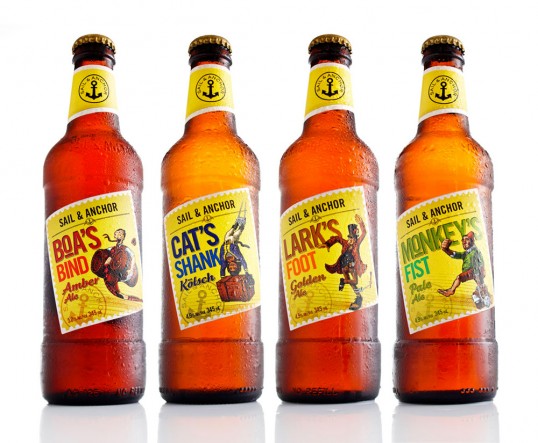 Designed by Marque Brand Consultants | Country: Australia
"The Brief: the Pinnacle group tasked Marque Brand consultants with extending the portfolio of its mainstream Sail & Anchor brand into a craft beer territory for a new range. Knowing that the craft beer drinker most likes the authenticity in their great tasting beer of choice, and revels in the detail of crafted ingredients, Marque delved into the history of the Sail & Anchor brand to unearth a truth that could be the bedrock of the craft range. What it so excitedly discovered was that the Sail & Anchor brand has over a century of heritage in the seafaring port of Fremantle, where sea shanties have been sung and beers have been brewed in the Sail & Anchor hotel off and on for decades and is still being brewed there today.  The Sail & Anchor hotel had seen many seafaring characters and personalities walk through it's doors and the resulting brand weaves wonderfully romantic stories of Sailor's Knots used in days gone by, elements of Fremantle history, a little touch of humour and brings them to life in an endearing illustrative form." Continue…
April 8, 2013 | 1 Comment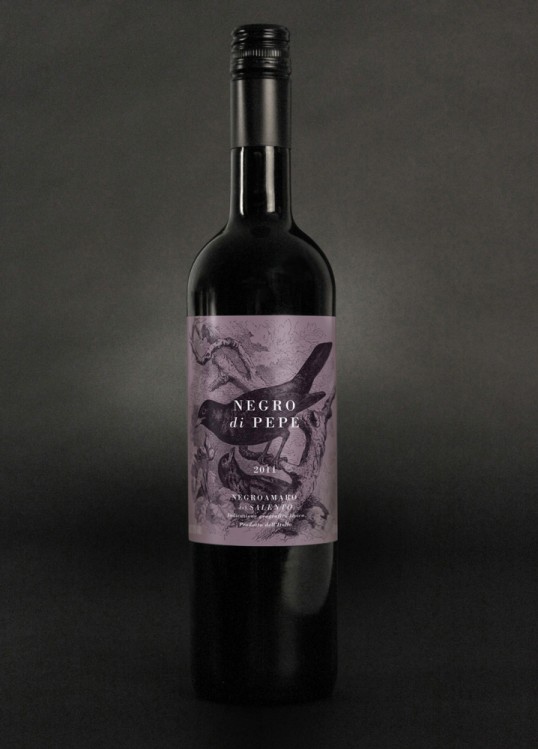 Designed by Positivity Branding | Country: The Netherlands
"An elegant italian wine, created for Grapedistrict – an innovative wine retailer in The Netherlands"
April 6, 2013 | 6 Comments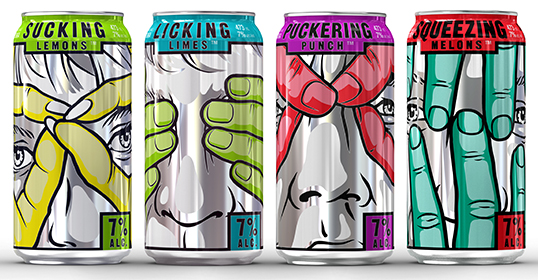 Designed by Brandever | Country: Canada | Fonts used: CgGothicNo4
"Sucking Lemons, Biting Oranges, Puckering Punch, Squeezing Melons, Licking Limes … Jaw Drop Vodka Coolers. Brand Strategy, Packaging Design and Product Naming by Brandever."
April 5, 2013 | 2 Comments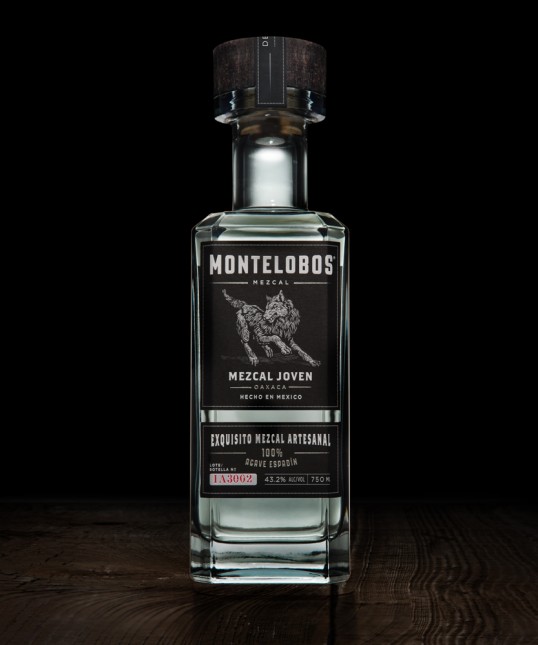 Designed by WeHolden | Country: United States
"Working with Casa Montelobos, William Grant & Sons, and Dr. Iván Saldana, the world's leading agave expert, WeHolden developed the packaging design for Montelobos (Mountain of Wolves) a premium mezcal joven that launched in New York, California, and Texas in late 2012."
April 5, 2013 | 4 Comments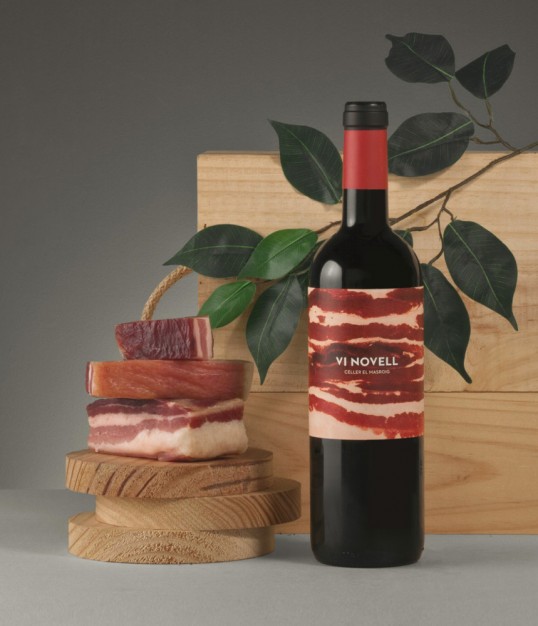 Designed by Atipus | Country: Spain
"Traditionally, in November, coinciding with the celebration of the slaughtering of the pig, the 'Vi Novell' is bottled. This is a fresh and fruity wine which is bottled before its fermentation is finished.
Therefore, the wine doesn't mature in the bottle and it must be consumed within a short space of time. It is a wine for enjoying; a wine for celebration."
April 4, 2013 | 3 Comments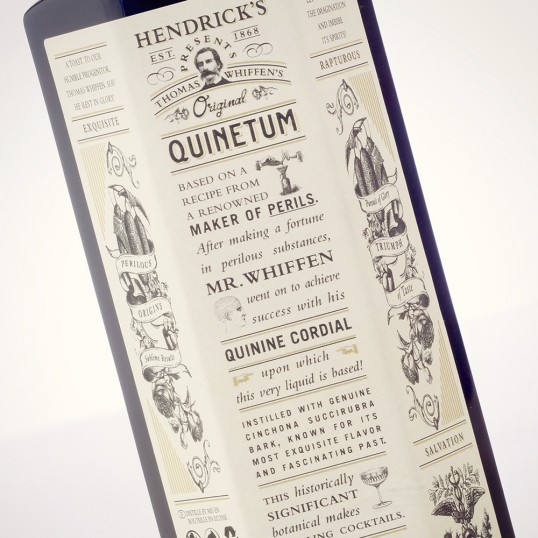 Designed by Quaker City Mercantile | Country: United States
"After much intensive research and development, Philadelphia-based Quaker City Mercantile is thrilled to present Quinetum, a highly exclusive quinine cordial from Steven Grasse, creator of the iconic Hendrick's Gin.
Quinetum is a unique and complex blend comprised of Cinchona Succirubra Bark, from which Quinine is derived, and a range of botanicals (4% ABV ethanol). It is designed to be a bartender's tinkering tool when used as a cocktail ingredient or can be lengthened with soda water and combined with Hendrick's in place of tonic.
Grasse decided to bring the curious history of quinine to life channeling the ethos of Thomas Whiffen, a renowned maker of poisons who established The Quinine Works of Battersea, London and whose likeness graces the Quinetum bottle. He was the first person to synthesize quinine in the 1800's, which at the time was a lifesaving drug against malaria."
April 4, 2013 | 1 Comment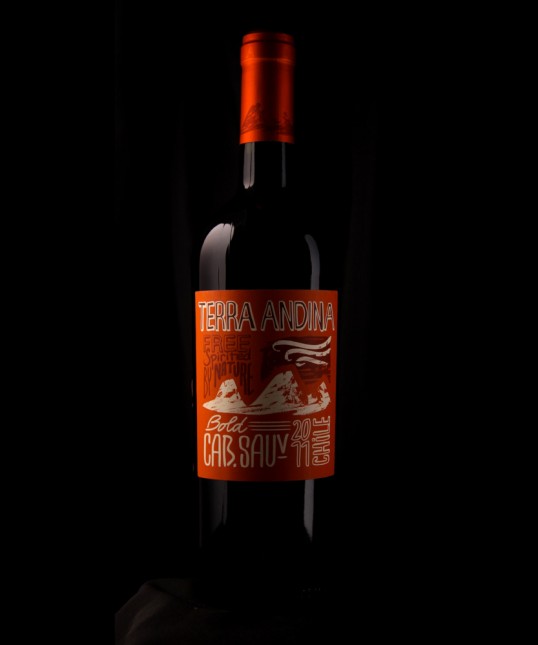 Designed by Yañez Gioia Design | Country: Argentina
"Objective: to execute a brand repositioning strategy. The objective is to target the US and Canadian markets with a relaxed and informal style aimed at people who drink wine in a simpler way, without paying attention to origin, terroir or specific wine characteristics."
March 31, 2013 | 1 Comment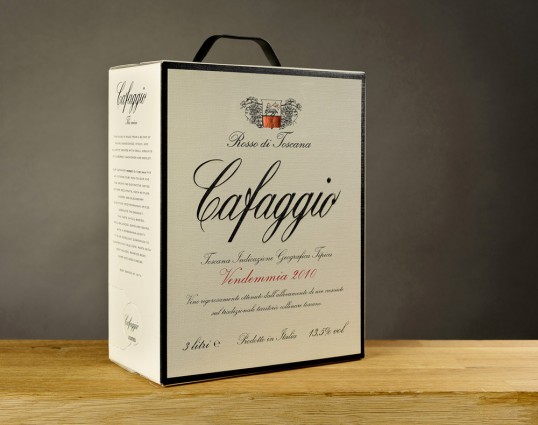 Designed by OlssønBarbieri | Country: Norway
"Cafaggio is a traditional Tuscan wine property from the Chianti area.
We designed a 3 liter Bag in box with a new level of sophistication in mind compared to the existing standard in the market. Most wine producers are reluctant to market their premium wines in Bag in Box because they don't feel the product format reflects the quality of their wine.
The goal was to challenge the industry and production line standards introducing a premium paper quality. Thanks to the selection of one of the finest italian paper producers, the hot foil, the embossing of the brand-name and  the carefully orchestrated layout the result of the Cafaggio BiB has worked as a door opener to convince other wine producers to sell their premium wines in Bag in Box as well."
March 28, 2013 | 1 Comment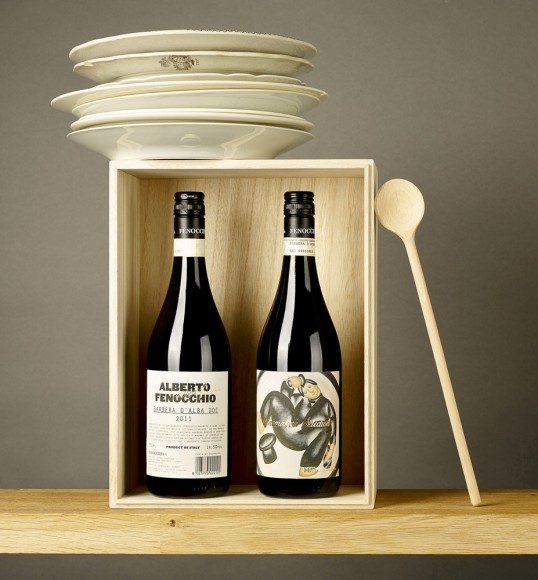 Designed by OlssønBarbieri | Country: Norway
"Winemaker's Selection is a collection of wines selected by the most acclaimed winemakers in the world representing the "state-of-the-art" of winemaking.
The winemaker's name together with the producers logo represent an exceptional possibility to work on a surprising and bold concept.
We wanted to involve the winemakers so that every product would be unique but also connected by the same idea, so we asked them to select a decorated ceramic plate from their home (the favorite, the most used, the oldest, …) and to tell us a little story about it."
March 27, 2013 | 1 Comment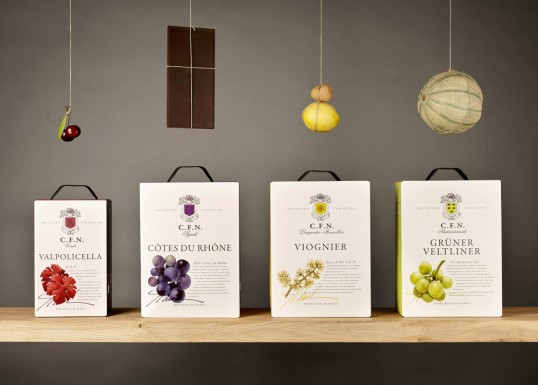 Designed by OlssønBarbieri | Country: Norway
"Arcus Wine Brands approached Olssøn Barbieri with the repositioning of one of their most important product series, Collection Frithjof Nicolaysen.
The brand was first launched in 2002 and is recognized by Norwegian consumers and wine critics as one of the most reputable product series in Norway offering a pure grape variety experience to entry level consumers. Frithjof  Nicolaysen is president of the European Federation of Wine and Spirits Importers.
After a recent design change in 2011 however, sales were dropping drastically, consumers no longer recognized the brand and almost no new consumers were recruited.
The unique quality of the CFN range is to express the typical aroma of each variety. Every grape has its unique look (color and shape of grapes and leaves), typical aromas and the terroir that express it at its best."