March 7, 2013 | 1 Comment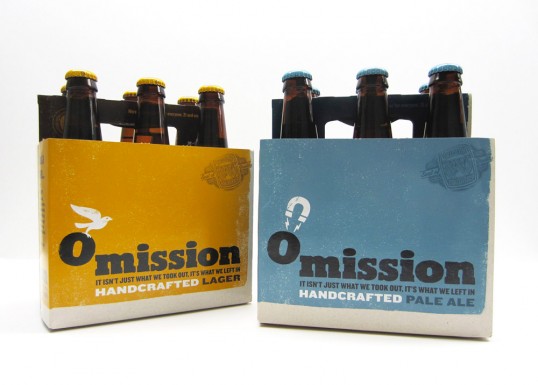 Designed by Hornall Anderson | Country: United States
"With Celiac disease affecting at least 1 in 100 Americans, many beer drinkers are forced to pass up their favorite beverage due to dietary restrictions. To address this problem, Craft Brew Alliance approached brand design firm Hornall Anderson to help them launch Omission—the first craft beer brand in the U.S. focused exclusively on brewing great tasting beer with traditional beer ingredients—including malted barley—specially crafted to remove gluten.
Playing off of Omission's messaging, the Hornall Anderson creative team developed the tagline, "it isn't just what we took out; it's what we left in." They then designed tongue-in-cheek illustrations that reflect the "removal of gluten" (or in the case of the on-pack design, removing the "O" to reveal the word "mission") without omitting great taste. This is whimsically demonstrated by enlisting a variety of vehicles such as a UFO, bird, helicopter, hot airballoon, magnet, and magic wand."
March 6, 2013 | 3 Comments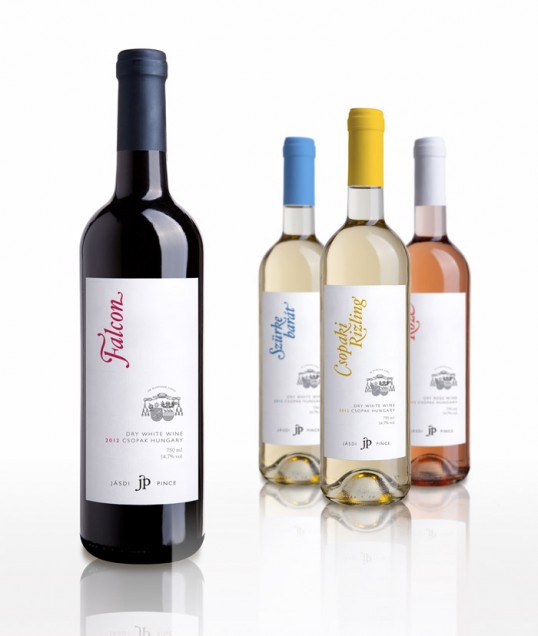 Designed by Lili Köves | Country: Hungary
"Simple label and logo design for a small traditional winery based in Csopak (Hungary), named Jásdi Pince. For a contemporary but refined appearance  I designed a jp ligature and treated the name of each kind of wine in a similar style. To reflect their local heritage I used the crest of the famous bishop who founded the Jásdi cellar and wine culture in the region."
February 28, 2013 | No Comments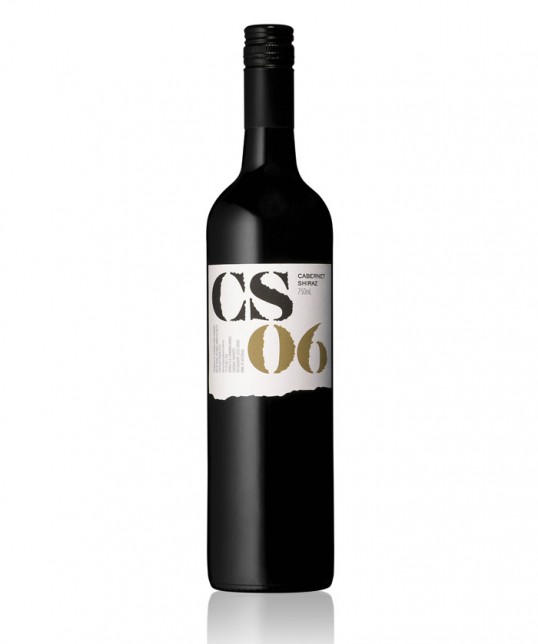 Designed by Sage | Country: Australia
"Schwarz Wine Company is a boutique winery based in Bethany, Barossa Valley. Winemaker Jason Schwarz appointed Sage to create a brand to help sell a small quantity of Cabernet Shiraz he had specially aged from his 2006 harvest. CS06 was the memorable name he conceived. Our brief was to develop a cost effective label that would stand out from the crowd and attract consumers aged 18-35yrs. Our eye-catching solution is inspired by stenciled type that appears on wine barrels to indicate the toasting level and vintage. This is an idea that can be applied to market small quantities Schwarz produces in the future."
February 27, 2013 | 1 Comment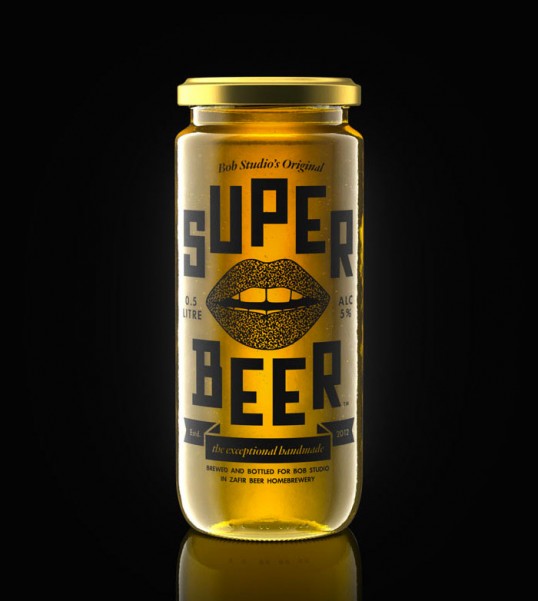 Designed by Bob Studio | Country: Greece
"A special packaging design for the 'Super Beer Tournament', the 1st foosball tournament of last season that took place in Bob Studio, in October.
The enthused participants had the chance to enjoy great homemade beer and 5 hours of pure sportsmanship, while in the end they got to take home with them the 100 screen-printed glass jars, along with additional material, like t-shirts and posters. The Super Beer was brewed and bottled in Zafir Beer home brewery."
February 27, 2013 | 2 Comments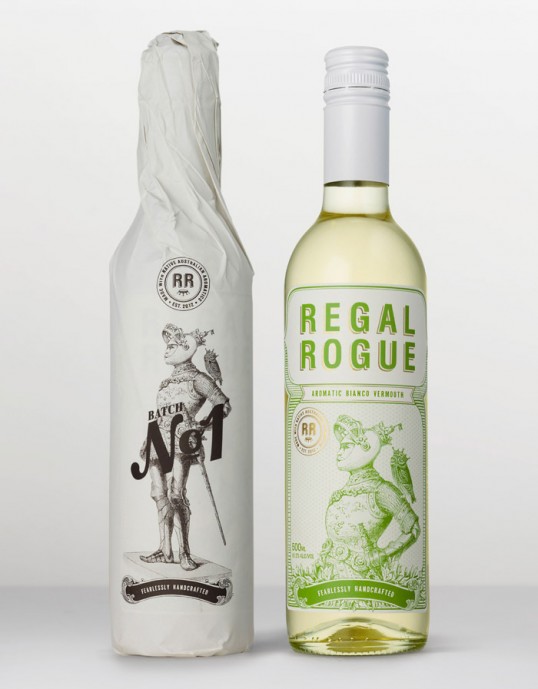 Designed by Squad Ink | Country: Australia
"Regal Rogue is the first native Australian aromatic vermouth in the market.
Squad Ink was brought into the mix to create the brand identity, packaging and launch material for this innovative small batch vermouth. Vermouth is mostly a European tradition. Regal Rogue turns this upside down with a daring blend of native aromatics to flavour fortified Hunter Valley Semillon (Australian wine region) with bush lemons, finger limes, vanilla, basil and thyme: a new world vermouth that is thoroughly Australian."
February 25, 2013 | No Comments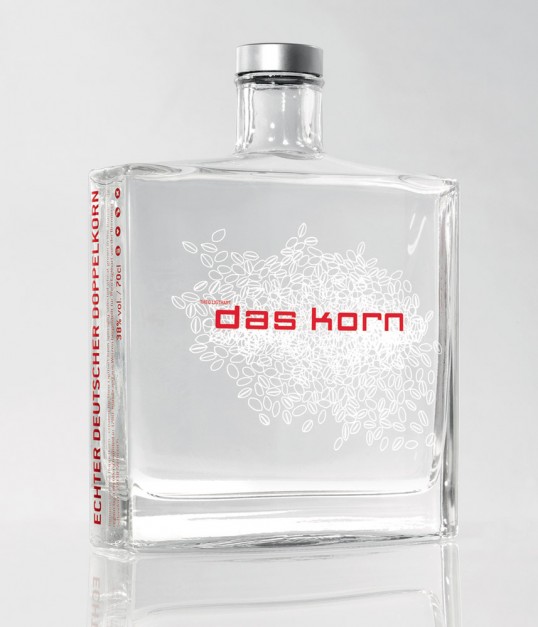 Designed by Kakoii | Country: Germany/Japan
"DAS KORN ("The grain") was designed by kakoii Berlin for the German Artist Theo Ligthart. The idea was to re-brand the typical German liquor made of wheat grain with its perception of cheap alcohol as a super premium brand. This was done by creating a packaging which uses the design language of the perfume industry. A heavy glass flacon bottle stating in a simplistic and pure way what's inside: in typo ("Das Korn" = "The Grain") and illustration (wheat grains). The product was introduced at one of the most important German art fairs (Artforum, Berlin) and became an acclaimed product for bars because of the combined art- and premium-image. Today DAS KORN sells as a commercial product in bars like the Soho-Club and selected retail stores as well as limited editions in art galleries."
February 25, 2013 | No Comments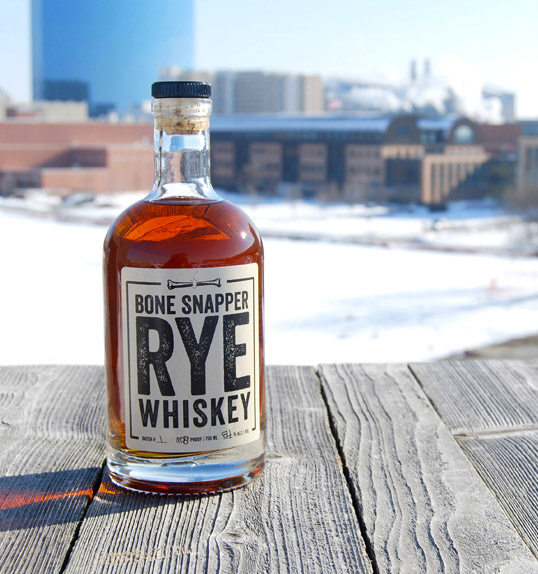 Designed by CODO Design | Country: United States
"The folks behind Bone Snapper Rye Whiskey decided early on to go with the squat Oslo bottle. This smaller bottle needed to have a lot of character to compete visually with taller, more well-established whiskeys in bars and liquor stores.
Our biggest parameter was making sure the word "RYE" leapt out at you from across a dark bar. So our revolutionary design solution? "Rye" set in angry, 150 point typography. A delightful broken bone graphic, grit and heavy lines round everything out."
February 22, 2013 | 3 Comments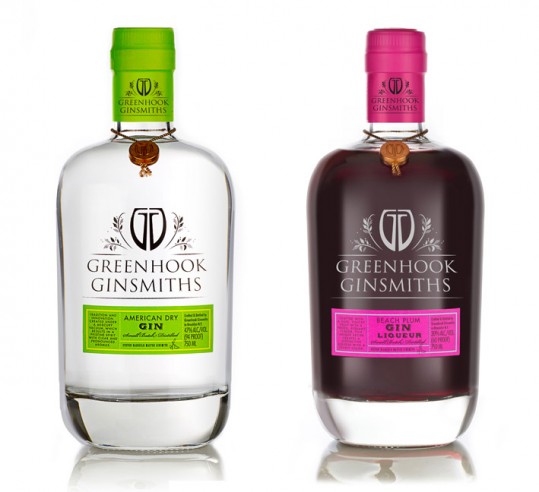 Designed by threebrand | Country: The United Kingdom
"International creative branding and PR agency threebrand, based in Edinburgh, has scooped gold at the Pentawards; the prestigious worldwide packaging design awards.
Members of the team involved in the project travelled to Paris for the glitzy ceremony, held at the Intercontinental Le Grand Hotel.
threebrand's work on a suite of iconic packaging for two products – Greenhook Ginsmiths American Dry Gin and Beach Plum Gin Liqueur – secured the award.
Launched in Brooklyn, New York in 2011, Greenhook Ginsmiths is new to the market, with the Beach Plum Gin Liqueur being the world's first commercially released."
February 22, 2013 | No Comments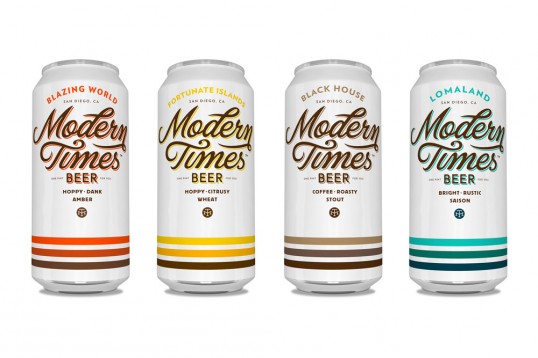 Designed by Helms Workshop | Country: United States
"Austin-based branding and design firm Helms Workshop is proud to unveil the results of their latest client collaboration with Modern Times Beer: a stunningly gorgeous can design that will represent the California-based brewery on retail shelves in 2013.
"From the moment I started working on Modern Times, I knew I wanted packaging as magnificent as the beer I planned to put in it. So I went out and hired a design ninja to craft the cans," says Jacob McKean, owner of Modern Times Beer.  The result is "so devastatingly tasteful, a koozie would be a crime!"
February 21, 2013 | No Comments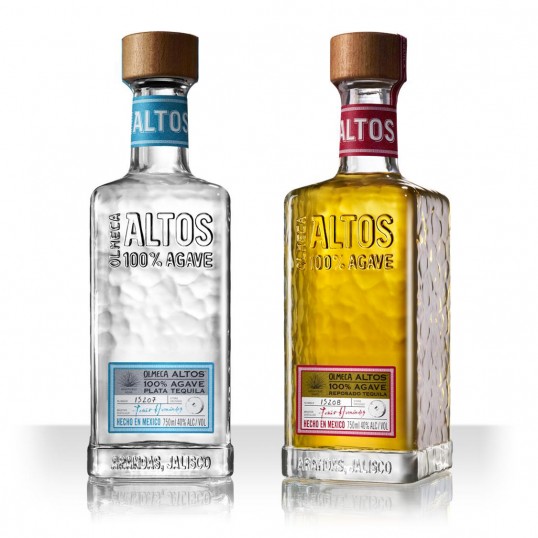 Designed by Coley Porter Bell | Country: United Kingdom
"Coley Porter Bell has created new designs and an authentic new positioning for Pernod Ricard's premium tequila Olmeca Altos to help it to operate as a standalone brand for the first time. The new bottles were launched in the US this month and are being rolled out to other markets round the world.
The brief was to distinguish Olmeca Altos from the rest of the Olmeca range by creating an appealing personality for the brand, while making the bottle easier for bartenders to handle.
The original Altos bottle designed by CPB in 2010, was created as a premium sub brand of Olmeca and had a close visual relationship to the parent brand.
The new positioning is aimed at attracting sophisticated creative young urban drinkers. The design itself is deliberately minimal, featuring clear hammered glass with the branding embossed onto the glass itself.
"Altos needed to play up its authenticity whilst also highlighting the taste of the product, making drinking Altos more about enjoyment and discernment than shooters and partying, " explained CPB creative director Stuart Humm.
"The target market is notoriously unresponsive to marketing, so rather than the design shouting at them we wanted consumers to feel that they have discovered it themselves. As a result it's deliberately understated and dressed down."