April 24, 2015 | 1 Comment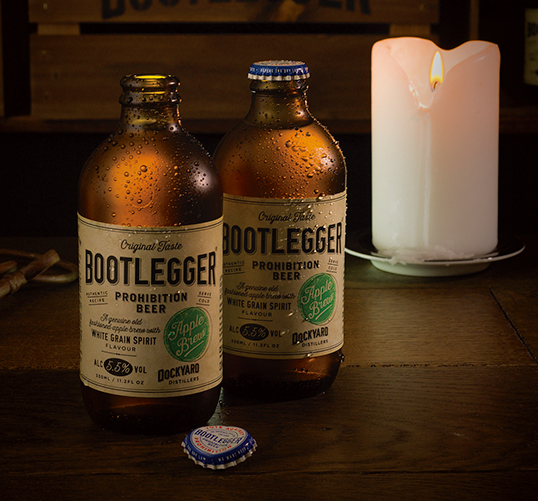 Designed by Halewood International | Country: United Kingdom
"In the years of Prohibition, Moonshiners used fruit juice to sweeten their raw, illicit booze before transporting it in used spirit bottles. Inspired by these lawless rebels, independent drinks company Halewood International created Bootlegger Apple Brew – an old fashioned apple beer that's flavoured with White Grain Spirit.
The packaging is inspired by American Prohibition and vintage drink labels and has a raw, hand made feel, featuring simple black typography on an old paper background. The variant is communicated using a green stamp which adds a pop of colour and reflects the apple flavour. A 330ml stubby bottle was chosen to give the brand a point of difference from the rest of the spirit beer category and reflects the uniquely distinctive liquid.
To complete the look the bottle features a red, white and blue crown inspired by the anti Prohibition badges of the era."
March 21, 2015 | No Comments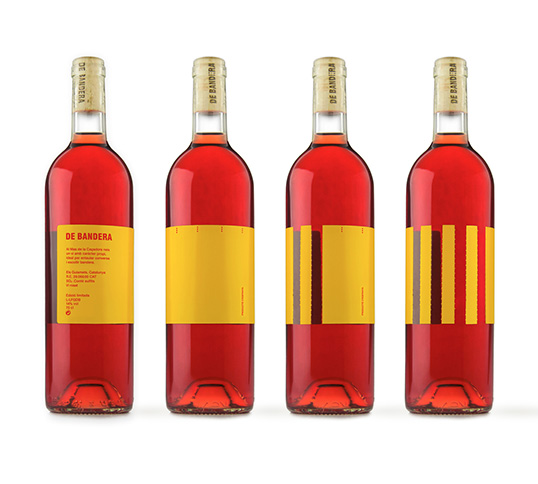 Designed by La Fonda Gràfica | Country: Spain
"Born in the Guiamets 2013′s vintage, this is a handmade wine with strong personality. An ideal wine to start nationalistic debates and to finish choosing flag. The label presents a flags game and the one who holds it can change the composition and transform the Spanish flag into Catalonia's flag (la Senyera)."
March 21, 2015 | 1 Comment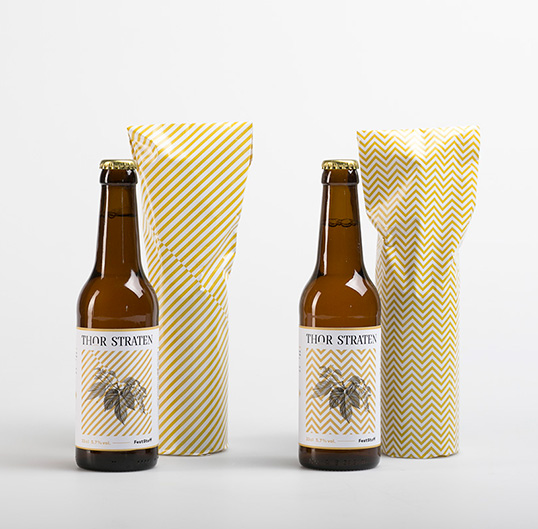 Designed by Yannick zur Strassen | Country: Germany
"Thor Straten, coming from an old family name – meaning gate and street – is a beer that can't be purchased, it is only given away as a present for festive occasions by the family. That is reflected in the identity and packaging. The pattern of the wrapping paper becomes a major element, also on the packaging itself."
March 20, 2015 | No Comments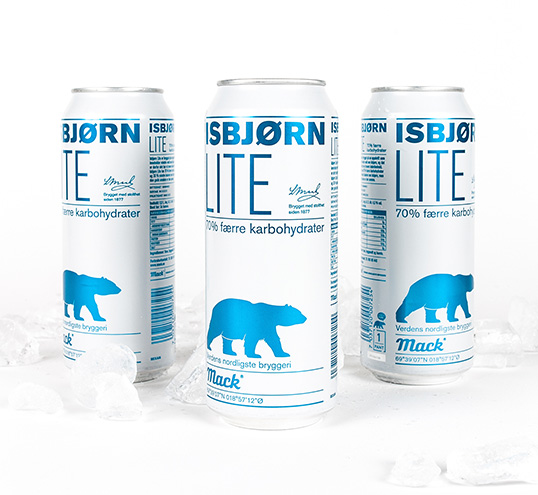 Designed by by north™ | Country: Norway
"After the relaunch of Mack's Isbjørn in February 2014, Mack's Isbjørn beer has been a success, stealing market share from the competition, and is currently Mack's best selling product. It seemed only natural to follow up on the product with a Lite version of the same brew. The design is closely related to the original Isbjørn, and being a calorie-reduced beer it only seemed natural to reverse the colors."
March 15, 2015 | No Comments
Designed by Patswerk | Country: The Netherlands
"We like brewing beer and handing out presents. So we decided that our 7 year anniversary was the perfect time to combine these things. We created a super limited package for our clients and friends, including 2 home-brewed beers. A nice and smooth porter and one extremely hoppy IPA.
The packaging is printed using 3 carefully selected PMS colors, making the packaging really 'pop'.The labels are silkscreened in 3 colors on transparent vinyl stickers, showing the color of the bottle."
February 22, 2015 | 2 Comments
Designed by Roman Davydyuk, Yaroslav Cherkunov & Katya Chanysheva | Country: Ukraine
"Tusk craft beer. The idea was to express that the new beer is very severe. It's meant for tough guys who don't whine or complain about their life."
February 22, 2015 | No Comments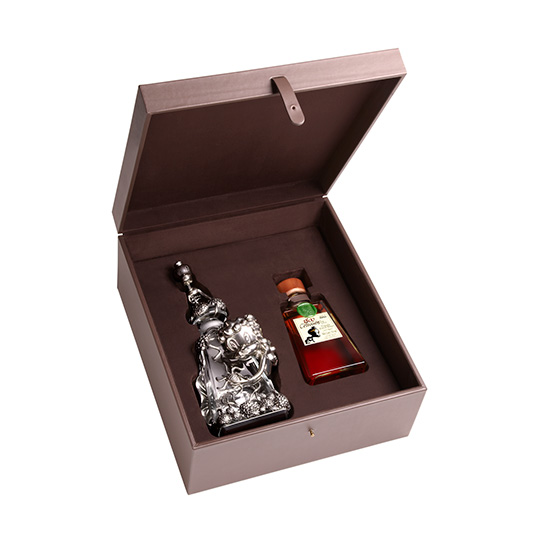 Designed by Gary Baseman | Country: United States
"The launch of 1800 Colección® showcases the brand's commitment to art and innovation, especially through creative packaging.  1800® Tequila commissioned Gary Baseman, a famed Los Angeles-based artist known for his dynamic pop art imagery, to create a stunning sculpture to encase the exceptional liquid. Baseman designed a pewter decanter he calls "Sirena Del Deseo" (translates to "Mermaid of Desire"), which tells the tragic story of true love and the fight to achieve it. This tale, about a Mexican warrior who perishes in the sea after traveling into the ocean depths in search of his enchanted mermaid, was the brainchild of Baseman, who was inspired by a trip to Mexico to witness the 1800® Tequila production process. The handmade decanter, which took close to three years to create, exhibits Baseman's artistic philosophy of "the beauty of the bittersweetness of life."
February 15, 2015 | No Comments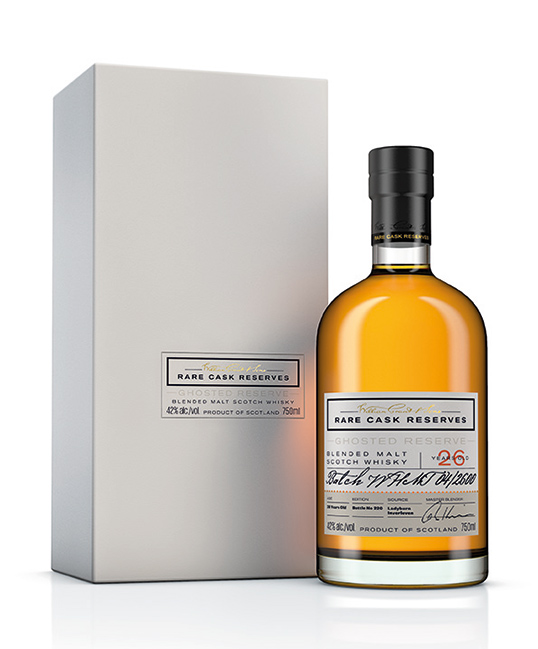 Designed by threebrand | Country: Scotland
"Premium spirits company William Grant & Sons, has commissioned international creative design agency, threebrand, to launch its new Ghosted Reserves. 
Part of William Grant & Sons Rare Cask Reserves programme, the 'ghosted vattings' will offer consumers the opportunity to access some of the rarest Scotch whisky stocks, from distilleries no longer in operation.  
threebrand's remit was to design both a label set and secondary packaging to complement the unique story of the Ghosted Reserves. Both were to be premium and tactile. 
Malcolm Thomson, associate creative director at threebrand, commented: "A palette of grey tones was selected to reflect the ghostly nature of the vattings, drawing on themes of opacity."
February 15, 2015 | No Comments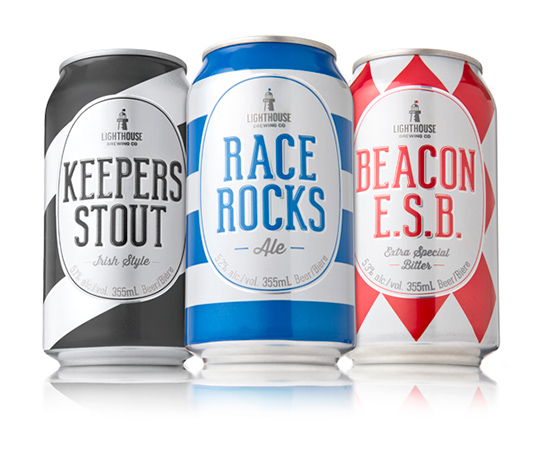 Designed by Saint Bernadine Mission Communications Inc. | Country: Canada
"As part of an entire portfolio rebrand, St. Bernadine was asked to help create a new look for Lighthouse Brewing Co.'s "House Series" family of craft beers.
Aligned with the brand's nautical positioning, and inspired by bold, colourful patterns found on lighthouses around the world, the team at St. Bernadine created striking patterns for the family (Race Rocks Amber Ale: horizontal stripes, Keepers Stout: diagonal bars, Beacon ESB: diamonds, and Bowline Pilsner: checked squares).
The flat white base colour brings family unity to the series as well as echoing the lighthouse namesake, while the colourful patterns allow each flavour to be easily distinguished within the series and contribute to findability and presence in a visually cluttered craft category."
January 28, 2015 | 1 Comment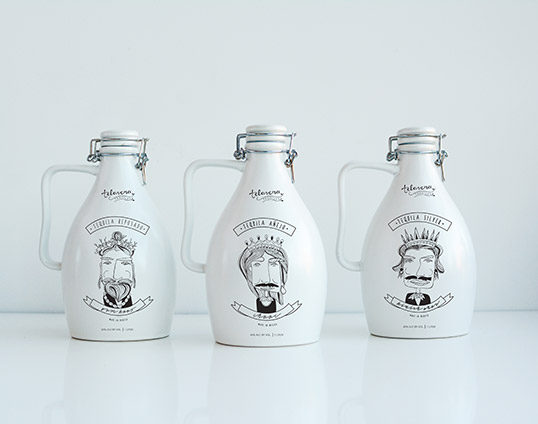 Designed by Hannah Hart | Country: United States
"For this project I was assigned to create alcohol packaging, so I chose to do Mexican tequila. As I did my initial research, I was very inspired by the culture, arts and history of Mexico, specifically Talavera. Talavera is the word used to identify the beautiful handmade pottery and fine ceramics that are trademarks of Mexican craftsmanship.
Just as Mexican Talavera was created with strict standards and regulations in order to preserve the expert nature of its craft, I expect every bottle of my tequila to be crafted in this same way; with precise ingredients and regulations that go into making every bottle a beyond tasteful experience.
To give each bottle of tequila the utmost feeling of prestige, I incorporated an important element in Mexican culture and history: Mayan gods. Religion played an enormous role in talavera ceramics so I wanted to make these characters come to life on each bottle in a sophisticated, yet lively way. I drew a series of illustrations on what I believed the Mexican gods would look like. The gods that are seen on the substrates are: Yum Kaax, The God of Nature; Chaac: The God of Rain; and Kinich Ahau: The God of the Sun. The illustrations were then transferred to the bottles using acetone and touched up by hand with a sharpie."