March 13, 2012 | 4 Comments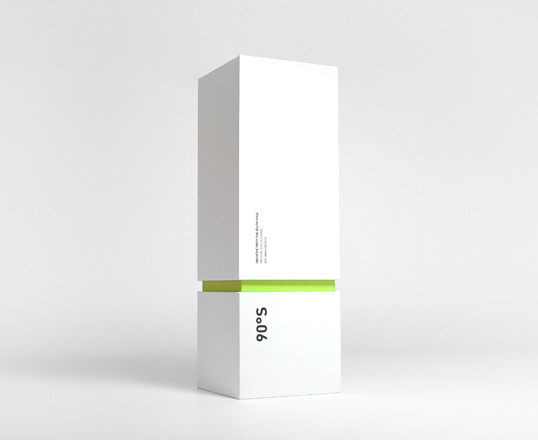 Designed by Cloud Inc | Country: Australia
"A minimalist take on the traditional absinthe."
March 12, 2012 | 2 Comments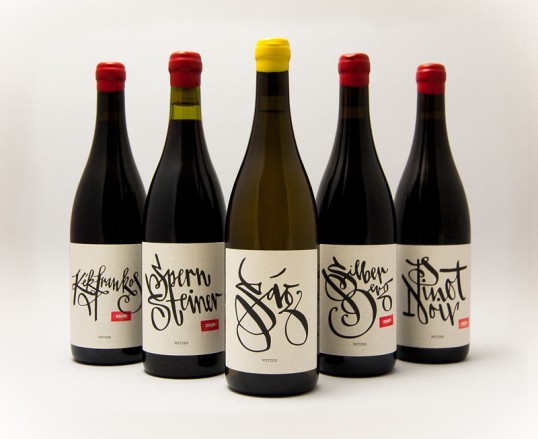 Designed by László Mihály Naske | Country" Hungary
"Handmade' still confers an air of high esteem on objects, which is why I was pleased that, when Péter Wetzer commissioned me to design labels for his craft wines, he wanted a calligraphed theme. And when he gave me carte blanche to choose the shape of the letters as I saw fit, I was thrilled. I find the match between the wine and its label very pleasing; substance is truly aligned with style in this case, since what could fit a handcrafted wine more than a label drawn by hand? I started out with some quite bold arrangements but the client's preferences won out to yield a more straightforward label which actually makes much more sense: A winemaker's philosophy is better served by a more traditional composition that nevertheless manages to incorporate novel elements."
March 11, 2012 | 1 Comment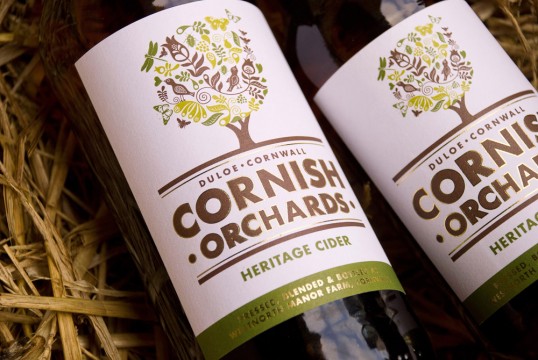 Designed by Buddy | Country: United Kingdom
"The brief was to create the new branding and packaging for Cornish Orchards, a cider & fresh juice producer.
Each Cornish Orchards product has been finely crafted to appeal to a different audience and taste preference rather than the mass-market strategy of 'one-taste-suits-all'. Our solution was to reflect this approach using a variety of different trees, each specifically created to represent the 'unique character' of each product."
March 6, 2012 | 1 Comment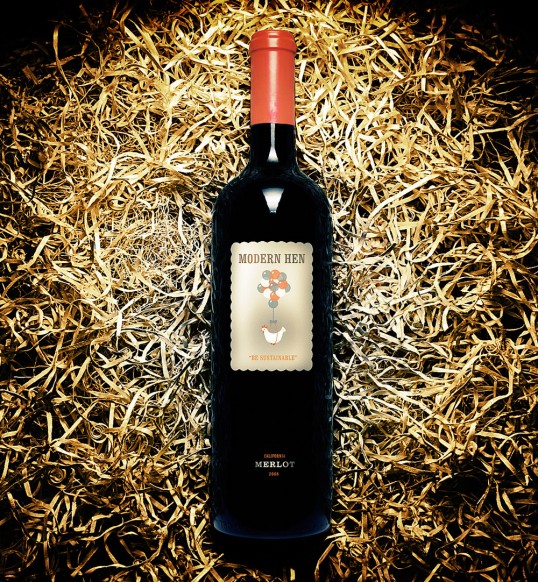 Designed by Force & Form | Country: United States
"Millennials have been hit hard by current unemployment levels, so they are drinking smarter. They spend wisely and express their individuality by breaking away from larger, conventional brands. We developed the name and brand "Modern Hen" to go along with their busy, casual lives—filled with work, friends and entertaining. It's a brand that's meant to introduce today's young nesters to Bordeaux-styled wine—and to help them feel like smart shoppers who are saving money. Like its namesake mascot, today's modern hen works smartly and enjoys a smile at the end of her day."
March 4, 2012 | 1 Comment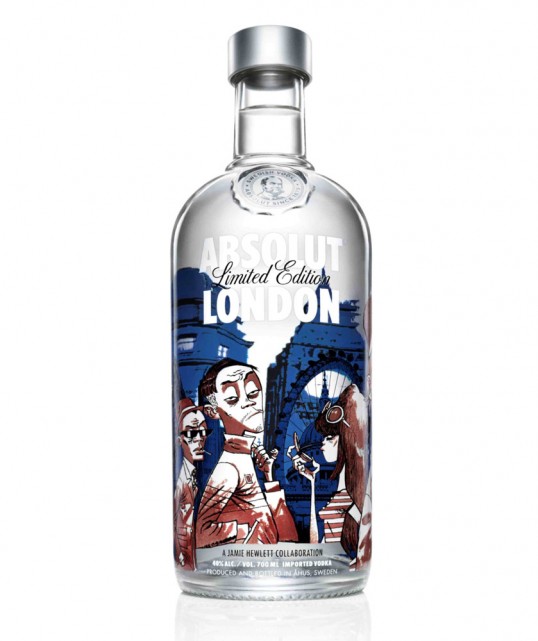 Designed by Jamie Hewlett | Country: United Kingdom
"Designed by London creative and visionary Jamie Hewlett, the bottle is a unique take on London's style and fashion pioneers over the past 200 years. Set against a London backdrop, the bottle introduces key characters from the past who have influenced and shaped London's present fashion scene. The seven characters encapsulate the city's diverse heritage, spanning the ages from Dickensian and 18th Century Dandy, through to Pinstripe gent, 60's chick, SKA, Punk and 80's Casual."

March 2, 2012 | No Comments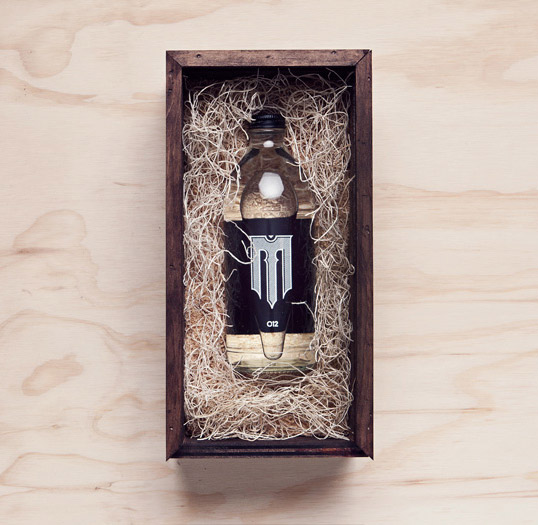 Designed by Manifiesto Futura | Country: Mexico
"Malabraga is a traditional mezcal. A gift from Manifiesto Futura for their friends. Let's toast for this to be our best year and for new stories"
February 29, 2012 | No Comments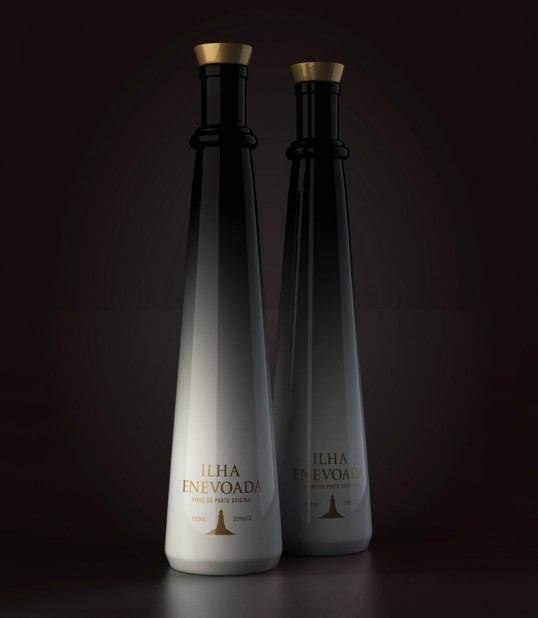 Designed by Pavel Kulinsky | Country: Russia
"Concept packaging for Ilha Enevoada porto wine. is a porto wine. Ilha Enevoada means 'misty island' in Portuguese."
February 28, 2012 | 6 Comments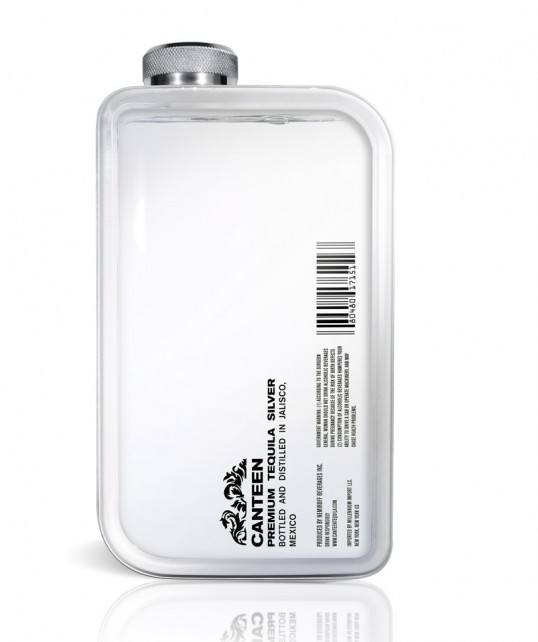 Designed by Kaleidoscope | Country: United States
"The Sauza, 1800 and El Jimador tequila brands have captured double-digit share growth while the category leader Jose Cuervo is in decline. The brands in the tequila market position themselves as being authentic and utilize old-fashioned, ethnic-based package cues. Since the category is really just stealing share from each other versus bringing in new users or switchers from other liquor categories, Kaleidoscope seizes the opportunity to redefine tequila through strategy and design.  We transcend cliché visual elements and leverage luxury with inspiration from nightclub-culture denizens to create a disruptive, retro-cool package design with a uniquely urban attitude and swagger. The co-mingling of metal and glass, unconventional shape, love-to-feel-it closure delivers a wholly new experience to enjoy and be seen with. Embracing urban luxury, without the haughty attitude adopted by its competitors, Canteen achieved its mandate – giving high-end urban bars and nightclubs a delicious new alternative."
February 27, 2012 | 1 Comment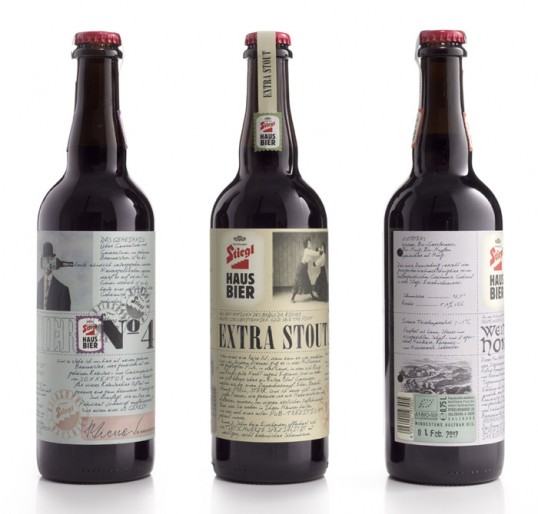 Designed by Demner, Merlicek & Bergmann | Country: Austria
Beautifully detailed labels for Stiegl Haus Beir. Check out the short stories for each brew at the end of the post.
February 24, 2012 | No Comments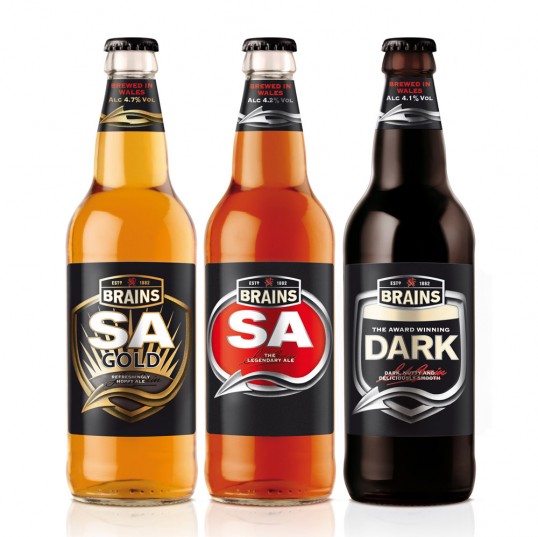 Designed by Blue Marlin | Country: United Kingdom
"New year, new look for Brains bottles, courtesy of Blue Marlin. Welsh brewer Brains is unveiling updated bottles for its ales range, created by integrated brand design agency Blue Marlin, which are rolling out across the UK this month. The new look bottles are stylish, simple and strong, encapsulating the symbolic Welsh dragon for Brains' customers old and new. Blue Marlin also redesigned the brewer's on-trade presence for its cask ales, which launched in July 2011."