July 23, 2014 | 6 Comments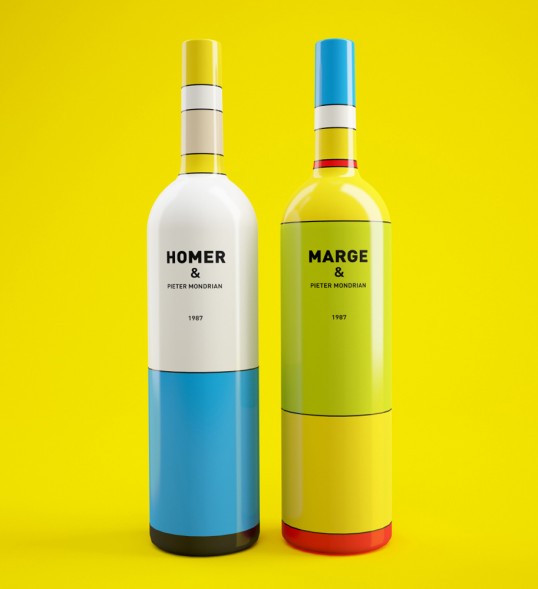 Designed by Constantin Bolimond | Country: Belarus
"The drink was brought to life together with the cartoon characters in 1987. Maybe it's wine, may be not. We are inviting you to find out yourselves. The contents have been kept secret for 26 years now. While the ingredients remain the same, their proportions differ from time to time. That is why you will never get bored from this drink! We can assure you that you will not be left disappointed.
The design is inspired by the works of Pieter Mondrian."
July 23, 2014 | No Comments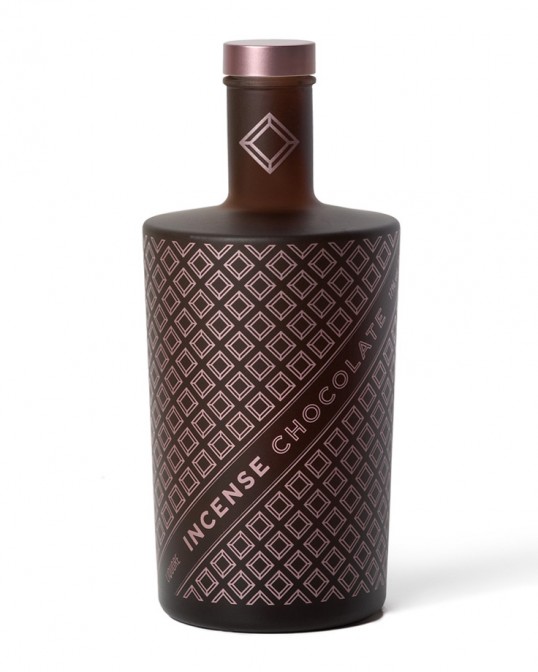 Designed by Puigdemont Roca | Country: Spain
"We used the concept of a chocolate bar to design the packaging for this liquor. Screen-printing was used  to get a great visual impact on shelves."
June 24, 2014 | No Comments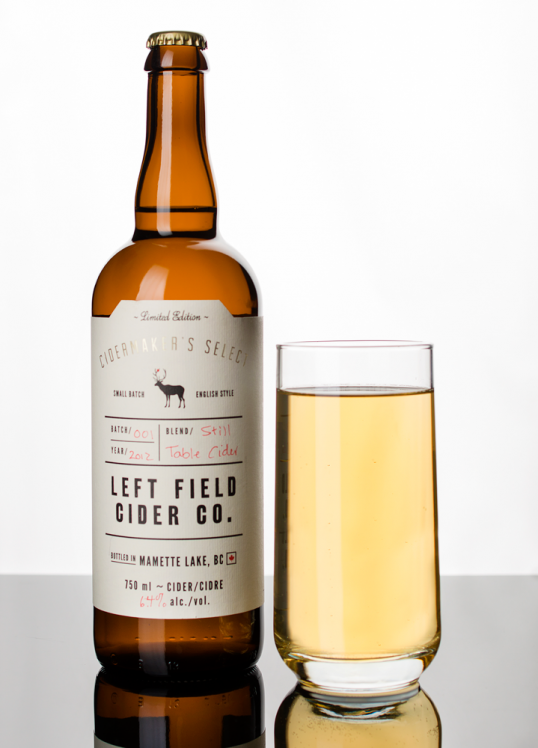 Designed by Also Known As | Country: Canada
"Left Field Cider Co. is a handcrafted english style cider, founded by two sisters and supported by awesome family and friends. The cider is brewed and bottled at the family ranch in Mamette Lake, BC, a place that you have to visit to get the full experience. This is not your average sugar-y, cooler style cider – it's all natural, super dry and refreshing as hell – seriously, there's nothing like it on the market. For the new cider packaging, we took a new approach from their core packaging – focusing on the craftsman approach to creating a premium cider. We created an adaptable label that each year could be used with new variations of cider batches from year to year."
June 19, 2014 | No Comments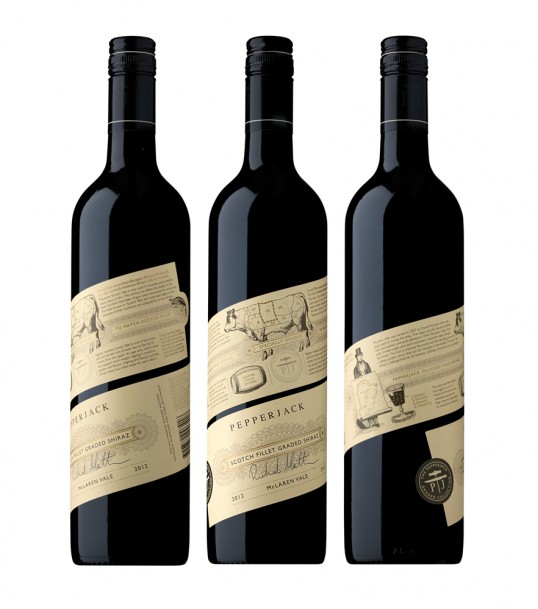 Designed by The Collective | Country: Australia
"Brief: The new Pepperjack "Graded" tier consists of two wines, each specially created to drink with specific cuts of steak, and the client wanted this message to come across strongly. Our challenge was to ensure that the new wine looked like an integral part of the Pepperjack brand, which is largely identified through its cream label applied at an angle on the bottle, but with a completely individual personality. The brief was to come up with a solution that was as distinctive as – and complemented – the core tier's highly recognizable cream label."
June 18, 2014 | No Comments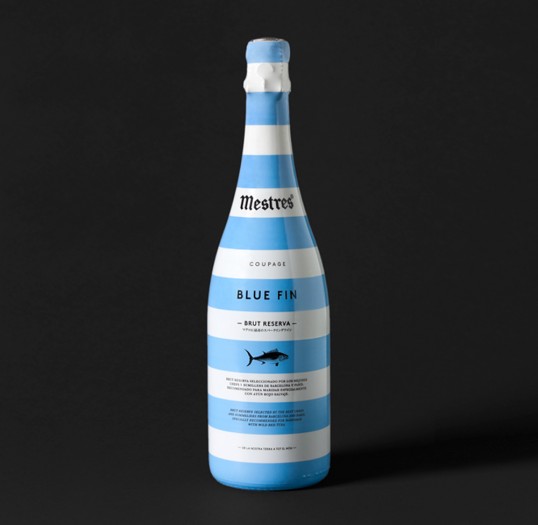 Designed by Clase BCN | Country: Spain
"The blue fin is a kind of tuna. Mestres Coupage Blue Fin is a cava that has been specially created to go with this superb fish and also to raise a toast to all the fishermen, chefs and salespeople whose work is based around it.
The commission came with an explicit request by the client to use a plastic sleeve as the label for a bottle of premium cava—not an easy starting point given that this material is usually linked to mass consumer goods.
However, we embraced this request as a positive challenge to fill the bottle with a graphic design that would make it highly visible and easily recognisable on a sales display.
The artwork reflects its seafaring spirit, wrapping the bottle with a direct, easily recognisable graphic design. The typeface strikes a contrast with the pop pattern, giving the final result a serious, elegant touch in keeping with a premium product."
June 18, 2014 | 1 Comment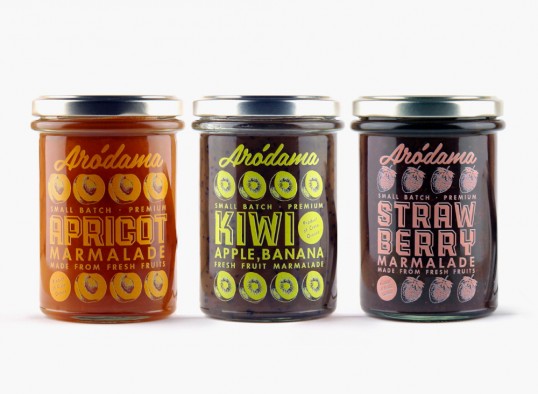 Designed by Bob Studio | Country: Greece
"Branding, packaging design and naming for the Arodama family, a new series of traditional Cretan products, aimed mostly to foreign markets.
Both the given name (Arodamos is the tender shoot in the Cretan dialect) and the design of the whole series using vivid colors and illustrations, give a cheerful and playful character to the products. Food is one of the best joys in life, especially for the Cretans and we wanted to transmit that through our design. We drew illustrations for every product showing its basic ingredients and created a pattern that applies to all labels in order to achieve a consistent image for the whole product family.
Products and corporate identity share the same design elements in order to create a direct relationship between them and a strong consistent image. The design patterns and illustrations have been implemented in jars, olive oil and raki bottles, packages, press kits, bags and the website."
June 13, 2014 | No Comments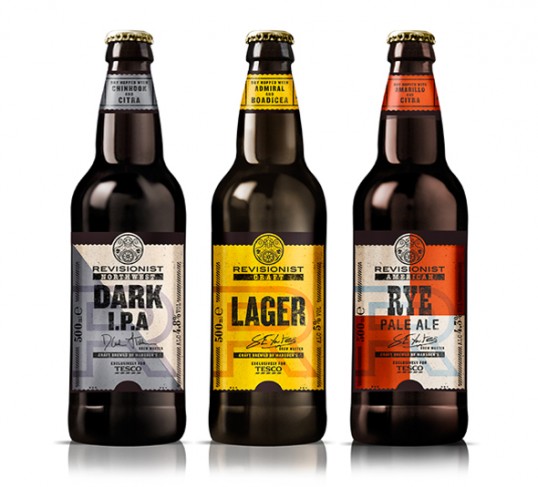 Designed by R Design | Country: United Kingdom
"Building on the ever growing trend for craft beers, Tesco have joined forces with Marston's Brewers to launch their 'Revisionist' range exclusively in Tesco stores.
The range of bottled beers includes Hefeweizen Wheat Beer, Belgian Saison Beer, California Steam Beer, Dark India Pale Ale, American Hop Rye Pale Ale, Craft Lager and Pacific Hop Red Ale. Revisionist craft beers are the result of master brewer's having free reign to 'revise' their favourite brewing recipes using contemporary techniques and ingredients to create truly unique and distinctive beers."
June 11, 2014 | No Comments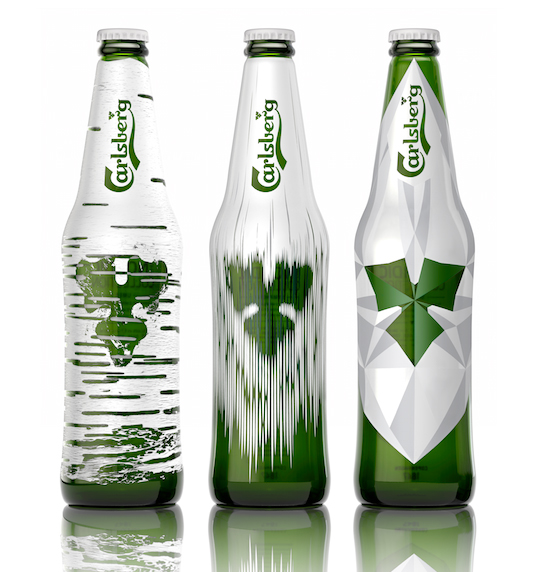 Designed by Safari Sundays | Country: United States
"Safari Sundays was challenged to design a range of bottles that celebrates the trademark Carlsberg hop leaf as well as the beer's Danish heritage. Safari Sundays looked to Nordic landscapes and industrial design as their inspiration and translated these scenes onto the classic green Carlsberg bottles. The end result is a sleek and modern styling that plays with both transparent versus opaque spaces as well as matte versus high gloss contrasts."
June 10, 2014 | No Comments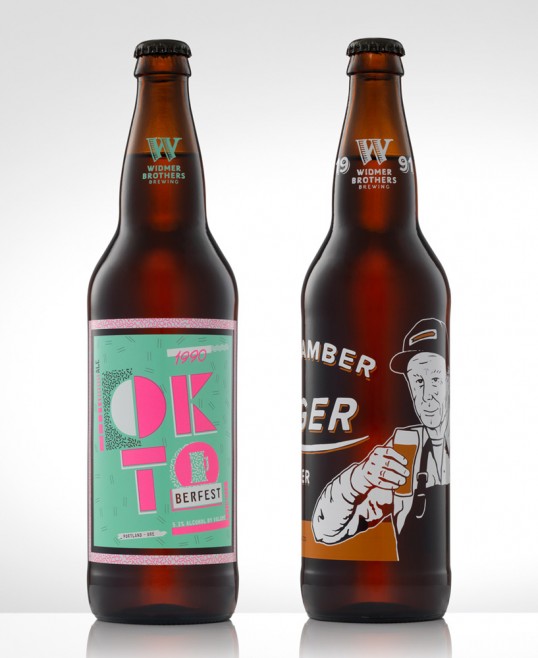 Designed by Ben Willett & Factory North | Country: United States
"Ben Willett, Oktoberfest: "The inspiration for this label comes from the constructivist and Bauhaus design movements of Germany, with a heavy layer of Zach Morris on top of that." 
Tyler Segal (Factory North), Ray's Amber Lager: "I was inspired by the classic look of sign painters' hand-done lettering. I wanted to feature the Brothers' dad Ray on the label since the beer was brewed for him. I illustrated him using an old photograph I was given. A simplistic, two-color design using white and amber evokes feelings of nostalgia."
June 9, 2014 | No Comments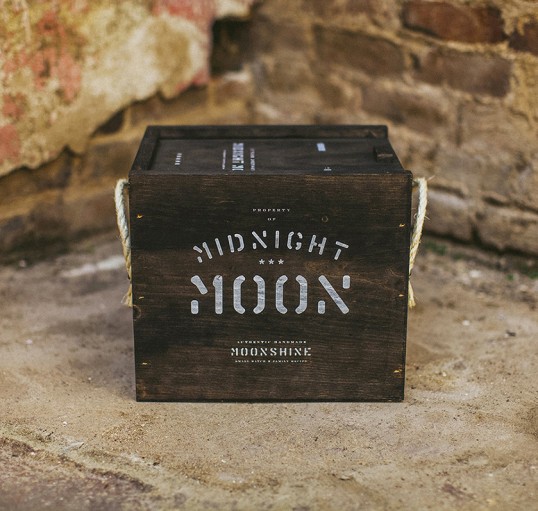 Designed by Device Creative Collaborative | Country: United States
"Piedmont Distillers sponsored music events throughout the summer. They asked us to create a gift for the musicians on the tour. Our main focus? Entertain and educate these guys on Midnight Moon moonshine, while keeping the design true to the roots of this great tasting spirit.
Recipients opened a wooden, screen printed box, inspired by old moonshiner crates, to find a card welcoming them to enjoy the Midnight Moon experience. Musicians were then greeted with an overview and history of the brand, along with cocktail recipes and "The Great Boredom Bust" activity book, designed to share details about the product and keep them entertained. (when the groupies weren't around) Underneath, they found three individually wrapped jars of Midnight Moon, along with branded cups for enjoying the shine."