September 27, 2011 | 4 Comments
Designed by Redthumb | Country: The Netherlands
"3R Tequila is a 100% de Agave Organic Tequila, of remarkable smoothness, purity and strength, a spirit of passion, boldness and freedom.
3R contacted Redthumb, a small independent branding agency, with an incredible opportunity – create a 'kick-ass' design for a brand with an incredible true family story. The client wanted to redefine the Tequila category, and break new ground by creating something bold, outstanding and passionate. Initially launching in Sweden, 3R is also looking to expand to North America, the rest of Europe and Asia.
September 24, 2011 | 4 Comments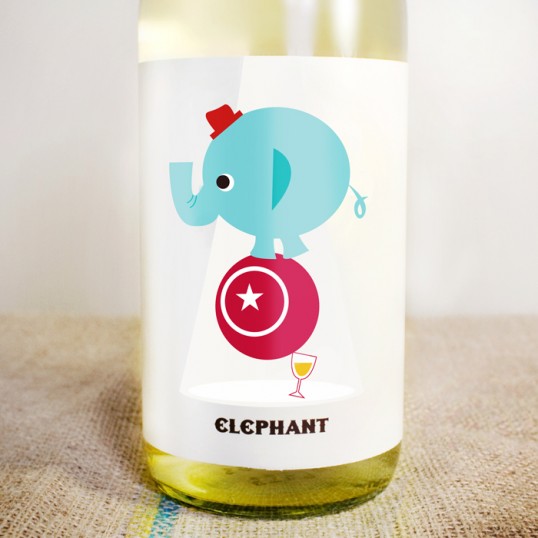 Designed by Jag Nagra | Country: Canada
"My friend, Angela Stephen-Dewhurst, and I organized a Depression-Era Circus Tea Party for our friends. For the 11×17 invitation poster, I illustrated 3 characters: the World's Strongest Man, the Ringmaster, and the World's Tallest Woman. These characters also made appearances on the wine bottles, along with a few other characters, including a fairly accurate self-portrait of myself and Angela on the Clown Label. Labels were printed on glossy 80LB text, and to add to the quirkiness of the event were adhered onto mismatched wine labels."
September 23, 2011 | 6 Comments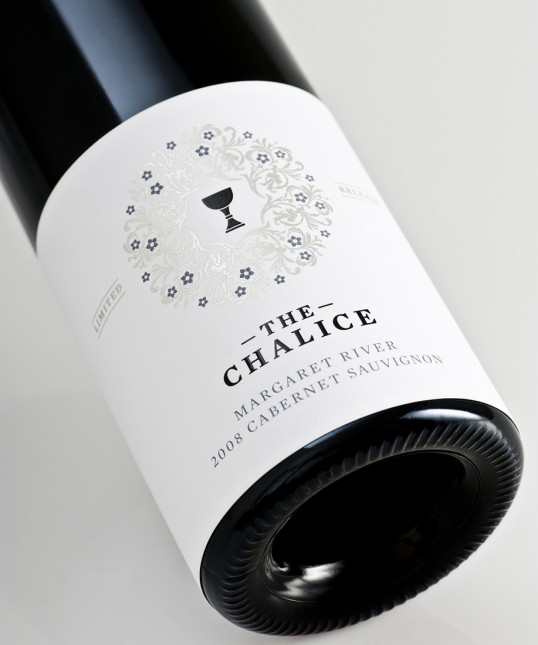 Designed by Studio Lost & Found | Country: Australia
"The Chalice wine labels were designed for Margaret River producer Chalice Bridge Estate.
The Chalice is an icon range of prestige and perfection. These limited release wines represent the Holy Grail of winemaking, and incorporate select parcels of the finest fruit from the Chalice Bridge single vineyard estate in Southern Margaret River. The wine is barrel-fermented and left for fourteen months in new French oak barriques to develop its superior flavours.
The elegance and simplicity of the design reflects the premium positioning of this product.
Printed 4x PMS on Fasson Antarctic White uncoated vellum paper, with matt gold and silver foil, sequential bottle numbering, and a high-build clear silkscreen varnish.
The label printers Supa Stik won Gold in the Offset Roll Fed Label – Wine & Beverage Category at the 2011 Print Industry Craftsmanship Awards WA."
September 22, 2011 | 1 Comment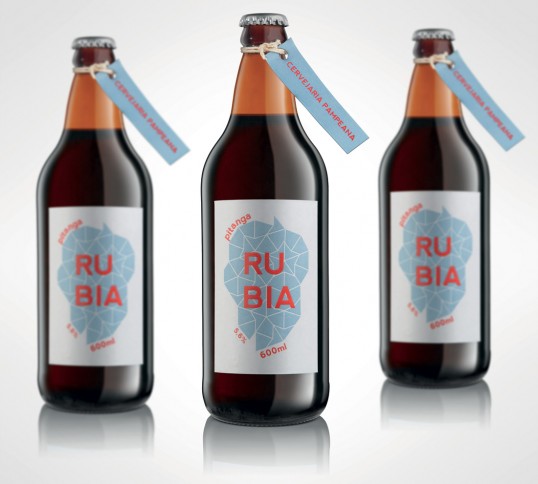 Designed by Roberta Zanette | Country: Brazil
"I recently developed packaging for a Gastronomy graduate.
The objective of his final project was to create a fictitious brewery, Cervejaria Pampeana, and it's beer, Rubia – a beer made of Pitanga, a little summer fruit from Brazil.
The concept of the project is that Rubia – a name that refers to the color of the fruit was a different beer, lighter than the others, to be consumed only during the summer months."
September 21, 2011 | 4 Comments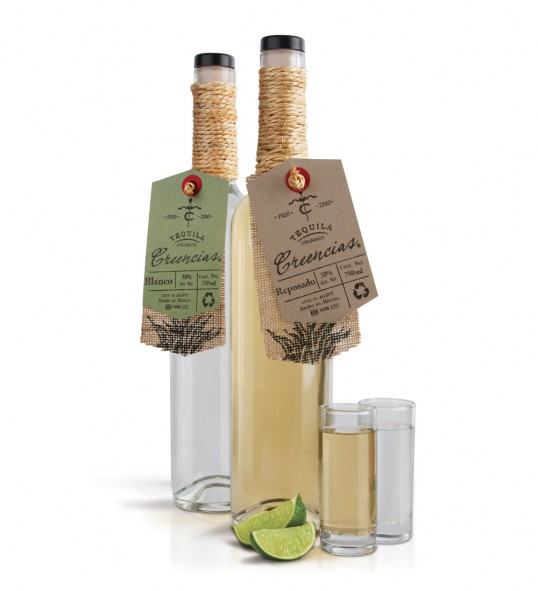 Designed by YuJo! Creatividad Aplicada & Rodrigo Mercado | Country: Mexico
"Creencias is tequila distilled with respect to its history, its original process and yourself. Just as it was made in 1920. By not using any chemicals to grow it, distill it or aging it, we manage to bottle an all organic tequila, which unlike the rest, is kind to you and to the planet. Made timeless at Rancho El Mirador, Jalisco, Creencias Organic Tequila seems like an unlikely product today. Time cannot be stopped, but it sure can be bottled."
September 21, 2011 | 1 Comment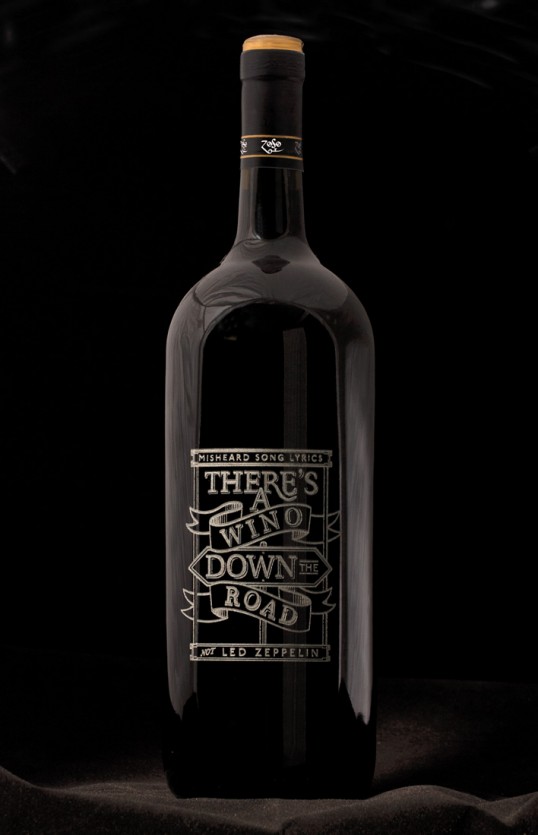 Designed by Dominique Falla | Country: Australia
"This is my entry into AGDA's Poster Annual. The theme this year is music, so I've made a wine bottle devoted to my favourite misheard song lyric from Led Zepplelin's "Stairway to Heaven". The real lyric is "as we wind on down the road" but it often gets misheard as "there's a wino down the road." Led Zeppelin fans will also notice something else special on the bottle. I had the label laser etched onto a giant flagon of red wine and shot it against black for the final poster."
September 20, 2011 | 6 Comments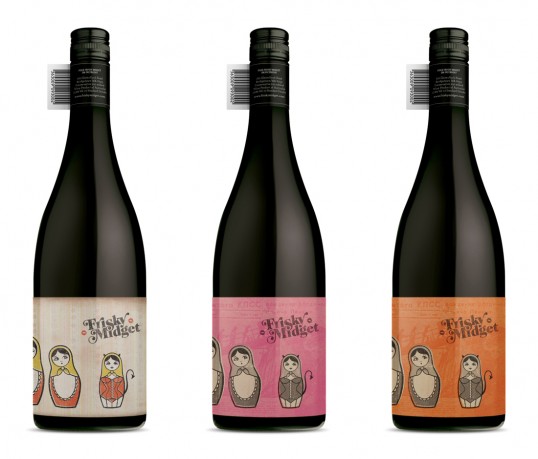 Designed by Studio Lost & Found | Country: United States
"The Frisky Midget wine labels were designed for Blackwood Valley producer Killinchy Wines.
When Andrew and Silke Highet took over running the family winery, they wanted to redefine what Killinchy Wines was all about, and develop a brand that really stood out in the marketplace. We took the client through our brand strategy development process, which led us to develop a firmly tongue-in-cheek brand, for those partial to the odd wine.
The Frisky Midget range is the first in a series of wines to be released under the new Killinchy Wines brand. The large wrap around label is a throwback to Communist Russia, revealing a series of Babushka / Matryoshka dolls with the final doll exposed as the 'Frisky Midget'. This cheeky character is a celebration of individuality and the freedom of self-expression.
Printed four colour process on Fasson Estate 8 uncoated vellum paper."
September 19, 2011 | 5 Comments
Designed by Iris | Country: United Kingdom
"To celebrate Mr. Jack's Birthday in September. 200 000 bottles were produced."
September 16, 2011 | 2 Comments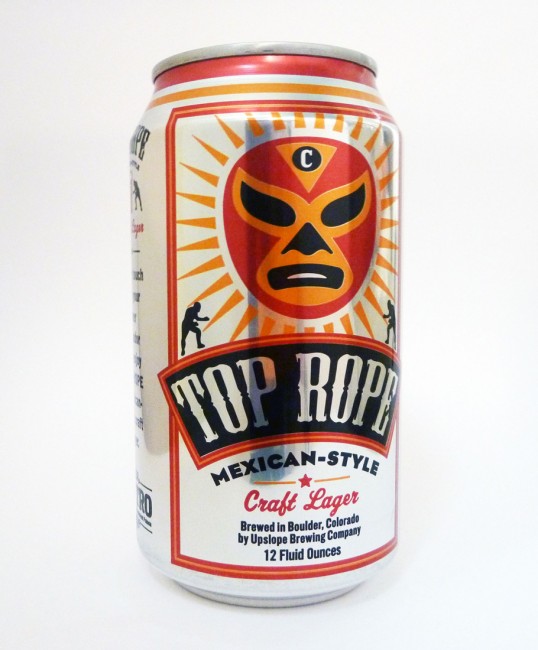 Designed by John Carlson Design | Country: United States
"Beer can design for Top Rope Mexican-Style Craft Lager. Produced by Upslope Brewery in Boulder, Colorado for Centro Latin Kitchen & Refreshment Palace, also located in Boulder.
Top Rope Beer has been available on tap at Centro for some time now. Centro requested a can design for Top Rope based on the Mexican Lucha Libre Imagery that is used as part of the restaurant decor and promotional materials."
September 14, 2011 | No Comments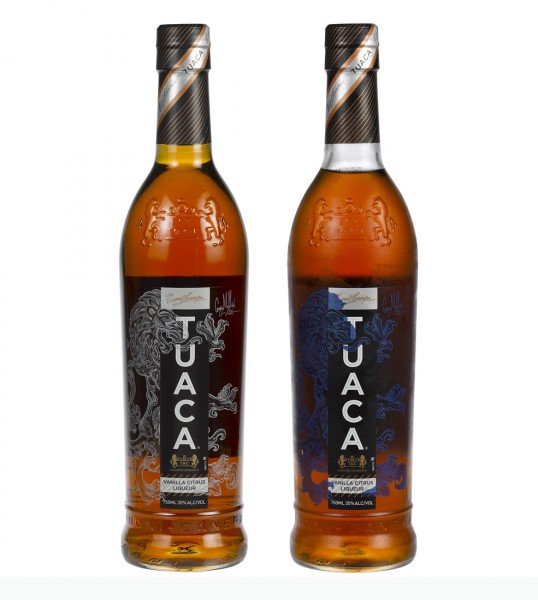 Designed by Corey Miller | Country: United States
"TUACA's Perfect Chill label features custom artwork by world famous tattoo artist Corey Miller whose signature also adorns the bottle.
The tattoo is printed with thermochromatic ink, a special dye that changes color when temperatures increase or decrease. When the TUACA bottle reaches the perfect temperature, the color activates to blue, but as the bottle resumes to room temperature, the original light silver color returns.
The overall bottle design represents the rich history of TUACA.  The two lions Miller designed in the form of a tattoo reference the historic guardians of architecture seen throughout Florence, Italy.  Many believe they symbolize the two brothers-in-law, modern day guardians of the adventurous ideals that inspired the brand.
The handwritten script of Tuoni & Canepa at the top of the vertical, front-facing label has decorated the TUACA bottle for generations.  It's the mark of uncompromising quality, bold innovation and exceptional taste.  The TUACA crest at the bottom of the vertical, front-facing label pays homage to the crest of the House of Medici.  The Medici six-ball shield can be found throughout Italy as a sign of prosperity and influence."