August 15, 2011 | 3 Comments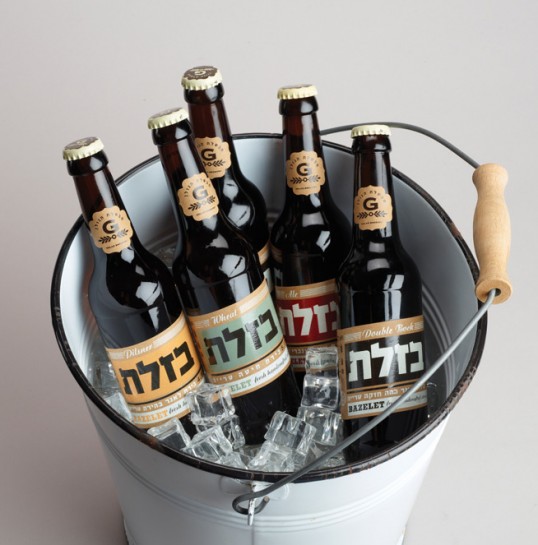 Designed by Blend-it Design | Country: Israel
"Branding and design for the Golan Brewery. The Golan Brewery was launched as a joint venture by the Ohayon family and the Golan Heights Winery. Located in Katzrin, the brewery produces beer of an international caliber. In our search for a design concept, we engaged in a dialogue between the local and the sophisticated, the masculine and the liberated, and the rugged and the cultured."
August 12, 2011 | 4 Comments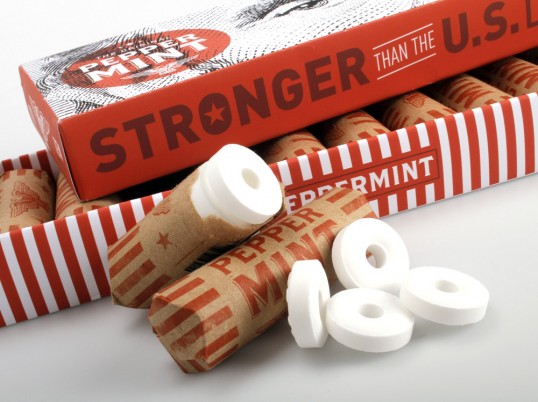 Designed by Cory Etzkorn | United States
"What's fit for the oval office, flyer than Airforce One, and Stronger than the U.S. dollar? The Original PepperMint, of course! These federal-reserve-fresh mints come in two delicious and highly stylized varieties sure to please your inner capitalist.
August 10, 2011 | 3 Comments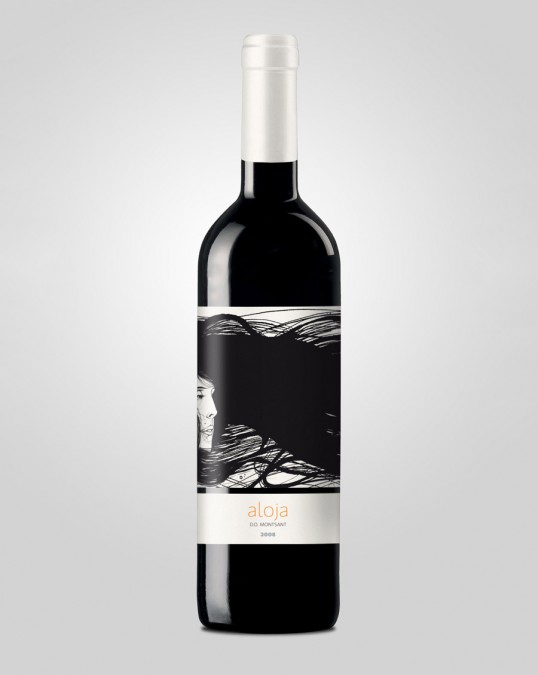 Designed by Atipus | Country: Spain
"Aloja is a sea goddess, energic but tender. The hair of the goddess involves the label creating a sinuous texture. Tasting notes: "Mediterranean character, with volume and prevalence of berries, balsamic and spicy."
August 9, 2011 | 1 Comment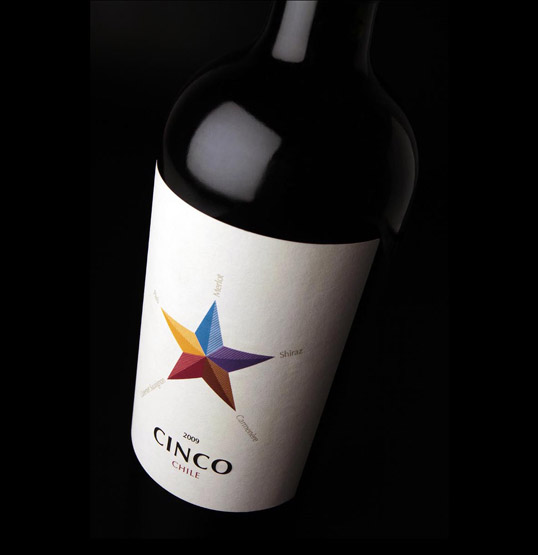 Designed by Diego Ballester | Country: Argentina
"Product created and designed for the Danish market. Five is a special wine"star" that conveys the history of Chile in a unique combination of its most emblematic 5 strains. Minimalist design, color and elegance in each of the points of the star represents a strain, with its color code."
August 2, 2011 | 1 Comment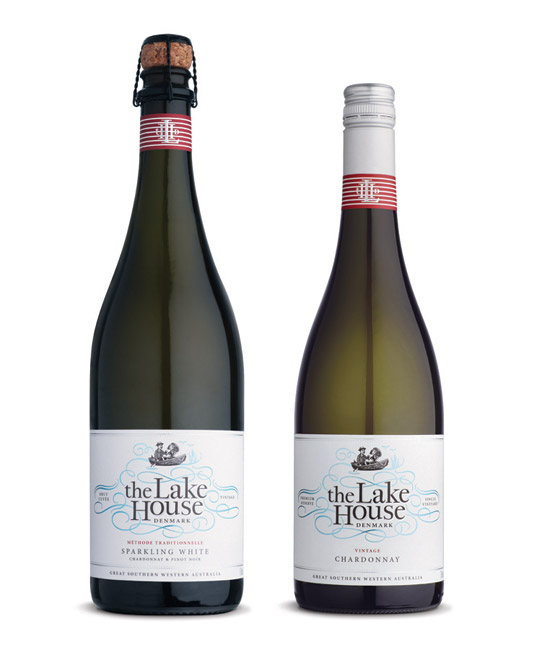 Designed by Manifesto Design | Country: Australia
"The Lake House Denmark is located in Denmark, Western Australia.
Known as 'one of the most picturesque cellar doors in Western Australia', the winery sits beside a large, trout filled lake and has become a popular tourist destination. Developed over the last seven years, The Lake House Denmark has three ranges of wine, each positioned in a different price category. The labels work on their own and also visually relate to each other to create a unique brand story.
The signature, mid-range Postcard Series features a whimsical, nostalgic '1930's feel' illustration of a couple rowing on the lake, capturing their holiday romance.
The popular "He Said She Said" label is the fun and quirky entry level wine for The Lake House Denmark. The 'couple in the boat' are the characters from the mid-range Postcard Series, featured much more prominently, with a humorous take on relationship miscommunications between men and women.
The premium range of The Lake House Denmark features blue and silver foils and swashes that are representative of the lake, to create an elegant, high-end label that's a touch more serious. The red and white striped neck cuff is a visual link to the gentleman's boating jacket from the Postcard Series."
July 29, 2011 | 4 Comments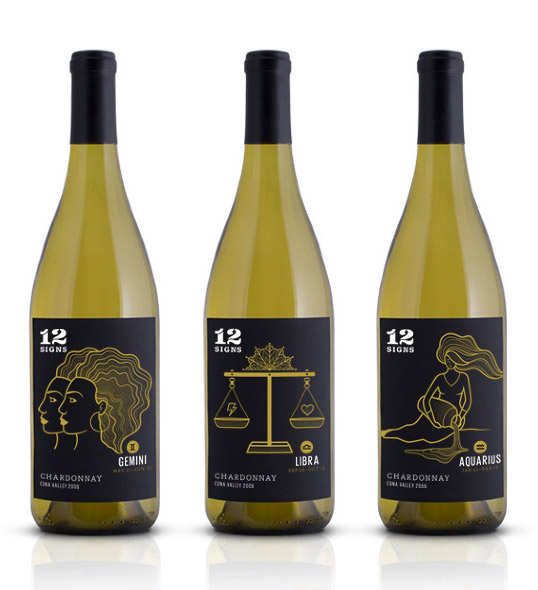 Designed by Anchalee Chambundadongse | Country: United States
We love hearing stories like this. When Marie Fox, proprietor of 12 Signs Wine was looking for designers to develop her new brand she found designer Anchalee Chambundadongse through Lovely Package.
"A wine to compliment your zodiac sign? What a great idea! And the research was very, very interesting. I created unique illustrations for each of the 12 zodiac signs using color to differentiate the elements and wines: earth, air, wind, and fire. Wouldn't this make a great little birthday gift?"
July 29, 2011 | No Comments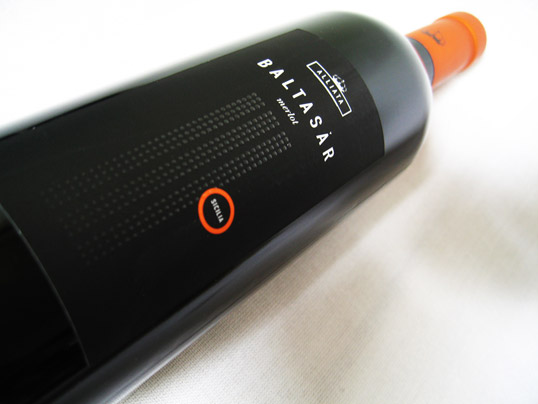 Designed by Marco Colognola | Country: Italy
Branding (Identity, labels, packaging, web site) for Alliatavini, Italy.
July 28, 2011 | 3 Comments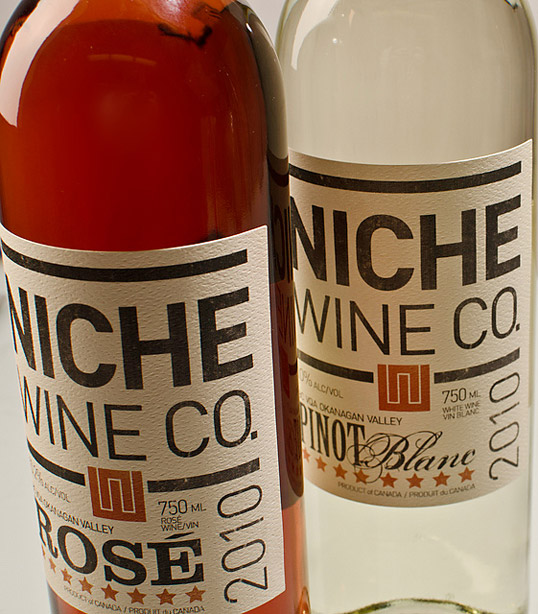 Designed by Topshelf Creative & Geoff Vreeken | Country: Canada
"The idea was to bring a craft beer feel to the wine category. A masculine, old letterpress approach used to demonstrate the fact that the winery is essentially a four-person, hands-on operation … much like craft brewing."
July 27, 2011 | 7 Comments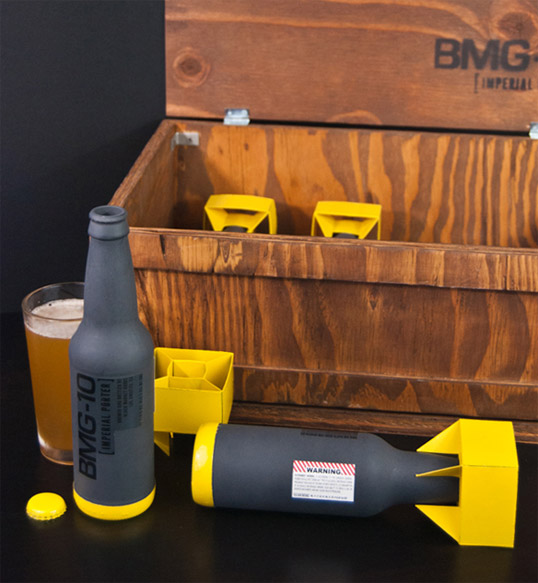 Designed by Marco Manansala | Country: United States
Conceptual packaging from Los Angeles based designed Marco Manansala.
"The project was to create a promotional beer packaging piece for a fictitious brewing company called, Black Market Goods. Because of the company name, the bottles were created to resemble illegal weapons sold in the black market. Each bottle took about 10 hrs to create due to the long drying times of the primer paint used for the body. Shiny yellow engine enamel was used on the removable fins, cap and on the base of the bottle to offset the matte color of the primer. Finally, a wooden box with a bracing system was designed and constructed to hold the bottles in place during transportation."
July 26, 2011 | 3 Comments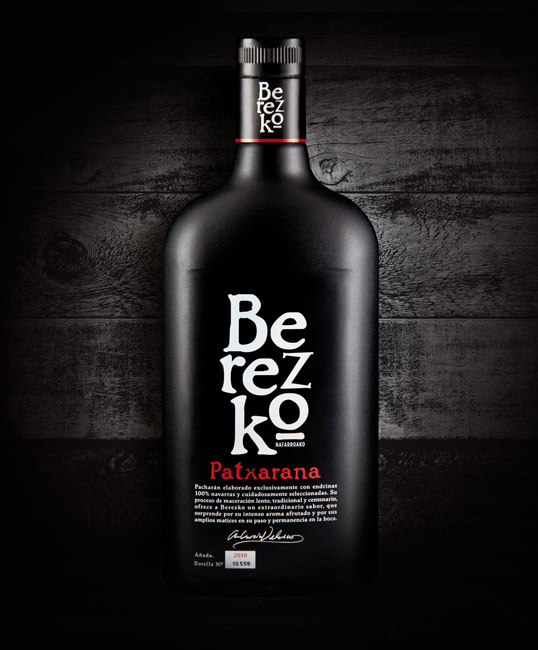 Designed by CB'a Graell | Country: Spain
"The design agency CB'a Graell, specialized in packaging and branding, has created the image for Berezco, the new pacharan of Ambrioso Velasco (Diego Zamora Group). The new design consists in the deconstruction of the brand. The use of a typography that communicates origin and tradition juxtaposed with a black background that makes the colours vibrate and the form of the bottle itself, enables the brand to transmit both authenticity and modernity: values that define a product that has been exclusively elaborated with the best blackthorn originating 100% from Navarra and whose traditional maceration process enables us to savour the authenticity of this pacharán."