February 28, 2012 | 6 Comments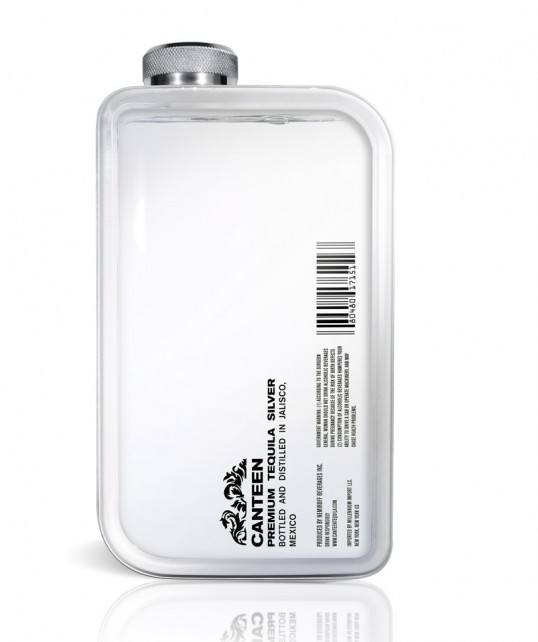 Designed by Kaleidoscope | Country: United States
"The Sauza, 1800 and El Jimador tequila brands have captured double-digit share growth while the category leader Jose Cuervo is in decline. The brands in the tequila market position themselves as being authentic and utilize old-fashioned, ethnic-based package cues. Since the category is really just stealing share from each other versus bringing in new users or switchers from other liquor categories, Kaleidoscope seizes the opportunity to redefine tequila through strategy and design.  We transcend cliché visual elements and leverage luxury with inspiration from nightclub-culture denizens to create a disruptive, retro-cool package design with a uniquely urban attitude and swagger. The co-mingling of metal and glass, unconventional shape, love-to-feel-it closure delivers a wholly new experience to enjoy and be seen with. Embracing urban luxury, without the haughty attitude adopted by its competitors, Canteen achieved its mandate – giving high-end urban bars and nightclubs a delicious new alternative."
February 27, 2012 | 1 Comment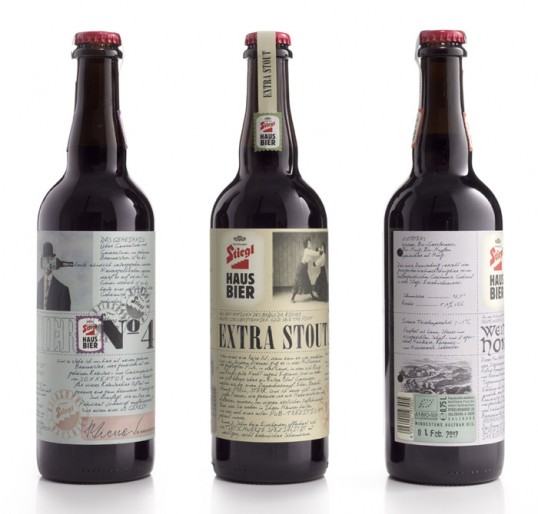 Designed by Demner, Merlicek & Bergmann | Country: Austria
Beautifully detailed labels for Stiegl Haus Beir. Check out the short stories for each brew at the end of the post.
February 24, 2012 | No Comments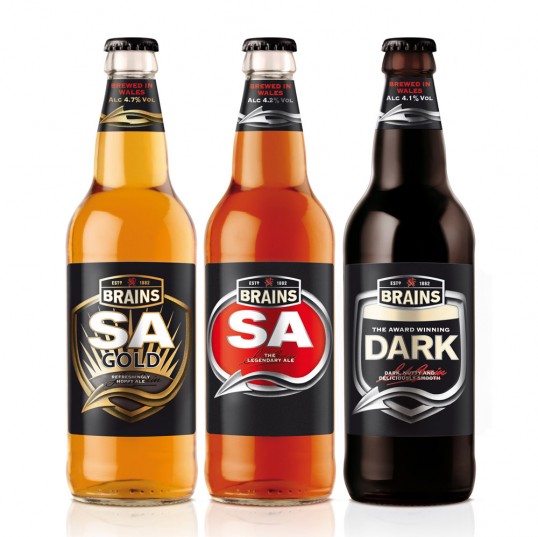 Designed by Blue Marlin | Country: United Kingdom
"New year, new look for Brains bottles, courtesy of Blue Marlin. Welsh brewer Brains is unveiling updated bottles for its ales range, created by integrated brand design agency Blue Marlin, which are rolling out across the UK this month. The new look bottles are stylish, simple and strong, encapsulating the symbolic Welsh dragon for Brains' customers old and new. Blue Marlin also redesigned the brewer's on-trade presence for its cask ales, which launched in July 2011."
February 23, 2012 | 1 Comment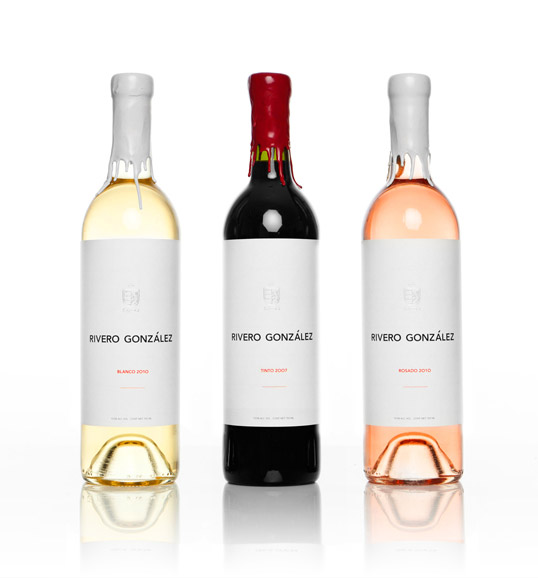 Designed by Anagrama | Country: Mexico
"According to archeological evidence, the human race has been drinking wine for over 8,000 years. However, never before has there been such diversity in origin denomination, quality and prices.
Throughout the years, there has been a tendency of taking products originally treated to remain longer such as cheese, cured meats and even salt, and take them to the same level of sophistication of a perfume or a high couture garment. For wine, this tendency is stronger than for any other beverage; We can find three dollar wines in a cardboard box, or a $160,000 bottle of  Château Laffite."
February 23, 2012 | 5 Comments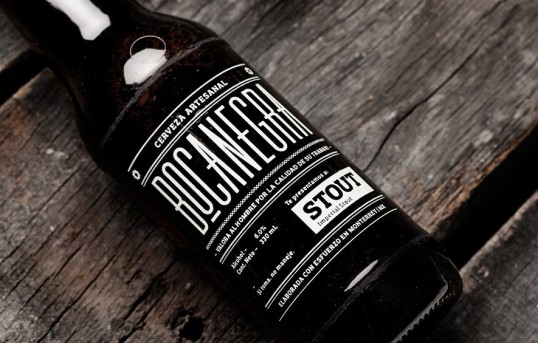 Designed by Manifiesto Futura | Country: Mexico
"Bocanegra craft beer made in Monterrey. It is a tribute to of all working people."
February 22, 2012 | 8 Comments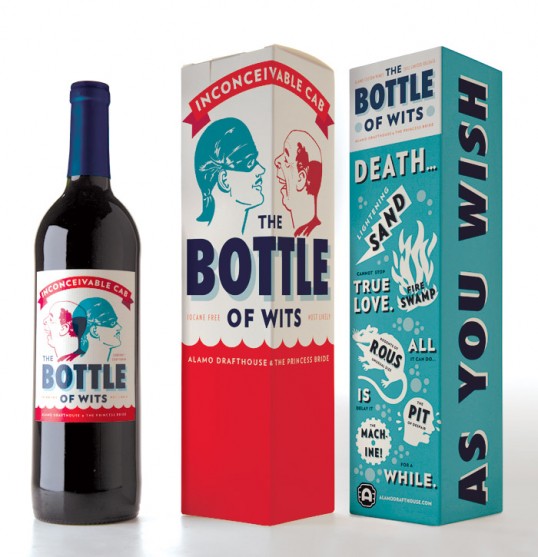 Designed by Helms Workshop | Country: United States
When you leave design school and look for work with your portfolio of fictitious student projects, half of your interviewers pause to tell you that, in the "real world," you'll never have the opportunity to design wine packaging. Much less, packaging themed after one of your favorite movies. Those folks never had the chance to work with Tim League and the team at Alamo Drafthouse Cinemas.
In looking at developing an identity for Alamo's in-house branded wines, we quickly decided that it would be impossible to sum up everything that makes the Alamo unique in a single packaging system. Why not redesign the wine each year, based on a film that aligns with the brand? Alamo's 2012 offering became two wines inspired by The Princess Bride, in honor of the 25th anniversary of the film."
February 21, 2012 | 1 Comment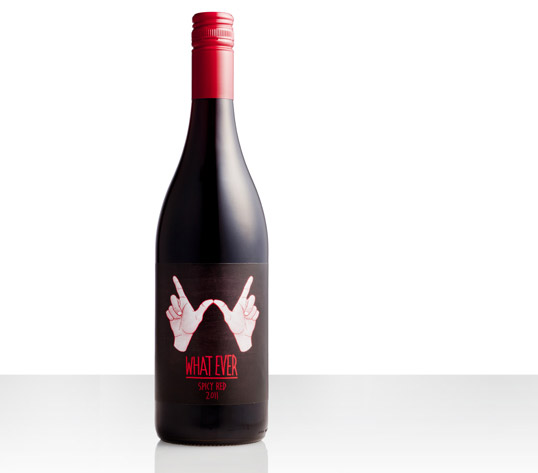 Designed by CIP Creative | Country: Australia
"What Ever is the wine Medhurst has positioned to be the "relaxed" wine. The message is clear, whatever you eat this summer, tapas, barbeque, Thai, or fresh picnic basket, What Ever is the wine to go with it, What Ever is spicy and fresh, no oaky aroma, chill it if you want, whatever…
The design neatly ties with the symbolic gesture of the "whatever" symbolism.
This is essentially the design brief CIP received from Medhurst Wines and it is potentially the best brief we received – ever!"
February 19, 2012 | No Comments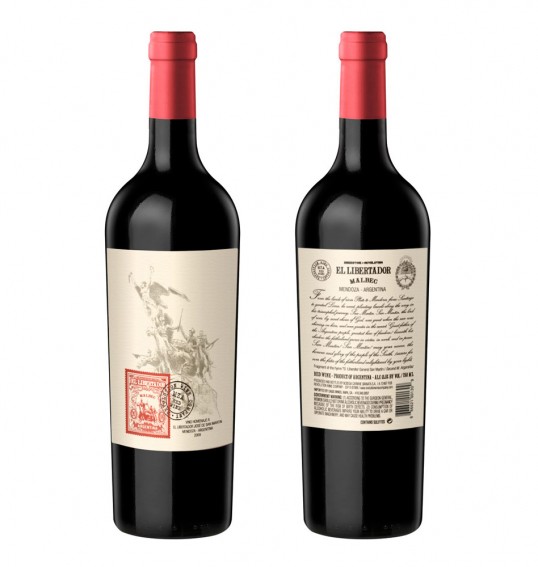 Designed by Diego Ballester | Country: Argentina
"Brand and design in homage of the Great Liberator José de San Martín. The design is inspired by the letters, post and communication of that time.
From the lands of river Plate to Mendoza, from Santiago to genteel Lima, he went, planting laurels along the way in his triumphal journey, San Martín. San Martín, the lord of war, by secret choice of God, was great when the sun was shining on him, and even greater in the sunset. Great father of the Argentine people, greatest hero of freedom! beneath his shadow the fatherland grows in virtue, in work, and in peace."
February 18, 2012 | 2 Comments
Designed by Studija Creata | Country: Lithuania
"The most popular vodka in Lithuania 'Lithuanian Vodka' amazes us all again with their extraordinary design. This time it is the gold-shining limited edition 'Lithuanian Vodka – Black Edition', which was introduced 2011 at the end of December. Lithuanian design agency Studija Creata was inspired by Lithuania's history and national heritage. Rhombus and herringbones, combined from little squares, are very common patterns in Lithuanian folk art. Although reference to these national motifs gained more modern forms – mysterious past reflections were transformed into modern art."
February 16, 2012 | 2 Comments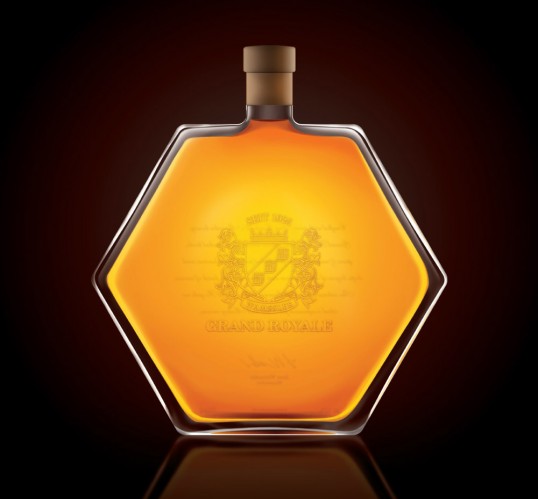 Designed by Boon How Low | Country: Malaysia
"This personal project is started because of my instant crush I had when I first had a sip of it.
Mead, also known as honey wine, is the first alcoholic beverage known to man. It is often known as an aphrodisiac drink as well as a preferred drink in the ancient Greece. Beside that, this historical beverage also had long been enjoyed in the medieval ages and featured in poetry, myths and folktales.
The packaging is designed with the intention to put it into the top-tier quality of mead, with an iconic status for the brand as well as the drink. As one of the main ingredients is honey, it makes a lot of sense to craft the bottle into a hexagonal shape, very much like the honeycomb. With simplicity and elegance in mind, I chose to have the logo etched on the front and the rest of the information printed on the back of the bottle."