January 12, 2012 | 2 Comments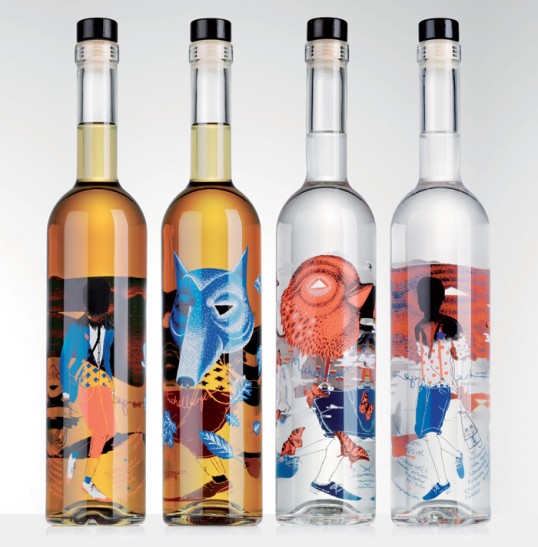 Designed by Michelberger Hotel | Country: Germany
"The Michelberger Hotel is a hotel in Berlin which has a design studio inside as part of its business. The studio does all the design work for the hotel and for its many other projects. We've been in Creative Review and D&AD amongst others.
Brief: The Michelberger Hotel together with The Preussiche Spirituosen Manufaktur in Berlin, have partnered up to create a new brand – the Michelberger Booze Company.
For our first product, we have created a pair of herbal schnaps drinks based on two old, forgotten recipes. Michelberger 35% is a golden liquid, a herbal liquor, smooth, earthy and warming and Michelberger 45% is a herbal distillate, clear, airy and invigorating.
The drinks are a complimentary pair, so the designs are more or less a symmetrical reflection of one another. The brand lives in the world of old German fairytales and so one bottle is set in a forest and the other in the mountain so as to reflect the qualities of the respective drinks. A drink is like a mask, it lets you feel something else or even become someone else, and so the visual concept is based around two masks – a wolf in the forest and a bird in the mountains."
January 10, 2012 | 1 Comment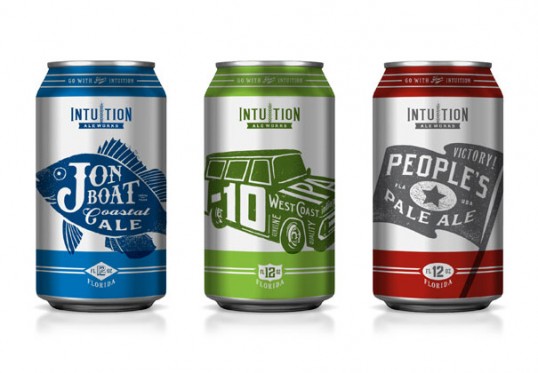 Designed by DeRouen & Co. | Country: United States
"Intuition Ale Works of Jacksonville was just ending a very successful first year (during which its customers could only buy its beer on tap), when owner and head brewer, Ben Davis approached Texas-based DeRouen & Co. with his vision of being the first Florida craft brewery to package beer in cans. Long associated with college kids and bad beer, canning beer actually provides better taste quality and is better for the environment. DeRouen worked closely with Davis to develop packaging that extends the brand and evokes their handmade and sophisticated personality. I-10 West Coast, represented by a cross-country interstate, speaks to Davis's connection with the beach lifestyle on the East and West coasts; Jon Boat Coastal conveys the joy of fishing (with a fresh, cold beer in hand) in the coastal waters around Jacksonville; and The People's Pale Ale label represents the demand for a great American-style pale ale."
January 10, 2012 | 2 Comments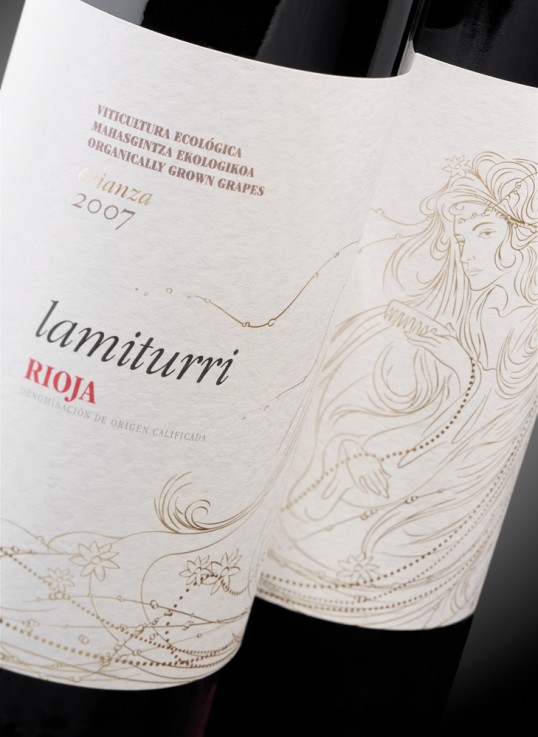 Designed by (calcco) | Country: Spain
"The Lamias are mythological characters often described with bird feet or fishtail. Typically female, and of extraordinary beauty, the Lamia used to live in the rivers and in the fountains, where they used to comb their long hair with coveted golden combs. Inspired by these characters, Lamiturri is built upon a circular design, a label which invites to be rotated, with an illustration stamped in gold which fills the label from end to end."
January 9, 2012 | 2 Comments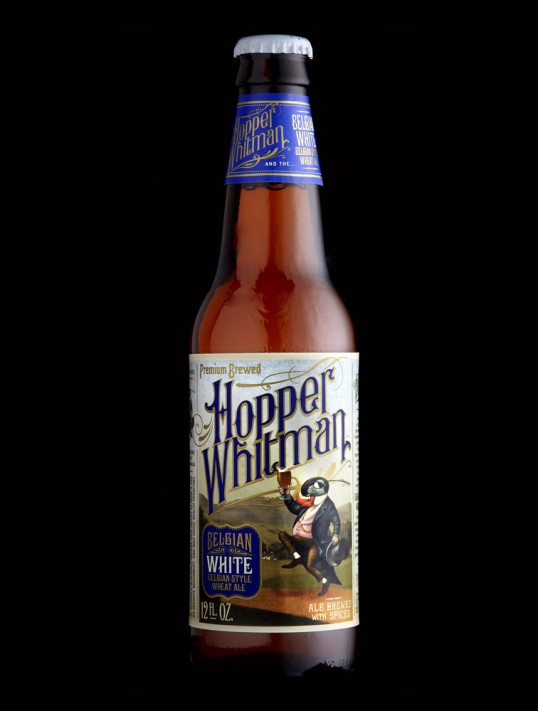 Designed by Stranger & Stranger | Country: United Kingdom
"Hopper Whitman is a beer swilling cricket whose dubious dress sense changes with the seasonal ales. Winter beer is just out where he's tooled up in thermals."
January 8, 2012 | 3 Comments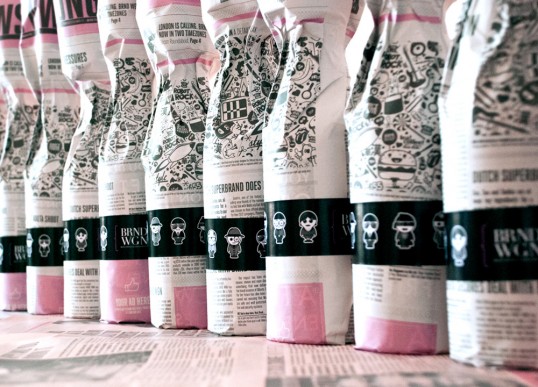 Designed by BRND WGN | Country: Malta
"What better way to celebrate a year ended than to put the highlights of 2011 in ink on paper and wrap it around our very own hand picked Private Estate Selection, Cabernet Sauvignon from 2007. It's been a while since we worked on a publication so we really enjoyed working on this project and printed two versions, one on standard news print paper and the other on the same salmon hue paper used for the Financial Times.  Our top clients and friends got a numbered bottle of which only 100 were produced whilst we also sent a copy of BRND NWS (as we aptly called our news paper) to other contacts of ours across the globe. We had some great feedback and will probably publish BRND NWS again."
January 6, 2012 | 2 Comments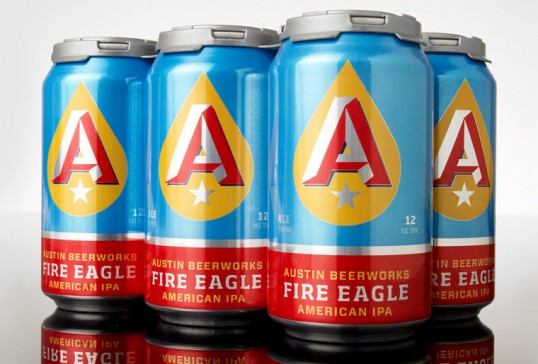 Designed by Helms Workshop | Country: United States
"Workshop teamed up with the group during its genesis, working closely with the founders on naming, brand development and an extensive brand identity system including packaging, advertising and the company's online presence.
The primary goal in developing the brand was to build a unique expression of the brewery's brash personality and bold, crisp brewing profile. A second goal was to help the group make a substantial impact in a market quickly filling with new breweries.
We noted that in a town with eight craft breweries in development, no one had claimed Austin as part of their name. Austin Beerworks was born.
January 5, 2012 | 7 Comments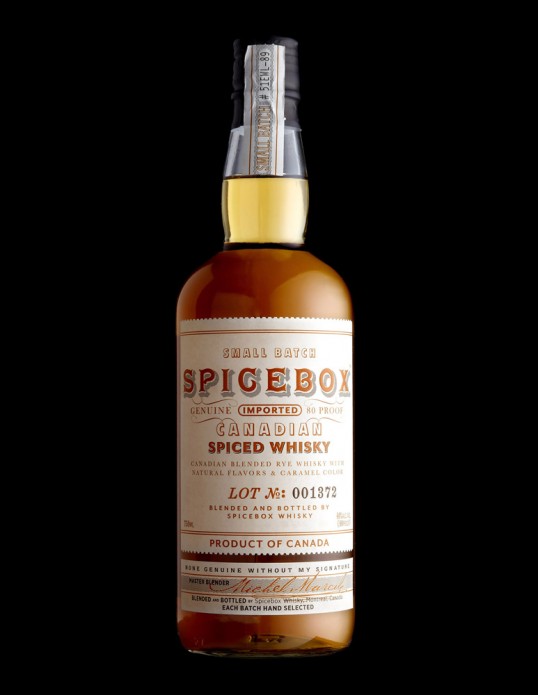 Designed by Stranger & Stranger | Country: United Kingdom
"SpiceBox. This sells as much for the brand name as for anything else, and it really just needed to ooze whisky and warmth. We're working on recycled spice crates for the gift packs."
January 4, 2012 | 15 Comments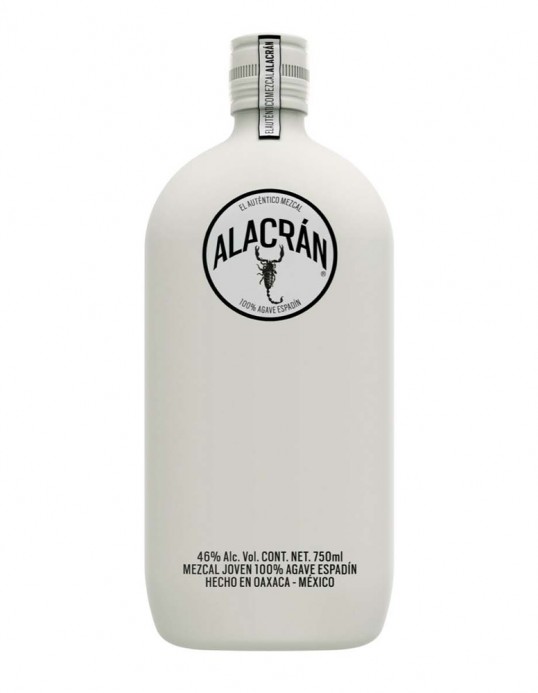 Designed by Sociedad Anonima | Country: Mexico
"They say that when you see a scorpion, another is surely nearby, for they always travel in pairs. Such is the case of Tequila Alacrán's soulmate: Authentic Mezcal Alacrán.
Hand made in Oaxaca, Mexico, this pure, white spirit mixes the ancient rituals and production methods with contemporary culture.
This contradiction is, in essence,  the product's personality. Mezcal Alacrán is encased in a glass bottle with a matte white Soft-Touch coating."
January 4, 2012 | 4 Comments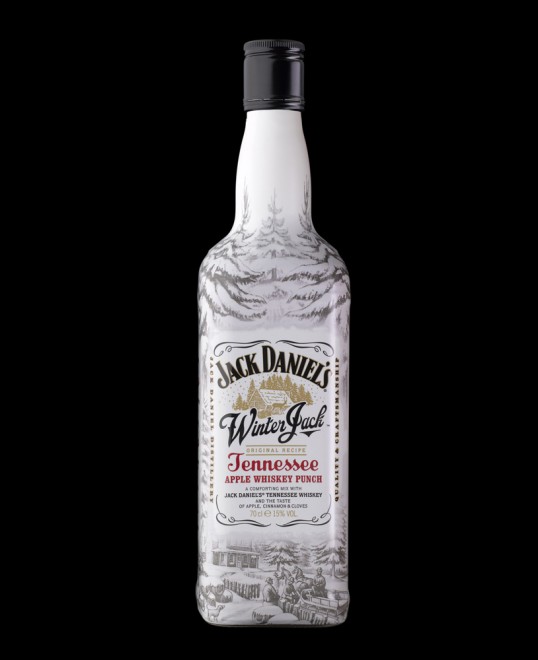 Designed by Stranger & Stranger | Country: United Kingdom
"Jack in a lovely warm Currier and Ives winter coat."
January 3, 2012 | 11 Comments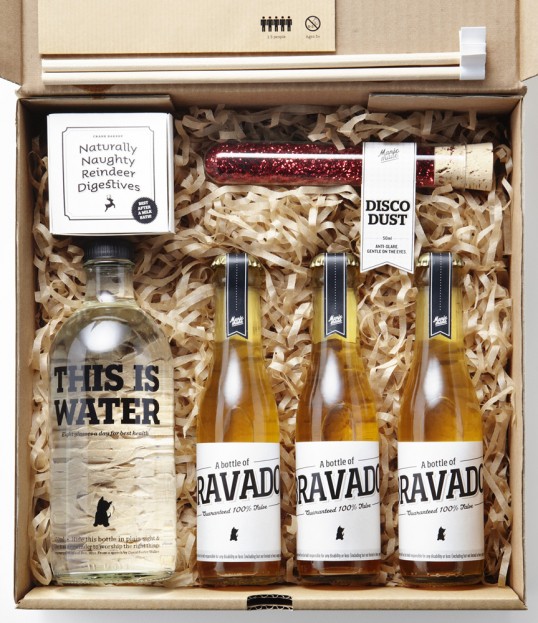 Designed by Manic Design | Country: Singapore
"For Christmas this year, we decided to do something a little different. We were bored with the typical Christmas cards. And we had a dozen pairs of restless, crafty hands at our disposal. In just over a month, we managed to create a set of magical packages for our friends and clients. Each item is certified handcrafted by our team.
This kit holds all of Manic's secret ingredients for a remarkable Christmas. Consumed correctly, this bundle will produce the most magical effects; eternal youth; a keen nose to guide you to the nearest bar; an outstanding sense of humour; and an insatiable desire to be merry.
Too good to be true? Take a look at our team, be dazzled by their spectacular charm and unending supply of good fortune.
Effects are instant and last between six to twelve hours. Consume and take the night by storm, or kick-back and watch your stars align."