October 24, 2011 | 5 Comments
Designed by Bailey Lauerman | Country: United States
"Assignment: Design a limited edition wine bottle for Empyreal 75, a pet food protein supplement for dogs and cats. Our main target audience was pet food manufacturers who were considering using Empyreal 75. Our secondary audience was pet food enthusiasts. The red wine was distributed at the Pet Food Forum Tradeshow and is also available for limited purchase. From a packaging standpoint, the challenge was to create something memorable that would be immediately recognizable to dog and cat enthusiasts. The turn around time was two weeks.
The Approach: Both the client and team fell in love with the iconic visual metaphors of the pet collars and tags displayed on the bottles and their association to dogs and cats. The "collar and tag" concept was chosen because of its strong stopping power and packaging opportunities. Production and vendor partners included a printer, tag embosser and a pet collar manufacturer. "Alley Cat Red" and "Foxhound Red" were selected as the names for the two red wines. Both names adorned the stainless steel tags that hung from the leather collars."
October 22, 2011 | No Comments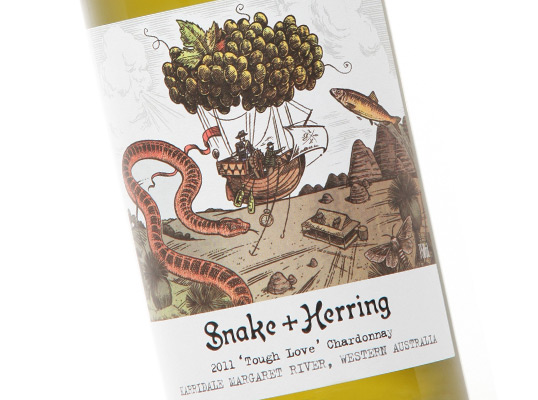 Designed brainCELLS | Country: Australia
"When Snake (Winemaker) and Herring (Wine Purveyor) approached braincells to launch their new wine project in early 2011, they wanted to do something different. Armed with a clear mission statement, they set out to create a wine package that would stand out from the crowd.
The label captures Snake and Herring flying in a grape balloon across the West Australian landscape searching for wines of exceptional quality. The full bleed illustration is highly detailed with a storybook quality to the finish. The top tier wine label is more refined, focusing on the balloon itself. The label is embellished with coloured foil, hi-build varnish and two detailed silk screens."
October 21, 2011 | 1 Comment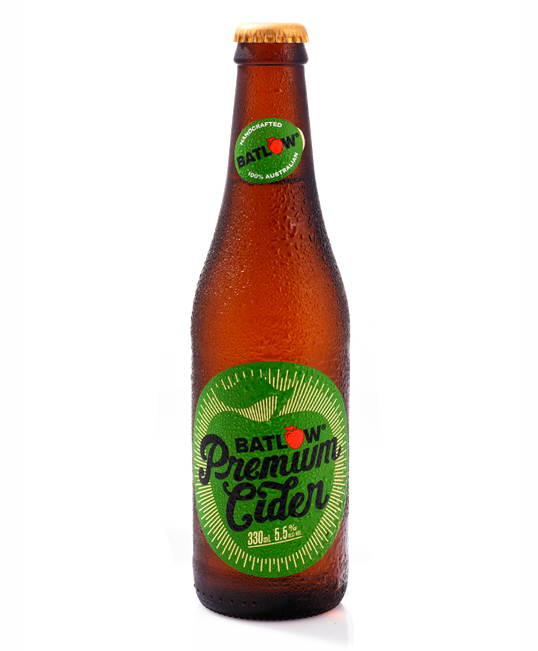 Designed by We Buy your Kids | Country: Australia
Batlow is a small country town located in the Snowy Mountains region of NSW, Australia. The Batlow Apples brand has been in existence since 1922 and is a household name within Australia. Batlow Apples has great brand recognition driven by their iconic green sticker that is placed on every Batlow Apple. This sticker is synonymous with quality, premium grade apples. We Buy Your Kids (WBYK) were approached to design the logo and packaging for Batlow Premium Cider. Batlow Premium Cider has a light golden appearance with fine bubbles from natural carbonation. The aroma is fresh, fragrant apples with a hint of earthiness. The taste gives a mild, refreshing sweetness followed by a light grip on the back palate and a clean medium dry finish, resulting in a well-balanced, fresh tasting cider. The brief was to design a package that leveraged the heritage of the Batlow brand, whilst delivering a contemporary, fresh, look and feel that reflected the positioning of the newly launched cider.
October 19, 2011 | 7 Comments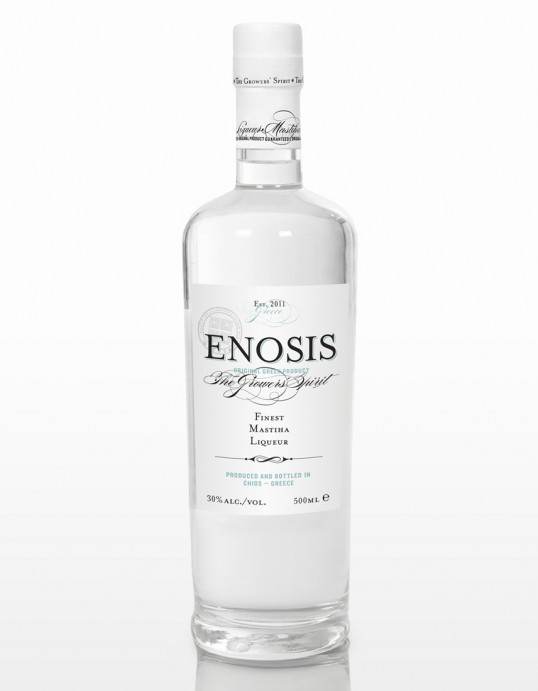 Designed by Dimitris Stefanidis | Country: Greece
"Simple Spirit! A white, classy label for a fine mastiha liqueur. The non-colour packaging inspires through simplicity, graphic weights and analogies. A touch of metallic turquoise brings everything into balance. ENOSIS in Greek means union. People under the same spirit, the same beliefs and care, gathered, inspired and created a unique spirit: the original mastiha liqueur."
October 19, 2011 | 8 Comments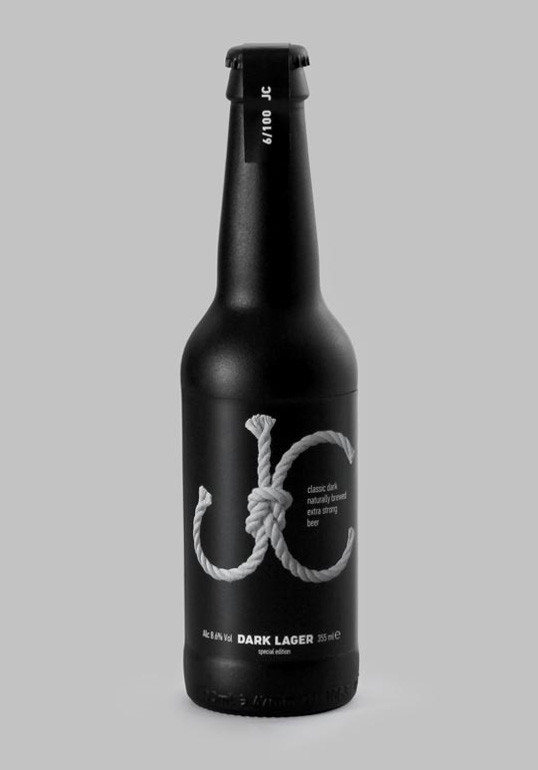 Designed by Tomat Design | Country: Russia
"Tomat Design developed the name, logo and packaging design for a limited and personalized edition of beer brewed specially for an SPI Group company event with the participation of famous French wine-maker Jean Claude. This honored guest is a fan of yachting so we decided to take this into consideration when developing the design."
October 18, 2011 | 1 Comment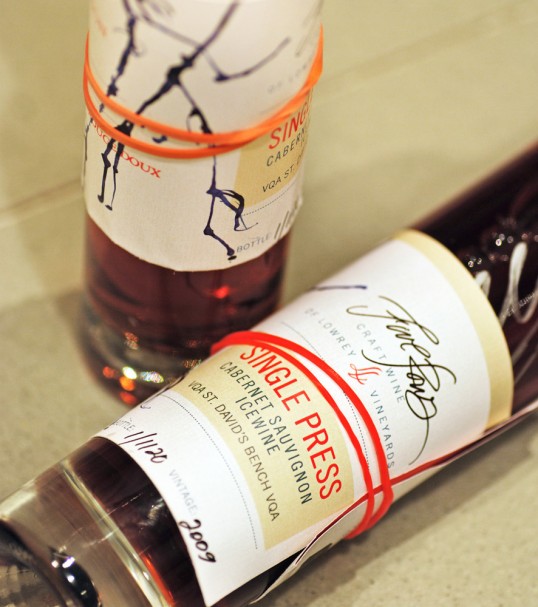 Designed by Insite Design | Country: Canada
"We really enjoy designing labels for small batch wines as it opens up so much possibility when free of the constraints of volume application and materials. Also, the consumer's relationship with small volume wines is more intimate and as such close-up and tactile. Not to mention, the wineries themselves don't mind hand applying labels when there are so few to do!
October 17, 2011 | 2 Comments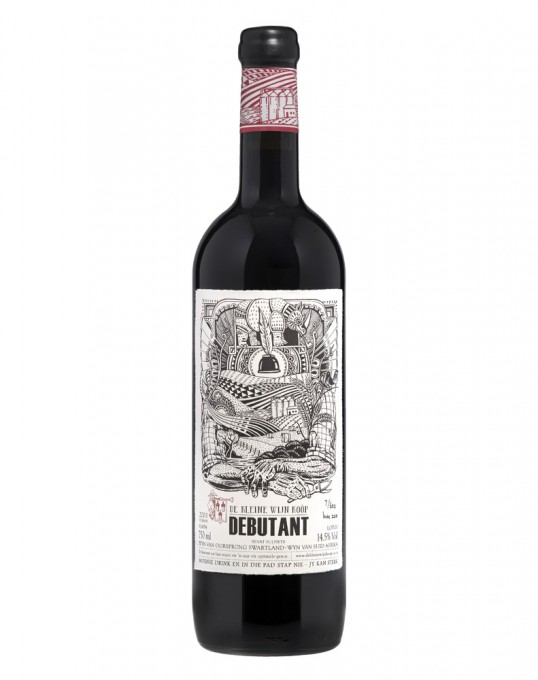 Designed by The De Kleine Wijn Koöp | Country: South Africa
"The De Kleine Wijn Koöp is a circle of friends, made up of sommeliers and graphic artists. As we deal with wine on a daily basis, every now and then we stumble upon a wine too small to fit into a particular winemaker's series or simply too strange and unique to suit the commercial market. We then buy in these wines and dress it in a more 'flip-flops and boardshorts' than 'black-tie' fashion.
De Kleine Wijn Koöp is a playground for our creative expression, outside of the conventions of the wine-shop's shelf. Brace yourself for once-off, unique wine offerings.
Our fist offering is duly named, the "Debutant" and there are only 600 bottles available, each numbered by hand. It costs R150 for one of these wines."
October 13, 2011 | No Comments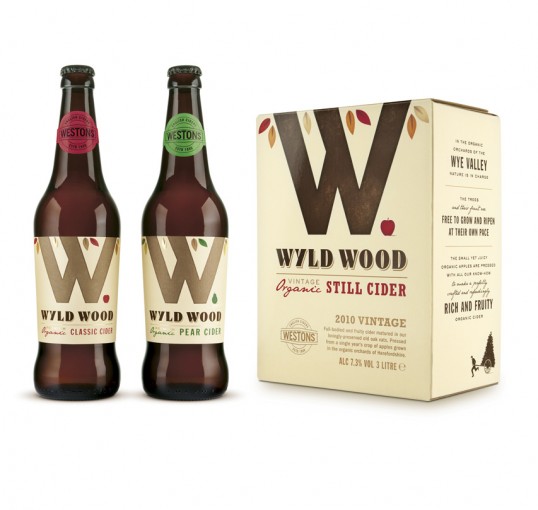 Designed by Pearlfisher | Country: United Kingdom
"Pearlfisher has created the brand identity, tone of voice and name for Wyld Wood Premium Organic cider from Westons Cider. Westons Wyld Wood is the new brand name for Westons Premium Organic cider. Made from organic apples and pears, Wlyd Wood is a delicious premium organic cider. The new name emphasises the cider's organic and natural quality and references the orchards in which the apples and pears are grown. The name helps to draw the consumer into the brand's provenance and the 'Y' in 'Wyld' is a reference to the Wye Valley, which is at the heat of the cider industry.
The new brand identity is a bold and iconic mark with an organic essence that creates brand stand out on shelf and behind the bar. The 'W' logotype creates a symbolic representation of two tree trunks. The piece of fruit next to the 'W' indicates flavour and also suggests the way the fruit naturally falls from the trees. The colour of the leaves further works to differentiate the flavour of the cider, with red leaves for classic and green leaves for pear. The 'W' logotype also works to differentiate between still and sparkling cider, with a dark brown for vintage still and a metallic gold for sparkling. The premium quality of the cider is represented with a foil gilding to further promote the specialness of the product.
Pearlfisher Creative Director Natalie Chung, comments, " The new identity is bold, allowing Wyld Wood to stand proud on shelf next to other cider brands. The name and design emphasises the brand's organic and premium quality but also connects with the core brand truth and provenance rather than relying on stereotypical organic cues."
October 12, 2011 | No Comments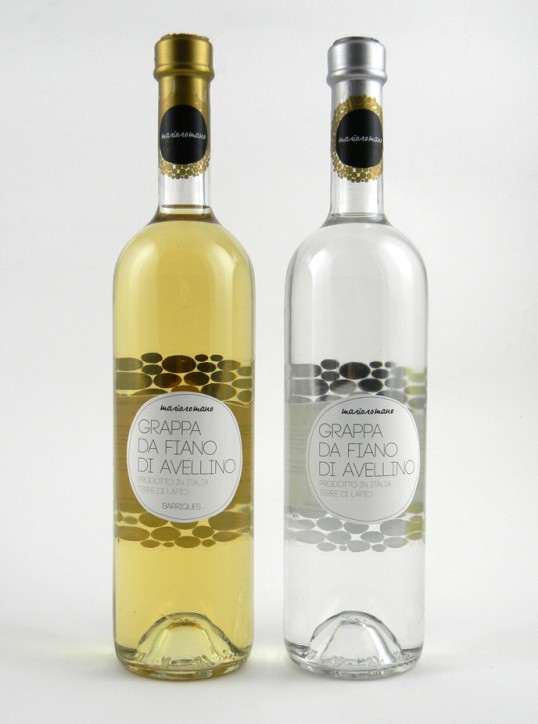 Designed by Basile Advertising | Country: Italy
October 11, 2011 | No Comments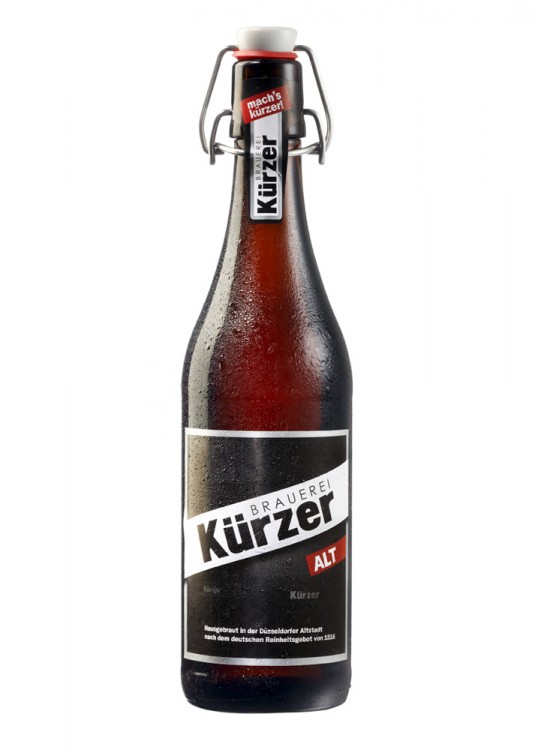 Designed by Designbüro Gregorio | Country: Germany
"Kürzer Alt is a new beer from a microbrewery called "Brauerei Kürzer" in Duesseldorf. The brewery started in December 2010."