April 28, 2011 | 5 Comments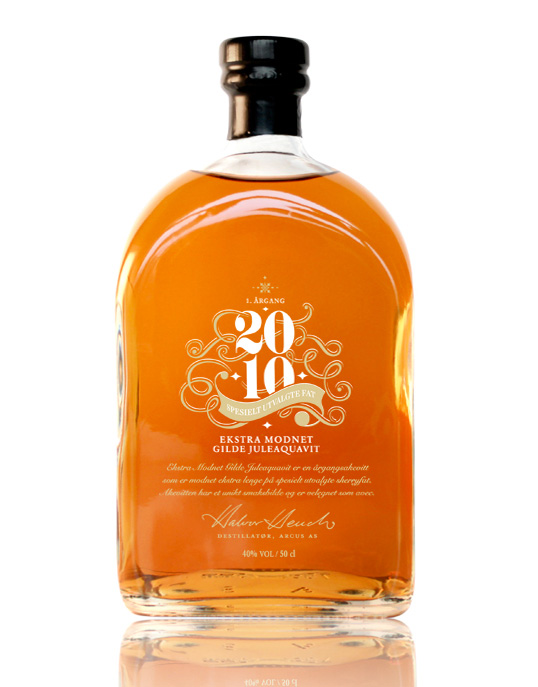 Designed by Brandlab | Country: Norway
"Arcus and Brandlab worked closely on a concept of finding new areas of use for aquavit. By building on the traditional and well known Gilde Juleaquavit series we created a new vintage series. It was developed as an option for after-the-meal situations around Christmas time when Cognac and liqueur traditionally dominate.
This is the first version of Ekstra Modnet Gilde Juleaquavit, a vintage aquavit that has been allowed to stray extra long in sherry casks. This gives the aquavit a unique taste and makes it a perfect ending to any Christmas meal.
To distinguish Ekstra Modnet from the traditional Gilde Juleaquavit and to give it a premium feel, we created a unique bottle and gift box. The year is still the main focus to keep it in line with the Gilde Juleaquavit series."
April 27, 2011 | 4 Comments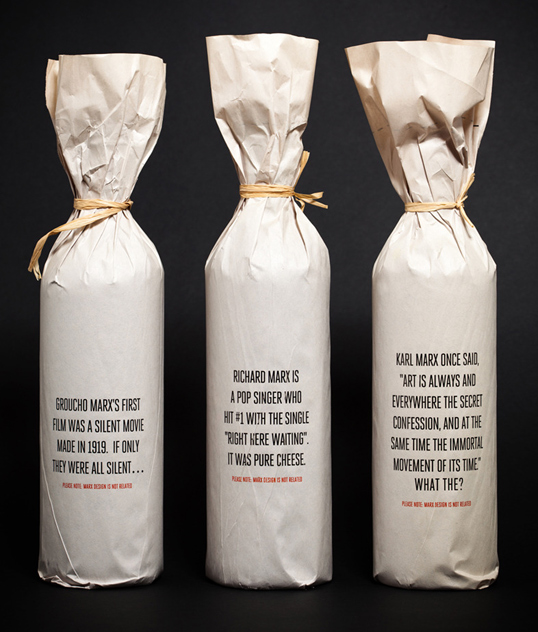 Designed by Marx Design | Country: New Zealand
"Marx is such an unusual name that new clients tend to get us confused with the other lot – Richard (pop singer), Groucho (the comedian) and Karl (the communist). We wanted to clear the confusion once and for all with these light-hearted promotional pieces that establish (Ryan) Marx design as a unique identity (and go down well!)."
April 26, 2011 | 3 Comments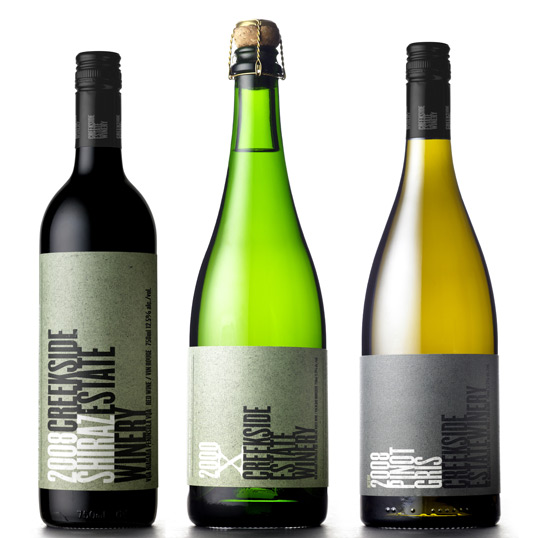 Designed by Dynamo | Country: Canada
"The textured, principal poster-esque woodtype captures a raw, farming spirit that is inherent to winemaking, but it's vertical application creates a bit of irreverence that is also part of Creekside's innovative DNA. This vertical treatment also alludes to a notion of quality, and reads easily when placed in a "cellared" position lying on it's side, and grabs important shelf attention at retail."
April 21, 2011 | 4 Comments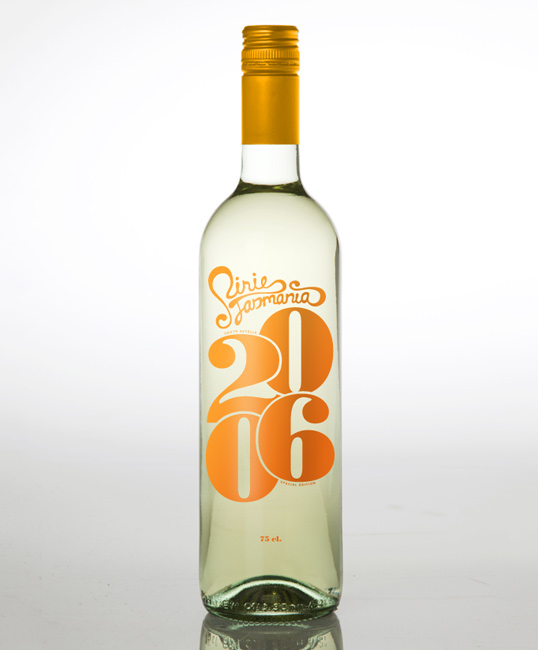 Designed by Magnus Henriksen & Amandus Bjerk | Country: Norway
"Pirie Tasmania is a wine producer located on the northern part of the Australian island Tasmania. The environment surrounding the vineyards are a beautiful mix of mountains, forests and rivers.
The typography-based decoration is inspired by the organic environment surrounding the vineyards."
April 20, 2011 | 2 Comments
Designed by Motto | Country: Ukraine
"The general idea was to present new product for Ukrainian market — brandy. As people mostly used to drink cognac, there would be no cliché behind brandy. We used Jules Verne's stories for general theme and concept of adventure. This particular label was hand-drawn to show hand-made aesthetics. And slightly old-print style with artificially made bleeding and press gain. The shape of bottle was made considering the fact, that people buy drink during travel; and this bottle fits well any suitcase or back pack."
April 17, 2011 | 3 Comments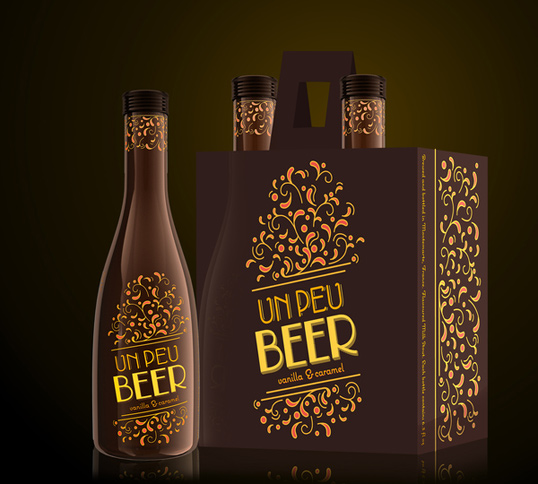 Designed by Sanyukta Kothari | Country: United States
"The dessert beer is called Un Peu, French for 'a little', which is exactly how an indulgence like this should be. It is bottled in small and slender 180 ml (6.3 fl. oz.) bottles, rather than the standard stubby 12 fl. oz. bottles, a size carefully chosen based on the unusual product category. It is also packaged in 2-packs, rather than 6-packs, as it is not boisterous frat-party beer meant to be consumed in giant quantities, but dessert beer, that calls for a more sophisticated and intimate drinking experience. Like a special date, with a close friend, or over fine conversation late into the night.
Drawing from the rich, warm colour palette of the Moulin Rouge and the ostentation, the label graphics depict the heady crescendo of flavours in the beer. The type is inspired by the French Art Nouveau typography of the late nineteenth century, and has been re-drawn and embellished to fit the modern context. The 2-pack has been designed to resemble a bag (similar to wine gift bags), perfect for gifting."
April 15, 2011 | 1 Comment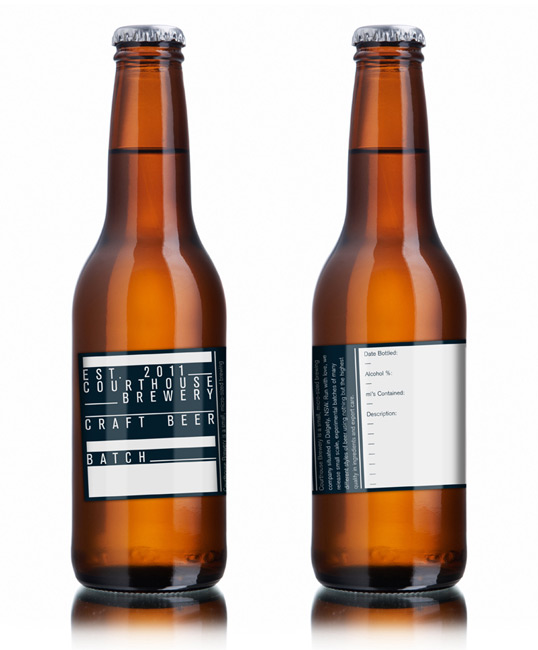 Designed by Timothy Batterham | Country: Australia
"Courthouse Brewery is an extremely small, family run brewery run out of the old Courthouse situated in Dalgety, NSW. While currently only brewing reasonably small batches for distribution amongst family and friends, the brewery has the capabilities of brewing on a far larger scale for commercial sale. The brewery wanted to create branding that could be used across all of their products as a generic label for the beer they brewed.
My solution was some branding that was, for convenience, printed on packaging tape, and could be cut and fitted to the individual bottles or to boxes of the beer for storage or distribution. I designed a generic label that could be used across all of their different brews and filled in individually or with another label in case they ever felt the need for the extra information for sale or storage purposes.
The branding concept was designed to communicate the same "fill in the blanks" idea that the labels were based on. This idea also communicated the kind of personal attention given to each batch of beer they make and shows the personal love and care this family has for their brewing."
April 14, 2011 | 2 Comments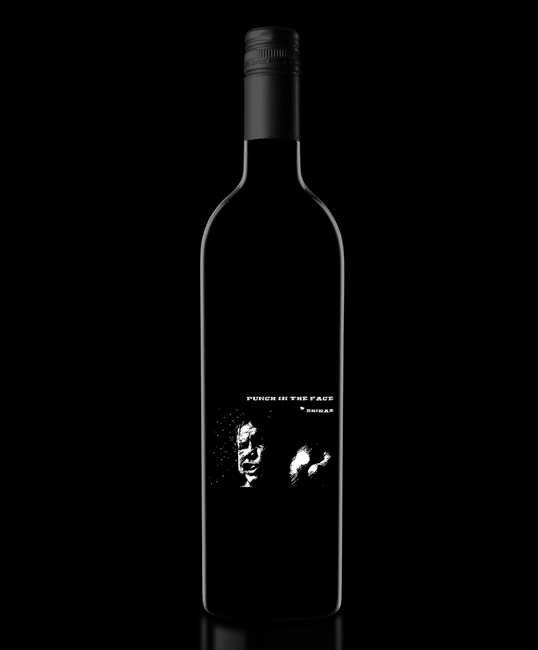 Designed by Cactus Restaurants Ltd. | Country: Canada
"The wine is produced by R Wines in Australia exclusively for Cactus Restaurants based in Vancouver, BC.  The name and label easily sums up what the wine is all about… big and bold, over-the-top and HIGH in alcohol."
April 12, 2011 | 7 Comments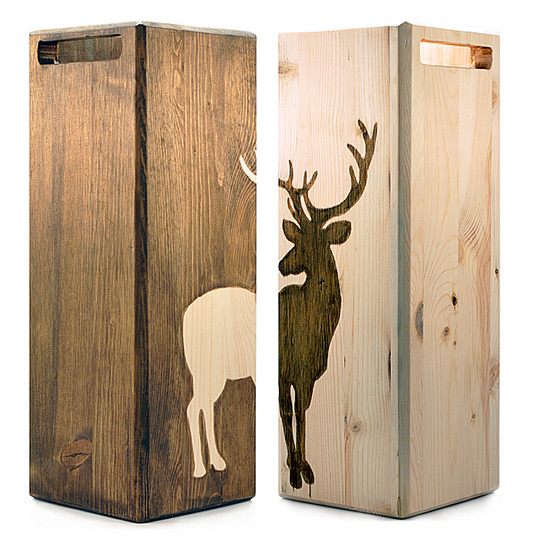 Designed by Erica Craig | Country: Canada
"A (fictional) winery in the Okanagan Valley wanted to create a unique and sustainable brand identity that embodied the youth and beauty of British Columbia.
The product is targeted towards males and females ages 25+. The whole inspiration behind the design of Kingswood stems the company wanting to create a sustainable brand. BC is known for it's bountiful forests and I wanted to capture that but in a freshly refined way. I created a brand that focuses on showcasing the quality of the product by using a timeless, gender-neutral design.
April 12, 2011 | 1 Comment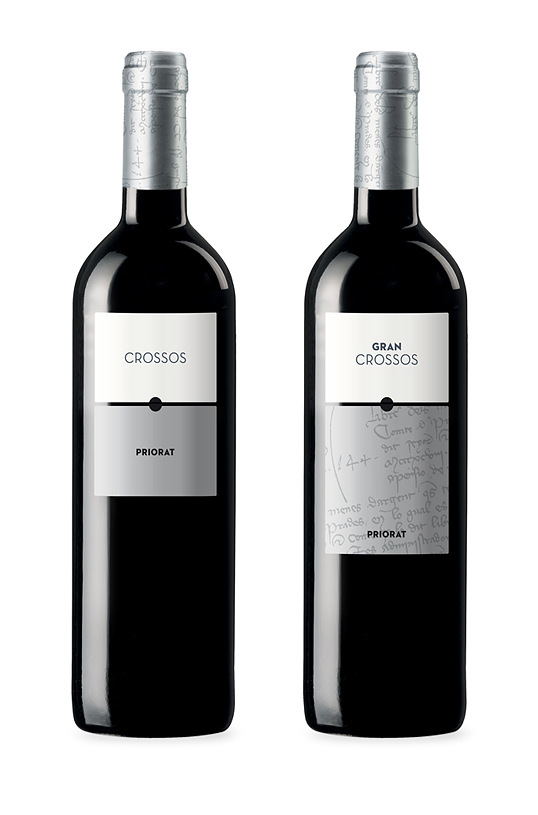 Designed by Atipus | Country: Spain
More wonderfully simple label design and architecture by Atipus in Barcelona, this time for Vi Crossos.