February 24, 2011 | 5 Comments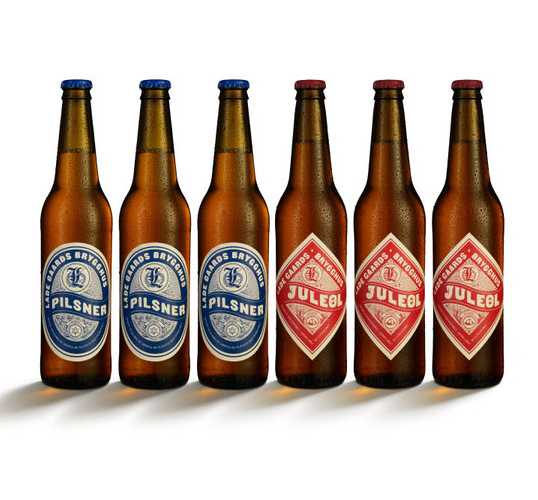 Designed by Frank. | Country: Norway
Say hello to post number  2,000 on Lovely Package, yay!
February 24, 2011 | 14 Comments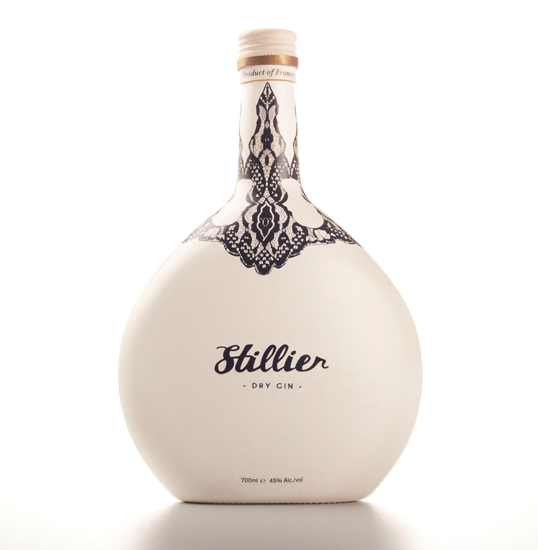 Designed by Lillian Cutts | Country: United States
"Stillier is a conceptual french gin, designed to appeal to female premium spirit buyers. The bottle design was influenced by the the delicate and feminine qualities of french lace. This embellishment is often used to adorn a woman making her feel romantic, provocative yet delicate. These are the qualities of this tripple distilled gin which is designed to appeal to women who often think gin is a hard, masculine drink. The curvaceous form of the bottle teamed with the intricate artwork proves that gin drinkers aren't always who you think they are."
February 23, 2011 | 4 Comments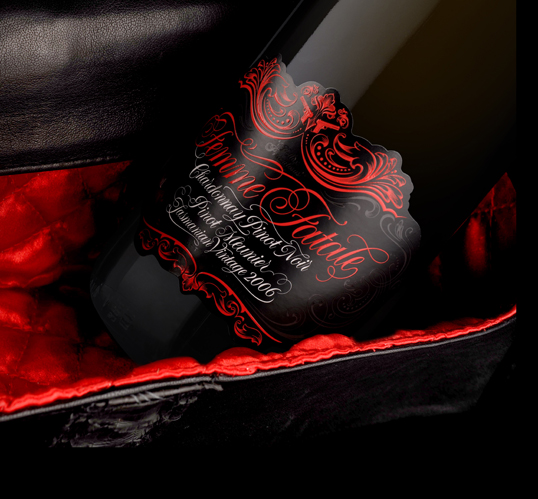 Designed by Boldinc | Country: Australia
"Femme Fatale is a 2006 Chardonnay, Pinot Noir, Pinot Meunier.  Like the rest of the Saint & Sinner range the idea takes the notion that descriptors for wines are synonymous with the way we illustrate a woman's tantalizing qualities.
This exclusive offering from S&S plays on the dark, dangerous & seductive colour palette,  the mysterious and seductive qualities that charm & ensnare through typography & compliment its irresistible taste.
Undress her to discover the risque red cage.  One sip snares you in a delectable web of mouth watering, creamy chardonnay perfectly balanced by Pinot Noirs luscious sherbet and bread notes. But be warned: desire may turn into obsession when you indulge in this Femme Fatale.
Totally exclusive, limited realease Femme Fatale 2006 vintage sparkling is hand crafted in the traditional method, from the fine North East Tasmanian Fruit."
February 22, 2011 | 7 Comments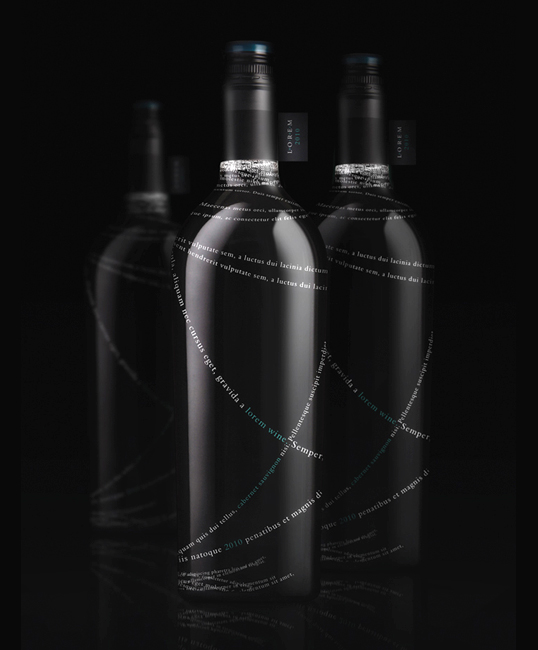 Designed by Alex Macsoda | Country: Romania
"Lorem Wine is a very special project, because I've designed it exclusively for designers. So dear designer, take a break, lay back and enjoy this wine."
February 21, 2011 | 5 Comments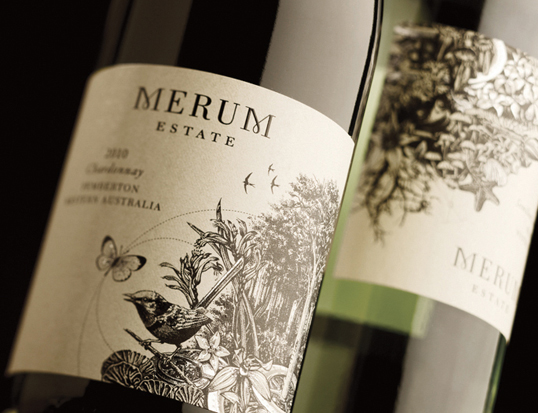 Designed by Manifesto Design | Country: Australia
"Merum means 'pure and unadulterated' in latin. Merum Estate is set in Pemberton, Western Australia, a pristine location where 85% of the region remains under native vegetation. For this mid-level range of wines, Manifesto Design created a fantasy 'floating world' consisting of a collection of plants and animals endemic to the area. The working ecosystem revolves around a towering Karri tree, a native species for which Pemberton is renowned. The botanical styled illustration works both as a whole, and also when separated into four segments, a quarter appearing on each label. The labels are then embellished with silver foiling and a raised UV varnish for tactility."
February 20, 2011 | 5 Comments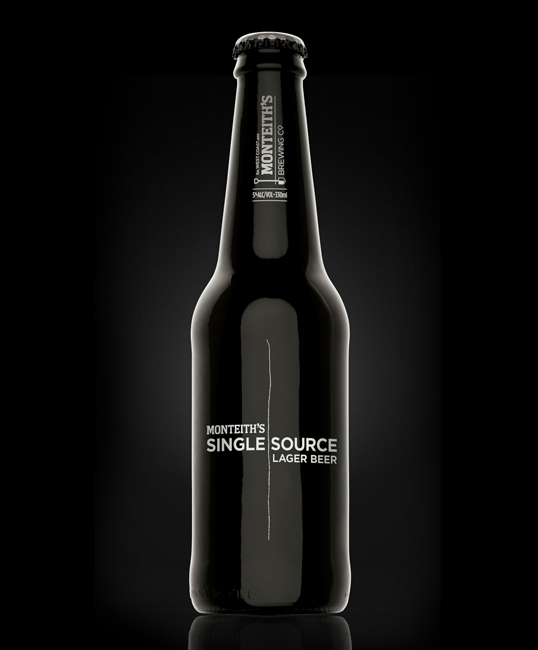 Designed by Designworks | Country: New Zealand
"The new Single Source lager is a single minded brand that heralds its own craft process.  A uniquely New Zealand batch-brewed beer, it is unswervingly true to the land and the people from which it originates. Like the resulting flavour, the design needed to embody its real character, integrity and undeniable class.
The design approach was to place the product at the fore – the idea of 'The journey of creation' is the story of creating a beer that fits the brewer's exacting ideals. The name Single Source is the process – hand picking, the beer's traceable origin and craftspeople, the bottle as a protector, the signature line as the human imprint on the beer's creation.
We honoured this rich brand story through every facet of the packaging. The black bottle adds to our objective of preserving freshness but it also allowed Single Source to look different within the beer category, gave shelf appeal and provides a striking counterpoint to its label. The signature Monteith's silhouette was retained to ensure Single Source sits within the Monteith's family of beers, but by using a black glass bottle we are protecting the contents from light and heat (black bottles are ten times better at protecting the beer than green bottles) to retain the beer's unique characteristics."
February 17, 2011 | 1 Comment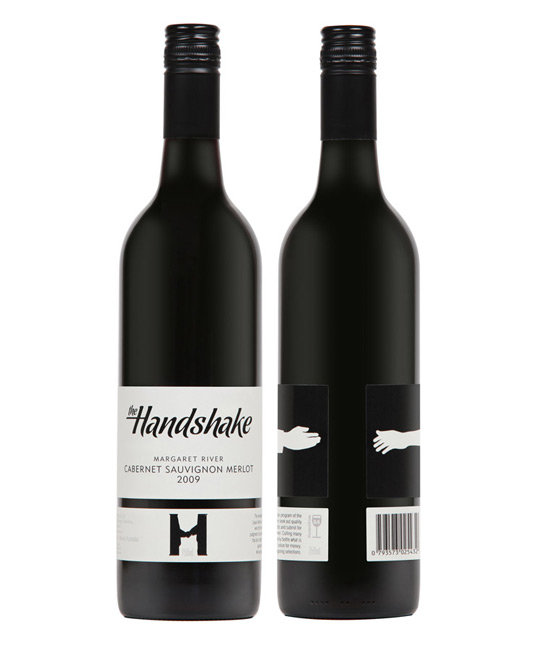 Designed brainCELLS | Country: Australia
"In 2010 brianCELLS designed a new series of wine labels for a well respected West Australian Liquor merchant, Liquor Barons.
As the label describes, 'The handshake is an in-house program of the Liquor Barons Co-operative. We seek out quality wine from renowned vineyards and submit for judgement to our distinguished panel. Culling many that don't make the grade, we only bottle what is agreed to be exceptional value for money. We hope you enjoy our ongoing selections.'
The handshake concept is re-enforced through the use of a minimal typographic front label that wraps around the bottle to reveal two hands about to shake with each other. Thus, rewarding customers who pick up the bottle off the shelf."
February 16, 2011 | 2 Comments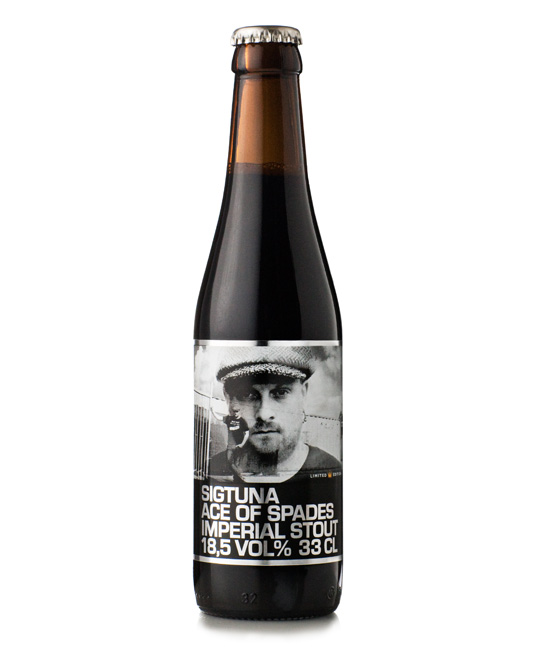 Designed by Morkman Reklambyrå | Country: Sweden
"Sigtuna is an up and coming micro brewery just outside of Stockholm, Sweden. They have recently received numerous awards for their beers and continue to reap success within the beer communities. Ace Of Spades is the strongest beer ever brewed in Sweden, produced in a strictly limited edition for fans of the brewery. The label depicts chief brewer/ideologist Mattias Hammenlind hanging out in the company backyard."
February 16, 2011 | 6 Comments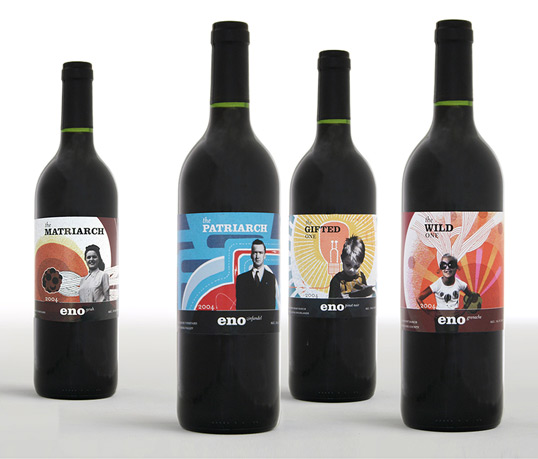 Designed by LP/w Design | Country: United States
"Eno Wines is a Berkeley-based, boutique winery producing small batches of Pinot Noir, Old Vine Zinfandel, Grenache, and Syrah from world class and undiscovered vineyards.
From the beginning, Eno Wines has been a labor of love for all involved.
The labels for the bottles hold equal importance to the wine inside – a new idea back then has become an industry standard. For the past ten years, the challenge remains the same: find the story and tell it better. The 2008 wines held special importance as it was the year Sasha, the winemaker, became a father. The labels always obliquely reflected events in his life and the theme for that year could only be family."
February 13, 2011 | 1 Comment
Designed by Moruba | Illustration: Brosmind Studio | Country: Spain
"Spanish White Guerrilla is a collection of "revolutionary" wines created by Vintae. For the first time ever, the nine white grape varieties which enjoy the greatest international prestige have been cultivated in La Rioja. Nine entertaining warriors, inspired by the origin of the grape which each represents, bring this unusual collection to life."