October 23, 2015 | 1 Comment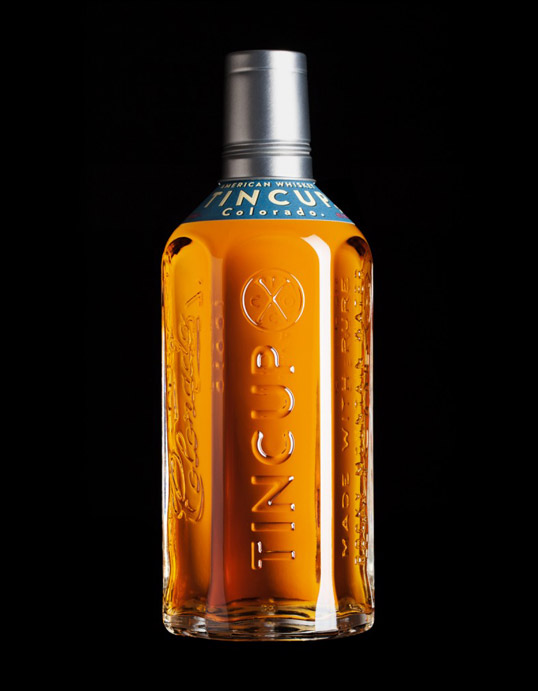 Designed by Stranger & Stranger | Country: United States
"Tincup comes from old Colorado mining country. We found inspiration in traditional embossed miners bottles and couldn't resist adding the tin measuring cup on top."
October 23, 2015 | No Comments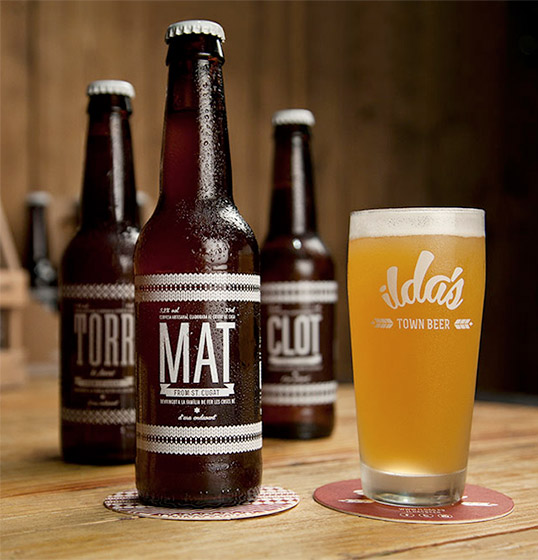 Designed by La Diferencia  | Country: Spain
"Ilda's Town Beer is a small brewery from Barcelona that produces four different varieties of craft beer. From our creative studio La Diferencia we created Ilda's brand and its varieties, their website and also worked as their PR agency."
October 21, 2015 | No Comments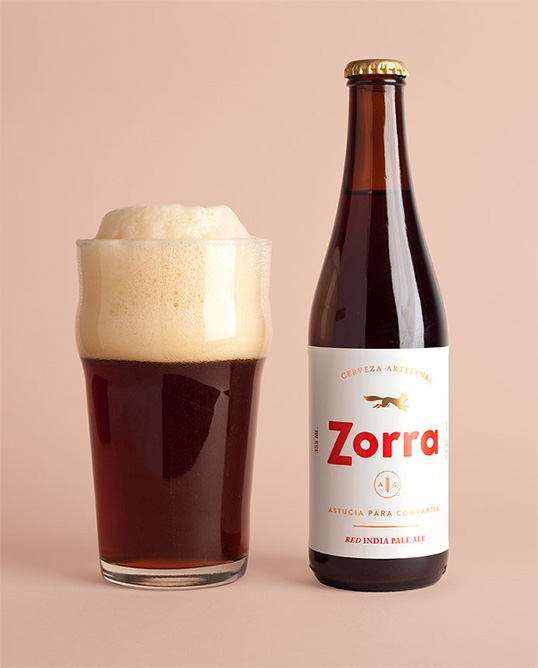 Designed by Análogo | Country: Mexico
"Zorra is a new Mexican craft beer. Brewed on Guadalajara in the state of Jalisco in Mexico, Zorra is dedicated to bring unique tasting experiences. Our naming and branding proposal combines a strong name treated in a friendly and contemporary way. Two strong beer styles have been selected to make the brand's first statement. A black strong Imperial Peanut Stout made with a combination of six malts and brewed with roasted peanut and a Red India Pale Ale wich uses a selected variety of hops to bring floral and herbal scents."
October 21, 2015 | No Comments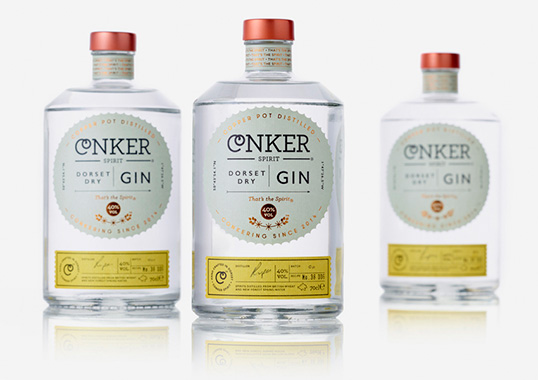 Designed by Interbang | Country: United Kingdom
"Interabang have just completed work on the brand and packaging for Dorset's first gin distillery – Conker Spirit – after being approached by the founder Rupert Holloway.
Free from the constraints of tradition Conker are in pursuit of the new and exciting, with a ruthless focus on quality, and they wanted their bottle to reflect this.
Design cues were taken from the name, which inspired the shell-like shape of the main label. The name also led to the 'CO' ligature in the word marque (a graphic conker on a string), which is used as a visual shorthand for the brand.
Dorset is key to Conker. As well as the location for the distillery, the gin uses New Forest spring water and botanicals unique to the area such as handpicked gorse flowers (which influenced the distinctive yellow colour of the batch label). Inspired by the coast, we looked to the typography of vintage railway signs, tickets and posters to evoke the nostalgia of trips to the seaside, and the bottle itself was chosen for its nautical feel.
Copper foil blocked accents were used, as well as a copper lid, to reflect the traditional copper pot distilling process."
October 20, 2015 | No Comments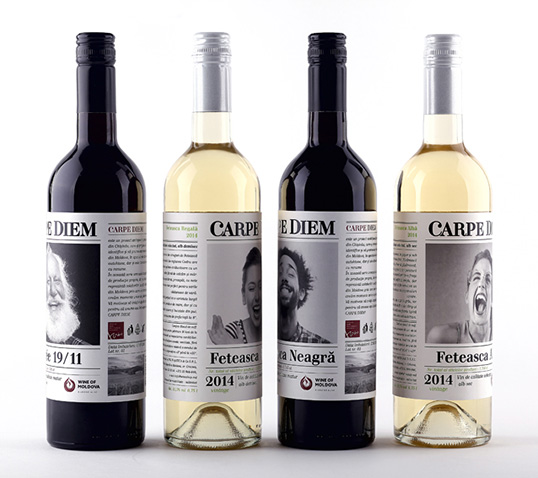 Designed by 43'OZ | Country: Moldova
"The target audience of this product became young people who lead an active lifestyle, trend makers, those who live a full life. The customer and the wine author itself were ready for a new, creative approach for a product design, and the client addressed several agencies before settling upon a concept offered by our studio.
A special thing about the design of Carpe Diem wine is that it's not created by traditional stereotyped solutions that are usually used for wine labels. At the heart of a design there is expression and emotion which are more important in RTB-factor for the chosen target audience."
October 19, 2015 | 1 Comment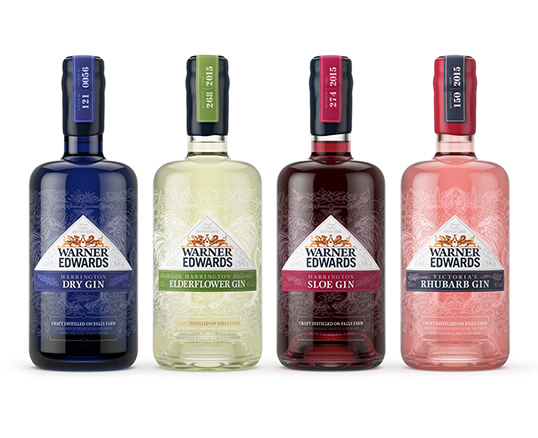 Designed by Biles Inc. | Country: United Kingdom
"Biles Inc. were appointed by Warner Edwards to create the brand strategy for their super premium gin, following a four way strategic pitch. 
The redesign has included consideration of the key brand equities and their expression across packaging on four variants: Dry, Sloe, Elderflower and Rhubarb, as well as on-line, POS and launch communications.
Anthony Biles, Founder and Creative Director of the London Agency said "Warner Edwards Gin is uncompromisingly good. The craft and knowledge that goes into the product is exceptional and the bond between the two founders very evident. The story behind Warner Edwards is rich, and deep and we have used it to inform the design."
October 16, 2015 | 1 Comment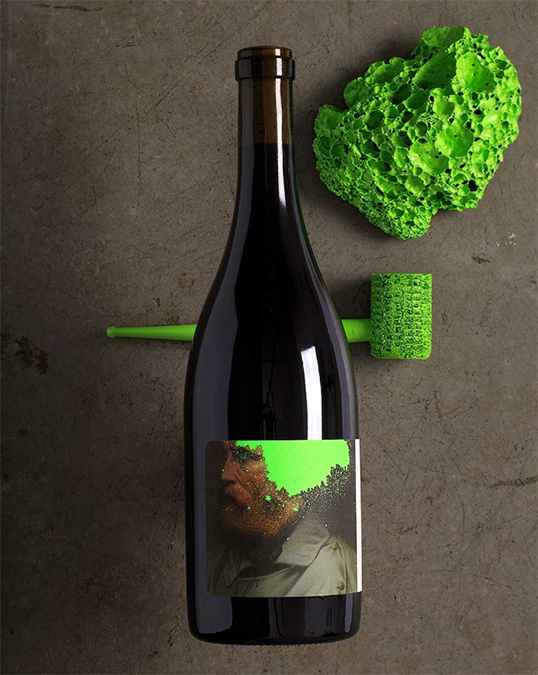 Designed by Force & Form | Country: United States
"With the growing popularity of boutique wines, it has become increasingly important for small producers to embrace packaging that is expressive, intriguing and atypical. To do so, we drew inspiration from the Cruse Wine Company's maverick attitude by contrasting tradition with irreverence. As winemaker Michael Cruse puts it, that juxtaposition reflects his goal to "return to California roots and California classics…but doing it in a modern way."
Because the winery also specializes in rare varietals such as Valdiguié and Saint Laurant, we recommended an image-dominant label to encourage curiosity. So instead of a consumer asking themselves "What is Valdiguié?", they ask "Is that a cow?" The cow is familiar and familiarity warms them up to exploring something new. On a humorous note, we once overheard a customer ask her friend "What's Valdiguié?". Her friend replied "I don't know, but the label looks great. Let's try it."
October 15, 2015 | 1 Comment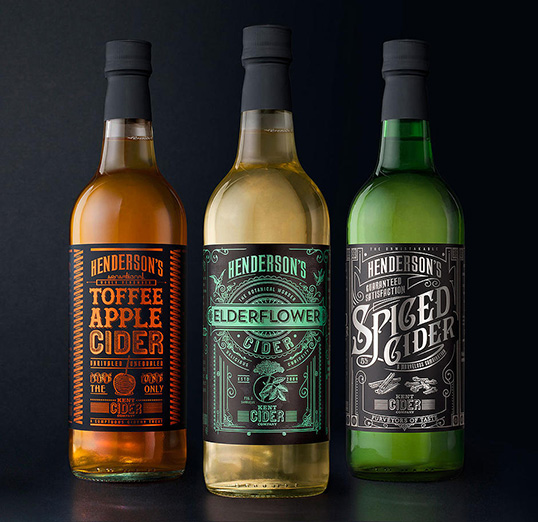 Designed by Sand Creative | Country: United Kingdom
"The Henderson's range from the Kent cider company offers a more traditional flavours to the core range.Previous designs eluded to a Victorian age and we really expanded on this idea. Each variant is inspired by a different Victorian poster style. The toffee apple takes inspiration from old circus posters, the Elderflower is inspired by botanical book plates and the Spiced cider models itself on Victorian elixirs."
October 14, 2015 | No Comments
Designed by Jar Design | Country: United States
"Big Cork Vineyards, a startup winery in Maryland, came to us with a problem: they wanted to make a BIG impact as they launched their new winery and 10,000 sq ft state-of-the-art tasting room… but they were stuck with fragmented and out-dated graphics from a local design firm assigned to the initial round of design efforts for the project. Jar's goal was to rebrand, giving Big Cork a palette of unique, proprietary and memorable assets to rebuild on, so that the name didn't always overshadow the product, or the guest's experience, in an overtly sexual way. Once the key attributes of the brand were solidified (clever, unexpected, happy, adventurous, playful and discover) we were free to create a wide range of designs, labels, stationery, photography, signage, interior design, and more… relaunching to much press, fanfare and success."
October 14, 2015 | 2 Comments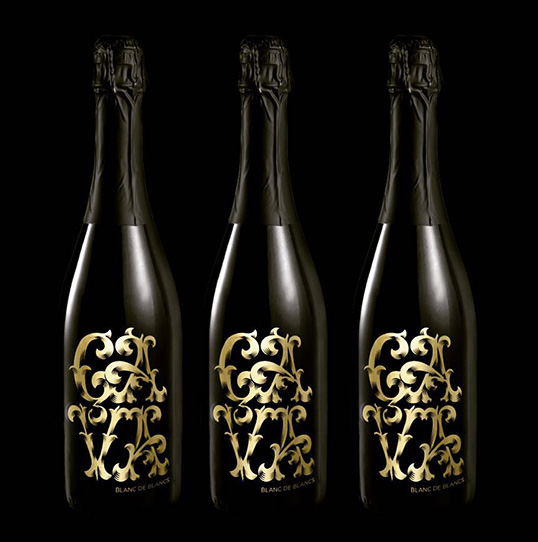 Designed by Alex Trochut | Country: Spain
"Typographer and Illustrator Alex Trochut brought his Barcelona-meets-Brooklyn flare to this interactive, digital art installation featured at ART.FAIR, the highly anticipated German trade fair for modern and contemporary art.  Alex teamed up with the popular champagne brand Mumm & Co. to design the brand's newest limited edition bottle that is set to be released in Spring 2016.  He uses both hand sketching and digital art mediums to transform the many flavors of Mumm into these abstract patterns and interactive displays."